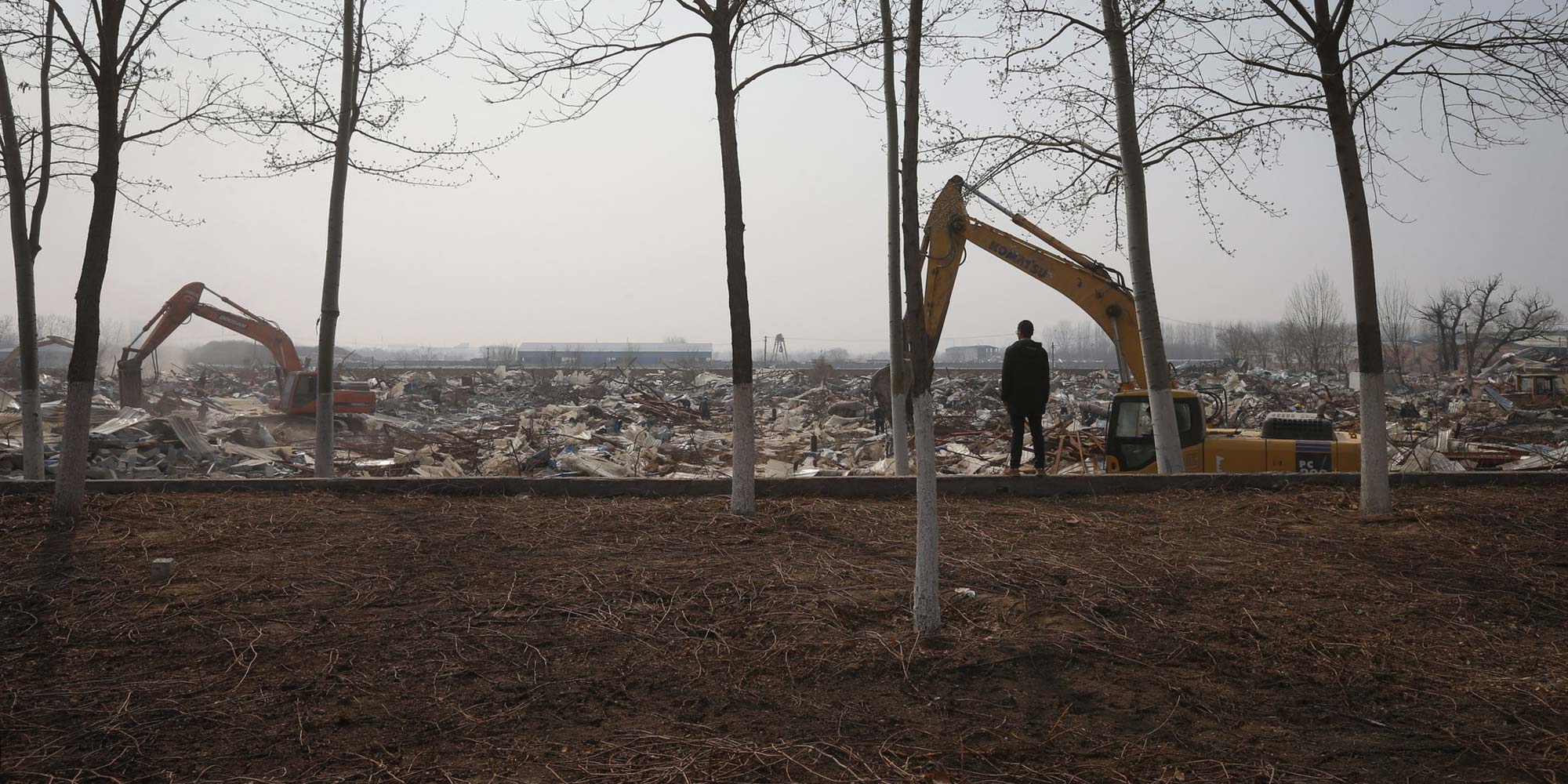 NEWS
Greenpeace Study Shines Light on China's Polluted Soils
Pioneering study shows how local governments push through lucrative land sales prior to decontaminating them.
Land sales in major Chinese cities are thwarting the restoration of polluted soils despite growing government transparency about the extent of contamination, according to a study co-published Wednesday by Nanjing University and environmental group Greenpeace East Asia.
Provincial capitals are increasingly publishing "pollution lists" outlining contaminated plots thanks partly to a 2016 guideline — which became law in January of this year — governing soil management on contaminated land, the study says. However, capitals that depend financially on lucrative land-transfer fees often sell plots without fully restoring the soil.
The study — the first of its kind in China — sheds light on how the country is dealing with the environmental costs of industrialization. Around 41% of all listed plots are the sites of former chemical plants, while more than half of all identified soil pollution comes from heavy metals, which are linked to a number of health risks, including some cancers.
"Soil pollution is as big of a problem as air pollution," Bao Hang, a toxics campaigner with Greenpeace East Asia in Beijing and lead researcher for the study, told Sixth Tone. "But its impact is not as visible. People often suffer silently from soil pollution."
Since 2017 — the year the pollution lists were first made public — 27 out of the Chinese mainland's 31 provincial capitals have released lists of contaminated sites, totaling 174 plots nationwide. The megacities of Tianjin, Chongqing, and Shanghai posted the highest numbers, with 21, 17, and 14 plots, respectively.
Pollution lists aim to clarify which tracts of China's urban landscapes suffer from soil pollution and form a basis for remediating them, a process that is both time-consuming and expensive. The study's authors estimate that the 174 plots will require investment of more than 7.75 billion yuan ($1.16 billion) to meet existing environmental standards.
Local governments have greenlighted 109 of the plots for regeneration, mostly as commercial or residential developments, schools, hospitals, or green space. Such initiatives lead to high population densities, so resolving underlying land pollution is a crucial health concern, the authors argue.
Although the study praises Chinese officials' growing transparency regarding soil pollution, it also contends that local governments are fudging soil restoration due to their financial dependence on land transfers. In China, local authorities levy a number of fees governing land ownership, sales, registration, and use, and these revenues are often key sources of government income. The report said a majority of the studied cities had a "medium to high dependence" on land-transfer fees — defined as generating more than 20% of total municipal government revenue — with local governments accumulating profits totaling 104.9 billion yuan from the transfer of listed polluted sites.
Generally speaking, cities most dependent on land-transfer fees — defined as those where land transfers made up at least 35% of total revenue — were more likely to fast-track sales of polluted plots, shortening soil remediation times by an average of nearly 56 days compared with cities where such fees account for between 20% and 35% of revenue. And although current environmental regulations exhort a "they who pollute pay" approach for environmental restoration, only 33% of listed plots remain the responsibility of the former users who likely contaminated them. The remaining plots were owned by local governments, state-owned enterprises, and real estate developers — who pass the costs of soil remediation on to taxpayers and tenants. "This is unfair (and) not conducive to the law's intent to deter potential polluters," the study said.
"The system now only works in one direction, speeding up land transfers despite the risk of soil pollution," Bao told Sixth Tone. "But some cities have already implemented strong countermeasures to this, such as Chongqing, (where) the local environmental protection bureau has strong powers to monitor, review, and oversee land transfers."
The study's authors conclude by urging central and local governments to consider a number of policy refinements. "Local environmental protection bureaus need more power to monitor and review soil quality, especially early in the planning process. A percentage of the transfer fees from polluted land plots should be set aside in a special fund to cover the cost of remediation," Bao said. "Local governments should also establish avenues of public supervision."
The study encourages governments to disclose more and better information on soil pollution — for example, by making environmental surveys publicly available — as well as follow up more effectively on land rehabilitation and overhaul laws determining who is responsible for cleaning up pollution.
Editor: David Paulk.
(Header image: A man looks out over the site of a demolished chemical factory in Beijing, March 18, 2018. The tract of land is slated to become a public park. IC)