Chinese netizens are furious after a man who snapped a thumb off of a terra cotta warrior statue and stole it from a Philadelphia museum was not convicted of any crime.
On microblogging platform Weibo, thousands of users criticized the jury members for not reaching a guilty verdict Tuesday in the case against the now 25-year-old Michael Rohana, who was charged last year with the theft and concealment of an object of cultural heritage. Footage from the city's Franklin Institute museum allegedly showed Rohana taking photographs close to one of the statues during an after-hours event in December 2017 before snapping off its thumb, according to media reports.
"Does the jury understand the significance of these terra cotta warriors?" one netizen commented below a Weibo post about the mistrial.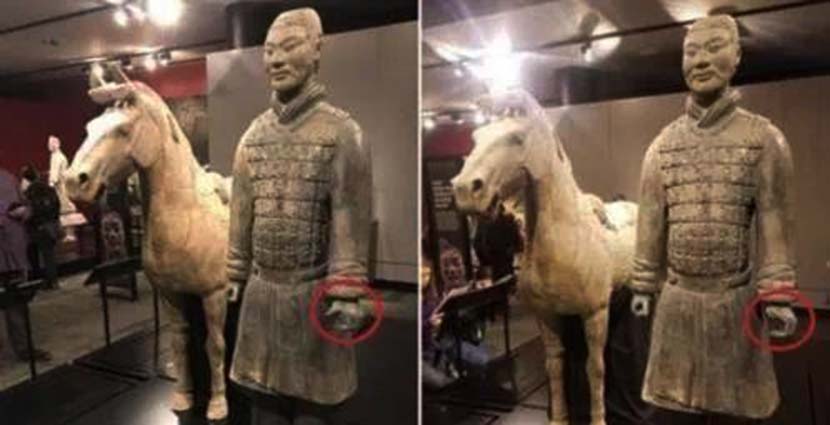 A composite image of two photos shows a terra cotta warrior before and after its thumb was snapped off. @中国文博 on Weibo
The 2,000-year-old terra cotta statues, which were found buried in the tomb of the Chinese emperor commonly known as Qin Shi Huang, are considered some of China's most prized archaeological relics. Ten statues, along with 160 other artifacts, were part of a traveling exhibition at the Franklin Institute from September 2017 to March 2018.
Though Rohana had confessed last year to snapping the digit off the statue worth millions of dollars and federal investigators had found the thumb in a drawer at his home, the jury was unable to give a verdict after its 11-hour deliberation, local media reported Tuesday. Rohana's lawyer described the incident as youthful vandalism, arguing that his client was improperly charged under a law "made for art thieves."
Prosecutors said they would decide by May 15 on whether to launch a retrial, according to the report.
The Shaanxi Cultural Heritage Promotion Center, the organization in charge of the traveling exhibition, told news outlet Beijing Youth Daily on Thursday that it would follow the case closely to "protect the rights" and "dignity" of the Chinese relics before the U.S. prosecutors make their decision.
By Friday evening, a hashtag translating to "mistrial of American man who broke off the terra cotta warrior's finger" had been viewed over 120 million times on Weibo. Many netizens complained that the Chinese statue is "worthless in the eyes of Americans" while condemning the poor security measures in the Philadelphia museum.
Editor: Bibek Bhandari.
(Header image: Ancient Chinese statues known as terra cotta warriors stand on display at the Cincinnati Art Museum in Cincinnati, April 21, 2018. IC)