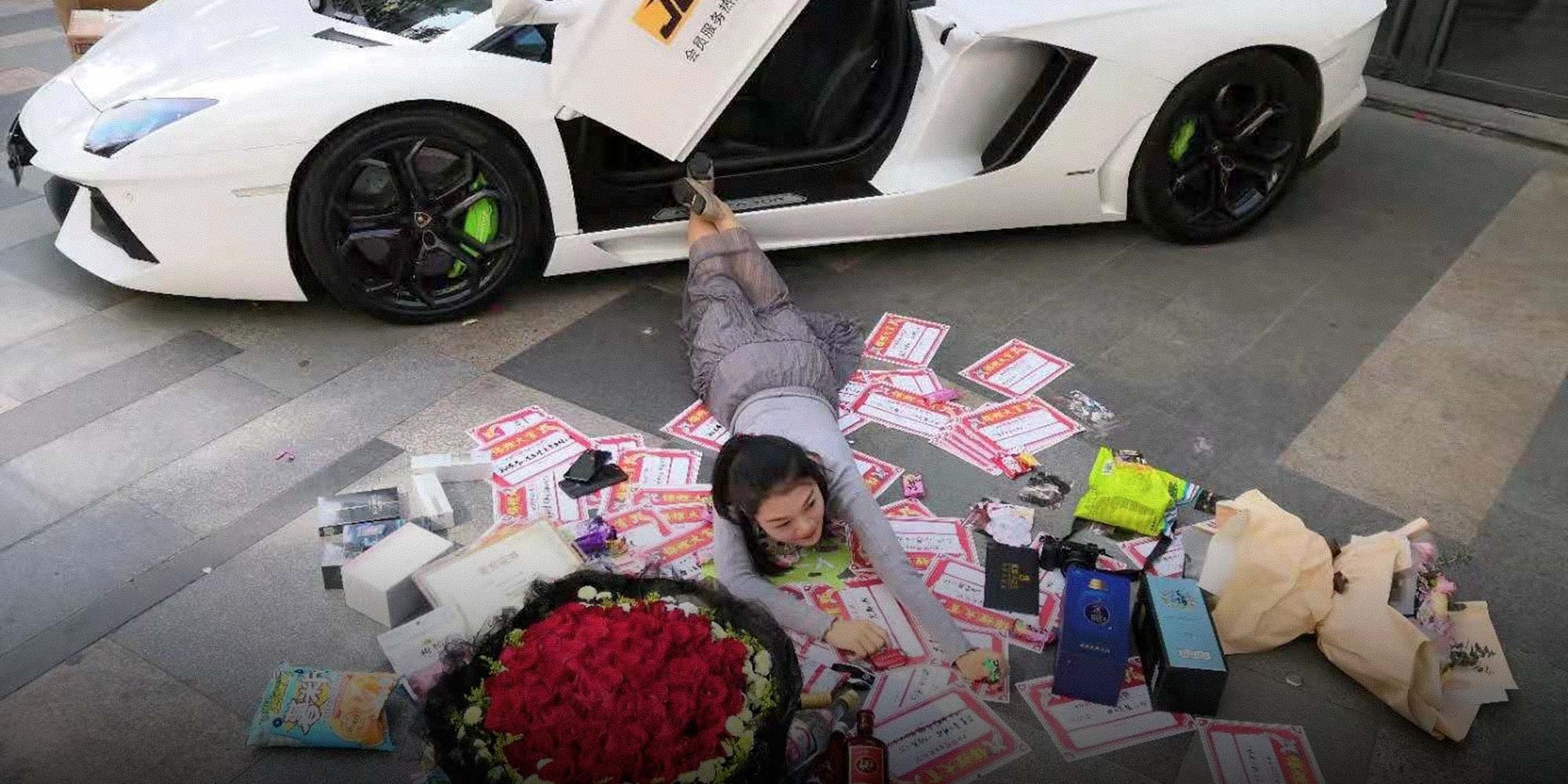 NEWS
China Has an Industry for Flaunting Fake Wealth
Looking to impress your friends? A few bucks can get you a customized video with a fat wad of cash, a luxury home, a celebrity gal pal, or the car of your dreams.
Money — if you can't make it, fake it?
That's the mentality behind a niche industry in China aimed at creating customized "wealth-flaunting" videos that can be shared on social media, according to a report Tuesday by online media outlet Pear Video.
For as little as 6 yuan ($0.90) per video, merchants on messaging app WeChat or e-commerce platform Taobao will add your voice-over to a first-person video showing a fanned-out stack of bank notes, a decadent mansion, a tropical vacation, a hunky celebrity, an exotic pet, or a tricked-out supercar.
Other services on offer include videos of sales receipts for luxury cars with the names and dates altered, as well as geotagged social media posts — in Dubai or Bali, for example — made to order using the customer's login details.
After following a public WeChat account named "Show-Off Video Dubbing Productions," Sixth Tone was directed to a website with over 2,200 videos available for customization. They featured underwater restaurants, pet pigs and snakes, tropical islands, and banquet tables covered with expensive seafood.
After choosing a video of two hands holding a stack of 100-yuan bills and submitting a recorded audio message — "Oh yeah, look at all my money" — the WeChat account sent back a finished video in under a minute.
The same merchant account also advertised services for editing custom text or graphics into videos featuring scantily clad Eastern European women or groups of African children — a marketing tactic that gained viral notoriety in 2017.
A customer service representative for the merchant who identified himself only by the name Tian Tian told Sixth Tone that his video-making business generates 10,000 to 20,000 yuan each month and that the industry had taken off as early as five years ago. Footage of luxury cars, he said, was the most popular request.
Extravagant displays of wealth have long been a content staple in China's cyberspace. In 2011, Guo Meimei, a woman who claimed to be a Red Cross Society volunteer, famously tarnished the humanitarian organization's image by posting pictures of luxury handbags and a Maserati sports car on her social media account. More recently, billionaire playboy Wang Sicong has cultivated a reputation for showing off his wealth by posting photos of $400,000 karaoke club bills and the seven iPhones he purchased for his pet dog.
Since the rise of short-video platforms like TikTok and particularly Kuaishou, Chinese people from all walks of life have embraced flaunting their wealth — or laughable lack thereof — on social media. Last summer, the "falling stars" challenge — or the "flaunt wealth" challenge, as it was known in China — became an online sensation: Netizens posted countless photos of themselves splatted face-down on the ground and surrounded by expensive possessions that supposedly fell out of their purses and pockets.
However, it's more common still for the country's self-deprecating netizens to poke fun at how poor they are — by saying they have resorted to eating dirt, for example, or can't afford the small luxury of imported cherries.
While hastily dubbed videos are a low-tech means of showing off, more sophisticated deceptions may become more widespread in the future. In February, a netizen used artificial intelligence technology to swap out one actress's face for another's in footage from a classic Chinese TV series, raising concerns that such videos — known as deepfakes — could be used to damage reputations or propagate fake news.
Editor: David Paulk.
(Header image: Ma Luyao/VCG)