Two days after a video of a mother kicking her 3-year-old daughter during a photo shoot went viral on Chinese social media, the woman apologized in a statement posted Wednesday to microblogging platform Weibo.
"The girl is my beloved daughter, and she receives the best care and love," the woman wrote in the post, which had received over 117,000 comments by time of publication. She added that it was never her intention to hurt the toddler, whom she calls Niu Niu.
The incident occurred in the eastern city of Hangzhou, home to Alibaba and its Amazon-like marketplace, Taobao. With the city's booming e-commerce industry, there is considerable demand for models to promote clothing for babies, toddlers, adolescents, and teens.
The video of the woman kicking her child has sparked debate about China's already-controversial child modeling industry, with many netizens denouncing the woman as unfit to be a parent and questioning whether she's exploiting her daughter for financial gain.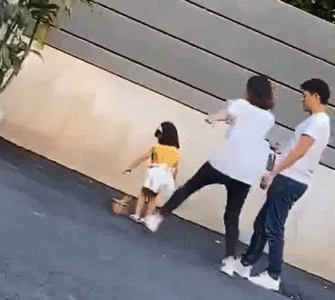 A GIF shows Niu Niu's mother kicking her during a photo shoot. From The Paper
Soon after posting her apology online, the mother explained to The Beijing News that she had kicked her daughter because the girl had been running around near a road and it was getting dark. "I was trying to give her a warning," she said, "but I regret [my actions] and blame myself."
According to the woman, Niu Niu just turned 3 years old and has been modeling for over half a year. She also said the family doesn't rely solely on Niu Niu for income: "Her father has a job," the woman explained.
After the kicking incident, one kidswear shop announced that it would terminate its cooperation with the family and delivered a message to the mother: "Niu Niu is cute, please treat her nicely."
On Thursday, over 100 kidswear shops on Taobao issued a joint statement calling for regulation and oversight of the country's child modeling industry. Businesses should work together to standardize the procedures for photo shoots involving children, forbid all forms of violence against children, and refuse to use photos or videos if the kids would be at risk of being harmed during shooting, the merchants said.
Chen Mo, a Hangzhou-based agent for child models, told Sixth Tone that families generally don't sign contracts with merchants or photography studios. "They're usually paid in cash at the end of the day, based on the number of outfits their kid models," Chen said. "The fee varies from 30 yuan ($4.50) to over 100 yuan per outfit." In a previous interview with Sixth Tone, the mother of a Hangzhou child model said her daughter modeled around 50 outfits per day.
According to China's Provisions on the Prohibition of Using Child Labor, no employer may hire children under the age of 16. The country's labor law further states that under "serious circumstances," violators of this provision may have their business licenses revoked. However, because children don't sign formal contracts, legally speaking, they're not considered laborers.
Domestic media reported Wednesday that the Hangzhou women's federation has intervened to determine whether the case constitutes domestic violence.
Editor: David Paulk.
(Header image: Child models listen to instructions before a fashion show in Huzhou, Zhejiang province, Dec. 8, 2018. Wu Jianxun/VCG)