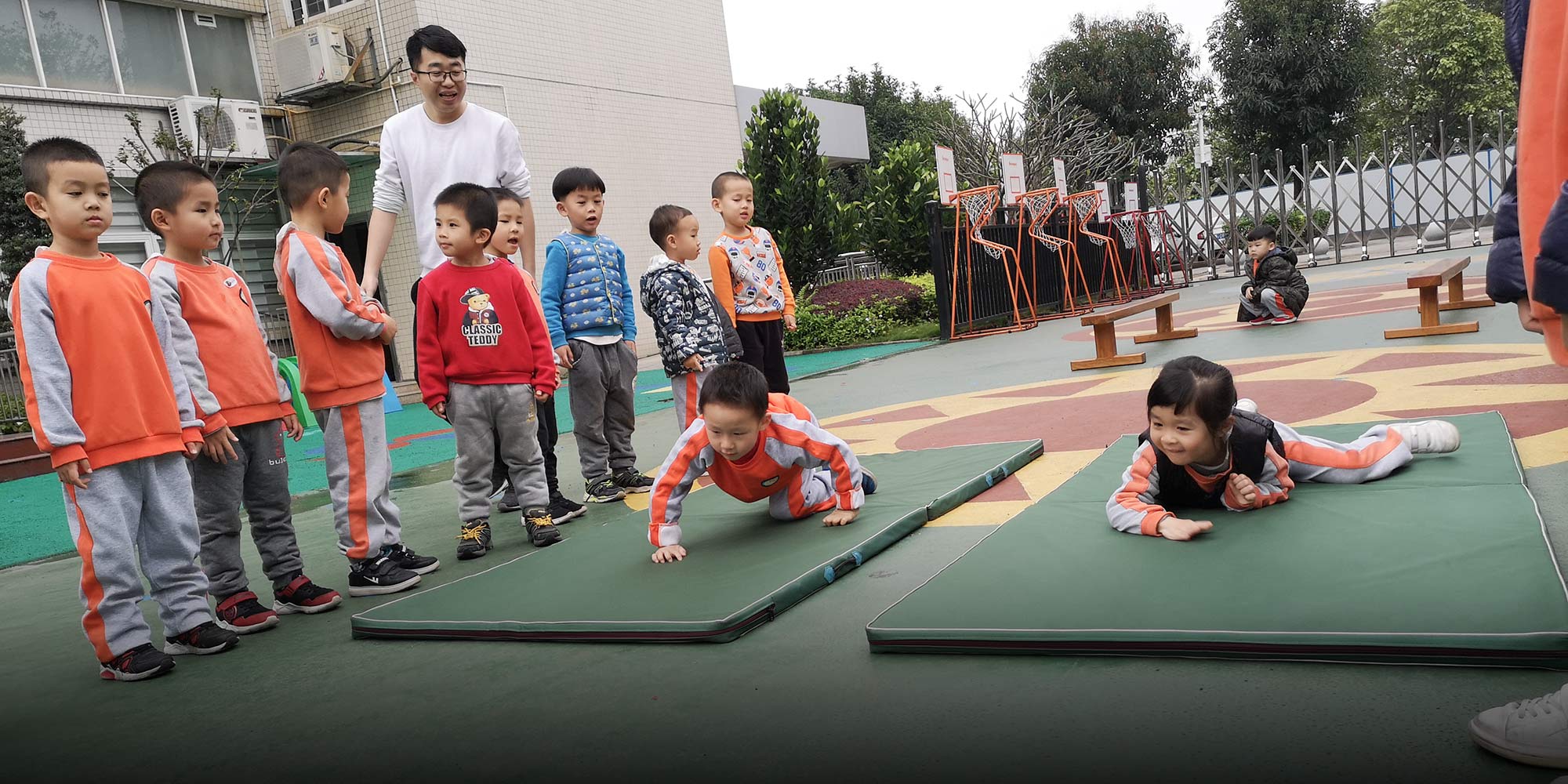 FEATURES
The Inclusive School Fighting China's Stigma Against Autism
Around half of the country's autistic children don't attend school at all. Integrated facilities are trying to change that.
GUANGDONG, South China — For once, the kindergarten classroom in Dongguan is quiet. Around the room, 28 young children nap on small single beds. When their teachers gently wake them in the early afternoon, Duan Yiyang stretches, removes his eye mask, and exchanges his pajamas for his orange school uniform.
Like most of his peers here, 5-year-old Duan is a gentle, polite kid. He patiently waits in line for afternoon dessert, compliments his classmates on their drawings, and pays close attention to his teachers. Only small details indicate that Duan has autism. The eye mask, for instance, blocks out any light that stops him from sleeping — a common problem among autistic children, who tend to find it harder to nod off than other kids. When he speaks, Duan tends to use simpler language than his peers and sometimes fails to complete his sentences. On rare occasions, he loses his temper and becomes disruptive.
Duan, who was diagnosed with a mild form of autism spectrum disorder at 2 years old, is now in his second year at Dongguan Yulan Experimental Kindergarten, known locally as "Yulan." The public preschool is the only facility in the southern Chinese city that offers so-called integrated education — a model that has preschoolers without special needs learn, play, and socialize alongside those receiving support for certain conditions. Of the 160 kids enrolled here, 18 require extra learning support due to autism and other conditions, like cerebral palsy, and hearing disabilities. This relatively high ratio means that each class of around 30 children accommodates two or three with special needs.
Schools like Yulan are rare in China. The country is home to more than 2 million children with autism, with 200,000 new diagnoses every year, according to a 2017 report jointly released by Beijing Normal University, the Beijing-based Wucailu Autism Research Institute, and state news agency Xinhua.
China's Ministry of Education encourages schools to accommodate children with autism as much as possible, and in 2014 the State Council — China's Cabinet — announced a plan to enhance the country's special-education services. Nonetheless, roughly half of the country's autistic children do not attend school at all. Of the remainder, around 30 percent receive behavioral therapy at private "rehabilitation centers," and 20 percent attend either publicly funded special education schools or mainstream schools, according to research by Deng Meng, a professor at Beijing Normal University who specializes in autism and integrated education. Children who attempt to enroll at mainstream schools frequently face discrimination from other students and parents, making schools even more reluctant to accept them.
There is a significantly lower proportion of autistic children in China's formal education system than that in the United States, where the Individuals with Disabilities Education Act (IDEA) requires schools to provide the least restrictive environment possible for children's education. According to the National Center for Education Statistics, around 95 percent of all students aged between 6 and 21 affected by IDEA — including autistic students — were enrolled in mainstream schools in 2015. Less than 1 percent were confined either to their homes or to rehabilitation facilities.
Yulan was established in September 2016. Its integrated education model aims to provide greater support for special-needs children and their families than they would receive at other public-sector preschools. Regardless of their ability, all the kids in Duan's class take the same basic classes in literacy, music, and games. Uniquely for Dongguan, the kindergarten also employs in-house behavioral therapists to give much-needed guidance to young autistic children, their teachers, and their families.
"Here, his teachers, classmates, and other parents treat him just like any other kid," says Yang Jiuxiang, Duan's mother. "I'd say 90 percent of the people I know who have autistic children don't send them to kindergartens. I'm lucky that my son has found such an inclusive environment."
The term "integrated education" gained popularity in China during the 1990s, but the model still has deep-seated problems. First, preschools seldom have enough specialist staff members on hand to help special-needs children flourish. In addition, school administrators often either refuse to admit children with learning disabilities or isolate them from their peers, fearing blowback from teachers and parents.
A tragic example of this stigma made headlines in China last December, when a woman surnamed Tan in Guangzhou — a city around 40 miles from Dongguan — killed herself and her autistic son, known only as Yangyang, after the boy was involved in a playground fight. In a teacher-parent group on social media app WeChat, other parents condemned Yangyang's mother, who was pregnant at the time of her suicide, for bringing a "dangerous" child into contact with their children.
Duan's mother, Yang, says it's common for people to misunderstand or fear autism. "I also had limited knowledge about the disorder before my son started to display the symptoms," she admits. "But we can't simply stereotype autistic kids as violent. They're all different in their own ways."
Kangle Kindergarten — the Guangzhou preschool that Yangyang attended — is an extreme example of what can happen when official policy collides with deep-seated stigmas. Nansha District, which administers Kangle, encourages all kindergartens to accept autistic children and help them thrive alongside peers without special needs, a source from the local government's publicity office told Sixth Tone, adding: "However, we haven't yet piloted integrated education." (The source requested anonymity, as he had not received permission to speak to the media.)
Kangle only accepted Yangyang after several other public and private kindergartens rejected him, due to his autism. Prior to the murder-suicide case, parents reportedly shunned Yangyang's family and put pressure on the school to remove the boy from mainstream education. (When contacted by Sixth Tone for this article, Kangle declined to comment on its current enrollment policies.)
Fortunately for Duan and his family, Yulan has the resources and expertise to maintain its integrated education model. The kindergarten is run by the Dongguan Disabled Persons' Federation — not the city's education bureau — and occupies the southern wing of Dongguan Rehabilitation Hospital, the city's main center for treating people with disabilities. This location ensures that a steady stream of behavioral and learning experts come to work at Yulan.
Chen Huiying, Yulan's director, was there when plans for the kindergarten started taking shape in 2013. "We understood that [special-needs] kids were encountering various difficulties when they started compulsory education — some schools hinted to parents that they should pull their children out of school or choose special education schools," she says. "But kids [in China] are now getting diagnosed at younger ages, and earlier intervention is helping them to adapt effectively. More and more can thrive in normal school environments. We wanted to explore how to better support them."
The local disabled person's federation approved plans to build Yulan in 2014. The kindergarten opened two years later, charging a relatively affordable, state-subsidized fee of 600 yuan ($90) per month. In addition to the regular two teachers and one child-care worker for each class, the school has a dedicated team of so-called resource teachers: two speech-and-behavioral therapists, a psychotherapist, a rehabilitation therapist, and a social worker. This ratio of five full-time specialists to 18 special-needs children is extremely rare in Chinese public schools — "a real luxury," as Chen puts it.
Ye Yuxing is head of the resources team. Normally, he's busiest at the start of each semester, when he and his colleagues conduct two-week in-class observations of special-needs kids. After that, the team compiles an evaluation report for each child, defines their targets for the semester, and draws up learning plans and intervention strategies for their teachers and parents to adopt.
"We need to adjust the curriculum for each child with special needs, which might mean we regulate their daily activities and the time they spend in class with their resources teachers," says Ye. On rare occasions, special-needs children will be withdrawn from classrooms for one-on-one or small-group sessions in so-called resources classrooms — a little like pull-out programs in U.S. public schools.
Chen, the director, adds that children without disabilities also benefit from learning alongside special-needs kids. "They get to learn how to take responsibility for their environment and the people around them," she says. "They come to understand that everyone is different and can thrive in their own way."
To date, Yulan's model has been largely successful: Conflicts between children with or without special needs are rare, and most of its special-needs graduates go into mainstream primary schools. But there are still limits to what Yulan can achieve. Ye says that the kindergarten currently only admits kids who have received prior treatment from rehabilitation therapists and whose abilities are approaching those of children without special needs their same age. "Rehab centers offer strong structures and routines that allow children to adapt to their conditions. But at some point, they need to integrate into a normal social environment, establish friendships with their peers, and explore interaction and communication skills," says Ye. "Many of our special-needs kids find it challenging to integrate into our classroom environment at first, because they've never experienced it before."
But perhaps Yulan's greatest achievement so far is that it has established a culture comparatively free of the prejudices leveled at special-needs children and their families in other parts of China. Zhou Haiying, the mother of a girl without special needs who joined Yulan's first class in 2016, recalls the strong stigma around the school when it first opened. "When my neighbors heard my daughter was going to kindergarten with special-needs kids, they asked me if I was worried it would be dangerous," she says. "People have limited awareness of autism, and some are scared to put their own kids in classes alongside those with special needs."
Zhou's daughter graduated from Yulan last July. In addition to the school's tailored approach to education, Zhou says her child also benefitted from Yulan's strong culture of care. "She knows, for example, that if a child wears a cochlear implant [for hearing disabilities], that implant is expensive and important to those who wear them. She knows she must look after classmates with special needs, even if they appear to be doing fine."
To prepare him for mainstream primary school, Duan's family has placed him in individualized therapy sessions around four times a week. His mother, Yang, is learning how to intervene at home if Duan struggles to control his temper. "He's around a year behind his peers in terms of his spoken language ability and social skills … [but] we hope he'll get into a mainstream primary school," she says, adding that she hopes China's autistic children will all receive integrated education in the future.
Chen says that may take years to realize. "We can't accept any more kids than we currently do if we want to continue to provide high-quality services," she says. "What we can do for now, though, is share our experiences with other kindergartens in Dongguan."
Editor: Matthew Walsh.
(Header image: Kids at Yulan play games in Dongguan, Guangdong province, March 25, 2019. Ni Dandan/Sixth Tone)