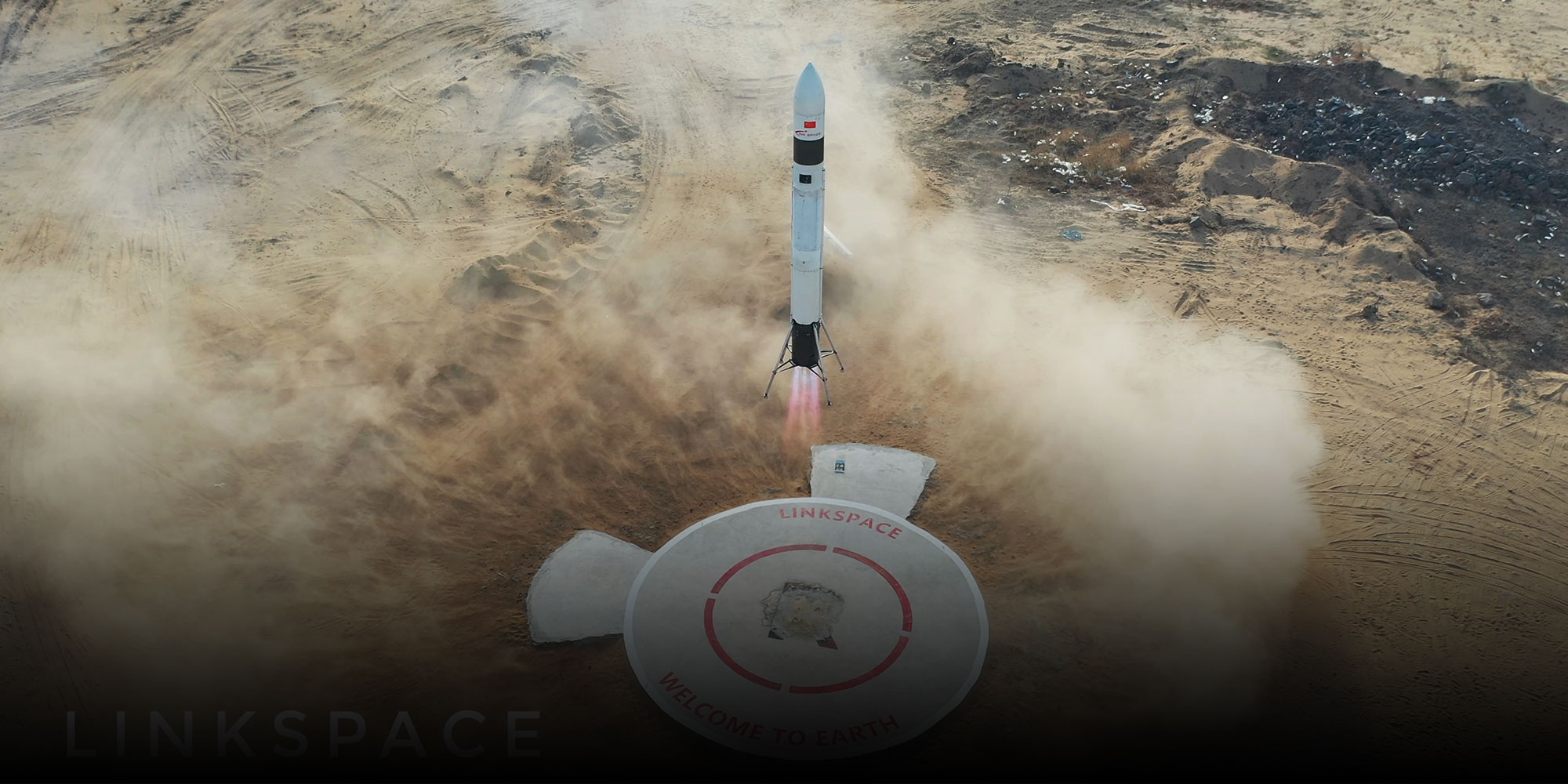 NEWS
Reusable Rocket Landing One Small Step for China's Space Startups
Following LinkSpace's latest launch, experts see a bright future for China's private aerospace companies.
LinkSpace has successfully launched a reusable rocket prototype in eastern China's Shandong province, the private aerospace company told Sixth Tone on Monday.
At the launch last Wednesday, the prototype — an 8.1-meter liquid-fueled RLV-T5 — hovered in place for 10 seconds after rising to a height of 20 meters, according to a video LinkSpace sent to Sixth Tone. It then returned to the spot from which it had lifted off: a red circle on a white launch pad.
"With this success, we will now aim to reach a height of 1,000 meters with our reusable technology," Chu Longfei, LinkSpace's chief technology officer, told Sixth Tone on Monday. One kilometer is also the goal for SpaceX's Grasshopper — a recoverable test rocket that's four times the size of the RLV-T5 and reached a height of 774 meters in 2013.
Like SpaceX, LinkSpace looks to apply the low-altitude, low-velocity hovering and landing technology used with the RLV-T5, also known as the NewLine Baby, to rockets reaching higher altitudes, and eventually to a carrier rocket called the NewLine-1 that will aim to enter the Earth's orbit.
Founded in early 2014, LinkSpace is China's first commercial rocket company. More entrepreneurs and investors joined the domestic space race in the two years that followed, as China's central government announced policies encouraging private companies to participate in the previously closed space industry. Yet despite frequent claims of "first launches," no Chinese aerospace company has successfully used a carrier rocket to deliver a payload — such as a satellite — into the Earth's orbit. On the same day as LinkSpace's suborbital launch, OneSpace — a rival company established in 2015 — failed in launching its first carrier rocket.
Robert Zubrin, an American aerospace engineer famous for his advocacy of Mars exploration, told Sixth Tone that early-stage failures are to be expected from China's young rocket companies. "Just getting off the pad is a lot," he said, citing SpaceX's many initial failures.
Zubrin was at the LinkSpace launch pad on Wednesday. He said he was impressed by the rocket's accuracy in returning to the spot it had taken off from, especially since there had been a crosswind blowing at 30 kilometers per hour. "When you see a 7-year-old composing a symphony, you wonder what he's going to be when he's 20," said Zubrin. "What LinkSpace did was like a 7-year-old Mozart composing a symphony."
Chu of LinkSpace acknowledged the gap between SpaceX and his own company but said that LinkSpace is a lower-budget player aiming at a smaller but currently uncontested suborbital launch market, fulfilling important scientific, military, and commercial purposes even without reaching space.
"A solid-fueled sounding rocket now costs 2 to 3 million yuan [$300,000-450,000]," Chu said, referring to the funds required to launch a non-reusable model. "Our product will cost around one-fifth of that price."
Editor: David Paulk.
(Header image: LinkSpace's RLV-T5 blasts off at a launch site in Shandong province, March 27, 2019. Courtesy of LinkSpace)