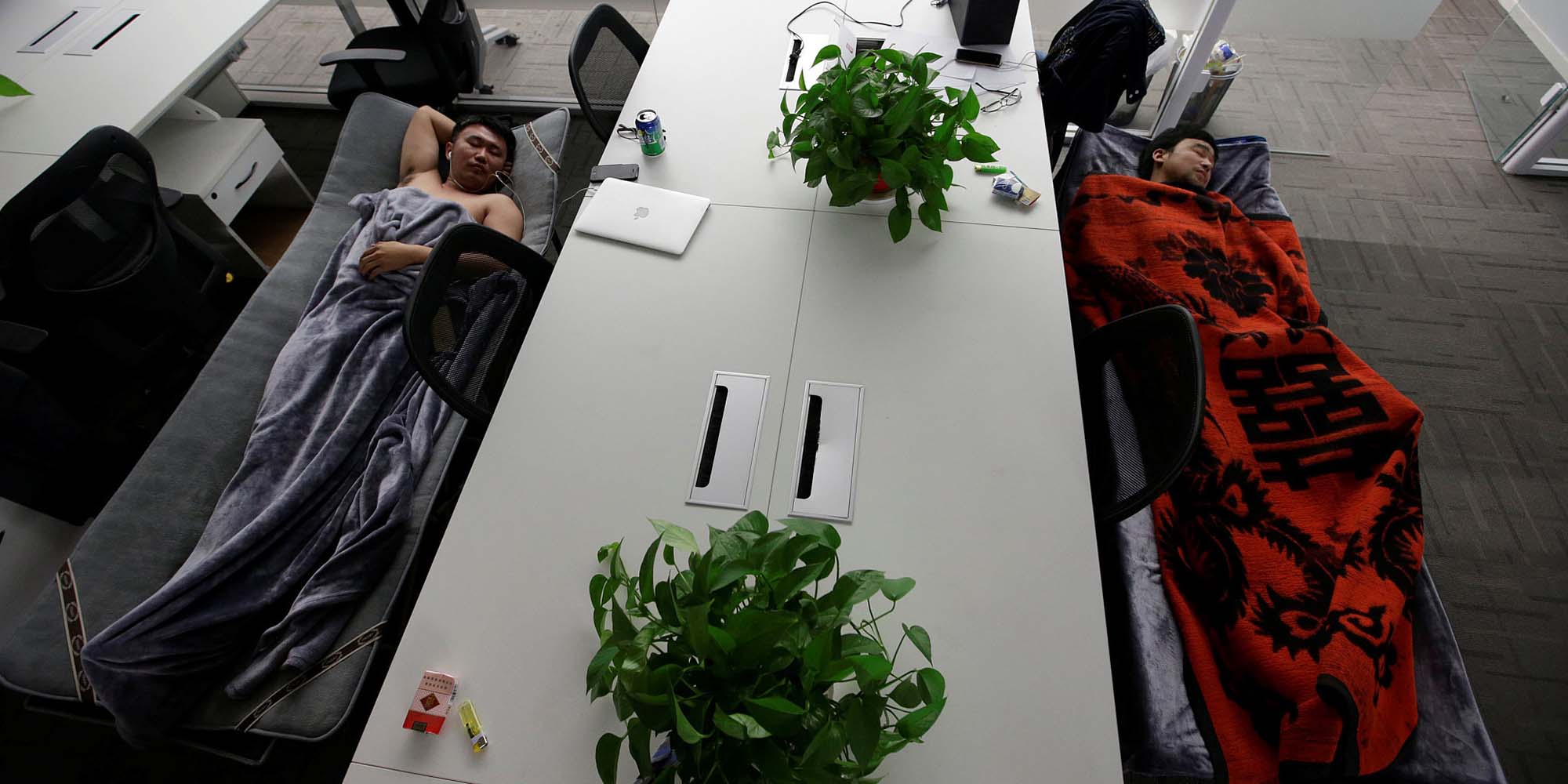 NEWS
Chinese Developers Protest Overwork on GitHub
A user on the popular code-hosting platform is calling for China's web developers to post stories of the unreasonable demands imposed on them by tech companies.
Microsoft's code-hosting service GitHub isn't just an online platform for programmers around the world to share their code. In China, it's also a place where sleep-deprived tech workers complain about unreasonable work schedules.
On Tuesday, a Chinese GitHub user shared a domain he had created — https://996.ICU — on the platform as a treatise against the increasingly common "996" work schedule: 9 a.m. to 9 p.m., six days a week. According to the 996.ICU webpage, workers at companies that encourage the 996 schedule tend to work at least 60 hours per week.
The creator of the page called out two Chinese e-commerce companies — Youzan and JD.com — for having tacitly adopted the 996 schedule. Neither company had responded to Sixth Tone's requests for comment by time of publication.
According to China's Labor Law, employers are allowed to extend work hours by one hour a day "generally" or up to three hours "for special reasons." In no case, the law states, should staff work more than 36 extra hours in a month. The 996.ICU webpage claims that according to the Labor Law, employees who follow the 996 schedule should be paid 2.275 times their base salaries — although many employees never see any overtime pay at all.
"Where does the name of the [repository] 996.ICU come from?" reads one section of the page. "If you consistently follow the '996' work schedule, you run the risk of getting yourself into Intensive Care Unit (ICU)." Appearing at the very bottom, in English, is the sentence "Developers' lives matter."
In the first hour after the 996.ICU repository was posted on GitHub, the page received over 1,000 stars of support — the platform's equivalent to upvotes. The post has also been widely shared on Chinese social media platforms like Weibo and WeChat, with many netizens commenting to share their experiences as tech workers obliged to follow the 996 schedule. Other GitHub users have supported the labor rights initiative by translating the Chinese page into different languages — including English, Spanish, and other European languages — and giving suggestions for how to improve the web interface. By Thursday evening, the repository had received over 12,000 comments.
"I've quit at ByteDance, to boycott 996 start with me," commented one netizen in the repository, referring to the parent company of short-video app TikTok. "[This forum is] the blood and sweat of 100,000 coders," commented another. Still more netizens on Maimai, a LinkedIn-like professional network, claimed that 996 wasn't even the worst-case scenario — that some developers were working 10125 or even 007 schedules.
According to tech blog QbitAI, the creator of the page uses the online handle Nulun on a Reddit-like coders' forum called V2EX. Nulun previously admitted to making the 996.ICU page after his company adopted a 996 work schedule, which made him realize how such a system could negatively impact employees' health. Nulun had not responded to Sixth Tone's interview request by time of publication.
A 28-year-old software engineer who asked to be identified as Eric told Sixth Tone that his previous employer had adopted a 910.57 schedule — 9 a.m. to 10:30 p.m., seven days a week. After toiling under this system for six months, Eric was diagnosed with a swollen prostate and a slipped disc, and his resting heart rate was over 100 beats per minute. Eric quit five months ago to recover his health and says he just won a lawsuit against his former employer for not paying him social insurance or overtime.
Eric shared a screenshot from a WeChat group of software engineers sharing the GitHub page and discussing their poor health. "When I saw the page I thought, 'Yes! There's finally someone speaking out,'" he said. "China's internet companies don't treat us programmers like human beings."
At China's startups and tech companies, working long hours is often the norm. A 2016 report from ride-hailing platform Didi Chuxing shows that at some of China's biggest internet companies, the work doesn't end until well into the night: The average clock-out time at JD.com is 11:16 p.m., compared with 10:50 at Tencent and 9:24 at Didi.
On Wednesday, a netizen created a separate webpage listing internet companies that are frequently accused of overworking their employees and encouraging netizens to vote for the worst offender. Several household brands — including JD.com, Youzan, Alibaba, ByteDance, Huawei, Xiaomi — are among the top 10 vote-getters.
Though GitHub's content-sharing platform is most closely associated with being a collaborative coding environment, China's tech-savvy netizens have recently been using it as a haven for expressing their thoughts and frustrations about a variety of issues.
This story has been updated with additional and clarified netizen comments.
Editor: David Paulk.
(Header image: Two men sleep on foldable cots after finishing work in the early morning at the office of a tech company in Beijing, China, April 27, 2016. Reuters/VCG)