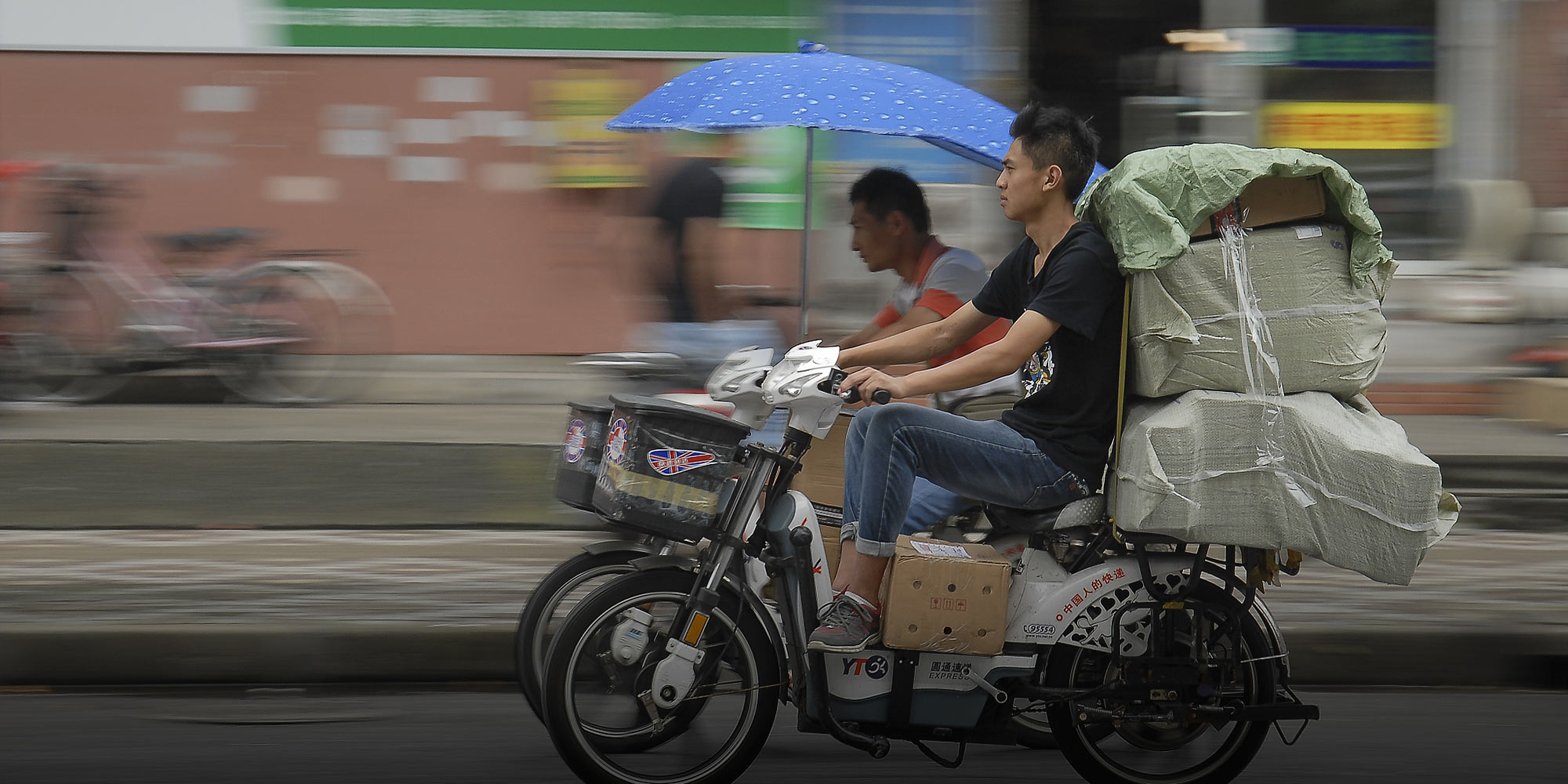 VOICES & OPINION
How We Can Improve the Lives of China's Delivery Drivers
A key part of the country's urban ecosystem, many drivers are migrants operating outside the social safety net.
Veteran delivery drivers like Xu Jianguo — to protect the identities of my research subjects, I've given them all pseudonyms — have all seen the ubiquitous recruitment ads posted around Shanghai, the ones that promise prospective rookie drivers monthly salaries over 10,000 yuan ($1,490). But if you ask Xu about them, he'll only laugh.
In a good month, Xu makes roughly 7,000 yuan. While that's slightly higher than the overall Shanghai average of 5,350 yuan, he doesn't know how much longer he can keep it up. "Being a food delivery driver is getting harder and harder, [because] there's no money in it," he told me. "Now [each delivery] pays just 5 or 6 yuan, whereas last year we were earning 7 [yuan]. If it goes on like this, I'm going to have to change jobs."
Delivery drivers are caught up in a business revolution: Unlike previous generations of migrants — who largely sought jobs in manufacturing, construction, or industry — they're fully engaged in the gig economy. Most of China's delivery drivers are young migrants like Xu who spend their days battling both traffic and the clock to earn a decent wage. My research team and I call them China's "drifting youth." They pick up our packages and deliver our food; they're the engine that powers China's complex logistics chain. But thanks to brutal schedules, unresponsive yet overbearing management, and a lack of advancement opportunities, many of them feel as though they're running on borrowed time.
According to a 2018 report co-published by enterprise data aggregator CBNData and the retailer Suning, there are an estimated 3 million delivery drivers working throughout China. In order to better understand this critical group and the challenges they face, my team and I conducted face-to-face interviews with 115 of them and analyzed the results from over 1,500 online questionnaires that Shanghai-based drivers completed.
Demographically, there were few surprises: The majority of Shanghai's delivery drivers are millennial males between 18 and 35 years old. They are most often internal migrants, typically from the central and eastern provinces of Henan, Shandong, Anhui, and Jiangsu.
More than 50 percent of the drivers we surveyed reported working over 10 hours a day. Package delivery drivers have relatively fixed schedules: They start work at 8 a.m. and finish at 6 p.m., during which time they're expected to deliver more than 100 packages. Food delivery drivers work less stable hours. Most choose to work from 9 a.m. to 9 p.m., but some opt for the night shift. Regardless of when they work, they make an average of 30 to 40 food deliveries a day — fewer than package delivery drivers, but largely concentrated during peak periods around noon and in the early evening.
Few survey respondents saw their jobs as anything other than a short-term gig, and only 15 percent expressed a desire to keep working in the industry. Most said they'd like to someday buy a house and settle in their hometowns. Others simply wanted to find a more relaxed, better-paying line of work. "I'm not going to keep doing this job forever," said Xu. "[But] it has a low entry threshold, and other jobs are more difficult to find. I'll do this for a few years and save some money, then go home and start a little business or open a small restaurant."
That's not to say there aren't advantages to the job: The learning curve isn't steep, and the promise on those above-mentioned recruitment posters — entry into a thriving industry that lets drivers get out what they put into their work — is enough to lure large numbers of prospective applicants. It can serve as a stepping stone for migrants making the transition from the countryside into the city. But the challenges, including unresponsive and inflexible management, along with the lack of avenues to better, more stable positions, have many veering toward the exits.
Most drivers want the same things out of their job as anyone else: basic medical care, a safe work environment, and a good pay package. But more than 27 percent of respondents also listed a desire for more humane management practices — including softer fines, better ways of dealing with malicious ratings, and more effective channels for filing complaints regarding customer misconduct.
The package delivery industry, for example, punishes drivers harshly for customer complaints, with fines often in the range of 50 yuan per complaint. But since the complaint and fine process remains a black box in which the company holds all the power, many drivers say they don't understand how it works. Meanwhile, management rarely addresses the drivers' own concerns.
"Some customers really like to file complaints, like when their package is damaged," explained 32-year-old package delivery driver Wan Li. "That happens during sorting — it didn't happen during the delivery process. Yet [customers] will complain to customer service, who then won't listen to what I have to say."
Many drivers also report feeling alienated as they kill time in a seemingly dead-end job. "This place doesn't belong to me; I didn't grow up here," said 23-year-old food delivery driver Wang Junjie, who's lived in Shanghai for more than four years. "I've been doing the job for around four months. If it wasn't for the fact that you can make quick money, I wouldn't be doing it. There's nothing to learn. You just deliver the food to the customer — anyone can do that."
If China is to improve the lives of its delivery drivers, companies should be required to establish clear and open channels for appealing fines or contesting unfair administrative punishments. Among other nationwide proposals, the eastern province of Jiangsu, for example, intends to organize them into a state-run union structure. How this will work in practice, however, remains to be seen.
Meanwhile, the government could establish training programs to help delivery drivers transition into better-paying, more skills-intensive work. This would both help those interested in staying in the city establish a firmer foothold and protect low-skill workers from rapidly proliferating technologies like AI.
The needs and dreams of delivery drivers deserve our attention and concern. They have goals; they just lack the support systems to reach them. Drawn to the industry by the promise of a better life, they've played a vital role in making our lives more convenient and enjoyable. It's time we delivered on that promise.
Co-author: Deng Jiayi.
Translator: David Ball; editors: Wu Haiyun and Kilian O'Donnell; portrait artist: Zhang Zeqin.