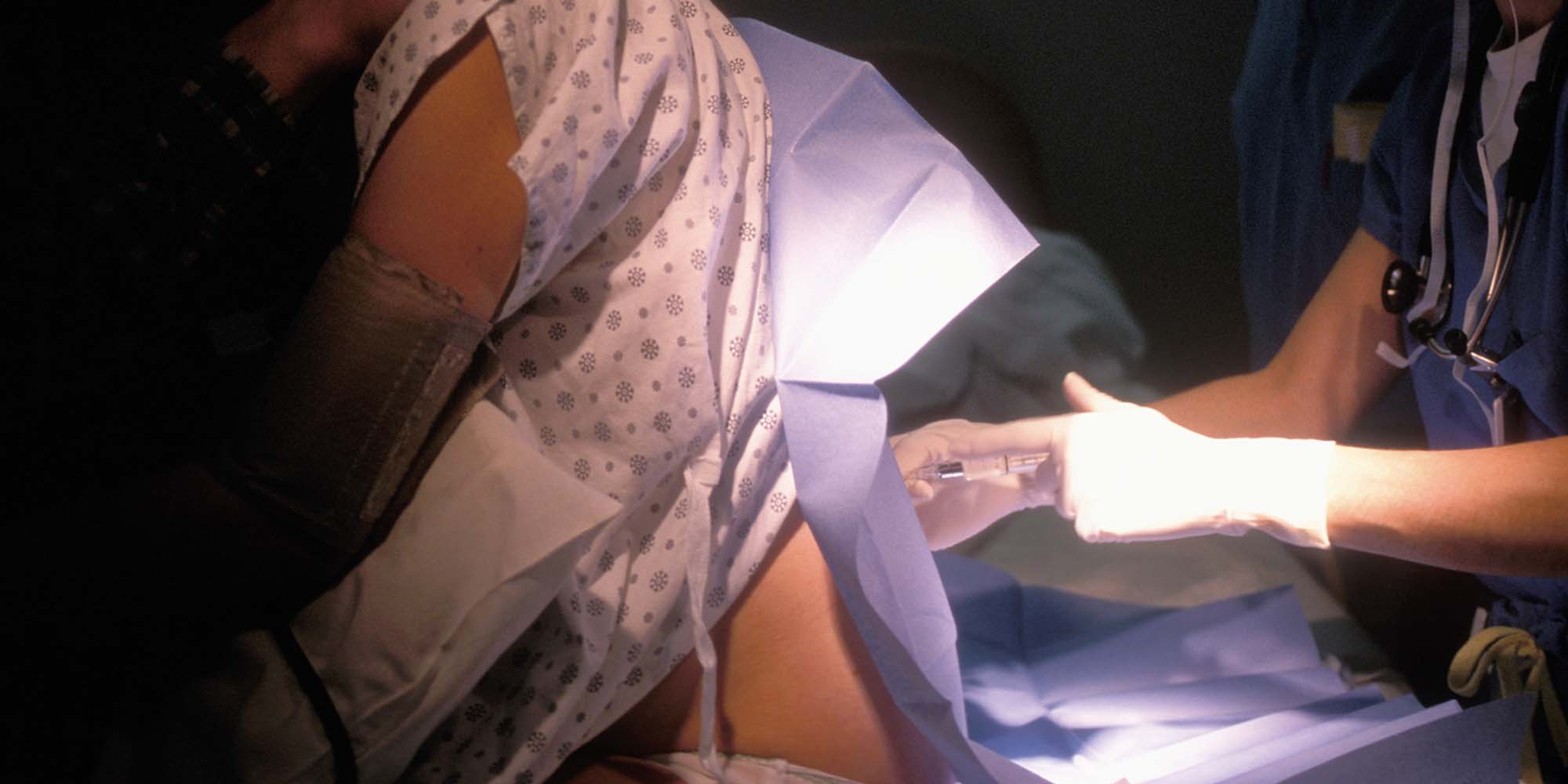 NEWS
China Wants More Anesthesiologists, Vaginal Births
Health authorities want to reduce the country's high c-section rate, but they're going to need a whole lot more anesthesiologists to accomplish this.
China's highest health authority wants more women to give birth vaginally, but the country is already 300,000 anesthesiologists short of meeting current demand, according to a report published Wednesday by Sixth Tone's sister publication, The Paper.
The news follows the National Health Commission's announcement last week that a pilot group of 913 hospitals had been selected to promote the so-called painless delivery method — referring to an epidural injection administered by an anesthesiologist.
The dearth of such specialized doctors can be partly attributed to a lack of respect and appreciation within the field, say medical professionals.
"Anesthesiologists have always belonged to a relatively inferior station — we aren't in direct contact with patients like the front-desk departments," Fu Cong, an anesthesiologist at Peking University First Hospital, told The Paper. "We work behind the scenes: When the patient is lying in the operating room, we're there wearing masks, making them feel like we're no different from nurses."
Unlike countries in which specially qualified nurses can administer anesthesia, China only allows physicians to do so.
In November of last year, the National Health Commission released a report in which it proposed making epidurals for vaginal childbirth more accessible by 2020. The report followed a highly publicized 2017 case of a pregnant woman who killed herself after her family refused to authorize a cesarean section.
According to a 2010 study by the World Health Organization, c-sections were more common in China than in eight other Asian counties surveyed. A 2017 study found that c-sections accounted for 29 percent of China's births in 2008 but that this figure had risen to 35 percent by 2014. According to the WHO, the ideal range for c-sections is 10–15 percent.
Given the health risks of c-sections — including infections, blood clots, and complications during future pregnancies — the Chinese government is intent on making them a secondary option rather than the default. But as long as it has so few qualified professionals, it's going to have a hard time selling this plan. According to statistics from the World Federation of Societies of Anaesthesiologists, China has just 5.12 physician anesthesia providers per 100,000 people.
Furthermore, a 2014 survey of nearly 13,000 anesthesiologists in China found that 57 percent said they would opt not to pursue the profession if given another chance, and 64 percent said they worked over 50 hours per week.
"Anesthesiologists have to be on call 24 hours a day. If they're on the night shift, it's rare for them to get to sleep in a bed," said Fu. "Whenever there's an expectant mother who requires anesthesia during labor, the obstetrician will give us a call."
In August 2018, several top government organs including the National Health Commission and the Ministry of Education published a joint guideline aiming to increase the number of anesthesiologists in China to 90,000 by 2020, 140,000 by 2030, and 160,000 by 2035. According to the World Federation of Societies of Anaesthesiologists, the country currently has around 71,700 physician anesthesia providers.
High pressure and long working hours have become an added deterrent to anyone considering entering the profession. In March 2015, a 26-year-old anesthesiologist at a hospital in the eastern Zhejiang province died unexpectedly, purportedly from overwork. And in October 2014, an anesthesiologist in his 40s fell into a coma after suffering a stroke in the operating room. In its story about the 2014 incident, China National Radio reported that around 15 anesthesiologists in China had died suddenly over the previous two years.
Editors: David Paulk and Layne Flower.
(Header image: Science Source/VCG)