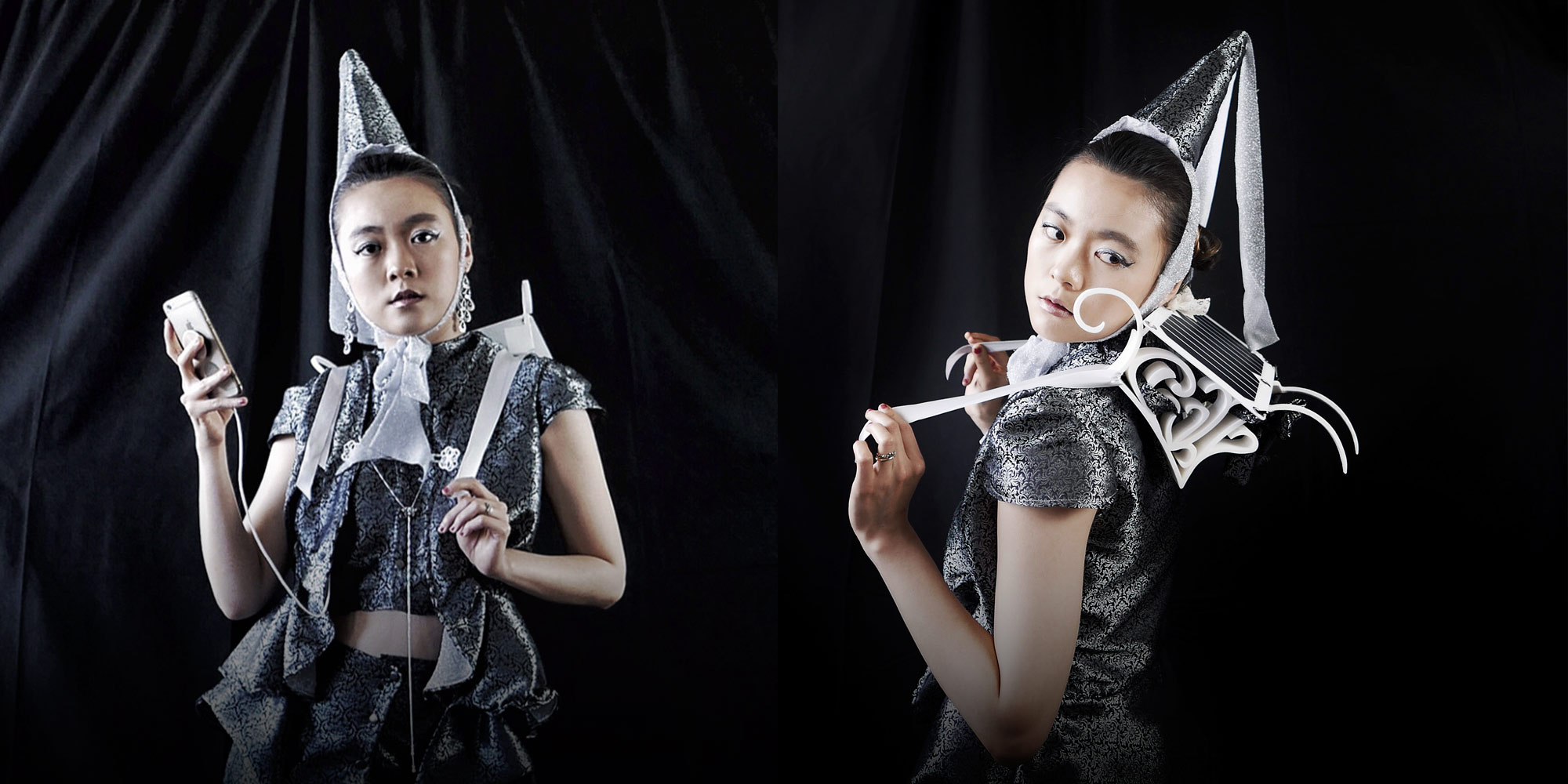 FEATURES
The Savvy Creative Tinkering With High-Tech Fashion
Kitty Yeung has the magic touch when it comes to combining technology and fashion, but how will the market respond?
With one wave of her hand, Kitty Yeung's black gown lights up, like stars in a solemn sky. What could be a scene from a new "Harry Potter" installment is instead a video she took in Silicon Valley — and the trick comes not from a magic wand, but from her own electronic wizardry.
Yeung, who describes herself as a creative technologist, creates feats of sophisticated fashion that incorporate wearable technology. The next-generation tech she relies on is more intricate than the smart watches that have already taken over the world — and nowhere more so than China. Already the world's largest market for such products, China has an appetite for wearable tech that is only growing, according to a report published by market intelligence firm IDC in December 2018.
Someday soon, we might all be wearing clothes along the same thread as Yeung's smart dresses, outfits that might glow according to the wearer's brain waves or with automated "flying" sleeves that can move on their own. Yeung depends on cutting-edge innovations like LEDs, sensors, digital printing, 3D printing, and microchip technology to give her dresses a magical touch. After turning an idea into a blueprint, it usually takes Yeung a day to program the electronics and sew or solder them in place. Despite her demanding day job, Yeung designs her dresses with gusto and shares her skills by uploading all of her so far 30-odd designs to an open-source platform.
Born in China, Yeung spent her childhood in the southern tech hub of Shenzhen before studying natural science at the University of Cambridge and getting her doctorate in applied physics at Harvard University. After a stint with chipmaker Intel, Yeung is now the general manager of Microsoft's Silicon Valley Garage — a program through which the tech giant hopes to realize and scale employees' innovative ideas. Because of her conviction that technology should serve all people, she considers herself an international citizen and prefers not to specify her nationality. She also declined to give her age, saying her achievements have nothing to do with how old she is.
Yeung spoke with Sixth Tone about smart clothes, diversity in tech, and fixing the fashion industry. The interview has been edited for brevity and clarity.
Sixth Tone: What inspired you to combine fashion and technology?
Kitty Yeung: I just like doing both. I always wanted to be a scientist when doing art as a kid. I have been making sci-fi graphic novels, and I design clothes for the characters. I wanted to make the designs a reality. So when I was finishing my graduate thesis, I bought a sewing machine and taught myself tailoring as a hobby. At the same time, I was playing with robotics. Thanks to open-source platforms, I was also quite familiar with programming microcontrollers, sensors, and other electronics.
But it was my time working for Intel that inspired me to fuse electronics into fashionable dresses. Intel was making open-source hardware and collaborating with fashion designers to demo futuristic designs. I wanted to use similar principles but apply them to everyday clothing. By then, I'd learned how to use the electronic tools, how to sew, and how to design. So I just started putting electronics into dresses. There's no reason not to.
After I made some successful pieces and showed them in public, people started asking me where they could buy them. Such positive feedback encouraged me to dig deeper and discover more about garment manufacturing.
Sixth Tone: What are the barriers for commercializing smart clothes?
Kitty Yeung: Firstly, current off-the-shelf electronics are still not quite made for natural and comfy clothes. Since we need to sew the gadgets onto or into fabrics, they need to be smaller, lighter, thinner, and softer. Otherwise, they won't be comfortable to wear. For example, we need flexible batteries, which are currently still in the developmental stage. However, there are some more advanced inventions, but that doesn't mean we can get our hands on them immediately. Scientists' new inventions normally take another 10 to 20 years before a prototype can be produced on a large scale. At the same time, many cutting-edge technologies are not open-source. Tech companies tend to lock those technologies up, far beyond the reach of creative designers.
Secondly, the ecosystem for smart clothes is still incomplete. Currently, the big players in the market are either electronics companies that produce hardware not specifically designed for making clothes, or designers who never thought about adding electronics to clothes. The upstream investors and the downstream manufacturers won't jump on the bandwagon. They haven't seen a chance to earn big bucks from the business, whereas the general public won't generate demand until there are already some products on the market that can inspire them.
Presently, it's mostly us makers who are designing and creating smart clothes on a small scale. In America, there are online platforms offering services such as digital printing and 3D printing for small-quantity manufacturing runs, which help make prototypes of innovative ideas. China also has this printing tech and many more factories. But manufacturing is dominated by mass production, which doesn't support creative designers.
Sixth Tone: How could technology improve the way the traditional clothing industry manufactures its products?
Kitty Yeung: There are many inefficiencies within the traditional clothing manufacturing processes. The most prominent problem is that the industry produces bulk orders of basic items, instead of doing them made-to-order to address customers' actual needs and support creativity-driven production. There are billions of unsold fashion items produced by major brands every year. Leftover clothing in off-the-rack stores, even after rounds of discounts, ends up in incinerators. The fashion industry contributes to 10 percent of the global carbon footprint. We need to have another Industrial Revolution in fashion — and technology can help us achieve need- and creativity-driven manufacturing.
The key to fashion design is the patterns. We all know that China is one of the countries with the best patternmakers. Most brands in the United States produce in China, where the craftsmanship of making patterns is passed down through generations and labor is cheaper. But even with the same pattern design, different patternmakers can still produce completely different samples due to human error. The fits, fabrics, trims, and details of the samples can all have a lot of variations and discrepancies from the designers' vision. This can cause several rounds of back-and-forth between the designers and the patternmakers. If a creative designer starts small and wants to do made-to-order, the patternmakers are reluctant to work with them. This is just one example of the hurdles in the supply chain.
Now, imagine if we had a digital library of abundant patterns from different designers as well as standardized manufacturing procedures and existing technology like 3D visualization. We could place orders first. Then, the factory would only make products according to people's actual needs and avoid overproduction. What's more, digital tracking in the library could allow customers to funnel money directly to the original designers and manufacturers, eliminating copycats selling knockoffs. In a sense, this is a vision for achieving open-source production in garment manufacturing.
Sixth Tone: Do you expect China's tech industry to become more gender-inclusive and diverse?
Kitty Yeung: I'm not very familiar with the situation of female tech workers in China. But I have noticed that I'm called a maker/scientist/engineer in the West, but I am referred to as a "female" maker/scientist/engineer in China. When I was growing up in China, there was — and there still is — a stereotype that says science, technology, engineering, and math (STEM) are not for women. This is part of why I chose physics as my career, apart from the fact that it's a subject I truly love. I wanted to prove this stereotype wrong. And I spent almost 20 years working on this — getting the highest academic degrees in physics and continuing my profession in tech. I'd like to encourage girls to choose STEM and women to stay in STEM.
Moreover, we should be able to make technological solutions that address all kinds of people's needs. If we don't have enough women in the field, how could we expect to have enough high-tech products created for women or to help women? In addition, a good working environment provides opportunities for women to stay in the fields they love. For example, if their work allows them to take breaks for having children, they can come back without sacrificing their careers.
Editor: Kevin Schoenmakers.
(Header image: Kitty Yeung poses for promotional photos wearing a solar-powered smart suit she made using Microsoft Garage. Courtesy of Kitty Yeung)