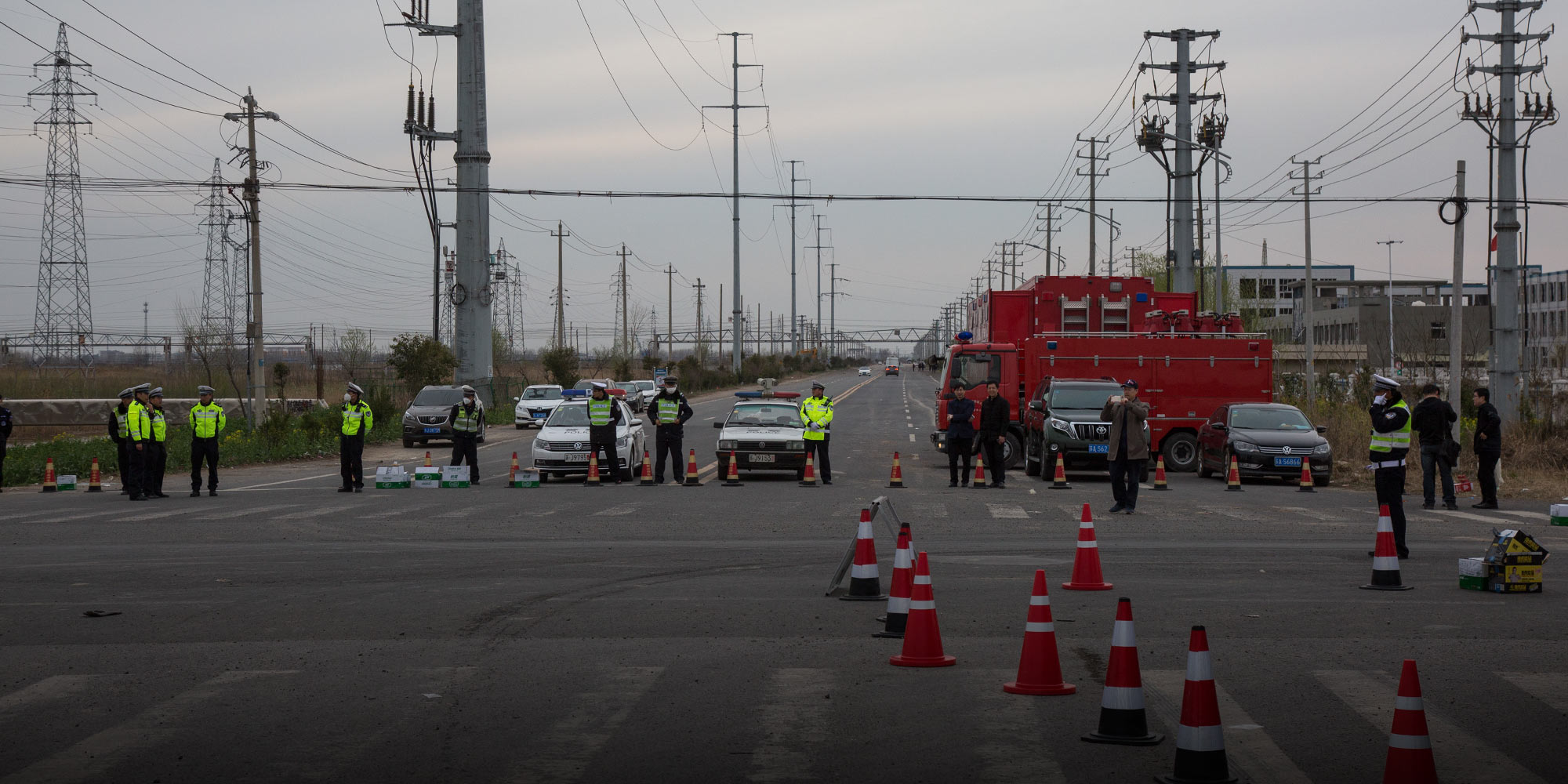 VOICES & OPINION
The Yancheng Blast Shows the Importance of Media Oversight
Twelve years after local officials did their best to block media access to another blast site in the same industrial park, it's time to recognize that outside pressure and supervision are vital to ensuring public safety.
On March 21 at 2:48 p.m., there was an explosion at a chemical plant in the eastern city of Yancheng. According to the latest official figures, the death toll currently stands at 47, with another 90 severely injured. Nearby residents have been evacuated and schools and kindergartens closed.
According to Chinese law, a production accident that results in the death of over 30 people is classified as "extremely severe." Those involved in yesterday's incident have already been detained, and rescuers have been on the scene for over a day. But now that the media has started the work of reporting on what happened, several disturbing facts have surfaced.
According to reports, the company at the center of this latest incident, Jiangsu Tianjiayi Chemical Co. Ltd., has a checkered past. Over the past three years, it's been subject to administrative penalties on more than five separate occasions. Although most of these were environmentally related, they suggest a pattern of serious management failures.
More shockingly, last February, a report issued by the State Administration of Work Safety identified 13 production-related hazards at Jiangsu Tianjiayi, including high-level managers who had not been certified in safety procedures. If not resolved with the utmost care, almost every single one of these problems posed a significant risk. One of them — the improper handling of the highly flammable chemical benzene — may have caused the blast.
That lax safety measures caused a tragic explosion at a company with a known history of safety violations suggests that regulators' attempts to resolve the problem never went beyond the surface level. Even more bewilderingly, just a few days prior to the explosion, officials in Xiangshui County — the administrative unit of Yancheng where the Jiangsu Tianjiayi factory is located — inspected several plants and highlighted the importance of production safety and eliminating potential hazards.
Late last year, Yancheng's party secretary also visited Xiangshui to inspect several sites, including Jiangsu Tianjiayi. One of his goals was to better understand how much progress had been made toward improving safety conditions. His visit came just months after Jiangsu Tianjiayi had been ordered to partially suspend operations, and less than a year after the publication of the above-mentioned State Administration of Work Safety report.
Based on the above, it's clear that local authorities were not blind to the risk posed by lax safety procedures in the chemical industry. Yet their repeated attempts to emphasize the importance of safety apparently still weren't enough to prevent disaster. Lines were still crossed, things were still left to chance, and — whether one blames regulators or plant managers — safety hazards were not promptly addressed.
Members of an environmental group based in the provincial capital of Nanjing once visited Yancheng to carry out an investigation on conditions in the local industry. When they asked locals about the environmental problems caused by the chemical plants, the majority responded that they saw no point in reporting them.
If this tragedy tells us anything, it's that there are limits to both the public's ability to supervise environmental and safety issues, and to the effectiveness of top-down pressure for reform. In this case, neither proved particularly capable of carrying out the work of governance. It's inevitable that such systemic safety failures would leave people doubting whether the government's poor enforcement of safety standards was deliberate — the result of economic or political calculations on the part of local officials — and whether this corrupted the production process leading up to yesterday's disaster.
More seriously, this is not the first time a plant in Xiangshui has experienced a catastrophic failure. On Nov. 27, 2007, an explosion occurred in a different part of the same industrial park, resulting in eight deaths and dozens of injuries.
After yesterday's explosion, articles about the techniques local officials used 12 years ago to block the media from reporting on the previous disaster were unearthed and quickly circulated online. Twelve years later, the questions raised by these articles pose a serious threat to the public's trust in and image of local authorities.
At present, those involved have already been detained, and national leaders have issued strong statements emphasizing that the most important thing is to rescue those in danger, control the spread of chemical products, and limit secondary injuries.
As for the local government, however, given what we know about this latest tragedy and the local industry's troubled past, they must be subjected to serious criticism and scrutiny for failing in their responsibilities both to those harmed by the disaster and to Chinese society as a whole. Given how utterly ineffective local government attention and reports from higher authorities proved in reforming the industry, any thoughts of preventing outside media supervision must also be completely abandoned. Outside pressure should be viewed as a means of enforcing internal governance, correcting errors in development, and restoring baseline safeguards.
It's important to investigate whether any of the other chemical companies in the area also pose potential safety hazards, and the mechanisms tasked with ensuring production safety over the long term should be rethought. Finally, when everything is settled, it should be made clear who is responsible for yesterday's disaster, and they should be held up as a cautionary tale. Only then can we say we've fulfilled our obligations to human life.
A version of this op-ed was first published on the website of ThePaper, Sixth Tone's sister publication. It has been modified slightly with the author's permission.
Editor: Kilian O'Donnell.
(Header image: Police cordon off the blast site in Yancheng, Jiangsu province, March 22, 2019. Shi Yangkun/Sixth Tone)