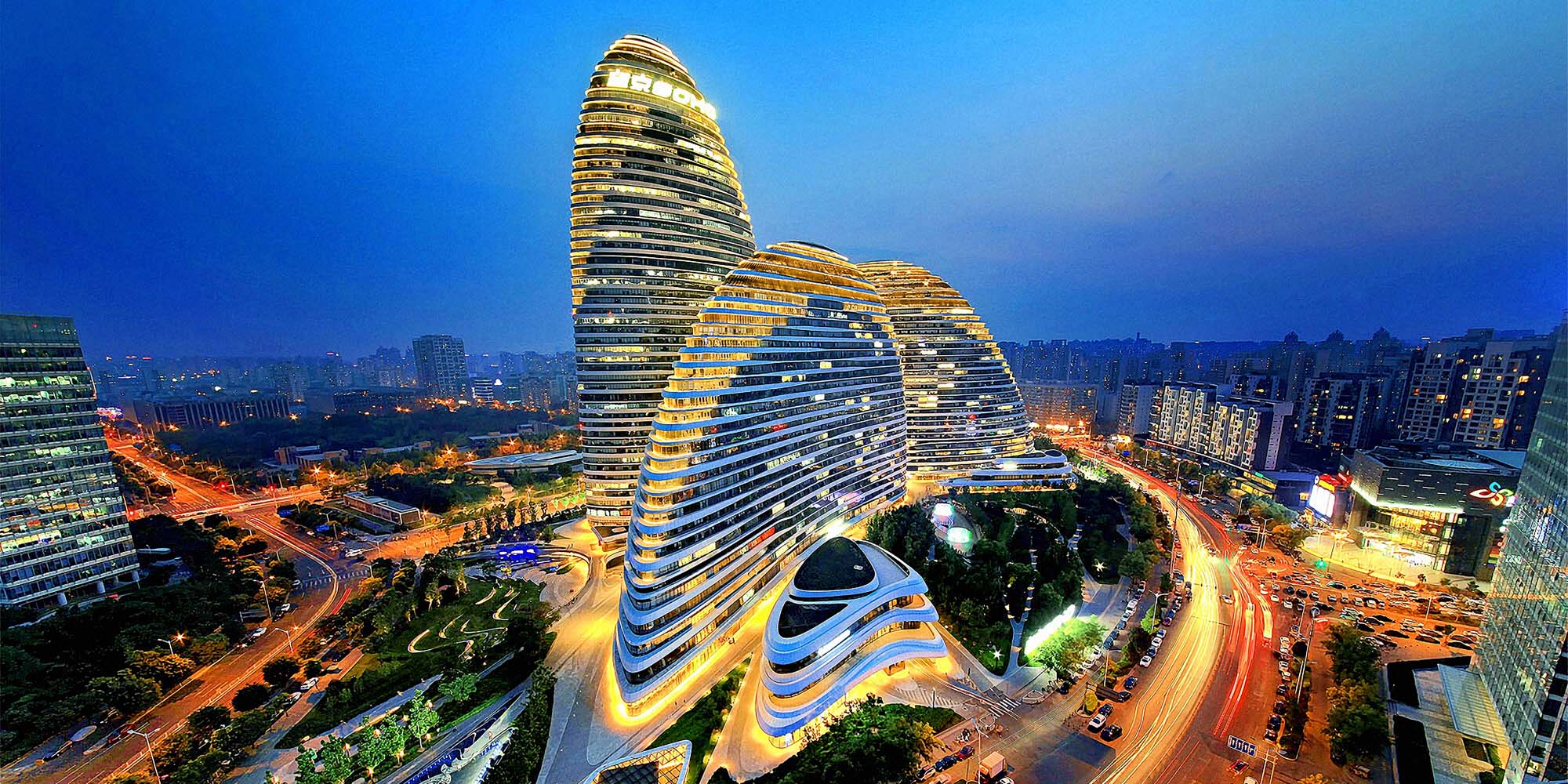 NEWS
Real Estate Developer Sues Over Claims of Bad Feng Shui
SOHO China says one of its Beijing developments was slandered by the now-deleted social media account 'Mystic Quacks Bureau.'
A real estate company known for developing futuristic office blocks has filed a lawsuit against a social media account that claimed its buildings' bad feng shui was causing tenants' businesses to fail.
On Monday, SOHO China's public account on multipurpose app WeChat posted a statement saying feng shui-related social media accounts such as Shengunju — whose name roughly translates to "Mystic Quacks Bureau" — had published articles weaponizing "feudal superstition" to attack its development in Wangjing, Beijing's Koreatown, designed by the renowned architect Zaha Hadid. These slanders, the statement claimed, had not only harmed SOHO's reputation but also caused its clients to suffer psychological harm. SOHO China added that it had filed a lawsuit against Mystic Quacks Bureau, without specifying when.
"We can only rely on legal methods to resolve this, allow the law to protect us, and use scientific, rational, civilized means to comfort our customers," the statement said.
On Nov. 11 last year — the day of China's annual online shopping bonanza — Mystic Quacks Bureau posted an article titled, "Is the Feng Shui of Beijing Wangjing SOHO Making It a Waterloo for Internet Companies?" Using annotated maps and diagrams, the article — which was deleted from WeChat but remains accessible elsewhere — claimed that the geographic location of the Wangjing SOHO office block was attracting negative energy and that the buildings' layout was inauspicious. This, the article claimed, was why a number of the tenant companies — including livestreaming site Panda TV, online dating service Momo, video platform AcFun, and bicycle-sharing company Bluegogo — were struggling financially, being sold off, or going bankrupt.
Four days later, SOHO's CEO, Pan Shiyi, posted a lengthy rebuttal on microblogging platform Weibo, where he has nearly 20 million followers. He said that over the years, his company had been criticized by many such accounts eager to smear SOHO's name by invoking superstitions. These accounts, he continued, were merely envious of SOHO's superior facilities, which boast high indoor air quality and drinkable tap water.
In mid-January, Mystic Quacks Bureau's WeChat account was removed from the platform for unspecified reasons. Sixth Tone was unable to contact anyone responsible for managing the account.
Feng shui is a traditional Chinese practice and belief that asserts a link between environments' arrangements and people's life energy or luck. Some believe that good feng shui encourages positive fortune and energy, while bad feng shui invites disaster. Though feng shui was outlawed during the Cultural Revolution — and, more recently, Communist Party members have been chastised for moonlighting as feng shui masters — it remains widely observed in China.
Even SOHO China seems to realize how important feng shui is in the eyes of many Chinese. On Monday, Pan said on Weibo that he had asked his colleague why the company's statement earlier that day had referred to a "feudal superstition" rather than mentioning feng shui outright. "We were worried that tens of thousands of people working at Wangjing SOHO would once again be subjected to psychological and emotional trauma," the colleague replied, according to Pan.
Despite official efforts to dampen enthusiasm for feng shui, it is frequently taken into account for construction projects large and small, according to Michael Luk, a Shanghai-based senior project design manager for an international hotel chain.
"The Chinese government has for decades tried to control and label feng shui as an old and feudalistic superstition," Luk told Sixth Tone. "But despite these efforts, it is becoming more and more popular among the general public."
In response to Pan's post about his company's decision not to mention feng shui by name, several Weibo users asked why traditional Chinese beliefs should be labeled "superstitions" when such beliefs in other countries might be called "religions."
Other netizens, meanwhile, claimed that in the past, Pan had embraced or condemned feng shui depending on when it suited him. In a 2014 Weibo post, for example, Pan had suggested that Wangjing SOHO's good feng shui had played a part in its tenant Momo filing for its initial public offering. And in 2017, he had posted a photo of three of his friends from primary school, one of whom he characterized as a "widely known feng shui master."
Editor: David Paulk.
(Header image: An exterior view of the Wangjing SOHO complex in Beijing, June 5, 2016. Steve Chenko/VCG)