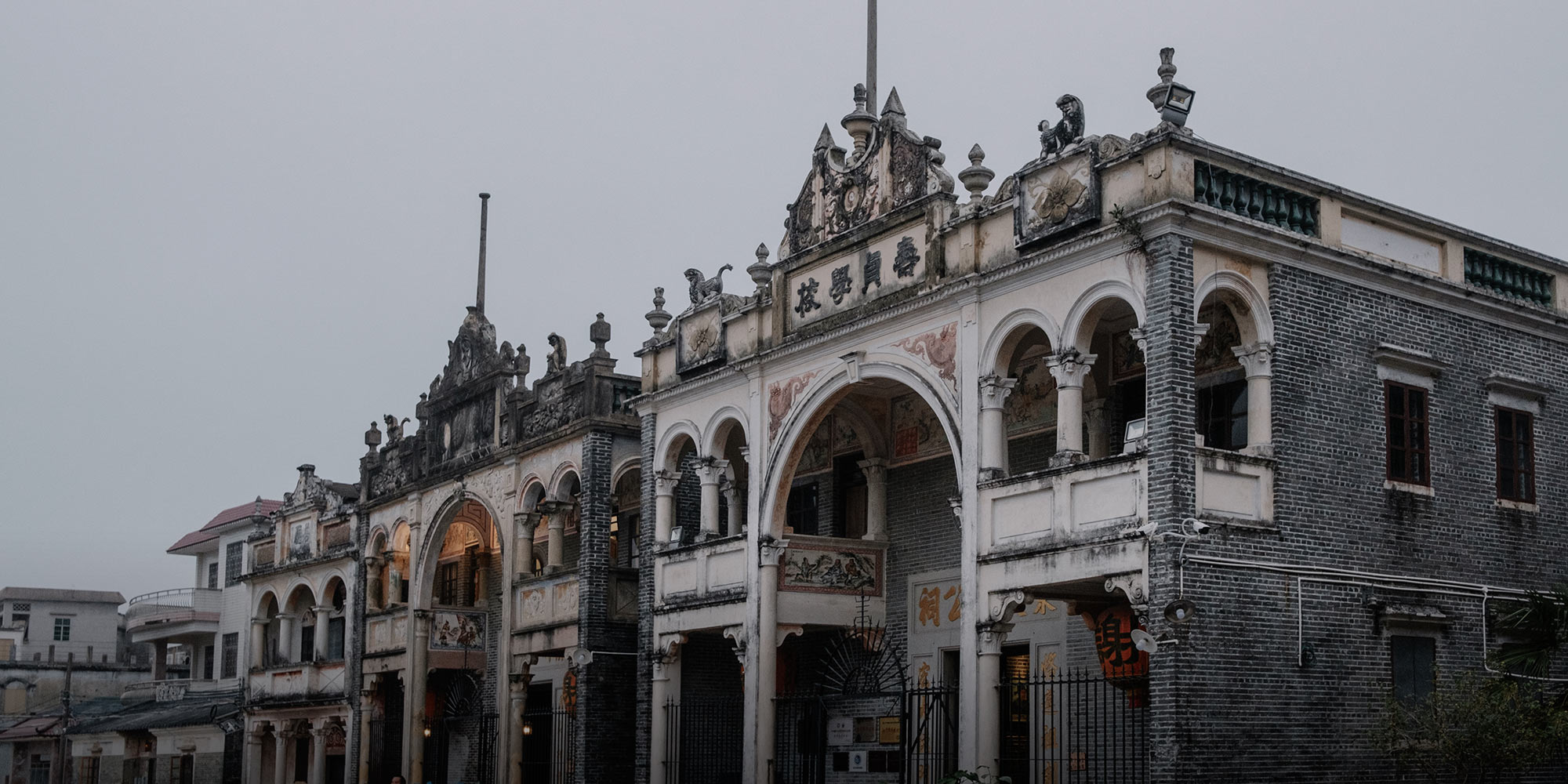 VOICES & OPINION
How I'm Restoring One of China's Most Beautiful Villages
For China to preserve its architectural heritage, the country must first reconsider its approach to conservation.
As a scholar working in the field of architectural preservation, I've participated in preservation projects over the past two decades in some of the most breathtaking parts of Europe, Asia, and the Americas. I'm constantly amazed at how much effort some countries expend to preserve and develop their historical and cultural heritage, and I look forward to the day my own country will do the same.
The history of cultural and architectural preservation in China is rife with blunders. All too often, locals assume only officially designated buildings or sites are worth preserving and therefore feel no compunction about remodeling or destroying anything that doesn't carry that label. Only if and when a site's destruction has aroused public ire will the authorities rush to rebuild what's already gone. Meanwhile, local governments tend to take a narrow view of the goals of preservation work, protecting buildings to draw in tourists while either relocating locals or disrupting their traditional ways of life.
None of this particularly bothers investors, who are more concerned with maximizing profit through new roads, parking lots, hotels, and other tourism infrastructure than with maintaining traditional local building patterns and an area's feng shui. But residents are also given little to no say in these decisions, their rights limited to the ability to open shops and sell so-called local specialties while watching as their homes are repurposed into theme parks.
It doesn't have to be this way. For the past nine years, I've been working with villagers and village leaders on a preservation project in Cangdong Village in the southern province of Guangdong. Our experiences — wrangling investors, cooperating with and educating villagers, and trying to establish a new model for cultural preservation in China — offer a window into some of the challenges facing preservationists here, as well as a potential path forward.
Cangdong Village has a history that stretches back 25 generations, and it's home to an eye-catching array of hybrid architecture that liberally mixes both Western and Chinese influences. Constructed at the start of the early 20th century by returning overseas Chinese, Cangdong's homes, ancestral halls, and fortress watchtowers — or diaolou — form a kind of living museum. Through them, we can chart the fortunes of the village's overseas Chinese population over the course of the early 20th century.
But despite its strong ties to the overseas Chinese community, Cangdong Village currently struggles with many of the same problems affecting villages throughout China, including outmigration and underdevelopment. Since the early 1980s, there's been a wave of outmigration from Cangdong as some have moved abroad to live with relatives, while others have gone to look for higher-paying work in nearby cities. By the early 2000s, after years of decline, many of the village's houses were crumbling or overrun with weeds.
In an attempt to reverse this trend, Cangdong villagers and émigrés began fundraising to repair its ancestral hall in 2010. Xie Tien Yau, an overseas Chinese with roots in Cangdong, was highly involved in the work, contributing funds and pushing for a professional-grade restoration. That summer, Xie and a handful of the village elders invited me to assume the project's technical leadership, and restoration work began the following year.
For the next five years, we spent most of our time collecting basic information about the history of both the village and the ancestral hall. We chatted with residents, listened to their stories, and collected folk songs. It took six months of asking locals what memories they had of the ancestral hall and soliciting feedback before we finally came up with a draft restoration process that most people liked.
Once it began, the actual work of restoration moved just as slowly, in part because the village craftsmen kept having to suspend project work to attend to their farms, for community events like funerals or weddings, or to host visitors. Our woodcarver, for example, split his time between carving temple plaques and caring for his chicken farm.
Despite the challenges of relying on village labor, we insisted on trying to balance quality with village participation. We always began by asking local craftsmen for their input, then gradually guided everyone to methods that wouldn't compromise the local buildings or broader local traditions, including the village's feng shui.
We were especially attentive to the residents' architectural tradition, feng shui beliefs, and lifestyles. After all, we didn't want to just preserve the village's stunning architecture; we wanted to preserve its history and environment, its way of life, and the very spirit of the place.
This has not always been easy. Some villagers express skepticism about how slowly the work is going, while others don't understand our preference for historically accurate methods. Once, when I wasn't around, the masons used concrete as a sealant when repairing the rammed earth walls instead of the more historically accurate lime that we had agreed upon. When I asked them why they'd diverged from the plan, they were adamant. "We didn't use concrete before [when these buildings were being built], because we didn't have it," they said. "Now we do, so we have to use it!"
When disagreements like this arise, we talk the issue through with the villagers. Then we weigh the pros, cons, and overall situation before making a decision. We incorporate villagers' suggestions into the project as much as we can and give them the opportunity to explain their reasoning.
Based on these discussions, we've occasionally decided to overlook mistakes made in the restoration process. But there were still times, especially when it came to crucial parts of the work, when we had no choice but to ask them to redo it. Typically, we enlist some of the villagers who best understand our ideas to explain them to their neighbors, rather than order them to get in line. It's taken some time, but after a few similar incidents, the villagers have slowly come to understand where we're coming from.
To date, we've successfully restored two ancestral halls, five residences, a diaolou watchtower, and a temple. But our goal isn't just to restore Cangdong's faded beauty: We want to use it as a model for other restoration projects in the future.
To that end, we established the Cangdong Heritage Education Center, and in early 2014 began offering workshops in heritage conservation. We've worked with universities and cultural organizations both within China and abroad to plan dozens of these workshops and seminars — which are open to everyone from students to officials — in the hopes of starting conversations about preservation methods.
Meanwhile, some of the villagers who had moved away from Cangdong have come back to visit their old homes, see the restoration work we've conducted, and attend reunions. Once sleepy and quiet, Cangdong Village is stirring back to life. As we restore the village's dilapidated houses, some former residents have even returned from abroad to host their wedding banquets or birthday celebrations there.
Cangdong is not the only traditional Chinese village worthy of preservation. Whether it's their architecture, cultural traditions, or natural environment, most villages have something worth protecting and passing down to future generations. It's just that, at present, fewer and fewer villagers have the resources, time, or economic incentive to carry out preservation work.
This realization has hit me hard over the past few years. Our villages deserve a second chance, but they'll vanish far more quickly than we can save them if those in power don't adopt a more conservationist mindset.
There's no turning back the clock. Life has changed and, with it, places like Cangdong will inevitably change, too. The goal of preservation work is not to arrest this process, but to manage the pace of change. I can only hope that, when future generations look back on China's past, they'll find more than just dust, rubble, and parking lots.
Translator: Katherine Tse; editors: Yang Xiaozhou and Kilian O'Donnell; portrait artist: Zhang Zeqin.
(Header image: An exterior view of the Xie family ancestral temple in Cangdong Village, Guangdong province, Jan. 4, 2019. Wu Huiyuan/Sixth Tone)