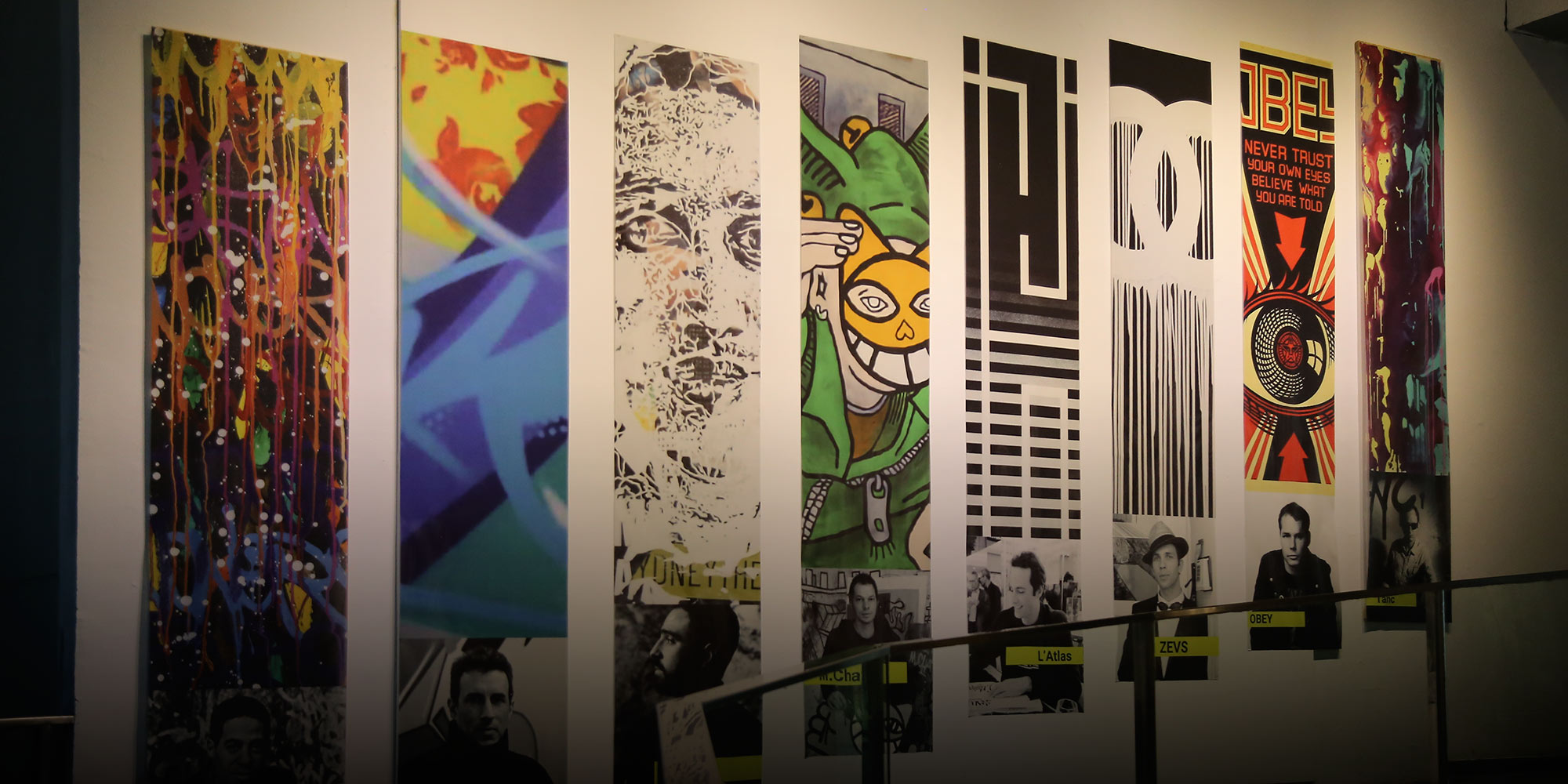 VOICES & OPINION
On Exhibit: Street Art Without Heart
China's museums and galleries have fallen in love with graffiti and street art, but when all is sprayed and done, many formal exhibitions are just an empty can.
As the most iconic graffiti documentary of all time, Harry Chalfant's 1983 film "Style Wars" helped popularize graffiti, which — together with one of its evolutions, street art — would soon take the art world by storm. These subversive art forms have seduced collectors, gallerists, and connoisseurs from all over. But the institutional embrace of graffiti and street art has sometimes come at the expense of their radical spirit.
This is certainly true in China — the third-largest art market in the world, according to Art Basel — where collectors and gallerists have shown a growing interest in urban art in recent years. Just last year, for example, the French street artist Seth, who works regularly in China, collaborated with a Shanghai museum to paint murals in several of the city's neighborhoods. Foshan native Chen Yingjie, also known as Hua Tunan, has recently collaborated with brands such as Louis Vuitton and Adidas on projects and exhibitions, mostly in the Shanghai area.
Hua Tunan shares what inspires him in a recording from a mural painting project in Eugene, Oregon. From the Youtube channel of the 20x2EUG Mural Project

Unfortunately, the urban art on display in the country's museums and galleries fails to capture the medium's transgressive side, while themes vital to graffiti — such as the commodification of public space, the division of public and private property, and our preconveived notions of decorum — go largely ignored.
Street art is not widely practiced in urban China as a spontaneous art form. Since its introduction to China in 1995 by Zhang Dali, a former international student in Italy, a handful of artists have taken up the craft. Some of the bigger crews include KTS in Beijing and UPS in Nanjing.
Yet overall, their numbers are small. There are likely a variety of reasons for this, including the fact that China has its own longstanding indigenous practice of wall writing, so street art may not seem as revolutionary here as it does to Western viewers.
Despite the relative paucity of actual street art in the country, local institutions have not been blind to the form's popularity worldwide. On Jan. 25, an exhibit dedicated to eight early and influential graffiti artists from around the world opened at Shanghai's Museum of Contemporary Art.
Titled "Post Contemporary-Urban Graphic 7019," the show — which will run until April 24 — occupies two floors of the museum's elegant People's Park-adjacent home and features work by prominent artists like Shepard Fairey, Zevs, and L'Atlas. The works on display, divided by author, are mostly hung on plywood panels — a curatorial choice that I can only assume was meant to evoke the urban and DIY nature of street art.
"7019" isn't the only exhibition trying to cash in on China's emerging street art craze. In 2017, the Brooklyn-based artist KAWS had his first survey exhibition in Asia at Shanghai's Yuz Museum. The year before, Magda Danysz, who owns a gallery in Shanghai that represents some of the same artists featured in "7019,"worked with the Beijing-based curator Tang Hui to curate "Street Art — A Global View" at the CAFA Museum in Beijing. One critic described it as, "[possibly] the biggest and most comprehensive street art exhibition ever organized."
In short, China's art market has shown an appetite for street art. Yet I would argue that these exhibits have largely been disappointments: Not only do they fail to convey the vivacity of street art, they fail on the level of art as well. They trade in the mystique of graffiti without the spirit: The artists use their street names or tags, even when their real identities are well-known.
With few exceptions — Dondi, Futura, Os Gemeos, and Rammellzee come to mind — once they're transplanted to white museum walls, graffiti artists' work frequently becomes hesitant and cliché. If we look at Shepard Fairey, his street art has largely been compromised, and his studio and poster work is banal in comparison with contemporary Chinese artists like Wang Guanyi. Rather than art, street artists' studio shows come off as sociological experiments in which creative and talented outsiders are surreptitiously transplanted into galleries and forced to entertain museum-goers.
This is because what's put on display in museums and galleries is not street art or graffiti, any more than Li Bai's grocery list would count as poetry. Just because something was created by a street or graffiti artist, doesn't make it street or graffiti art. Street art and graffiti are essentially bound to the street. Their work was meant to take place in a space of freedom in both senses: unconstrained by formal strictures and free of charge. They are art forms with deep political undercurrents and ill-suited to museum environments.
Though the definition of street art is obviously contested, there are significant points of convergence among theorists. For example, most philosophers of art interested in street art and graffiti, such as Sondra Bacharach or Nicolas Riggle, would agree that a work with no connection to the street as a site of expression that is authorized, designed to follow the trends of the art market, and neither spontaneous nor subversive, is not street art. By that definition, most of what was on display in "7019" and similar shows would not qualify.
Despite all of this, I remain optimistic that it's possible to bridge the gap between museum and street art in China. "7019" actually hints at one potential solution: photography.
The section of the exhibition dedicated to the French artist Zevs includes photos of the street art series "Electric Shadows," which he started in the early 2000s. By simply showing the outlines that Zevs painted around the shadows left by common urban objects like telephone booths or traffic lights, these images were far more effective in capturing the energy and liveliness of street art than the diluted, Platonic imitations on display. If any part of "7019" could be called street art, it would be those photos.
The idea of using photographs and videos as a strategy to bring street art and graffiti into a gallery was previously explored by Pietro Rivasi, a curator who collaborated on the 2015 Venice Biennale exhibit "The Bridges of Graffiti." In my view, his 2016 exhibition "1984: Evolution and Regeneration of Writing," set a new standard for exhibitions of graffiti that do not compromise its identity.
Graffiti has always coexisted awkwardly with the formal art world. About 50 minutes into "Style Wars," Chalfant takes viewers to a gallery exhibition of works created by some of the street artists featured in the film. Writing a year after the movie's debut on American television in 1984, Arthur Danto, the famous philosopher and art critic, describes this moment as the movie's most dispiriting sequence. Danto bemoans the sight of "these young knights of the spray [being] lionized by crass esthetes."
Danto's indictment of the art world and its co-optation of graffiti and street art more generally has, I believe, proven prophetic. Even as the art world pats itself on the back for its overdue inclusion and recognition of urban art, its tendency toward institutionalization is eroding the value of both street art and graffiti, while simultaneously undermining their subversive and anti-commercial reputations. When shown in a museum, graffiti becomes mere simulacra: empty vessels deprived of their true meaning.
But while much of street art and graffiti may have been "co-opted by our insatiable appetite for the raw and the new," as Danto once wrote, not all hope is lost. Somewhere in the cracks of the urban jungles, young lions with spray cans are still out there roaring. Museums and galleries should be trying to empower them, not cage them.
Editors: Wu Haiyun and Kilian O'Donnell.
(Header image: Posters of graffiti artists and their work on display at the "Post Contemporary-Urban Graphic 7019" exhibition in Shanghai, Jan. 24, 2019. Courtesy of MoCA Shanghai)