SHANGHAI — Lilting music drifts through the corridors of a four-floor public hospice in a tranquil neighborhood of Shanghai's Changning District. A caregiver slowly maneuvers a wheelchair-bound elderly woman out of the ward for some fresh air, singing to her as she goes. Although the woman can't speak, she nonetheless smiles serenely.
The tender scene may be familiar to people in Western countries, but in China, it's rare for people to experience this kind of end-of-life care. Although hospices have existed in China since 1987 and, according to the national health authority, the country had around 2,300 hospice organizations by June 2017, they generally remain in developed cities, inaccessible to most. Compared with the United States, where nearly half of all deaths in 2011 occurred in hospices, the majority of Chinese people either die at home or in hospitals, many of which lack adequate palliative care facilities.
In addition, deep-seated taboos about death prevent many families from discussing hospice care with dying relatives, making it even harder for them to pass away in greater comfort. In 2015, the most recent edition of The Economist Intelligence Unit's quality of death index — which ranks countries and territories on factors including access to palliative care, affordability of health care, and community engagement with end-of-life services — placed the Chinese mainland at 71 out of 80.
But Chengjiaqiao Community Health Service Center is trying to restore a measure of peace and dignity to the dying. Founded in 2012, the hospital houses one of Shanghai's first hospice units covered by the public health care system. Today, 76 similar facilities serve thousands of patients across the city, specially designed to provide people with much-needed affordable palliative care during their final days. Chengjiaqiao also offers patients and their families access to social workers and psychological counseling from both in-house staff and a local NGO, Chunhui. Although the facility is relatively small — the hospice facility provides only 66 beds for a district of more than half a million people — it's still big for China, where most such wards contain a few beds at most. To date, the hospice has served more than 1,000 patients and their families.
The first floor at Chengjiaqiao Community Health Service Center accommodates terminally ill patients with non-cancer diseases, Shanghai, March 5, 2019. Ni Dandan/Sixth Tone
Yang, an 80-year-old woman whose daughter requested that Sixth Tone not mention her full name to protect her privacy, moved to Chengjiaqiao in early March, after several visits to the best hospitals in town found no treatment for her terminal stomach cancer. She's one of the few patients lucid enough to know where they are and why they're there; most others are either on painkillers or have deteriorated to the point where they don't recognize their surroundings, nurses say.
On the day of Sixth Tone's visit, Yang enjoys a quiet half-hour conversation with Zhao Xue — a social worker from Chunhui — before dozing off. Every Tuesday, Zhao comes to Chengjiaqiao, chats with the new arrivals at the hospice, and spends quality time with the patients who most need help. Sometimes, the trained counselor offers them and their loved ones psychological therapy to help them deal with grief and stress — mostly by talking things through, but occasionally by encouraging more artistic forms of expression like drawing or paper-folding.
"Most patients either don't know they're in a hospice or don't know they're terminally sick in the first place," says Zhao, adding that many families in China refuse to explain the diagnosis to their loved ones out of fear that the news might hasten their demise. "Sometimes this is a problem, because we can't talk with patients on a deeper level, but we respect families' choices. And we do our best to ensure patients live their remaining days with dignity," the 23-year-old tells Sixth Tone.
Zhao's colleague, Wang Ruihong — Chunhui's director-general and an associate professor in the social work department at East China University of Science and Technology — says that social workers tend to go underappreciated in Chinese hospitals. "Once a patient progresses past the point of ever recovering … the most important thing is that they can live with dignity during their last days," he says. "The role of social workers can be even more important than that of doctors, because they provide more psychological support for patients."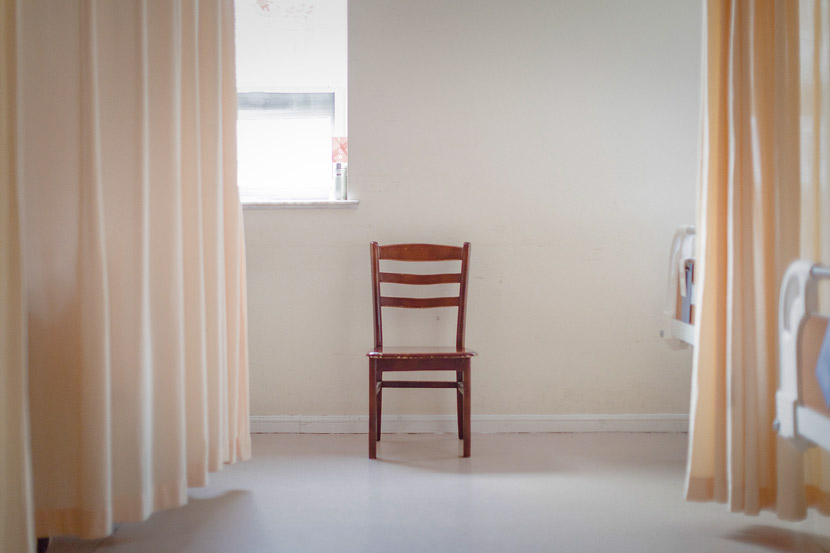 Inside a hospice ward in Shanghai, March 17, 2018. Niu Jing/VCG
The Shanghai municipal government has sought to give social workers a role in hospices since incorporating end-of-life care into the public system in 2012. However, public awareness of social work remains low, and although no official data exists on the total number of full-time social workers per capita, it is assumed to be significantly lower than in many Western countries. Chunhui was established a decade ago to focus mainly on end-of-life services, and still only employs five full-time social workers, relying on a rolling roster of between 10 and 20 volunteers. "In a good year, we serve around 60 patients, 100 families, and quite a few nurses," Wang says, explaining that hospice staff often seek counseling after seeing so many patients pass away each day. "In a bad year, we cut the number of social workers and volunteers and visit hospices less often."
Funding for social work is a chronic problem, Wang says. Although the municipal government invested more than 40 million yuan (then $6.4 million) into hospice wards between 2012 and 2014, most of Shanghai's public hospices are affiliated to community health centers — smaller, local-level hospitals — that lack the budgets to employ many full-time social workers. So they turn to organizations like Chunhui, which raises funds by allying with private foundations, soliciting donations from corporate social responsibility projects, and going cap in hand to local civil affairs authorities. "But these aren't stable sources of income," Wang complains.
Xiong, the daughter of a patient at Chengjiaqiao who also withheld her full name for privacy reasons, believes it's hard to convince people that social work is worth paying for. "I think it's better if the government pays for services like this, or at least tries to cover it as part of the public medical insurance scheme," she says.
Exacerbating their existing budgetary constraints, hospice facilities across China are reportedly struggling to balance their books. Health service centers do not profit from prescribing pain-relief drugs to patients, even though they do charge for accommodation fees. However, this income doesn't cover the costs of maintaining a highly specialized labor force. At Chengjiaqiao, patients spent an average of 180 yuan per day in 2018, says Wu Bing, director of the hospice's social worker department, adding that at tier-three hospitals — the largest and most comprehensive health institutions in Chinese cities — the expenditure is up to 1,000 yuan per day.
Even though the municipal government gives each hospice 10,000 yuan per bed every year and district-level authorities sometimes beef up budgets with additional subsidies, Chengjiaqiao still relies on other hospital departments to make up the shortfall. "We built a new activity room this year … and need to purchase new equipment from time to time. These all cost money and our greatest expenses are for labor," Wu says, adding that she believes stronger government support for hospice departments will be necessary if end-of-life services are to continue to operate and expand.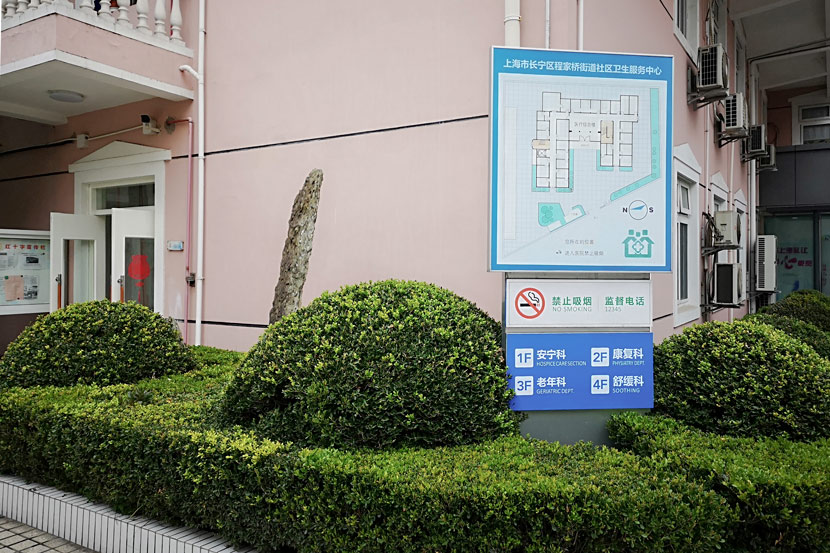 A map outside Chengjiaqiao Health Service Center, Shanghai, March 5, 2019. Ni Dandan/Sixth Tone
Social taboos around death and dying also prevent people from engaging with hospice care, says Wu. She estimates that she sees around 130 patients pass away in her care every year, but few people in the wider community come to Chengjiaqiao in the first place. When Wu approaches the families of people who have been recommended to seek palliative care, many of them resist admission to Chengjiaqiao. "In most people's eyes, hospice care means giving up the ghost. It means making their relatives wait for death. We still have a long way to go to change people's perceptions," she says. "Many patients only spend a week or so with us, because their families don't bring them in until they lose consciousness or are very obviously dying, and they don't want them to die at home. But that's not the purpose of hospice care."
Nonetheless, Chengjiaqiao's commitment to social work is admirable, Wu adds. "Many community centers don't have a single full-time social worker, let alone three," she says. "Chengjiaqiao pays a lot of attention to the role social workers play in the service."
Lou Yifan, a doctorate student in hospice-care social work at Columbia University and former volunteer and social worker in Shanghai's hospices between 2012 and 2016, says Xiong's suggestion is what's practiced in the U.S. "In the American hospice system, the government pays for all social work fees, even though patients have to pay for caregivers' services that come at even higher prices," she tells Sixth Tone, adding that, in addition to psychological and crisis intervention, social workers in the U.S. are also "case managers," coordinating a team of doctors, nurses, caregivers, and even clergy members as part of overall end-of-life service plans.
But Chinese patients and their families rarely understand the role of social workers, Lou adds. "The stereotype in Shanghai is that they're all fussy older women working as community volunteers," she says. "People don't understand that social workers pay more attention to changes in patient psychology, often integrating cognitive behavior therapy when, for example, patients want to share their fear and anxiety about death."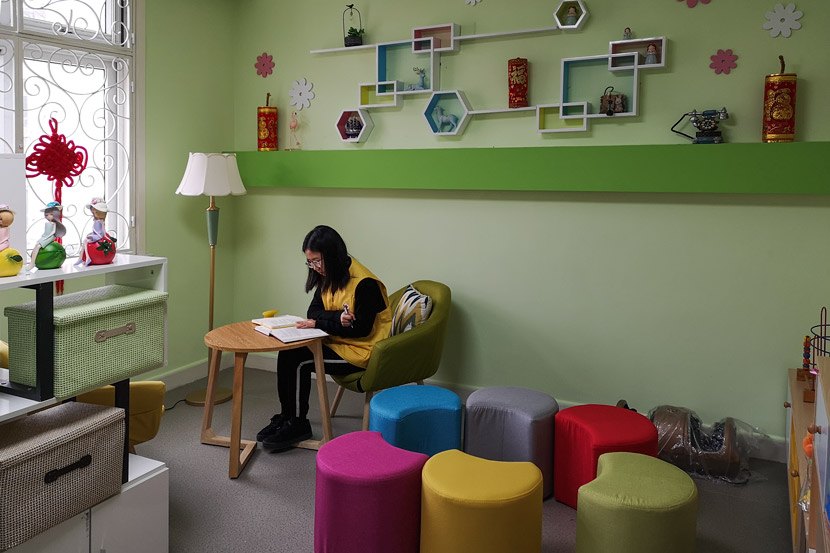 A volunteer reads a book in an activity room designed for counseling sessions for families of hospice patients at Chengjiaqiao Community Health Service Center, Shanghai, March 5, 2019. Ni Dandan/Sixth Tone
Zhao, the social worker at Chunhui, says that even patients who open up to her about their fears often maintain a certain distance — perhaps because she is younger than the majority of patients she meets. "It's quite common to see that many older patients have very limited interaction with their children. They view me as their granddaughter and connect with me very quickly," she says. "However, I don't visit them that often and haven't experienced the same ups and downs of life as they have, so sometimes it's hard to take the conversation deeper."
The twin issues of low funding and limited understanding mean that salaries for social workers remain meager — entry-level jobs at Chengjiaqiao pay around 5,000 yuan a month, more than 2,000 yuan below the Shanghai average. Job opportunities are also few and far between, Wu says, as many hospitals view social work as nonessential. "Society hardly recognizes the work we do, and many people deem the salary too low," she says. "If you don't have a strong emotional attachment to hospice care, you won't do it."
Editor: Matthew Walsh.
(Header image: An elderly patient lies in a hospice ward in Shanghai, March 24, 2018. Niu Jing/VCG)