Starbucks' limited-edition "cat paw" mugs are so cute and hard to find that people in China are literally fighting over them.
Within a minute of the last batch of 3,000 cups going on sale Friday, netizens had snatched them all up, according to online news outlet Yicai Global. Earlier the same day, the American coffee giant had announced on Chinese social media that it would be selling an additional 3,000 mugs after the first 1,000 had sold out so quickly.
"The 'cup is hard to find' situation is rather unexpected," Starbucks said in Friday's statement, referring to a trending hashtag on microblogging platform Weibo inspired by the coveted cup — or double-walled glass tumbler, technically. The company's initial plan had been to sell 1,000 of the mugs — which are molded to make any liquid poured in them take the shape of a cat's paw — per day online from Thursday to Sunday.
Soon after the mugs debuted at brick-and-mortar Starbucks locations across China on Tuesday, however, the hype around them had reached a fever pitch — and even sparked a few coffeehouse brawls. When 1,000 of the vessels were made available for purchase Thursday on Alibaba-owned e-commerce site Tmall, they sold out in less than one-tenth of a second. The cups' near-instantaneous disappearance inspired netizens to transliterate the word "meow" into the characters miao and wu — which together mean "gone in a second."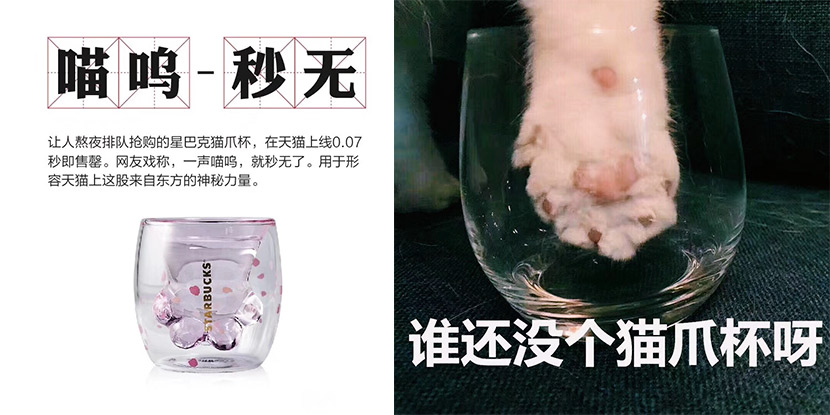 Memes about Starbucks' wildly popular "cat paw" mug, translating to "gone a second," with the characters sounding like the "meow" of a cat (left), and "I've got one, too" (right). From Weibo
By the end of the week, people were reselling the mugs online for as much as 1,499 yuan ($220) each — a considerable markup from the already-steep price tag of 199 yuan set by Starbucks. The vessel's success has even spawned dozens of copycats.
On the Chinese version of video-sharing app TikTok, videos tagged "the super-cute Starbucks paw cup" had been viewed over 14 million times, as of Friday afternoon. Elsewhere online, people have likened the search for the cherished chalices to King Arthur's quest for the Holy Grail.
"The Starbucks barista looked at me like I was a fool for coming to the shop and expecting to find one of the mugs instead of going straight to a scalper," racecar driver Chen Zhen complained in a Weibo post on Thursday.
Wu Junyan, a branding specialist in Shanghai, believes the cup's popularity stems from its cherry blossom-themed design and its unique shape, which may remind people of their beloved pets.
"The cherry blossom pinkness is appealing to women," Wu told Sixth Tone, adding that Starbucks had released similar products to commemorate the season in years past. "But personally, I think the quality-to-value ratio is too low — I won't be buying one."
Editor: David Paulk.
(Header image: Wu Huiyuan and Ding Yining/Sixth Tone)