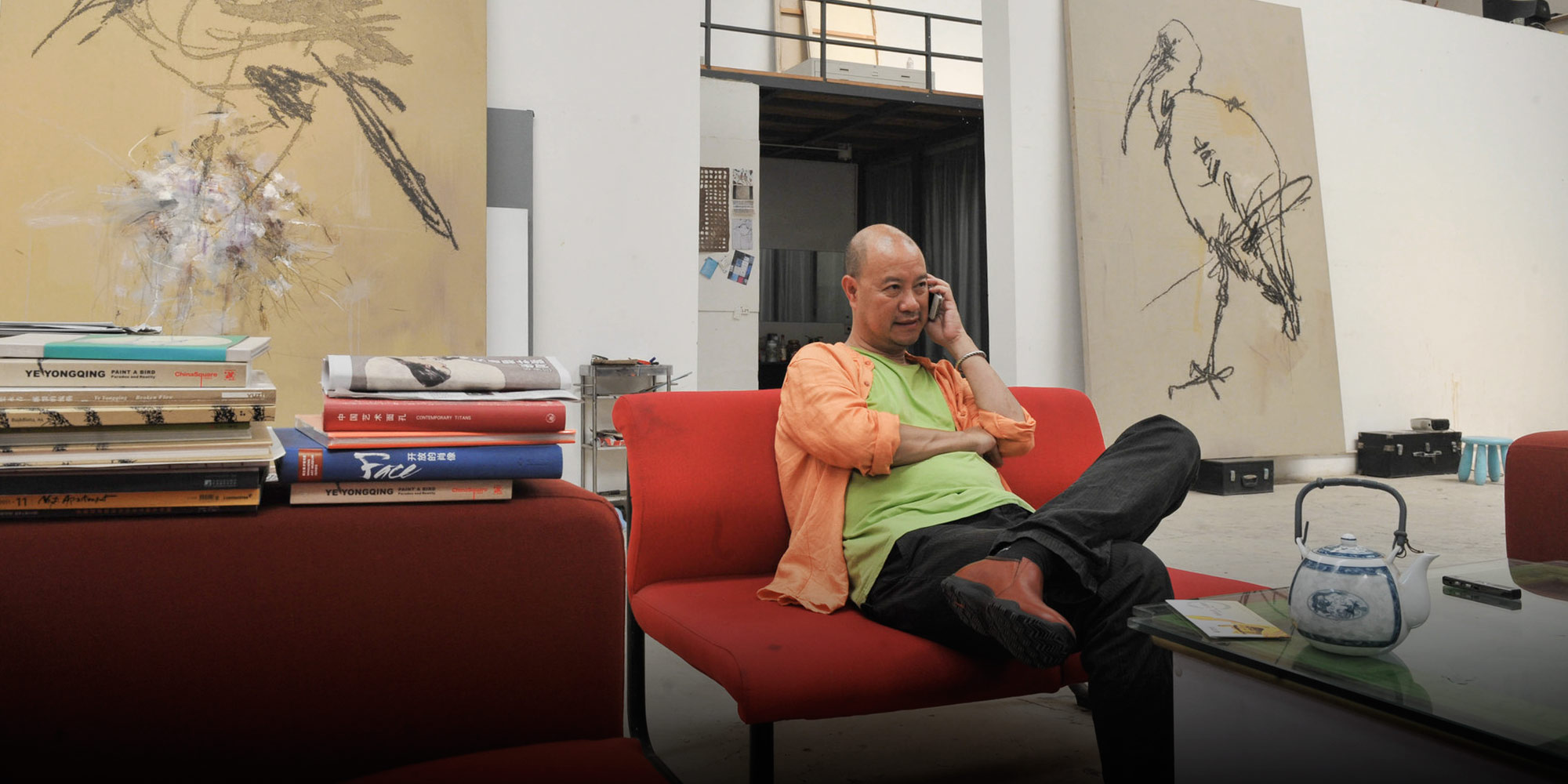 NEWS
Belgian Artist Mulling Lawsuit Against Alleged Chinese Copycat
Christian Silvain has accused Ye Yongqing of cashing in on his work and ideas for years.
A Belgian artist is considering taking legal action against prominent Chinese painter Ye Yongqing for allegedly plagiarizing his artwork for years, according to an email sent to Sixth Tone on Friday.
Christian Silvain claims that Ye — popularly known as Chief Ye in China — has continued selling copied artwork through auction houses despite multiple cease and desist requests from his representatives. "Given that these auction houses have not responded to [us] and that Ye has continued to sell, we decided to go to the press," Silvain wrote in the email, without elaborating on the specific legal measures he was considering.
In mid-February, the 68-year-old Belgian artist said that Ye had copied ideas from his own collage series and profited from them. The accusations were first reported in Belgian media but didn't receive attention in China until an account on social app WeChat that focuses on plagiarism wrote about the issue on Wednesday.
Ye hasn't commented on the accusations publicly, but he told the Southern Metropolis Daily newspaper on Thursday that Silvain had "influenced me deeply." Ye also said his team was trying to contact the Belgian artist, but Silvain told Sixth Tone on Friday that he had received no such correspondence.
Sixth Tone could not reach Ye or the Sichuan Fine Arts Institute — a university in the southwestern Chongqing municipality that employs him as a professor — for comment on Monday.
Born in 1958, Ye was among the first Chinese artists to be exposed to Western modernism. Best known for his paintings featuring birds, Ye has exhibited works in museums around the world, including the Solomon R. Guggenheim Museum in New York City. Some of his artworks have fetched hundreds of thousands of dollars at auction houses like Sotheby's and Christie's, purchased by famous figures such as billionaire Bill Gates.
The accusations against Ye have sparked discussions in Chinese art circles on the distinction between appropriation and plagiarism.
Xiang Liping, a curator who has analyzed the appropriation of art in China, told Sixth Tone that both Chinese and Western artists tend to borrow techniques from their predecessors. Citing examples of plagiarism lawsuits against artists Andy Warhol and Jeff Koons, she said the phenomenon is not unique to China — though Western artists tend to be more aware of issues pertaining to intellectual property rights.
"They put fresh interpretations on the original works with their bold attempts at appropriation," Xiang said. "The point is to give new meaning to the works that they appropriate. If this is missed, it will be considered plagiarism."
Silvain claims that Ye's art uses the same style and symbols from some of his own works dating back to the 1980s. One of Ye's artworks from 1996 — "Nine Birdcages in the Winter" — was auctioned in 2015 at Sotheby's in Beijing for 1,146,000 yuan (then $184,000).
"The bird, the nest, the cage, the red cross, the plane ... everything is there — except my name," Silvain told Belgian broadcaster Radio Télévision Belge Francophone, referring to several motifs from his collages.
Zhu Qi, a curator and art critic, told Sixth Tone that the row between the two artists exposes a lack of knowledge about Western art history among Chinese collectors. Many art connoisseurs, he said, might not be aware that their favorite painters may be copying others' ideas, and their appreciation may create false impressions.
"It's OK to apply elements that have been used by others to one's work, as long as the artist has their own method and style," Zhu said. "The creation of art starts with imitation, but we can't say the imitation is original and elevate it to a level higher than the original. That would be abnormal."
Zhao Hu, a lawyer specializing in intellectual property rights at Beijing Zhongwen Law Firm, told Sixth Tone that the law could favor Silvain if he plans to file a case against Ye. Unless Ye proves that his own style has been used throughout time, Zhao said, he is likely to be convicted of copyright infringement. "But even if he could prove that, it's still interesting that the content of the paintings [in question] is laid out almost identically to Silvain's."
As the case draws more attention in China, many netizens are wondering whether the Belgian artist's accusations are merely a publicity stunt — but Silvain dismissed these suggestions as "idiotic."
"My work is present in some 70 museums around the world," he told Sixth Tone. "So I do not really need this [publicity]."
Editor: Bibek Bhandari.
(Header image: Artist Ye Yongqing poses for a photo at an unknown location, May 4, 2012. Beijing Times/IC)