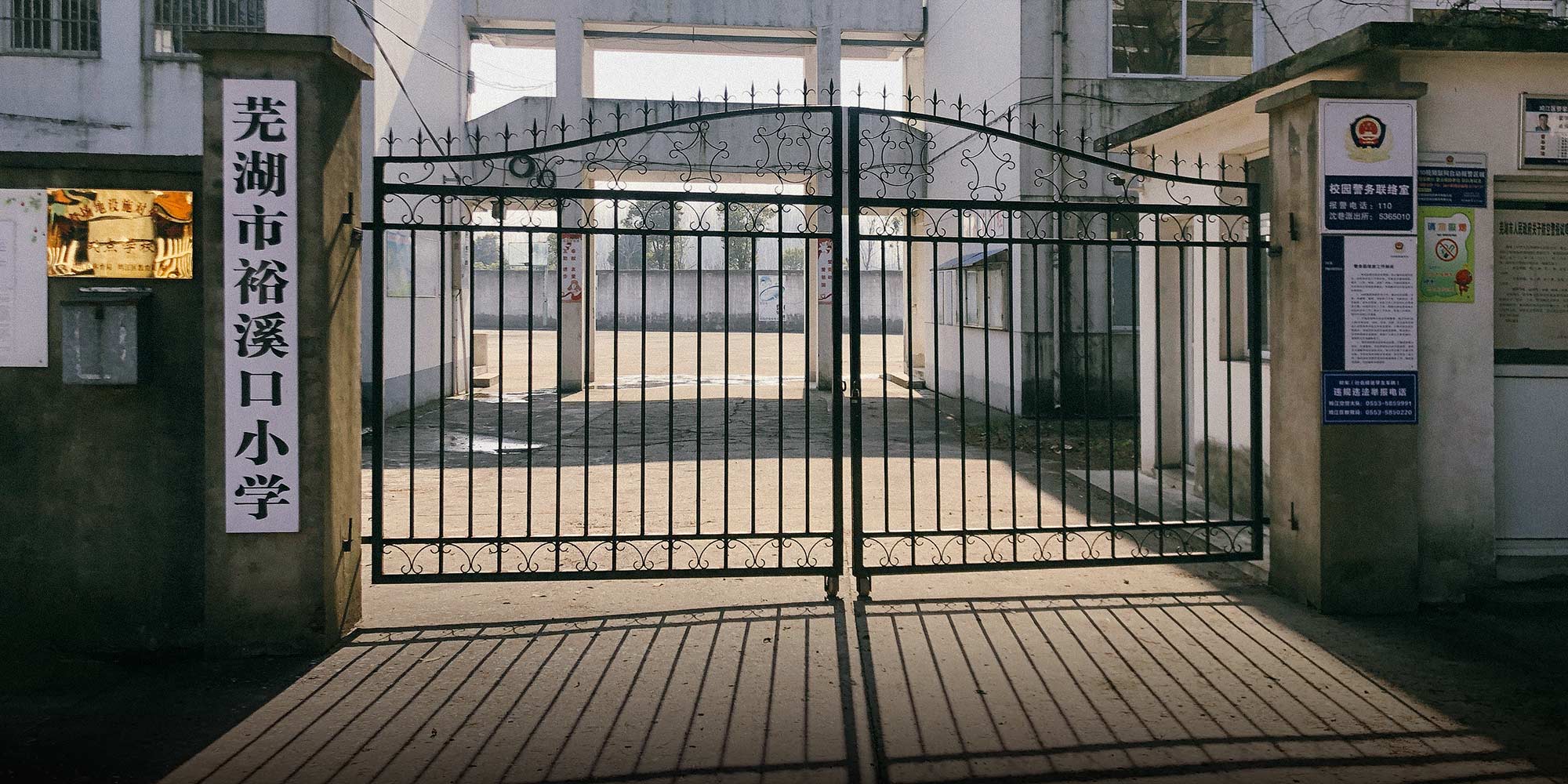 FEATURES
Even in China's Boomtowns, Some Schools Are Going Bust
At Yuxikou Primary — located in one of China's thriving eastern cities — industrial decline and migration have reduced the number of students to just nine.
ANHUI, East China — Last week, after the Lantern Festival signaled the end of China's school holidays, images of students flooding back to class for the first day of the new semester filled the country's news media. But at one school in eastern China, only a trickle of pupils returned.
At Yuxikou Primary School — an institution boasting two three-floor teaching buildings, a large playground, and six decades of history — only nine students are enrolled for the spring-summer semester. Twenty years of industrial decline, combined with the hollowing-out of the local working-age population, has made it the last school in the local area. Most teachers, parents, and students Sixth Tone interviewed said they expect the school to close at the end of this semester. The local education bureau is yet to make an official announcement about its future.
The situation is common across swaths of rural China, where migration and government-backed urbanization projects contributed to the closure of nearly 50,000 countryside schools between 2012 and 2016 — about 31 percent of the total number. But Yuxikou Primary's decline hints at a different reality. Located on the outskirts of Wuhu, a thriving city of more than 3.6 million people on the Yangtze River around 350 kilometers from Shanghai, the school's story shows how certain communities in otherwise booming Chinese cities are fading away as they lose their economic lifelines.
Yuxikou Primary garnered national attention last autumn, when a local online media outlet, Wuhunews.com, released a video capturing its deserted campus, empty classrooms — only three of which are still in use — and the lone student enrolled in sixth grade, attended by three of the school's eight underused teachers. After the video went viral on social media, authorities scrubbed it from the Chinese internet.
The principal of Yuxikou Primary declined Sixth Tone's interview request. Ma, an English teacher who declined to give her full name to avoid unwanted scrutiny, appeared in last year's video. "[Our school] didn't come across very well — I felt quite embarrassed by it," she says. Ma, who says she was later overwhelmed by people asking whether the video's depiction was accurate, adds that she hates the public's morbid curiosity. "I mean, does anyone want their school to disappear?" she asks.
Ma's colleague, math teacher Ding Qinghua, has taught in Yuxikou for years. Previously, he worked at two other primary schools that enrolled 200 students per year. Back then, the area was a bustling river port and transportation hub. But as business dried up and families moved away, student numbers dwindled, and Ding's two previous schools closed.
According to Ding, most of Yuxikou Primary's remaining students either come from single-parent backgrounds or are the children of migrant workers, left for long periods in their grandparents' care. The school's last few teachers cover core subjects like math, English, and Chinese, but students rarely receive classes in art, music, or physical education, he says. "Sometimes, I volunteer as a makeshift gym teacher and take the kids out onto the playground for a run."
Yuxikou's modern history dates back to the 1920s, when the area's position on a tributary of the Yangtze made it an important port linking Anhui's coal-mining regions with the industrializing cities farther downriver. In the 1930s, when a railroad linking central and southern Anhui was built, Yuxikou was one of the main stations on the line. After the communists reunified China in 1949, the town became China's first mechanized coal port and later became a transportation hub connecting Wuhu to southern Anhui and beyond. At its peak, Yuxikou had an estimated population of 40,000 people.
"Yuxikou was once very busy and beautiful," Ding recalls. "We had two cinemas, a Xinhua Bookstore, four primary schools, and two high schools. But now they've all disappeared into the sands of time. Yuxikou's former prosperity isn't ever coming back."
Locals attribute the start of Yuxikou's decline to the construction of the Wuhu Yangtze River Bridge in September 2000. The combined highway and railway bridge is the largest of its kind in China and took over many of the transportation roles once filled by Yuxikou. As one coal-transportation business after another shut down, younger residents migrated to Wuhu — or farther afield — to find work. The banks, hospitals, bookshops, and schools soon closed as well. The population fell to today's 7,000 registered residents, although only around half of those actually live in Yuxikou.
Evidence of past prosperity extends beyond the school gates. When walking along Xinyu Road — the main street running north to south through Yuxikou — Sixth Tone passes an abandoned hospital, its maternity ward now repurposed as a hardware store. A community garden that once hosted residents' activities now lies quiet and untended, frequented by a few elderly people out for a stroll. "Once, we even held a flower exhibition here. Crowds of visitors came to see it," an elderly former factory worker surnamed Tang tells Sixth Tone. "People came and went all the time."
Many of Yuxikou locals say that the government has not done enough to prevent the area's decline, naming other nearby industrial areas, like the district of Shenxiang, that have received greater levels of investment. "The government says what's happened to us is due to urbanization," says a 39-year-old resident surnamed Cai, who declined to give his full name on the grounds that the report might depict him "negatively." "But it's not. It's the result of political decisions." In a phone call with Sixth Tone, Cao Weidong, Wuhu's official urban and rural planning inspector, blamed Yuxikou's decline on China's falling coal output and the country's diminishing reliance on rivers for transportation.
Cai, a slim, middle-aged man who runs a school-catering business, has a 9-year-old son, Xiaoxiao, in the third grade at Yuxikou Primary. Sixth Tone meets Cai one morning in late January as he drops Xiaoxiao off at school to collect his grades from the previous semester. "Even if he gets a zero," Cai jokes as the boy runs inside, "he'd still be one of the top three students in his year!"
When Cai travels across the country on business, his 75-year-old father takes care of Xiaoxiao. The elderly man, who was born and raised in Yuxikou, can't bear to leave his hometown, Cai says. But eventually, Cai plans to uproot his family and move to Wuhu, where he's recently bought an apartment as part of a government-assisted relocation initiative and arranged for Xiaoxiao to start school next year. "It's the next-nearest school to this one, but my son and father will have to take more than 10 stops on the bus just to get there," Cai says — a far longer journey than the pair's current five-minute walk. "It's not very convenient, especially because Dad's not getting any younger."
The government plans to demolish Cai's current house in Yuxikou after he moves out. The state will also pay him compensation, some of which Cai has spent on the new apartment. Best of all for Cai, the move will eventually allow Xiaoxiao to switch his current rural household registration card for a more lucrative urban one, allowing him to enjoy Wuhu's higher standard of living. "We're just waiting for the relocation, and then we can get it," Cai explains.
The father of another third-grader, 46-year-old Wang Dashuang, is also waiting for his son to retrieve his grades. Wang moved to Yuxikou in 2000 after marrying a local woman. "Back then, it was an attractive place to live," he says, "Residents had two key things they needed: schools and health care. But gradually, we've lost both of them."
Wang, who gave up looking for a job in coal transportation and now works at an auto-parts factory a 40-minute drive away in Wuhu, expects Yuxikou Primary to close this year. He's thought about transferring his son to a nearby school in Shenxiang, but worries he won't be able to wrangle him a spot in a well-regarded institution.
A few minutes later, Cai's and Wang's sons saunter out of school together. Before his father whisks him away, the younger Wang tells Sixth Tone about a favorite teacher who left for the city in early 2018. "I miss the morning runs and playtimes he organized for us," the boy says. "The only group game we played was jump-rope. All 11 kids [then enrolled at the school] joined in."
As Yuxikou's working-age population drifts away, the town is being reclaimed by senior citizens: Around one-third of the current registered population is over 65 years old. Some live in new apartment blocks built on the sites of former schools. The apartments were built in 2010, but most of the apartments are empty, says Tang, the former factory worker. "Hardly anyone lives in them. Young people don't want to live here anymore."
Now that he's retired, Tang enjoys quietness and solitude — something Yuxikou offers in abundance. In the town's main square stands a statue of six dolphins swimming — a symbol of forging ahead into a glorious future, locals say. Today, the statue's meaning feels overly optimistic, and nostalgia for the past is sometimes irresistible. "One day, all of this will be forgotten," Tang sighs.
Editor: Matthew Walsh.
(Header image: Yuxikou Primary School's main gate in Wuhu City, Anhui province, Jan. 18, 2019. Fu Danni/Sixth Tone)