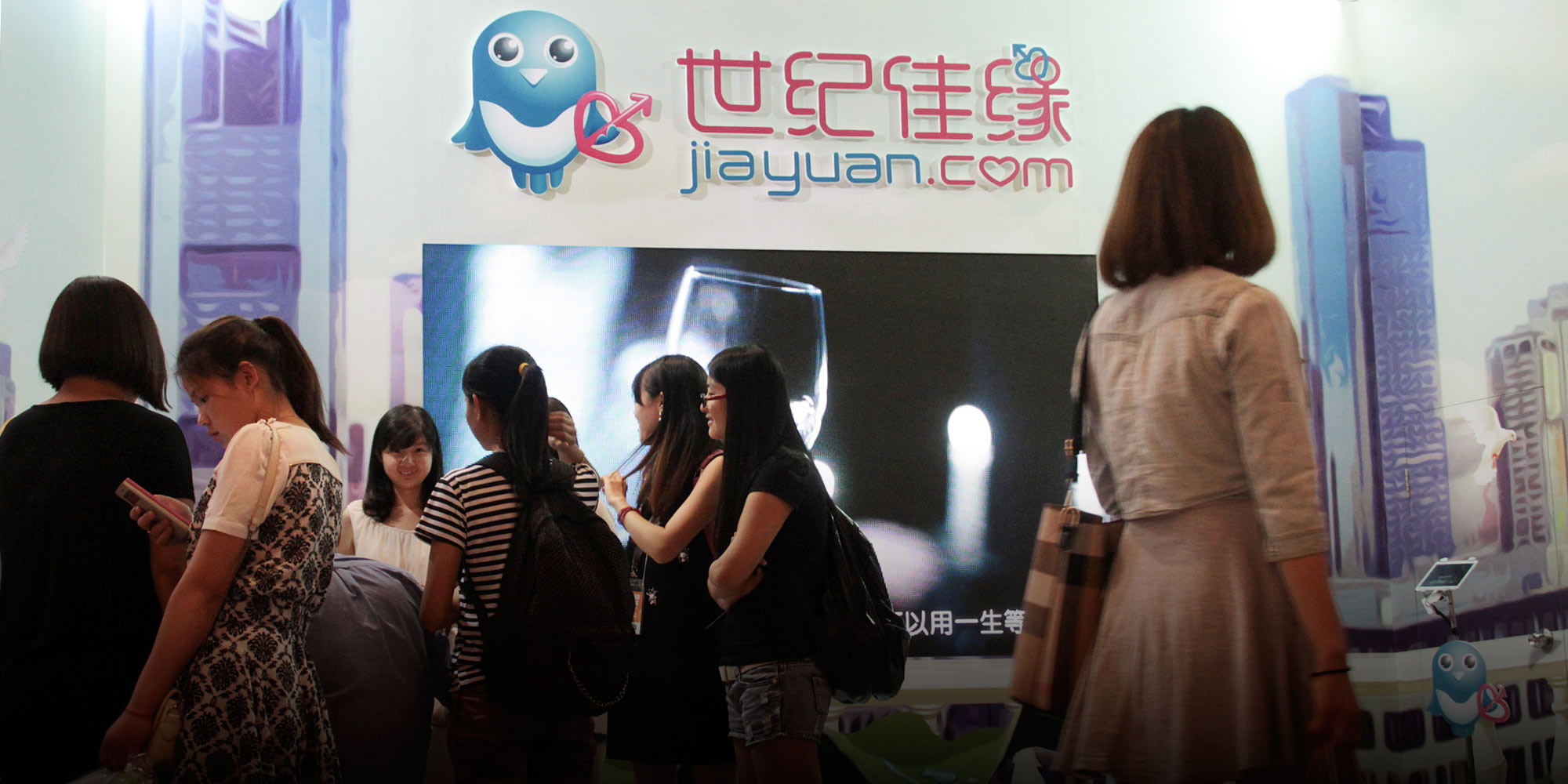 NEWS
Chinese Dating Website Sues Catfishing User
Market supervision authorities suspect the woman of colluding with a Jiayuan.com branch office to swindle a male victim out of $4,500.
One of China's largest online dating websites on Monday announced that it is suing a user who lied in her profile to attract suitors and extort them for expensive gifts, Beijing Youth Daily reports. The case comes over a year after the site — Jiayuan.com — received an official warning to improve oversight of its platform following the highly publicized suicide of one of its users.
According to Beijing Youth Daily and Hangzhou-based news program "1818 Huangjinyan," a 28-year-old math teacher surnamed Wu had been matched through Jiayuan with a 31-year-old woman who claimed to be the daughter of a CEO and a graduate of the prestigious Peking University. Wu had paid 10,800 yuan ($1,600) in matchmaking fees to a Jiayuan branch office in Hangzhou's Kerry Center shopping complex.
In an interview with "1818 Huangjinyan," Wu said his first face-to-face meeting with the woman, surnamed Zhu, at the Jiayuan office in December of last year had gone well, and that they started dating soon afterward. After just three days, Wu had spent nearly 30,000 yuan on expensive jewelry for Zhu and her mother. When Zhu then suggested that Wu cough up a 10,000-yuan red envelope for her mother's birthday, he grew suspicious of her motives. But according to Beijing Youth Daily, when Wu reported his concerns to Jiayuan, the office told him that its matchmaker had verified the authenticity of Zhu's profile.
In the "1818 Huangjinyan" news report, aired on Jan. 8, Zhu gives evasive answers to a reporter's questions when reached by phone, though she says she would return the gifts if necessary. As of Tuesday afternoon, the program had been viewed over 12 million times.
In January and February, "1818 Huangjinyan" did 14 follow-up reports on Jiayuan. When the show contacted Hangzhou's market supervision authority, they were told that the company was under investigation, and that the Kerry Center office had not been able to supply official documents to corroborate the claims in Zhu's profile. The authority further stated that based on its preliminary investigation, it believed Jiayuan had played a role in swindling Wu.
On Monday evening, Jiayuan issued an apology on microblogging platform Weibo, confirming that Zhu's profile had indeed contained fraudulent information and vowing that the matchmaker who had assisted Wu, as well as any other staff members involved, would be suspended. The company added that the Hangzhou Kerry Center branch office would compensate Wu with three times the amount he had paid in matchmaking fees, and that it had filed a lawsuit against Zhu. According to Beijing Youth Daily, Zhu is a divorcée with two children; she did not attend Peking University, and her father is not a high-flying executive.
When Sixth Tone called the phone number listed for the Hangzhou Kerry Center office on Jiayuan's website, a woman who answered the phone said we had dialed the wrong number. Repeated calls to Jiayuan's public relations department went unanswered on Monday.
Another Jiayuan branch office in Hangzhou told Sixth Tone that it could not provide contact information for the Kerry Center location. "Regardless of whether memberships are registered on our website or at our branch offices, user profiles are verified through our Beijing headquarters," a receptionist who refused to give her name told Sixth Tone.
According to Jiayuan's official website, over 190 million users are registered on the platform. In September 2017, the company faced intense scrutiny following the high-profile death of a former customer — a tech entrepreneur who wrote in his suicide note that his ex-wife, whom he'd met through Jiayuan, had driven him to despair. The same month, the Communist Youth League, the Ministry of Civil Affairs, and the National Health and Family Planning Commission issued a joint directive requiring real-name registration on dating websites.
The extent to which Jiayuan has complied in the years since is up for debate. A search on Sixth Tone's sister publication, The Paper, returns over a dozen articles involving fraudulent information in Jiayuan profiles. Just after the 2017 suicide, The Beijing News was able to register a new user account on Jiayuan by providing a randomly selected profile photo, a fraudulent education certificate, and a made-up national ID number.
In its apology on Monday, Jiayuan said that it is working with a third party to establish a social credit system for its users, and that in the meantime it had assembled a team specifically tasked with reviewing and verifying personal information.
"Jiayuan.com bears the legal liability in this case because they didn't fulfill their obligation to verify user information — even after Wu expressed his doubts," Zhang Xinnian, a lawyer at Jingshi Law Firm in Beijing, told Sixth Tone. "For Wu, the compensation offered is acceptable, and the platform has the right to sue the female user."
Editor: David Paulk.
(Header image: A booth for online dating service Jiayuan.com at an exhibition in Beijing, Aug. 26, 2014. Wu Changqing/VCG)