A county in southwestern China's Sichuan province has halted shale gas extraction after multiple earthquakes rattled the area, killing two people.
The local government of Rong County announced in a press conference on Monday that it was suspending shale gas production "due to earthquake safety reasons and safe production needs." At least 12 people were injured in Rong County in three earthquakes, which locals claim were caused by fracking activity in the area. The quakes on Sunday and Monday — the strongest one registering at magnitude 4.9 — have affected some 13,260 people and caused a total economic loss of 14 million yuan ($2.1 million), according to official estimates.
As the central government combats air pollution by ditching coal for cleaner forms of energy, it is also creating more demand for natural gases, such as shale gas, which is often extracted from the ground by fracturing shale rocks using high-pressure mixtures of water and chemicals — a process known as fracking. Environmentalists worry that such activities may lead to high water consumption, groundwater contamination, and man-made tremors.
In Sichuan, which accounted for 30 percent of the China's shale gas production in 2017, such quakes have panicked residents living in an already active seismic region. In May 2008, a magnitude 7.8 earthquake in the province's Wenchuan County left more than 8,000 people dead or missing.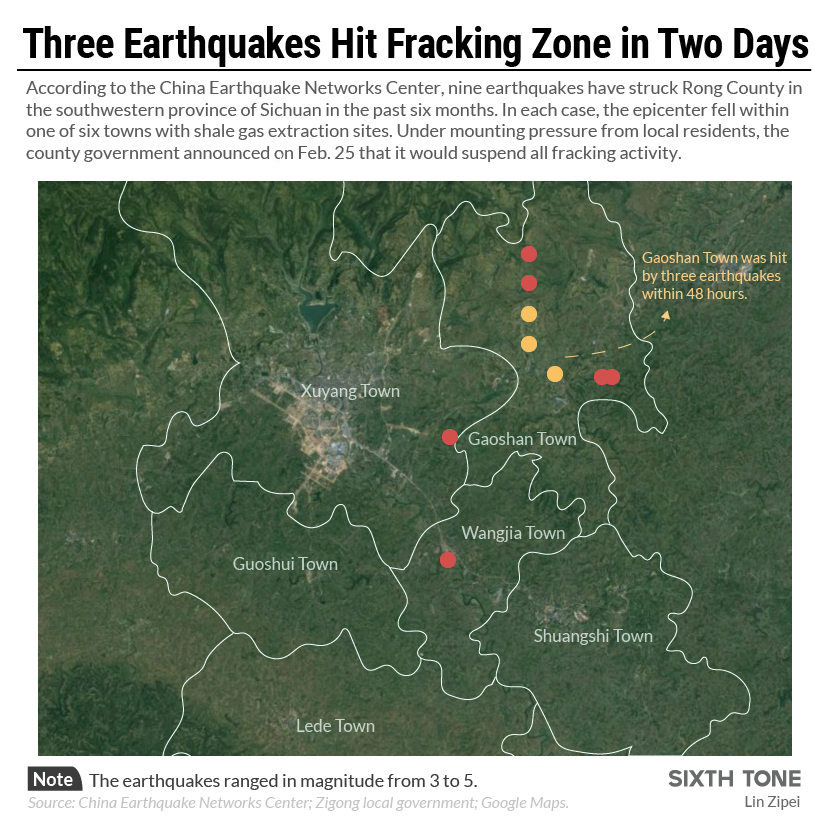 "There have been frequent earthquakes in Rong County recently," a resident wrote in an online forum for providing feedback to government officials in November of last year. "Residents are scared and cannot focus on their work or studies … It all started with the shale gas extraction project."
Following the earthquake-related deaths, concerned residents gathered in front of a government office on Sunday and Monday to seek answers, according to state broadcaster China Central Television. A video shared online shows a large mass of people pushing against a barrier propped up by security personnel at the building's entrance. The crowd was dispersed without incident, the local government said during Monday's press conference.
Ma Fengshan, head of the geological disaster group at the Key Laboratory of Shale Gas and Geoengineering under the Institute of Geology and Geophysics in Beijing, told Sixth Tone that it's too soon to "rush to a conclusion" about whether the tremors in Rong County were triggered by fracking. Another researcher, Chen Huizhong from the Institute of Earthquake Forecasting under the China Earthquake Administration, told Sixth Tone's sister publication, The Paper, that it remains difficult to research the link between shale gas production and earthquakes in the country: China lacks any legal mechanism that would require companies to disclose drilling and fracking data, Chen said, and oil companies usually decline to reveal such data to researchers.
Last year, the United Nations Conference on Trade and Development cautioned countries about the "major obstacles to hydraulic fracturing as a method of extracting shale gas." China produced 9 billion cubic meters of shale gas in 2017 — up from 200 million cubic meters in 2013 — and the country's total shale gas production is likely to rise to 17 billion cubic meters in 2020, according to industry consulting firm Wood Mackenzie. China's Ministry of Natural Resources estimates that the country has 21.8 trillion cubic meters of shale gas available for extraction.
Editor: Bibek Bhandari.
(Header image: Rescue team members walk into a village to inspect disaster situation in Rong County, Sichuan province, Feb. 25, 2019. Zhong Xin/CNS/VCG)