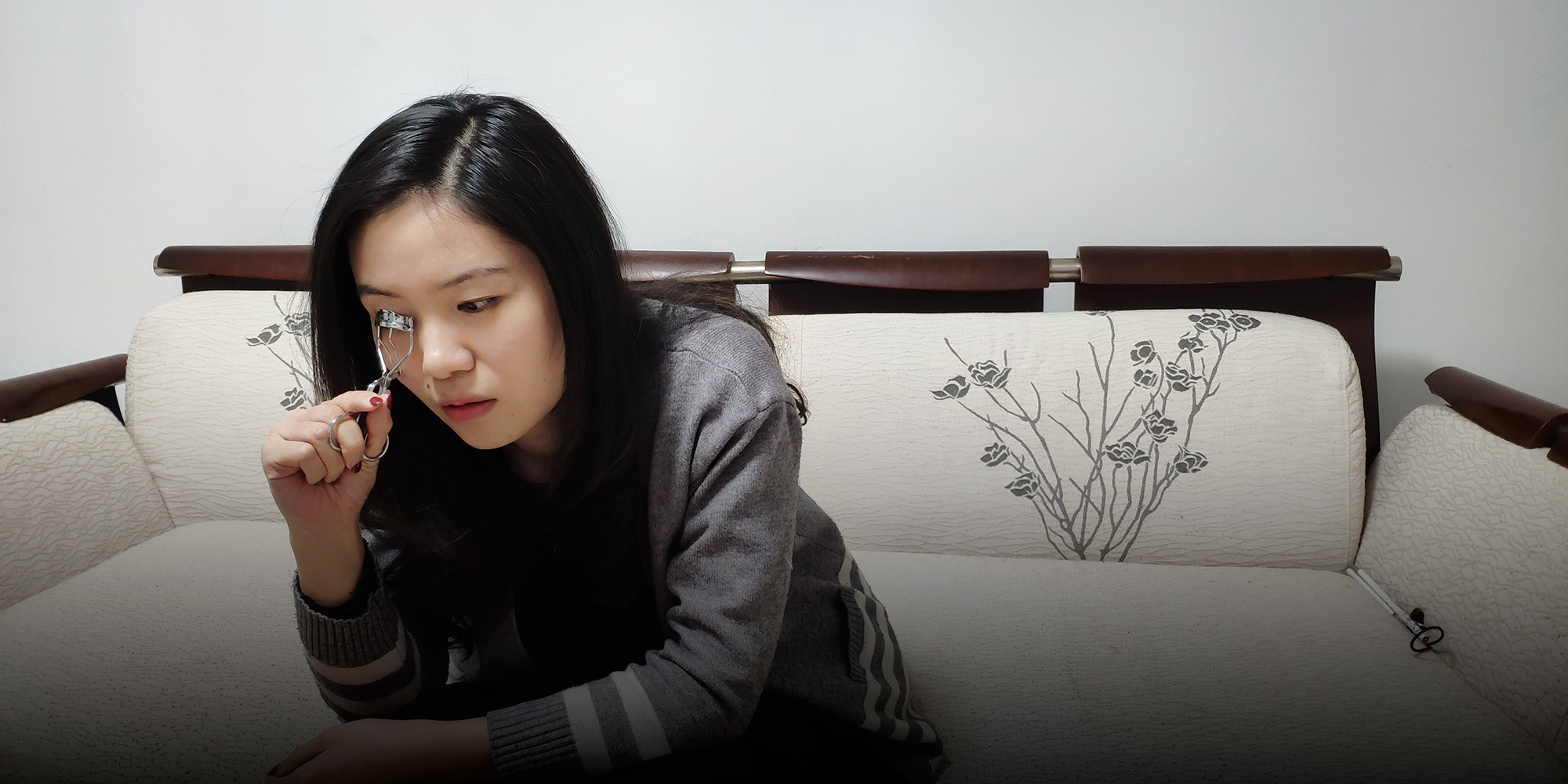 FEATURES
My Makeover With China's Blind Beautician
A sightless makeup artist has become an inspiration to visually impaired women around China.
BEIJING — Sitting on the couch in Xiao Jia's apartment, I learned how difficult it is to apply makeup to a face you cannot see.
Xiao, 27, gradually lost her eyesight during her teens. Determined to avoid the life in society's shadows that most of her blind compatriots have, she channeled her love of painting into studies on becoming a makeup artist. It was a tough skill to grasp, but one so worthwhile to master, she has made it her mission to share it.
With a podcast, an account on social media app WeChat, and a small but lively community of followers, Xiao has inspired visually impaired women around the country to take pride in their appearance, even if they themselves cannot see it. "Everyone has the right to make themselves look pretty — even people like us who can't see," she tells me. "We are not putting on makeup to please others. We are just doing it to make ourselves happy."
I visit Xiao in her apartment in the southwestern outskirts of Beijing on a frigid winter day. She wears a long, gray cardigan and greets me with a big smile. She then shows me her black-and-pink multilayered makeup box, filled with her daily products. With the help of friends, she has labeled everything with special tape and braille — without which a full set of cosmetics would be daunting, says Xiao. "Many cosmetics come in nearly identical bottles or packages for different skin types and functions."
After removing my own makeup, I ask her to apply it again. As we sit next to each other on her living room couch, she touches my face to determine its shape and suggests I get bangs. After feeling my cheeks, nose, and forehead, she finds bottles of toner and lotion that work well with my skin, and gently pats them onto my face and neck.
"Though many people think it's unnecessary for blind people to apply makeup, since it's tough and we wouldn't even 'see' the outcome, I consider the whole process a way for me to enjoy the moment, and give myself a well-deserved break from daily struggles," Xiao tells me while applying sunscreen, the second step. When not in a rush, she can spend two hours doing her makeup, but she can also get it done in five minutes, she says.
Xiao then selects foundation that matches how I described my skin tone to her and dabs tiny dots across my face. "We need to blend more on areas like the nose and the corners of the lips," she tells me. For the visually impaired, Xiao says, applying foundation is like mopping the floor. "Since we can't see where the dirt is, all we can do is to mop a few more times back and forth."
Xiao studied painting for six years before being diagnosed with retinitis pigmentosa, a condition in which the light-sensitive tissue in the eye breaks down. It left her without vision after just two years. Her dream of studying at the Central Academy of Fine Arts, one of the nation's best art institutions, was forever unattainable. "At that moment, I thought blind people were doomed to miserable lives," she says. Like so many of China's more than 12 million visually impaired people, she became a massage therapist.
In her early 20s, Xiao's father bought her a computer, and the internet opened up another world for her. She wrote and emailed essays to Beijing-based Youren Magazine, a publication run by a nongovernmental organization for people with disabilities. Its editor-in-chief liked her works and encouraged her to pursue her dreams. Shortly after, Xiao quit her job in her hometown — a small county in eastern Jiangxi province — moved to Beijing, and got a new job as a stenographer. Later, she worked for a charity, organizing projects for women with disabilities. In late 2014, Xiao attended an event where, for the first time, someone put makeup on her before she went onstage. "The makeup artist said I looked pretty, like a superstar," she recalls.
Xiao has never seen her own makeup. All her experience comes from her teacher Ji Chunli's feedback over the years. The two met at a beauty event in 2015 after Xiao found a makeup tutorial video featuring a blind British girl, which gave her determination to master the skill. She bought cosmetics that were advertised as "so easy to use, you can do it with your eyes closed," and started trying. "The hardest part for me is not whether I can be good at it; instead, it's if I have the courage to make the first move," she says.
Ji had no experience teaching the visually impaired, but was touched by Xiao's resolve. Every week for a year, Xiao took a one-hour bus ride to attend classes at Ji's beauty studio. Ji applied makeup to half a face, let Xiao touch and compare the different sensations, and asked her to complete the other half. Ji's never thought of Xiao's impairment as a problem. "Her painting experience helps her match colors, and years of massaging has familiarized her with facial structures," she tells me.
When Xiao first experimented with cosmetics, she loved using eyeshadow pens, especially for dark colors, to draw a thick line on her eyelids. "In my mind, makeup needed to be bold and exaggerated," she laughs. Back then, she had no idea how to use mascara or eyeliner and often ended up with watery eyes. "I remember people telling me my eyelashes were so clumpy, they looked like fly legs," she says. Another time, a friendly stranger on the street told her that her face was full of uneven white spots. "But I was still happy," she says. "I felt beautiful."
Once she had mastered makeup, Xiao wanted to share her skills with her community. "There's a large number of blind people who want to make themselves look beautiful by applying makeup, but don't know how to do so or can't find a professional to teach them," says Wang Jiaojiao, 31, one of Xiao's students. "Makeup allows us to change traditional impressions of the visually impaired by changing our own images," she adds.
The two met one day last summer when Wang walked into the downtown Beijing beauty salon where Xiao works. Many young women with visual impairments have done so over the past few years, having learned about Xiao through media coverage or her own social media presence. They are all examples of the power of learning how to do makeup, Xiao says. "Many of them felt nervous and anxious when I asked them to take off their sunglasses, but after a few times, they started to grow confident and no long resisted showing off their eyes."
Xiao launched her public account "A Visually Impaired Girl Talks Beauty" on WeChat in January 2017. Even though she doesn't have many followers, just around 500, she says the community is very active. Xiao also uploads her series of beauty lessons to the popular audio media platform Ximalaya FM, calling them "the skin care and cosmetics skills you can learn with your eyes closed." Every month, with the help of co-workers, she records a few episodes on topics such as how to discern skin types, the correct order to apply cosmetics, and which kinds of clothing match. She encourages her audiences to reach out to her on WeChat if they have questions and often receives calls or messages after midnight — when most massage therapists finish work. She gave free lectures at first and has since been invited to give paid speeches and workshops on beauty around the country.
Thirty-something An Xin now spends half an hour doing her makeup before heading out to work in a massage parlor in northeastern Liaoning province. After listening to Xiao's podcasts for over a year, she still hasn't quite mastered doing her eyes. "It's so easy to mess up with mascara or eyeliner," says An, who is blind. But she adds, "for me, the process is more important than the result."
For many of Xiao's followers, her uplifting story is more meaningful than learning how to apply makeup. "She has inspired me to discover my own beauty and strong points, to understand that everyone is special in their own way, and to eventually learn to love and accept who I am," says An.
Back in Beijing, Xiao has finished applying the base and moves her fingertips to the area around my eyes to apply blue eye shadow, matching my navy-blue sweater. She then suggests I draw the eyeliner myself — without a mirror — to experience "blind makeup." Uncertain, I give it a try. I prop my right elbow on the table, close my eyes, and, under her guidance, draw dot by dot along my eyelashes. "This is so hard," I blurt out.
After Xiao has determined the shape of my lips, she applies the "flame red" shade and hands me a napkin to wipe my teeth, unsure if there is any wayward lipstick. Similarly, she cleans my lower eyelids and the corners of my eyes after applying products, just to be sure.
Thirty minutes later, I'm filled with anticipation and have my face practically pressed against the mirror to see the result. I don't see much difference with the makeup I had on before I sat down, but that's probably the point. And in any case, it's the process that really matters.
Editor: Kevin Schoenmakers.
(Header image: Xiao Jia uses an eyelash curler at her home in Beijing, Dec. 27, 2018. Fan Yiying/Sixth Tone)