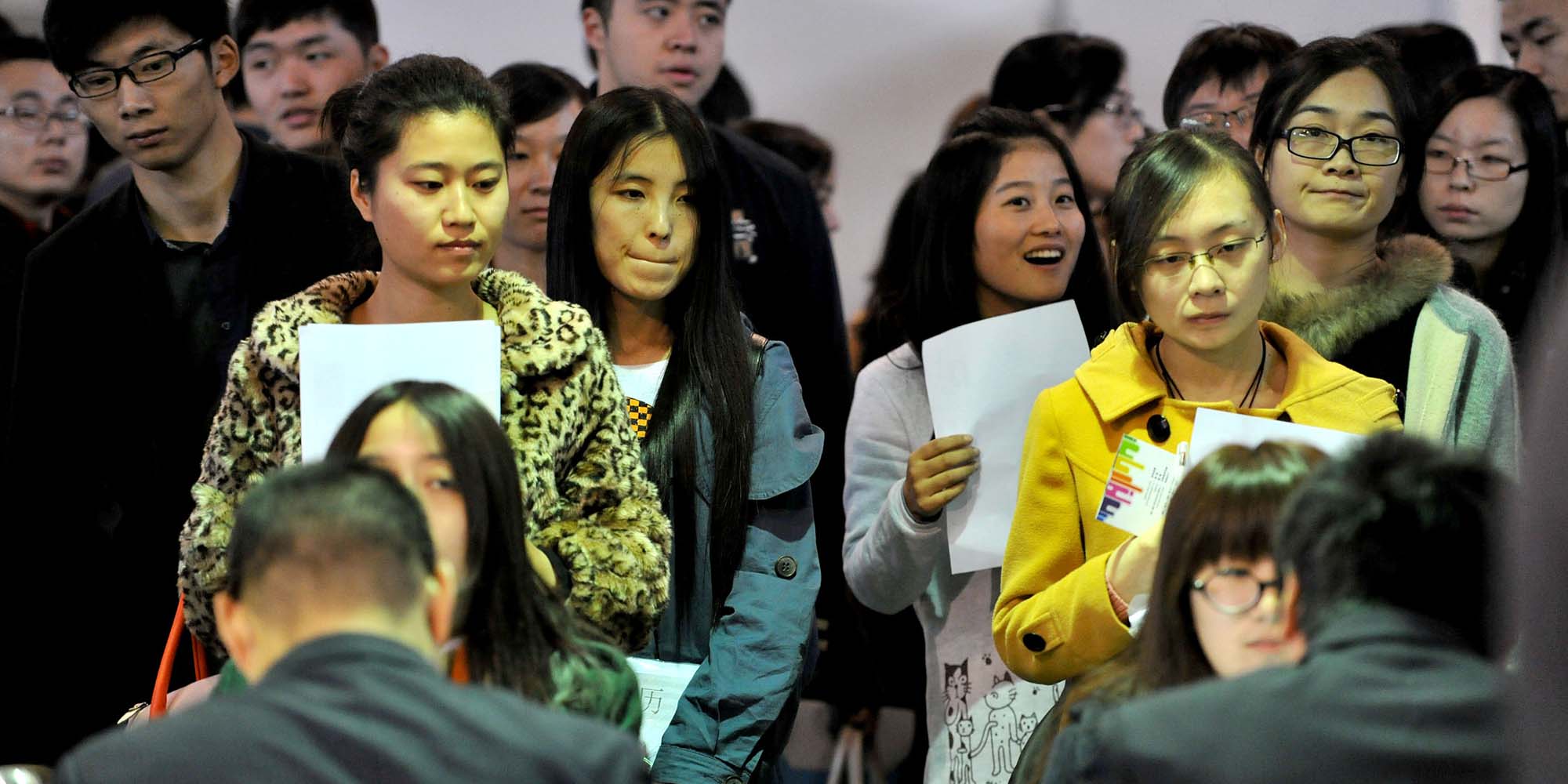 NEWS
China Imposes Hefty Fines for Sexist Hiring Practices
Recruiters and employers now face up to $7,400 in fines for gender-discriminatory job ads and workplace sexism.
Sexist hiring practices and workplace gender discrimination are now punishable by steep fines in China.
A notice from nine bodies — including the Ministry of Human Resources and Social Security, the All-China Women's Federation, and the Supreme People's Court — jointly published on Thursday prohibits companies from prioritizing any candidate or rejecting any application based on gender. Employers can face fines of up to 50,000 yuan ($7,400) for publishing job ads with sexist requirements, while recruiting agencies may have their work permits revoked for similarly discriminatory practices.
According to the notice, the move is aimed at eliminating discrimination against women during recruitment and on the job, as well as encouraging them to "take part in social and economic activities." Between 1990 and 2018, the rate of women's participation in China's labor force dropped by over 10 percent — from 79.39 percent to 68.58 percent — according to estimates from the International Labour Organization, a U.N. agency that promotes labor rights.
"Discriminatory attitudes perpetuated during the job recruitment process have had a negative impact on the female workforce," the notice said.
While several Chinese laws — such as the women's rights protection law, labor law, and employment protection law — guarantee equality for women in the workplace, some gender rights advocates say they're vaguely worded, weakly implemented, or not in women's interests. A 2018 survey with over 100,000 respondents conducted by job-hunting platform Zhaopin found that women were paid 22 percent less than men and that over one-tenth of working women believed they risked losing advancement opportunities if they decided to marry or get pregnant.
Asking questions about a female candidate's or employee's personal life — from relationship status to future plans about marriage and pregnancy — has been a common practice for Chinese companies seeking to avoid costs associated with maternity leave. In some cases, companies have even fired employees for getting pregnant.
The new guideline forbids recruiters from asking female applicants about their marital status or pregnancy plans, requiring new employees to take pregnancy tests, or imposing pregnancy restrictions during employment. The joint notice also says that government units will offer legal assistance to women facing gender discrimination at work, although the scope of such aid is not clearly outlined.
Sun Xiaomei, a gender rights advocate and professor at China Women's University in Beijing, told Sixth Tone that the new guideline still lacks detailed measures to end gender discrimination practices in workplaces. Although the new document regulates the recruitment process, she argued that it can't protect female employees' rights after they're hired.
"The impact this notice will have remains uncertain," Sun said. "The government should release policies, not just a notice. We are facing such a gender discrimination crisis at workplaces that all of these laws outlining women's rights can't solve everything. Maybe it's time to consider new approaches."
Editor: Bibek Bhandari.
(Header image: Job hunters attend a recruitment fair in Nanjing, Jiangsu province, Nov. 20, 2013. Liu Yifan/VCG)