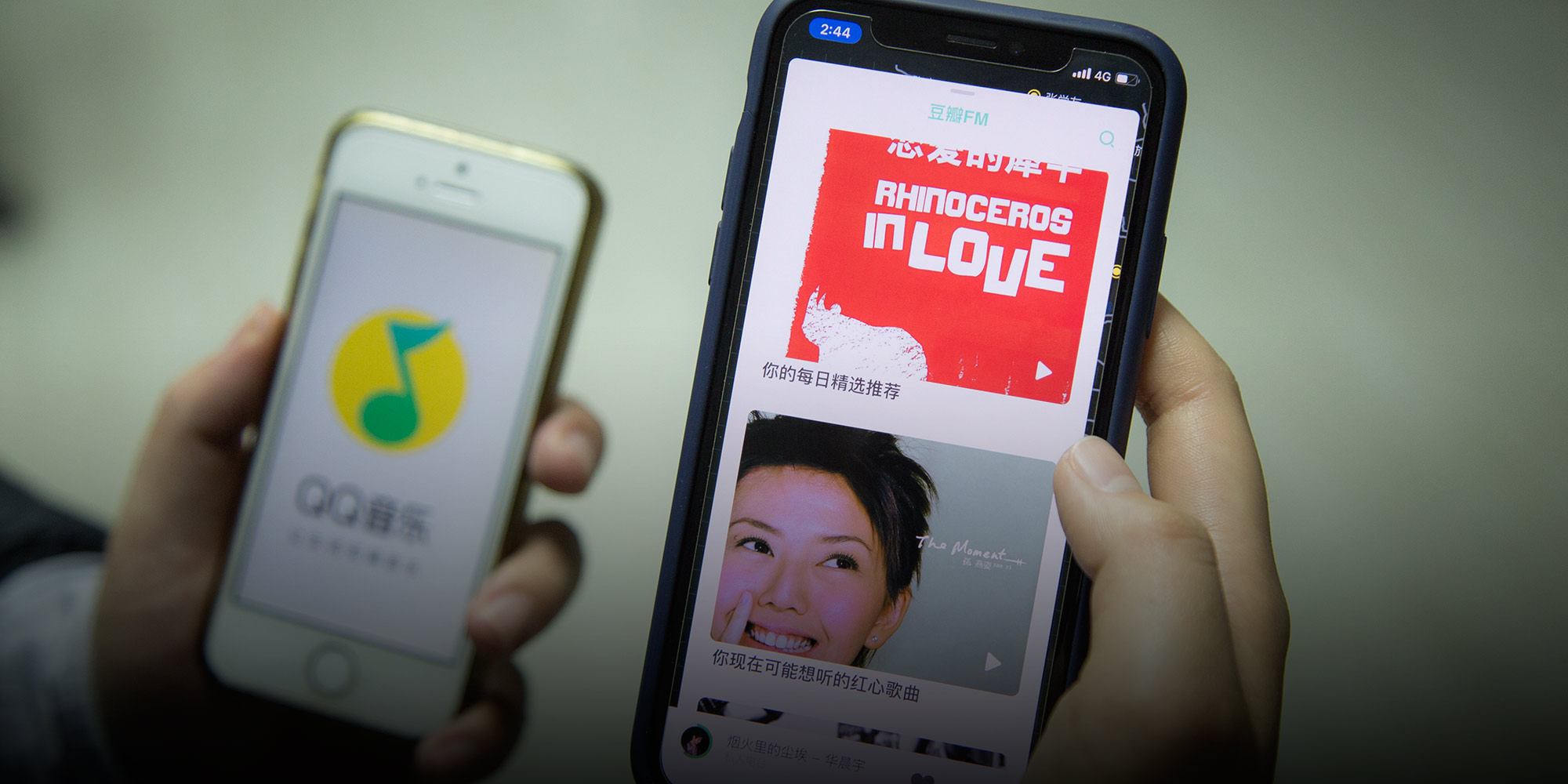 NEWS
Tencent Music Trades Song Copyrights for Stake in Douban FM
Internet giant hopes to revive foundering rival known for obscure and hard-to-find folk music.
Tencent Music has become the second-largest investor in streaming service Douban FM, paying its rival in song copyrights rather than actual money, according to a Wednesday report by Sixth Tone's sister publication, The Paper.
In a Wednesday post on microblogging platform Weibo, Douban FM said that the partnership would "upgrade its brand" and propel the company back into the top tier of Chinese music-streaming platforms. Citing a person familiar with the matter, The Paper's report said that Tencent Music had financed the deal by leveraging its extensive catalog of music copyrights.
Launched in 2009, Douban FM is a Pandora-like service known for obscure LPs and hipster-friendly folk fare as opposed to Top 40 singles. The site has an algorithm that recommends songs it thinks users will like: Depending on how the listener responds, the platform becomes more familiar with their musical tastes.Douban FM is the streaming arm of Douban.com, a social platform for user-generated content about books, music, movies, and other areas of pop culture.
For many years, Chinese internet companies paid little heed to intellectual property. In July 2015, however, the National Copyright Administration of Chinaannouncedthat all pirated songs should be removed from online platforms, and a race among three leading internet companies — Tencent, Alibaba, and NetEase — to snatch up as many copyrights as possible was soon underway.
Deep-pocketed Tencent — the parent company of popular streaming service QQ Music — was the early front-runner, buying the rights to songs under big-name American labels like Warner, Universal, and Sony, while Alibaba's Xiami streaming service focused on gathering tracks from unheralded independent artists. Without backing from one of the industry's major players, smaller music-streaming platforms like Douban FM had little hope of securing copyrights of their own.According to TechNode, the number of Douban FM users declined by half over the past eight years to 4 million, compared with QQ Music's 290 million.
"It may be true that Douban FM fell silent for a while," Li Quan, the president of Douban FM's largest shareholder, DNV Music Group, told The Paper. "If Douban FM could have solved the copyright issues on its own, that would have been better," he added, framing the investment from Tencent Music as a measure of last resort.
Douban FM declined to provide further details of the deal when contacted by Sixth Tone on Wednesday, and a media representative for Tencent Music told Sixth Tone that she was unable to comment on the matter.
Liu Yicong, a 24-year-old communications specialist in Beijing, used Douban FM often during her first two years at university. "I loved listening to folk music back then, and I found there were many songs on Douban FM that had never been officially released," she told Sixth Tone. "Demos, adapted versions — there was a lot of stuff like that." Liu appreciated the algorithm's knack for predicting songs she would end up falling in love with and might not have come across otherwise, but as Douban FM's larger competitors began tapping into the folk and indie genres in addition to their more commercially successful music, she gradually migrated to other platforms.
With Wednesday's deal, Douban FM users will receive access to most of Tencent Music's library of 20 million songs. According to The Paper, a future version of the service will offer paid subscriptions for users who want to listen to music even when they're offline.
Li of DNV Music said the app aims to be profitable in the future, even though many users are still reluctant to pay for content. "It's sort of like the food-delivery war," he said, referring to Chinese takeout companies undercutting one another to attract customers. "The big music-streaming platforms will continue buying up copyrights — the battle is not yet over."
Editor: David Paulk.

(Header image: People hold smartphones displaying the mobile apps for Douban FM and Tencent-owned QQ Music in Shanghai, Feb. 20, 2019. Shi Yangkun/Sixth Tone)