Garbage was a key item on the agenda for Shanghai's "Two Sessions" series of legislative meetings, held earlier this year. Specifically, municipal officials announced they were moving forward with a plan requiring city residents to sort their trash into four types: recyclables, hazardous materials, and both "wet" and "dry" waste, with violators subject to fines.
Although the new regulations don't go into effect until July 1, I — along with the 238 other families who live in my 25-story residential building in northern Shanghai — have been living with a similar system since March 2017. Our experiences offer a window into both the challenges the city faces as it rolls out garbage sorting citywide, as well as some of the ways the country uses volunteers to implement official directives at the grassroots level.
In October 2016, local authorities designated our neighborhood to be part of a pilot program for garbage sorting. To ensure the program was actually implemented, our local residential committee, the lowest level of China's urban administrative hierarchy, teamed up with a local environmental NGO, IFINE, to recruit help from the building's volunteer force — a group primarily composed of retirees, many of whom are Party members. Although 20 volunteers signed up, including myself, several of us doubted we could get residents to change their habits. Nevertheless, after a series of meetings, we agreed to spend five months laying down groundwork, with the program set to launch after the Lunar New Year.
We began with the usual methods: hanging banners, posting bulletin notices, and putting up promotional images around the neighborhood. After the New Year, we held a number of more high-profile events, including one where bank employees ceremonially passed out so-called green account cards to each resident. The cards allow compliant residents to earn prizes and receive points for sorting their trash. We also went door to door, handing out fliers and spreading the word.
Prior to the pilot program, our building paid our one-person cleaning staff to collect residents' trash from bins located on every floor. Residents had long since grown accustomed to throwing all their garbage — wet and dry — into a single bin located on their floor. The campaign's success would hinge on whether or not we could convince them to sort their garbage and bring it downstairs themselves.
In the middle of the night on March 5, 2017, the cleaner went to each floor and removed the trash bins for good. What followed was an adjustment period: Although we'd educated residents about the program before its launch, they still made plenty of mistakes. For instance, many didn't realize that wet garbage referred to organic waste. Instead, they thought it literally meant garbage that was wet, like soiled napkins and diapers.
As a result, we volunteers had to do a great deal of sorting ourselves, as well as go around refreshing residents on the rules. The problem was compounded by the fact that anywhere between 30 and 40 percent of building residents are renters. Rental turnover is high, so volunteers had to make repeated rounds to ensure everyone was on the same page. Some of us joked that we were busier than we were before our retirement.
We quickly realized there was no use bossing residents around, much less arguing with them. Instead, we focused on patiently explaining the new rules. Even so, there were a few minor incidents. On the day the new rules went into effect, a resident belligerently demanded to know who was responsible for the change. "Are you doing this because you have nothing better to do?" he asked. "Did the government issue anything about this? Show me some official paperwork. Sorting garbage is probably just something you came up with yourselves!"
There's no use trying to reason with someone that angry, so we asked the doorman — who had a good relationship with that resident — to help. To our surprise, after the doorman had two conversations with him, he started bringing down his own garbage, albeit unsorted. Since he'd already taken the first step, we didn't feel it prudent to push him, and we instead quietly sorted his garbage for him. It was a matter of time and patience, as well as trust that he would gradually come around.
Generally, we tried not to point fingers. If we happened to notice that a family had left out their trash, we would stop by their apartment and let them know we had taken down their trash that day and encourage them to bring it down themselves the following day. After about two weeks, we stopped finding trash in the morning. People had learned to bring it down themselves, although sorting remained an issue.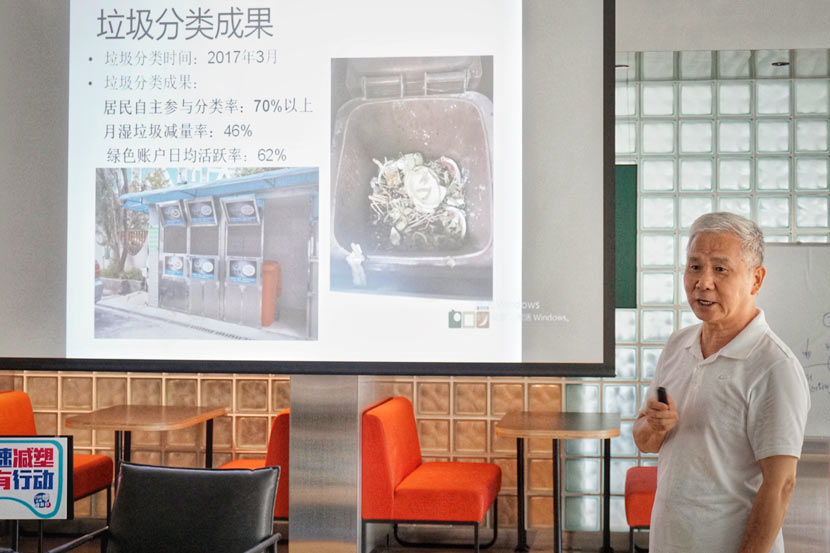 Yan Weiguo gives a speech on garbage sorting in Shanghai, Aug. 18, 2018. Courtesy of IFINE
After a month, we reduced our patrols to one a day. Six months later, we were able to eliminate even that. Now the cleaner makes a regular check, but we generally rely on residents doing their part. Some even help us out by sorting any unsorted garbage they find when they're tossing out their own trash, or by conducting spot-checks on their way out the door. Thus far, the team of neighborhood volunteers I belong to has managed to convince 70 percent of residents to sort their daily trash — albeit according to a simpler, two-tier system, rather than the four-tier one Shanghai intends to implement.
Largely retiree volunteer groups like the one I'm a part of play a key role in managing China's residential communities. We're often the ones actually carrying out the ground-level work of implementing official directives.
Personally, I believe face-to-face interactions are the most effective way to carry out policies like this one and get residents on board, far more so than impersonal techniques like bulletin board posts. Sometimes this leads to confrontation, but it's important that residents know their actions are being noted, and it helps keep them in line. I used to be a teacher and spent more than 20 years as the Party branch secretary of a middle school. Now that I manage the building's bulletin board, I work to make sure good behavior is highlighted and misbehavior criticized, although we never name names. We also work to foster a positive atmosphere. During holidays, for example, we'll prepare food for residents who are elderly or have a disability.
Despite our success, about 30 percent of residents, most of them young, have yet to start sorting their trash. Others throw their wet garbage into the public trash bins on the street. It will be interesting to see what happens on July 1, when the new sorting rules are set to go into effect. In the meantime, I hope the ongoing promotional activities in newspapers and on TV will boost awareness and get more residents involved in taking care of their communities.
Ultimately, this is not a meaningless rule, and if it works, it could have a significant positive impact on the local environment. Some have noted that Shanghai is adopting these rules relatively late, especially compared with other international cities, but it's also important to remember that those cities got where they are today through years of hard work by residents and organizers. If Shanghai wants to reach that level, everyone will have to do their part.
As told to Ma Xiaolu.

Translator: Katherine Tse; editors: Yang Xiaozhou and Kilian O'Donnell; portrait artist: Zhang Zeqin.
(Header image: Cleaning staff tidy up a trash collection center in Shanghai, Nov. 1, 2017. Courtesy of IFINE)