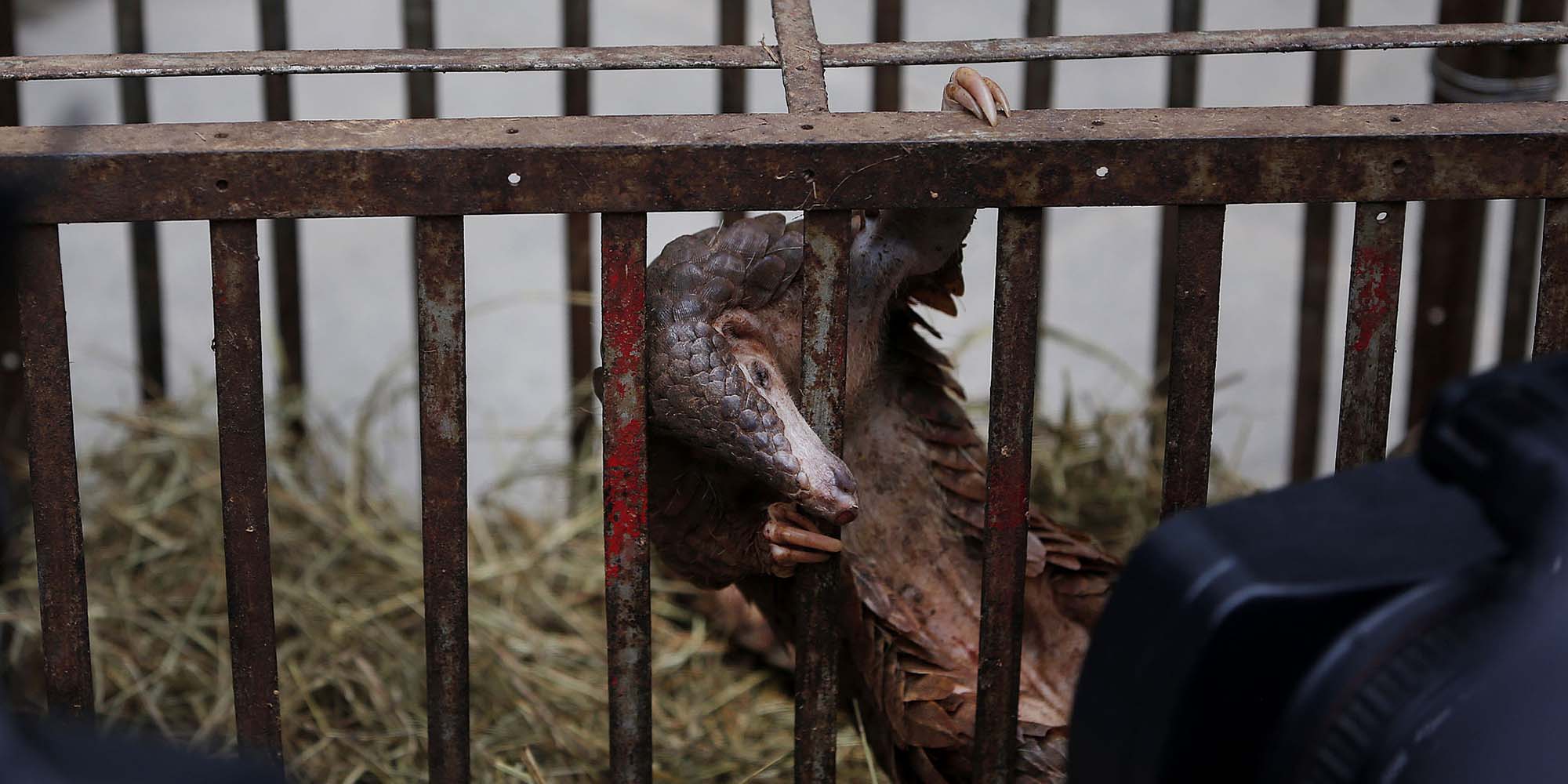 NEWS
130 Pangolins Died in 2 Breeding Centers, News Report Finds
The deaths from 'rescue failure' occurred in commercial facilities contracted by a forestry department in southern China.
A total of 130 endangered pangolins died at two commercial breeding centers contracted by a regional forestry department in southern China, according to a Beijing News investigation published Monday.
Between 2014 and 2017, the forestry department of Guangxi Zhuang Autonomous Region tasked the two privately owned centers with caring for the animals, which authorities had seized in various smuggling cases. But past statements from the department show that 96 pangolins later died due to "rescue failure," and the media report cites a forestry official who said that 34 other deaths took place at one of the centers.
Sixty-six pangolins died at a center in the city of Beihai after being transferred there between 2015 and 2016, according to public documents released by the forestry department in September 2018. The center, owned by Guangxi Shengkai Investment Company, had begun breeding the species even before obtaining official permits in April 2015, Monday's investigation found.
Meanwhile, Guangxi's forestry department reportedly told the nongovernmental China Biodiversity Conservation and Green Development Foundation in 2018 that 30 other pangolins had died at a second breeding center in the southern province of Guangdong. Speaking to The Beijing News last month, Zhang Zhenqiu — deputy head of conservation at the department — confirmed that figure and also said 34 additional pangolins had died at the same facility. All 64 had been transferred to the center between 2014 and 2017.
The Guangdong center has already been closed and its breeding permits have been revoked, the province's forestry department told The Beijing News. Police in central Hunan province told the outlet that they are currently investigating the manager of Fuoshan Nanhai Yanbu Yuehuiteng Steel Company, which owns the Guangdong center, in connection with an illegal wildlife trading ring reported last year. In that case, Hunan authorities seized 216 pangolins and arrested 129 suspects.
Guangxi's forestry department had not responded to Sixth Tone's interview request by time of publication.
The breeding of captive pangolins is both difficult and controversial. Zhang Zhenqiu, the forestry official, told The Beijing News that the survival rate is extremely low for pangolins born via artificial breeding, a preferred method of commercial facilities.

"Commercial pangolin breeding is nonsensical and unrealistic," Zhang Siyuan, head of the pangolin group at China Biodiversity Conservation and Green Development Foundation, told Sixth Tone on Tuesday. "These companies can't even fulfill their duty of rescuing the pangolins, let alone breed them."
Instead of transferring the pangolins to private companies for artificial breeding, Zhang Siyuan said, authorities should have released the rescued animals into the wild. Zhang Zhenqiu told The Beijing News that his department did not release them because foreign pangolins might taint the native gene pool — but Zhang Siyuan said that records of wild pangolins in the southwestern Yunnan province suggest the rescued animals could have been released there without issue.
In January, a suit filed against Guangxi's forestry department by China Biodiversity Conservation and Green Development Foundation was accepted by a court in the regional capital of Nanning. The foundation accused the forestry department and an affiliated pangolin rescue center of negligence for the deaths of eight pangolins, unrelated to the 130 reported Monday.
A protected species in China, pangolins are classified as "critically endangered" by the International Union for Conservation of Nature, a Swiss organization that maintains an authoritative list of threatened species. The animals' numbers are declining due to environmental degradation and poachers, who sell the highly prized meat and scales, often for use as ingredients in traditional Chinese medicine. In September 2018, a customs department in the southern city of Guangzhou reported that it had seized 7.25 tons of pangolin scales illegally imported into China, harvested from over 12,000 pangolins.
Editor: Layne Flower.
(Header image: A smuggled pangolin intercepted by police peeks its head through the bars of a cage in Kunming, Yunnan province, Jan. 22, 2014. Lang Xiaowei/VCG)