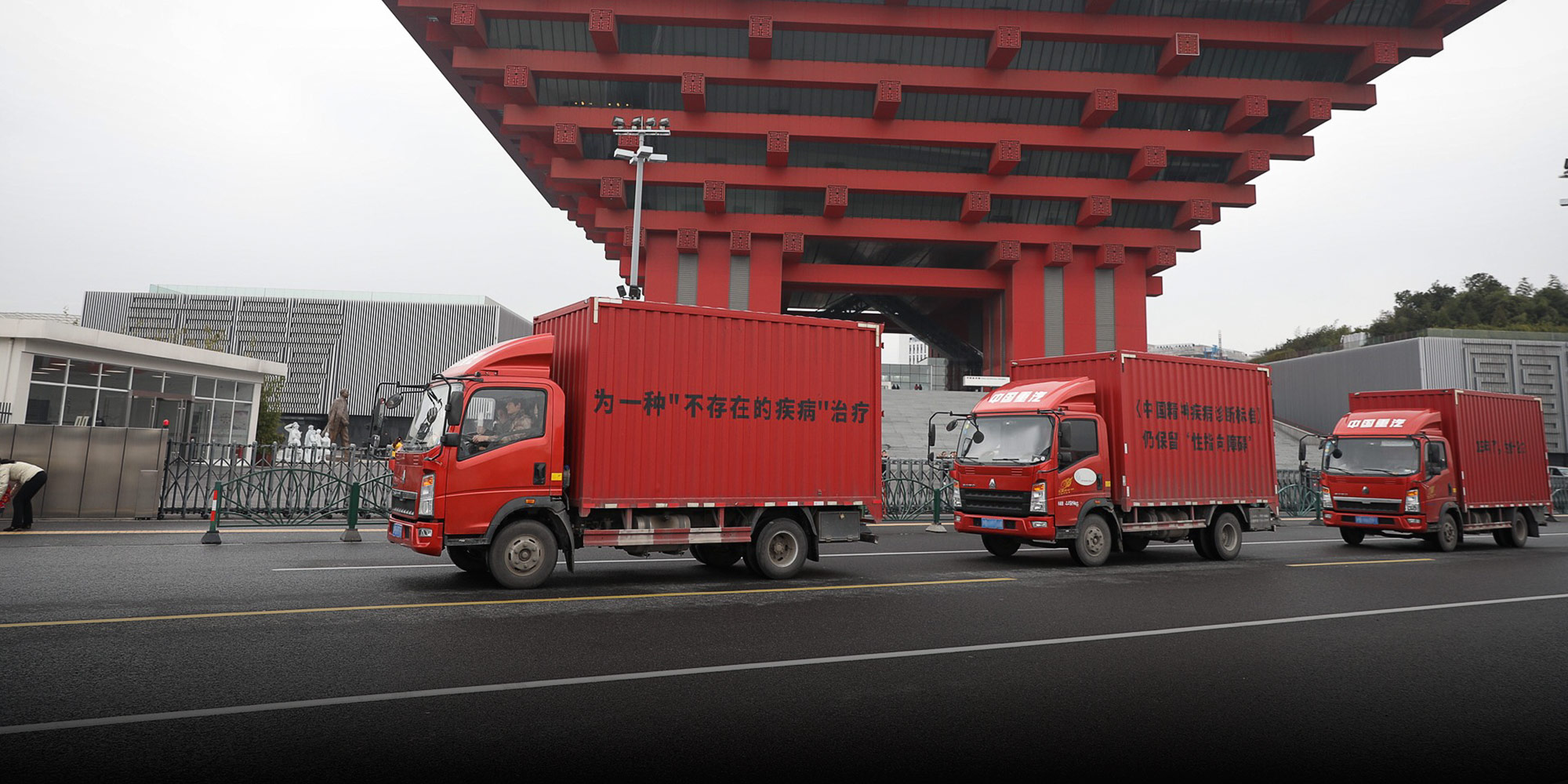 FEATURES
Part Protest, Part Art: The Artists Aiming for Real-Life Results
In "Nine Public Presentations," young artists are trying to solve social ills — and empower the silenced.
SHANGHAI — Art curator Zheng Hongbin believes in something radical for China: that art can — and should — change society.
That's how three trucks came to be at a parking lot in suburban Shanghai on a rainy, wintry Friday morning in January. Each bore a slogan written in bold, black letters: "Treating a disease that doesn't exist," "'Sexual orientation disorder' is still classified as a mental disorder in China," and "For 19 years, why?"
That morning, 32-year-old organizer Zheng was running late. When he arrived, wearing black-rimmed glasses and holding a camcorder, the trucks had already been in place for hours. In the afternoon, Zheng and his friends recorded the trucks as they drove through Shanghai's downtown area, making stops in front of clinics that use "gay conversion therapy" to try to turn patients straight. Zheng, a confident man from northeastern Liaoning province, even knocked on therapists' doors, demanding to know if and why they still offered the controversial treatments.
Zheng is a rare breed in China's art world, in which few artists publicly advocate the idea of art effecting societal change. In recent years, Zheng and a handful of other artists have been creating "social practice art," works that are community-focused and interactive. Since May 2018, Zheng has been curating "Nine Public Presentations," in which nine like-minded young artists tackle social problems ranging from water pollution to conversion therapy. In some ways, Zheng and his fellow artists are attempting to fulfill a role that would normally be performed by muckraking journalism, something that's often lacking in China's media environment.
Zheng's trucks, collectively named "Lovers," were one of the nine presentations and were a tribute to true love in all forms. Zheng and fellow artist Wu Qiong, who goes by the nickname Laobai, created the trucks as a visual homage to Oscar-winning film "Three Billboards Outside Ebbing, Missouri," in which a mother uses red-and-black billboards to fight for justice following her teenage daughter's unsolved murder. The slogan-bearing trucks will go to a total of eight cities around China, stopping at clinics still practicing conversion therapy.
Though China removed homosexuality from its list of mental illnesses in 2001, the list still categorizes those who are unhappy with their sexuality as having "sexual orientation disorder." Zheng estimates that there are still more than 100 organizations and countless individuals claiming they can "fix" sexual orientation using methods such as electroshock therapy, which can cause patients tremendous physical and mental trauma. Wu and Zheng believe that the current inclusion of "sexual orientation disorder" legitimizes profit-seeking gay conversion operations — and their art project is aimed at getting it removed from the list of mental disorders.
While "Lovers" has already made waves, Zheng's "Nine Public Presentations" are getting mixed results. Although Zheng had hoped to show all nine by the end of 2018, only half have been displayed so far. The reasons are complicated: Some projects have struggled with funding, others have had run-ins with the authorities. Zheng is pragmatic. "If our art always went according to plan, there'd be no fun in doing it," Zheng told me candidly as we walked down a Shanghai street dotted with snack shops. "I might have overestimated myself — maybe we won't be able to complete all nine of them."
Art Impacts Life
Some of the "Nine Public Presentations" are already having their desired effect. The first of the series kicked off in June 2018 in Beijing's 798 Art Zone. Artist Nut Brother stacked supermarket shelves with cloudy bottled water extracted from Xiaohaotu, a township in northwestern China's Shaanxi province. In May last year, Zheng and Nut Brother — who doesn't reveal his real name to the media — visited the township where locals claimed they'd been dealing with heavy metal pollution in their water supply for years.
In July, authorities shut down the exhibition for the trademark infringement of water brand Nongfu Spring, but pictures had already been widely shared on social media. Mainstream news outlets dispatched journalists to the township and published investigative pieces on the contaminated farmland and water source. Authorities appeared to spring into action, promising to dig deeper wells to find cleaner groundwater, reassuring villagers that their tap water was drinkable. In Zheng's opinion, Xiaohaotu is a living testament to his belief that art can impact real life. "The traditional argument is that art can't solve problems," said Zheng, "But I think 'Nine Public Presentations' has sort of managed to do so."
Zheng's realistic about how much influence a one-off art exhibition can have. He knows that an exhibition is just the first step. And even in the case of Xiaohaotu, there are still villagers concerned about their environment. 
But other projects have had less of an impact. Another of the "Nine Public Presentations" features Jia Lingmin, a 53-year-old teacher-turned-activist who spent four years in jail. Jia and her husband used to live in a shanty town in Zhengzhou, the capital of central Henan province. But their house stood in the way of an official-backed property development. In June 2010, Jia and her husband were abducted by unknown thugs, and when they returned home, they found that their house had been torn down. After that, Jia quit her teaching job, studied law, and embarked on a new life as an activist against government-backed demolition around the country. In May 2014, she was arrested and imprisoned for "picking quarrels and making trouble," a charge commonly used by Chinese law enforcement to quell activists.
While reading through all 18,851 of the posts Jia had made on microblogging site Weibo, Zheng and 28-year-old artist Guo Yuehua, who hails from southwestern Sichuan province, discovered another side to her. She was more than an activist: Jia was an ordinary, middle-aged woman who loved to paint. They decided to help her raise 20,000 yuan ($2,950) for a solo, one-day exhibition of one of her masterpieces.
When they didn't raise the amount they'd hoped for through crowdfunding, Zheng and Guo decided to hold it anyway. Zheng tried to pull strings with his connections to get an exhibition space, but everyone he contacted was reticent — he believed they were nervous about being associated with a sensitive figure like Jia. After numerous refusals, Jia's works were instead shown in Shanghai. "This project was no luckier than Nut Brother's," Zheng wrote in a post on social messaging app WeChat in January, explaining how they had both been beset by difficulties.
Collateral Damage
In all of the works, Zheng and his cohort want to engage non-artists — the people who're dealing with issues on a daily basis. "Art is not something that exists outside of society," Zheng said. "Artists should face society head-on."
But being part of art that deals with social conflicts can bring unwanted attention — and the more people involved, the more there is at stake.
For almost three months last year, Zheng barely slept, partly because he was so concerned that his ambitious art project would come at a cost to others. One warmhearted Xiaohaotu resident named Wu Yanrong who'd assisted the artists during their visit had been arrested for illegally occupying agricultural land. Zheng and Nut Brother believe the arrest was made in retaliation for the villager's help and to attempt to stop the art project.
Wu had similar issues with "Lovers." He'd been grateful that the three drivers he found through a logistics booking app were so agreeable, despite his somewhat peculiar orders. He'd been particularly impressed with one of the drivers, an ex-soldier surnamed Ding — who declined to reveal his full name — who helped plan the route past Shanghai landmarks, including the Oriental Pearl Tower and the former China Pavilion at 2010's Shanghai World Expo.
However, Ding later told Wu that the drivers' company had been contacted by the police. After the Shanghai tour, a writer from a Shanghai-based media organization asked Ding for more information about their interactions with the police. "I don't feel like talking about it anymore," said Ding. "I think this ends now."
The Artist Who Quit
When doing art intended to effect social change, you need to be aware of the consequences, as artist Li Xiangwei knows well.
At 23, Li was the youngest artist invited to join the collective. Li's only in his senior year at the Guangzhou Academy of Fine Arts, one of the top eight art institutes in China, but he's already been labeled a misfit and outlaw.
For one of his performance art works, Li had graffitied the school, prompting the institute to send him a disciplinary punishment notice. In a bid to battle against red tape and policies, Li printed the notice on dozens of T-shirts. Since then, he's become something of a web celebrity, thanks to a quirky profile story of him that went viral.
Li's "Nine Public Presentations" project was inspired by the suicide of Tao Chongyuan, a graduate student at Wuhan University of Technology. On Weibo, Tao's sister said that her brother had been psychologically abused and exploited by his mentor. Li hoped to raise awareness of the circumstances surrounding Tao Chongyuan's death by inviting Tao's sister to bungee jump — a reference to Tao's suicide method — at Macau Tower, which holds a Guinness World Record for highest commercial bungee jump.
But after meeting Tao's sister in person, Li decided to drop his plan, even though she had agreed to take part in it. "This is not just about me," Li told me over the phone. "In fact, I was afraid the project would traumatize her." In the end, Li backed out of the "Nine Public Presentations" altogether.
With art that reflects on real-life incidents, Li's always concerned about the additional effects. He doesn't want to create buzz that only lasts for 24 hours. "It is not hard to mold public opinions," Li said. "The main thing is if it can solve the problem."
Becoming the Fourth Estate
Once a reporter with a news site focused on the art industry, Zheng knows the power of the press. In fact, he thinks art is no longer limited to galleries and museums: He believes art itself can be a kind of mass media. "I am pessimistic about whether our actions can make a difference [by themselves]," said Zheng. "We have to connect with other forces in society [to achieve something]."
No matter what project he is working on, Zheng's developed a habit of bringing a camera with him wherever he goes. Zheng filmed the three-billboard protest on a hand-held camera, then edited and uploaded footage to social media with the hashtag #TheCorrectedLovers, a reference to the people who had gone through conversion therapy. Noticing that the hashtag had become popular, Zheng began putting more of an emphasis on creating social media content.

One of the people who'd volunteered to help with the billboards campaign contacted an uploader with a youth-oriented channel on video streaming site Bilibili and organized an interview with Wu. Although Wu is camera-shy, he explained the art project's background. Through domestic and international media interviews, Wu and Zheng have been able to publicize their perspective.
"In the current context, it is very hard for [domestic] media to report on certain issues," said Zheng. To Zheng, this where art can come in and creatively draw the public's attention to issues. "We also need to do what the media does," said Zheng.
Editor: Julia Hollingsworth.
Correction: A previous version of this article misspelled Zheng's surname on two occassions. The errors have now been corrected.
(Header image: Three trucks drive by the former China Pavilion at 2010's Shanghai World Expo, in Shanghai, Jan. 12, 2019. Courtesy of Zheng Hongbin)