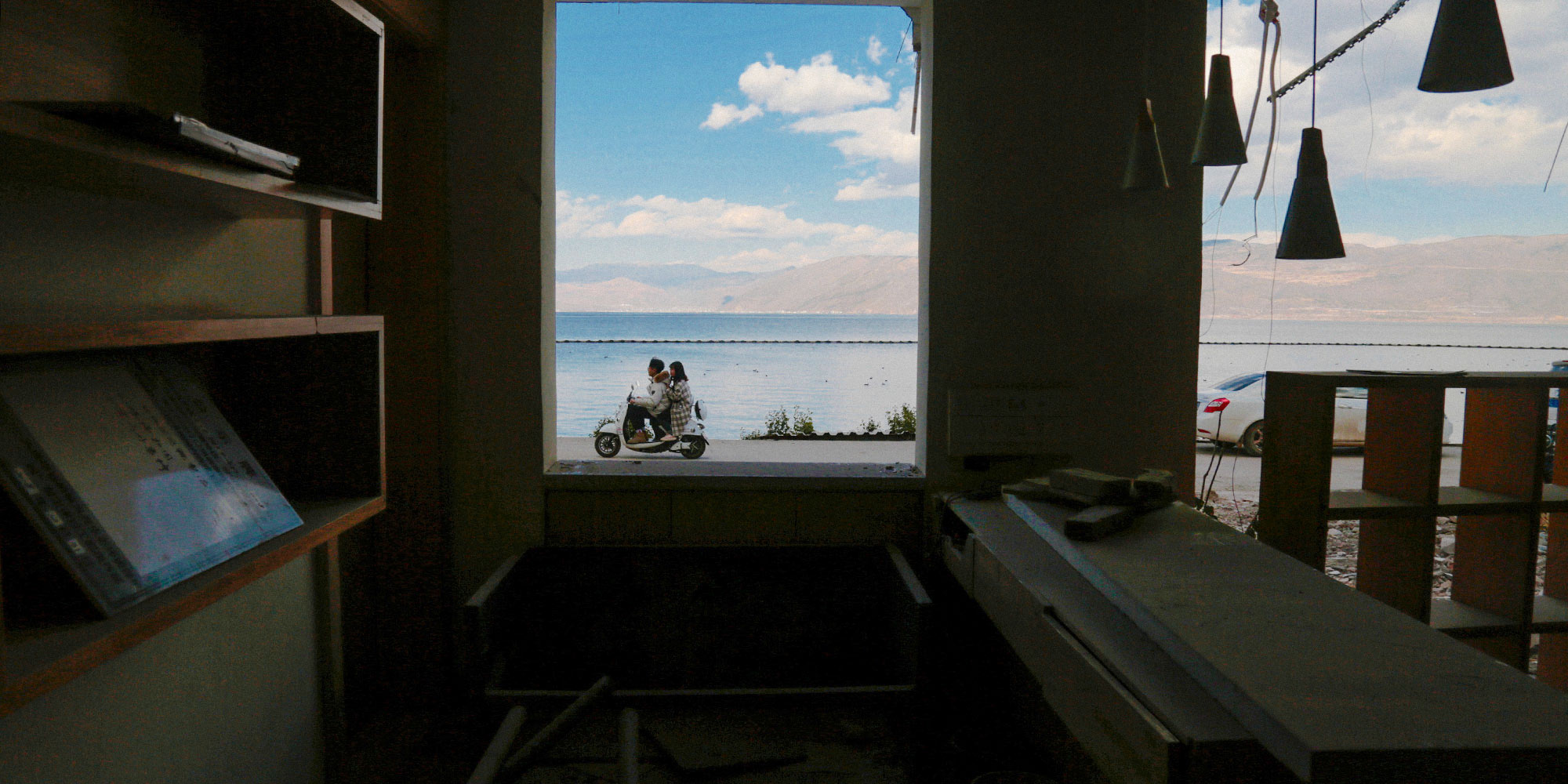 FEATURES
How Dali's Tourism Dream Was Reduced to Rubble
Out-of-town investors referred to the city's lakeside resorts as a 'utopia.' Then, utopia got bulldozed.
YUNNAN, Southwest China — In 2011, Zhou Ke decided to sell her house in Shanghai and rent one by Erhai Lake. She had visited the year before and had fallen for its stunning natural landscape, its bohemian community of writers, musicians, and artists, and the melting pot of ethnic cultures in the picturesque lakeside city of Dali. "It felt like a multicultural utopia," recalls the 43-year-old drama director.
Zhou eventually settled for a historic waterfront property, signed a 20-year lease with her landlord — a member of the local Bai minority — and set about renovating it. She offset the old bricks and upturned eaves with modern touches like floor-to-ceiling windows, transforming it into a workspace, a holiday home for her family, and a homestay inn. She named it "Keke's Big House" — after her nickname, Keke — and set off fireworks to celebrate moving in. Two decades of the quiet life awaited her, or so she thought.
But late last year, Zhou's dream came crashing down — literally. On Dec. 23, the government demolished half of Keke's Big House as part of an initiative that razed all buildings located within 15 meters of the lakeshore. In Zhou's and other cases, this sometimes meant that the bulldozers plowed through part of the house, leaving sections outside the 15-meter mark standing. More than 1,800 homes and inns were affected by the policy, according to state media reports.
Dali's experience of protecting Erhai Lake demonstrates the Chinese government's delicate balancing act between two often-contradictory priorities: developing tourism and conserving the local environment. The state claims that the December demolition project is necessary to protect Yunnan's second-largest freshwater lake — one that frequently fails to meet water quality standards and has wildlife-suffocating algal blooms. But the project also tipped the balance of an already-fragile relationship between Dali's government and its hoteliers and hostel managers, many of whom accuse the government of pursuing a one-size-fits-all policy that would do little to conserve the environment while causing severe economic losses.
The Dali Erhai Lake Protection Administration Bureau did not respond to Sixth Tone's interview request.
When Sixth Tone visited Erhai Lake in early January, excavators were clearing rubble from the lakeshore houses that had been torn down by the end of 2018. Other houses stood curiously half-demolished, their innards exposed to the street. Few tourists come here in winter — the exact numbers are unknown — but residents say that even by low-season standards, visitors were few and far between.
The somewhat eerie visuals are a result of what the Dali municipal government calls its "three-line plan." In May, the government formally defined the boundaries of the "lake area," the "lakeshore belt," and a "core water-conservation zone." The first line delimits the lake area to be made pollution-free; the second defines the 15-meter demolition zone around the lake; and the third compels all remaining buildings within a 100-meter radius of the lake to meet higher waste-water emissions standards.
Despite its reputation for pristine nature, both Erhai Lake and the rivers that feed into it have been repeatedly dammed — mainly for hydropower projects — since the 1960s, which has caused the water level to fall. Since the 1990s, the algal blooms have frequently hit the lake, occurring when household, industrial, and agricultural runoff leads to excessive amounts of nutrients in the water. The nutrients attract algae, which then reproduce in large numbers, consuming much of the oxygen in the water and leading to die-offs of other organisms. Scientists think that global warming intensifies algal blooms.
In spite of that, Dali still attracts hordes of Chinese urbanites — and foreign travelers — seeking an escape from the long hours and heavy air pollution in more developed eastern cities. Former civil servant Guo Qiang and his family moved from Beijing to Dali in 2013, thankful to leave the smog-choked capital and send his then-3-year-old son to a Dali kindergarten famous for encouraging pupils to interact with nature. The then-32-year-old acquired a long-term lease of a Scandinavian-style inn by the water. The inn had eight rooms, each of which cost around 1,000 yuan (then around $161) per night, and occupancy was usually above 60 percent — not bad, Guo thought. But there was one thing that still troubled him: He didn't hold two of the eight crucial licenses required to run a hotel.
It wasn't as if Guo hadn't tried to get them. He'd applied for the licenses — a so-called special industry permit and a fire safety certificate — over and over, but, as he tells Sixth Tone, "the application periods were extremely short and irregular, and one licensing department just stopped accepting applications altogether in February 2016." He adds that officials often told him he couldn't obtain one license until he had acquired another — resulting in endless visits to the relevant authorities.
Such travails were a common problem in Dali's tourism industry. Zhou, the abovementioned former innkeeper, says that the licensing requirements were always unclear and ever-changing. After several fruitless applications, she decided to rent her renovated house to private acquaintances only — not members of the public — in order to avoid suspicion that she was operating illegally. Another inn proprietor surnamed Gao, who declined to reveal her full name due to the sensitivity of the issue, confirmed to Sixth Tone that it was common to run such businesses without full licensing back in 2016. "Administrators should draw up proper restrictions when doing city planning," says Gao. "There was a ban on construction on the western bank of the lake, but the government didn't implement the ban and just turned a blind eye to people who built there. It was never a hard 'yes' or a hard 'no.'"
Inn proprietors say they always had something of a tense relationship with the municipal authorities. On the one hand, the government welcomed outside investors and often ignored illicit construction and business operations. On the other hand, it seemed to deliberately and arbitrarily resist issuing proper licenses to many hotels, contributing to a booming but troubled market. Between 2013 and 2016, hundreds of lakeshore hotels and restaurants opened in Dali, and by 2017, the city's annual tourism revenue was 29 billion yuan.
At first, however, few proprietors worried about their missing licenses. After all, everyone seemed to be missing something — 1,947 out of 2,498 lakeside restaurants and hotels were found to be lacking some or all their required licenses in April 2017, according to an environmental inspector's report. And the idyllic lifestyle encouraged many out-of-town innkeepers to put their licensing concerns to the back of their minds. "Sometimes, I'd awaken to the sound of tourists gasping at how beautiful the landscape was," Zhou recalls. "Every time, I felt extremely proud."
But even with the ostensible simplicity of Dali life, the city's tourism boom was causing problems in the country's corridors of power. In early 2015, President Xi Jinping visited the area and reiterated the need to "properly protect Erhai Lake." Two years later, the central government inscribed Erhai onto a list of "national-level lakes," requiring it to submit to stringent conservation regulations. And in October 2018, China's Ministry of Environment and Ecology criticized the prefectural and municipal governments of Dali, saying they lacked sufficient legal oversight of construction and business operations near Erhai Lake and let the local environment decline.
The remonstrations from the central government sent ripples through the local authorities. From 2015, the local government began punishing officials guilty of ignoring the lake's environmental protections, ensnaring more than 60 by March 2017. Also in 2017, Dali launched a seven-point action plan to "urgently rescue Erhai Lake," the strictest environmental protection campaign in the region to date. In April that year, the government ordered more than 2,400 hotels and restaurants to suspend business and undergo "rectification." Later, it banned garlic farming around the lake, claiming overuse of fertilizer was contributing to pollution. The impact on the local agriculture and tourism industries led certain media outlets to liken the campaign to "a warrior cutting off his hand" — a painful act of self-harm to achieve a nobler long-term aim.
Innkeepers gradually noticed the political winds had changed when the government demanded they upgrade their septic tanks, then waste-water treatment facilities, and then other environmental facilities at their own expense — a cost of tens of thousands of yuan. Then, in April 2017, came the directive to suspend business operations for the environmental "rectification" around Erhai Lake. A sewage disposal project was later constructed to stem the flow of waste into the lake.
In August 2017, the government allowed fully licensed hostels to reopen. But it was a false dawn. In early 2018, the government officially announced the demolition of all lakeside properties — licensed or not — within 15 meters of the shore by the end of the year. And so in December, Zhou, Guo, and Gao all saw their inns either fully or partially torn down. The government provided compensation to the landlords of the affected properties and demanded they come to private settlements with their leaseholders. This led to further conflict: Zhou's landlord, for example, received 1.15 million yuan from the government and offered 350,000 yuan to Zhou — a figure that fails to cover the original cost of renovating the property, Zhou says.
Experts, too, have questioned the rationale behind demolition. According to researchers at Central China Normal University, agriculture, especially animal farms, are the main source of water pollution in Dali, while the impact of tourism is smaller by comparison. And despite the government's ostensible embrace of conservation, central environmental inspectors say Erhai's water quality continued to deteriorate in 2016 and 2017. In some parts of the lake, levels of pollutants even increased — perhaps because of the poor environmental records of industries that operate across the lake basin.
Conserving Erhai Lake is a long-term effort that requires further management and planning, says Pang Yan, a researcher specializing in lake pollution control and environmental planning at the Chinese Research Academy of Environmental Science. Pang adds that Dali is the economic center of its prefecture, but its mountain location leads to high population density around Erhai. "The development of the lake has outpaced our ability to protect it," says Pang, explaining that human activity has increased waste and has had an impact on the basin's ecology. "Even waste water that goes though the highest treatment standards still falls short of the lowest standard for surface-water quality." Pang favors completely closing parts of the lakeside zones for conservation, instead of allowing tourists to continue using them.
"Locals have mixed feelings about the lake water turning darker [and more polluted] in recent years," says Dong Liyue, a local Bai who gives sightseeing tours around Erhai Lake. Many tourists are unwilling to come to Erhai Lake, because the restaurants and inns are closed and there's too much dust thrown up from the demolition site, Dong adds.
Many innkeepers left Dali in the wake of the demolitions. Some filed lawsuits against the local government and their landlords, accusing them of mismanagement or low compensation. "Looking back to what has happened here, I just find it so absurd," says Zhou.
Yan — who declined to give his full name as he is in frequent contact with the authorities — is one of the few innkeepers who has stayed in Dali. His inn was half-demolished in December's campaign, but he is now renovating it and hopes to reopen soon. "I won't invest too much in it this time — just the compensation I'm getting from the demolition project," he says. Despite complaining of low compensation, Yan withdrew an initial lawsuit he filed against the government. "I'm not about to destroy my relationship with my landlord and the authorities for the sake of my business," he says.
He's heard rumors that the government plans to expand the demolition area — a move that would engulf his whole hotel. "The policies have shifted so fast. I'm very confused," Yan says, "but if it's true and my inn is torn down after renovating it twice, I'll be furious."
As the recriminations grow, Erhai Lake retains its placid, calm exterior. But tourists motorbiking around the lake now must turn back when they hit the demolition sites, and the mountain wind carries construction dust in clouds over the water. A billboard warns tourists not to feed gulls to avoid water pollution.
"I used to tell people that Dali was my favorite place in the world," says Yan, who moved to Dali in 2015. "But so much has happened since then. It's not the same anymore."
Editor: Matthew Walsh.
Correction: 1,000 yuan was equivalent to approximately $161 in 2013, not $1,500.
(Header image: A couple rides past an abandoned hotel near Erhai Lake, Yunnan province, Jan. 18, 2019. Li You/Sixth Tone)