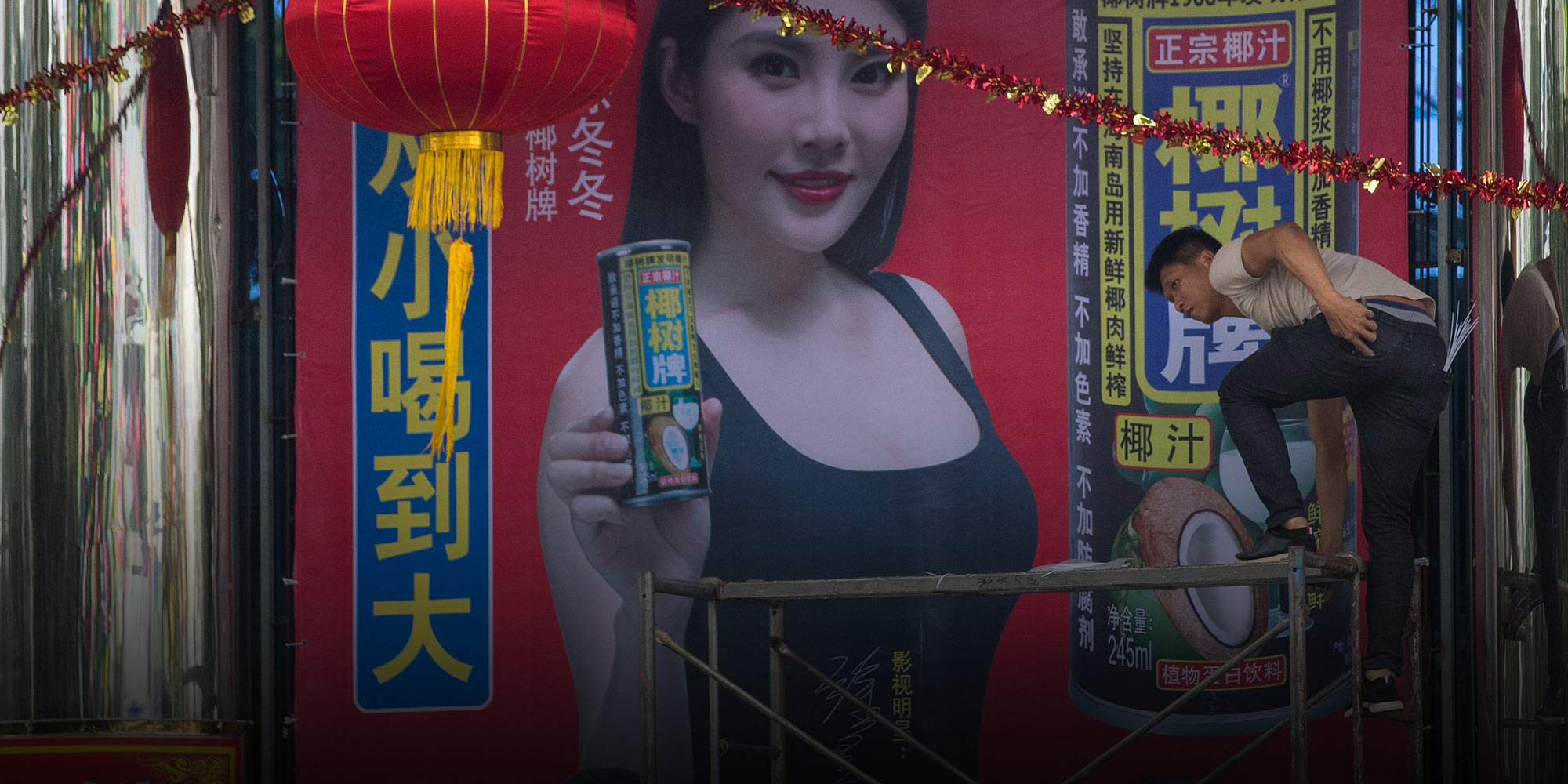 NEWS
Drink Company Probed for Claiming to Give Women Bigger Breasts
Coconut Palm is in the middle of a controversy — again — for advertisements asserting it can make women "curvier."
Local authorities in southern China are investigating a popular coconut milk brand for once again claiming the drink would enhance women's breasts.
The Haikou branch of the State Administration for Industry and Commerce in the island province of Hainan said Wednesday that Coconut Palm is "suspected of false and vulgar advertising." In its new advertisements released after the Spring Festival holidays, the tropical drink brand used a group of women by the waterside — all wearing low-cut tops while soaked — saying that consuming the coconut milk has made them "fairer" and "fuller."
Coconut Palm, a product of Hainan, is a popular drink among Chinese and has been served at state banquets since 1991. The company has often attracted eyeballs and ire because of its sexist advertisements and provocative packaging claiming their coconut concoction makes women "curvier" and gives them "bigger breasts."
An employee from Coconut Palm's publicity department dismissed the allegations when contacted by Sixth Tone's sister publication, The Paper. The company instead blamed netizens for exaggerating the issue. Sixth Tone's calls to Coconut Palm went unanswered on Thursday.
The drink's latest advertisement has also angered its loyal consumers, with many calling it "obscene" and "tasteless." The latest social media furor comes two years after Coconut Palm was attacked for a similar advertisement, which also claimed its product could enhance a woman's cleavage and whiten her skin.
As companies compete for large market shares using various promotional tactics, authorities have been cracking down on misleading and false advertisements. In September, American cosmetic company La Mer was mired in controversy after a beauty blogger called out the brand for claiming its skin products could help heal burn scars. The following month, one of China's favorite herbal toothpaste brands — Yunnan Baiyao Toothpaste — was also accused of using prescription drugs and false advertising to sell its products.
Editor: Bibek Bhandari.
(Header image: A worker puts up an ad at Coconut Palm's gate in Haikou, Hainan province, Feb. 13, 2019. Qi Miao/VCG)