While the world's two most populous countries are often taken to task for their carbon emissions, a new study says that China and India have led in increasing the Earth's greenery over the past two decades.
According to the NASA study, which was published Monday in the journal Nature Sustainability, the Earth's green spaces — including the leaf areas of plants and trees —  have seen a 5 percent increase compared with the early 2000s. The greening over the two decades is equivalent to the area covered by all the Amazon rainforests. China's aggressive forestation plan — 42 percent of the greening in China is associated with the growing forest area — and India's intensive cultivation of food crops have driven the increase in the countries' green spaces. Meanwhile, countries like Brazil and Indonesia have fared poorly due to losses of natural vegetation, according to the report.
"China and India account for one-third of the greening, but contain only 9 percent of the planet's land area covered in vegetation — a surprising finding, considering the general notion of land degradation in populous countries from overexploitation," the study's lead author, Chi Chen, was quoted as saying in NASA's report Tuesday.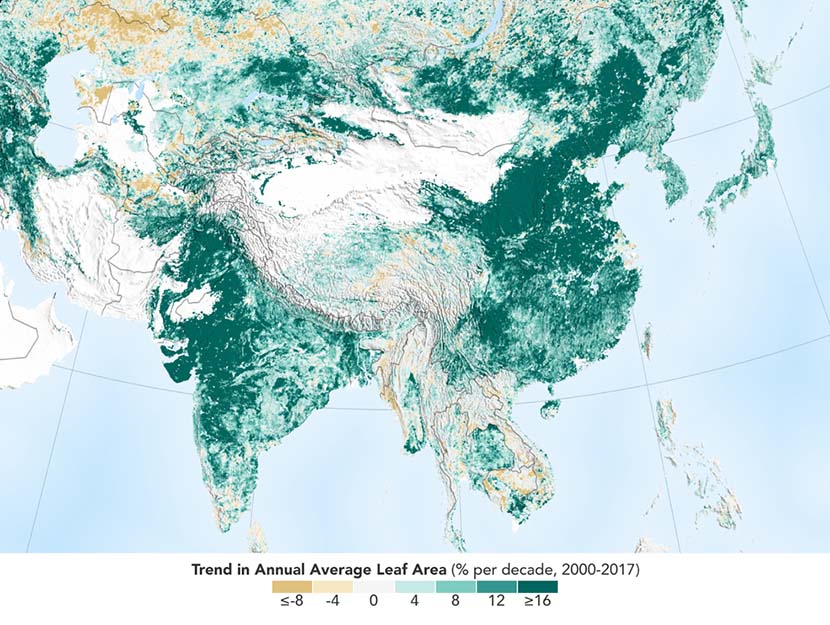 Image courtesy of NASA Earth Observatory
As China plans to combat the impacts of climate change, as well as desertification and deforestation, the country has pledged to have an estimated 400 million hectares of forest area under its "Great Green Wall" project initiated in 1978. Zhang Jianlong, the head of China's State Forestry Administration, said last year that the country plans to have 23 percent of its total landmass covered by forests by 2020. To achieve that goal, the administration kicked off several forestation projects — in Hebei province and the Inner Mongolia Autonomous Region in the North, and in Qinghai province in the Northwest — to cover a total of at least 6.6 million hectares, which is almost the size of Ireland.
The satellite images from NASA collected between 2000 and 2017 show China's northern regions with a high density of greening. The U.S. space administration used a high-resolution data gathering instrument on two satellites for nearly 20 years — able to capture vegetation areas down to 500 meters on the Earth's surface.
However, China's gains in forest area have also sparked concern among experts who argue that the country is "cultivating large monoculture plantations that harbor little biodiversity." A  study published in 2011 in the journal Earth-Science Reviews also noted that China's large-scale afforestation policy has not been tailored to local environment conditions and that the introduction of "inappropriate species" is likely to result in environmental degradation.
Editor: Bibek Bhandari.
(Header image: An aerial view of Xingkai Lake in Mishan, Heilongjiang province, June 10, 2018. Sun Changshan/VCG)