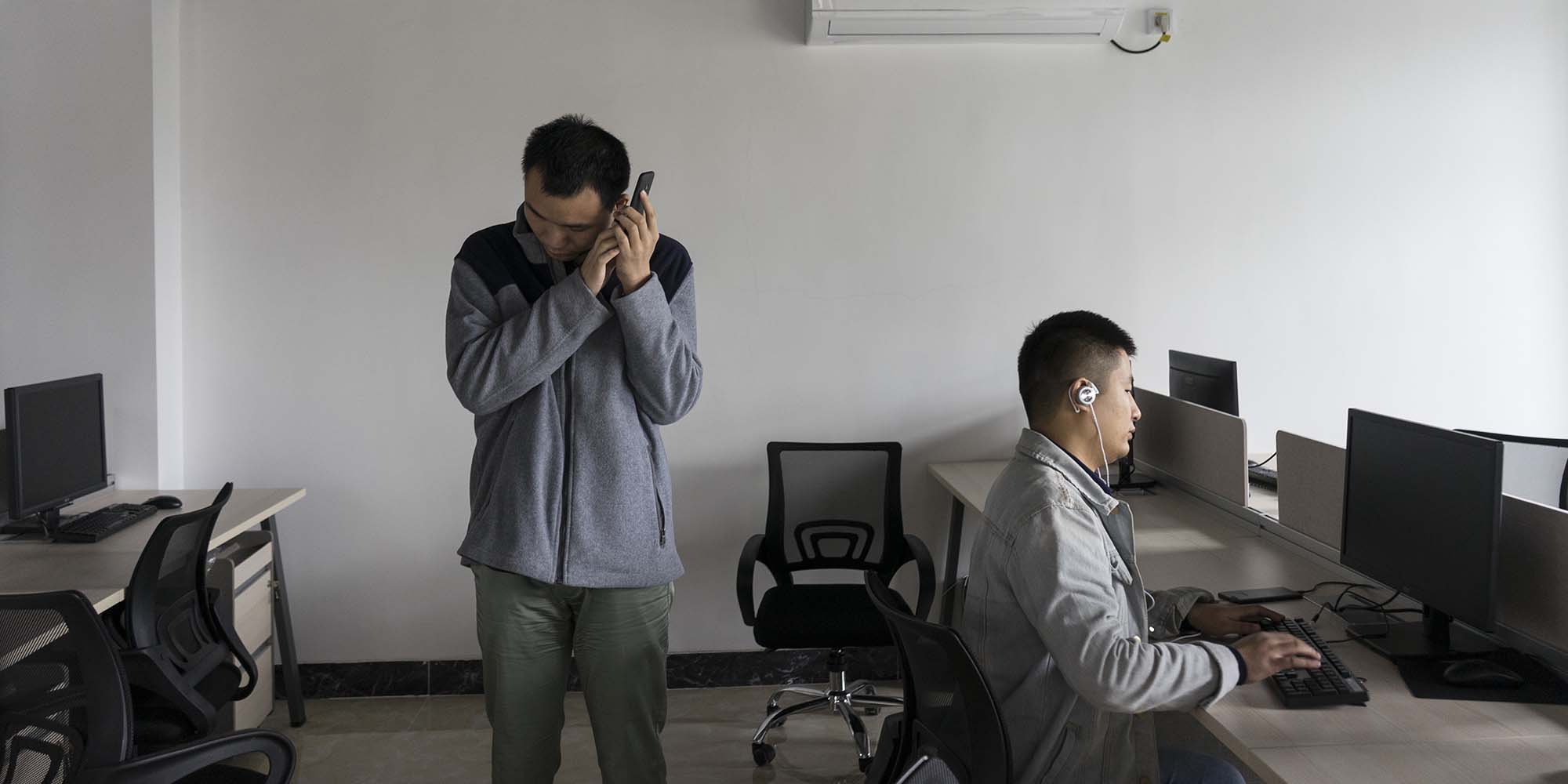 NEWS
The Visually Impaired Coders Making E-Commerce More Accessible
A tech startup in Dongguan has partnered with online marketplace Taobao to ensure that its visually impaired users aren't left in the dark.
On the fourth floor of a residential building in Zhangmutou Town, east of Dongguan in the southern province of Guangdong, four visually impaired engineers are busy writing code. They're wearing headphones as they tap away at their keyboards, but the monitors in front of them are turned off.
"A lot of people think that the visually impaired don't use computers because they can't see anything — but they actually do," Cai Yongbin, a visually impaired computer engineer, tells Sixth Tone. "They don't need a screen, they only need sound. We're good at saving electricity," the 31-year-old adds with a chuckle.
In June 2018, Cai founded Yitong Information Technology Co. Ltd., a tech startup dedicated to making the internet more accessible to people like him. There are eight staff members on the team: Six are visually impaired, two are sighted.
Cai was born in Zhangmutou. At the age of 6, he accidentally spilled quicklime over his head during a home renovation, resulting in his impairment. After 24 years of continuous treatment, Cai's vision has only been slightly restored, and he uses hormone eyedrops every day to maintain what little vision he has.
"The world is big, and there are many ways to live," Cai says. "The visually impaired shouldn't only be able to become massage therapists or musicians."
Rather than attending a vocational school for the visually impaired, Cai opted to go to an ordinary high school in the eastern city of Qingdao that accepted visually impaired students. While at school, he realized people like him could still use computers. "Back then, when I thought of computers, the image that appeared in my mind was something dark, like a skull — because all I heard about them on TV had to do with viruses," he says.
But after being introduced to computers, Cai gradually became interested in programming. In fact, he was the first person at his school to ask to be taught coding, but the school didn't have an instructor who was qualified for the role. So Cai began teaching himself C++ all day, wearing headphones and listening to audio lessons one after another, to the point that he was hardly sleeping. "Studying programming is very exciting when you feel you're on the verge of a breakthrough," he says.
One time, when Cai went to a convenience store to buy a Coke, he accidentally purchased a beer instead. When he took a sip, he immediately spat out a mouthful of the undesired beverage: He's allergic to beer. This incident got him thinking that if online shopping giant Taobao were more accessible, it could better serve China's community of visually impaired people, who tend to rely on e-commerce because of the myriad challenges of getting around.
"I enjoy going online," Cai explains. "On the internet, I'm just like everyone else. No one can see my disability."
While Taobao had some accessibility features to help people with visual impairments use its online platform, there was still a big problem: Text could be converted to voice, but photo information couldn't be read at all. Every page for every item sold on Taobao has dozens of images, and each image can convey a great deal of information.
In early 2018, Taobao began collaborating with Cai's company to develop technology that could convert images into spoken words. The feature has been warmly welcomed by China's visually impaired community and has even exceeded the expectations of Taobao's engineers. According to data from internet giant Alibaba — Taobao's parent company — around 300,000 visually impaired people use the online marketplace every day. During December's "Double 12" e-commerce bonanza, Cai's picture-reading technology was used nearly 100 million times a day by visually impaired customers.
In 2009, Cai made a friend online who was studying in Canada. She was sighted. After they had known each other for a while, Cai told her about his impairment. "You finally told me — but actually I already knew," the woman replied to his surprise. After dating for nearly 10 years, Cai and his girlfriend finally got married last December.
"The internet has been revolutionary for the visually impaired," Cai says. "It has made many impossible things possible and given us equal opportunities."
This is an original article from 像素笔记 that appeared in Sixth Tone's sister publication, The Paper. It has been translated, edited, and republished with permission.
Editors: David Paulk and Hannah Lund.
(Header image: Li Hongli and Li Liancai, two visually impaired computer engineers, at work in Zhangmutou, Guangdong province, Dec. 24, 2018. Lin Hongxian for Sixth Tone)