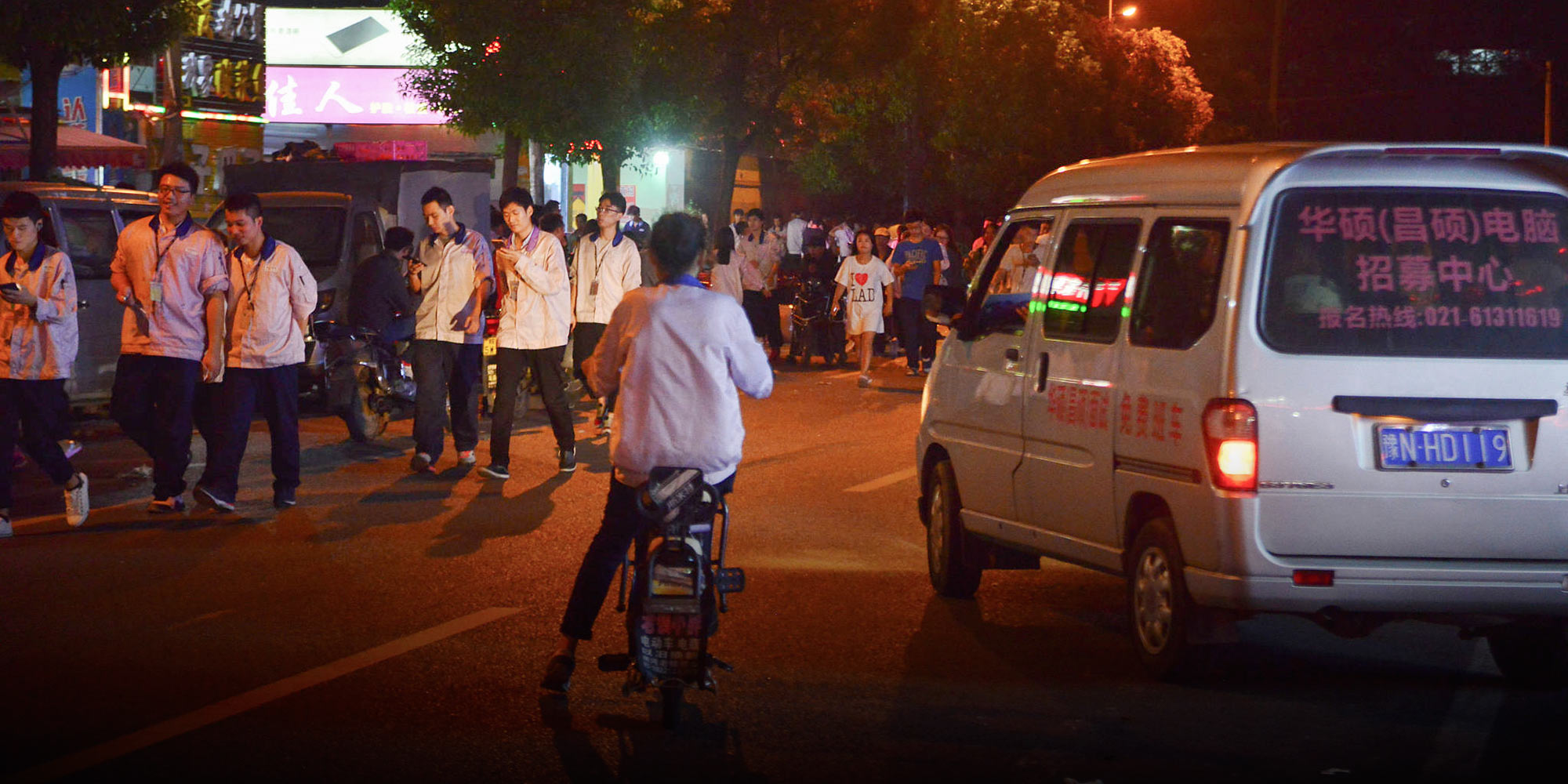 FEATURES
Shady Agents Persist at Major Apple Product Factory
First, there were hiring freezes. Now, workers at a Shanghai iPhone plant are saying they've been left out-of-pocket by false promises.
Update: On Nov. 9, 2020, Sixth Tone's sister publication The Paper reported that Apple had suspended its partnership with Pegatron over labor violations at its factories in Shanghai and Kunshan, where students were working nights and overtime, in violation of Apple's code of conduct for its suppliers.
SHANGHAI — On Friday, Jan. 11, a dozen protestors stood in the drizzling rain in front of a factory owned by Pegatron, the world's second-biggest assembler of Apple iPhones. "Don't go in," they chanted. "Once we go in, that's it."
Days earlier, the protestors had been working for Protek — a subsidiary wholly owned by Pegatron — helping to create iPhones. Now, each claimed they were owed thousands of yuan in unpaid bonuses from the factory.
Protestors gripped a banner made from what looked like a repurposed Peppa Pig bedsheet reading "give my hard-earned money back" in black characters, while police and guards tried to get them to leave. Suddenly, a policeman grabbed a protestor's clothes and the crowd erupted. In minutes, three male protestors were packed off into a police patrol SUV. Protek staff slipped back into the fortress of their factory, protected by high walls, a fleet of guards, and facial recognition systems. Only one bewildered protester remained, continuing to shout protest slogans at the factory gate. A public announcement ran repeatedly on an LED screen: "To those who come for job interviews, please take care not to get cheated."
Earlier this month, Apple CEO Tim Cook announced that the company had reduced its revenue expectations for the first time in 16 years due to poor sales of its latest models, the iPhone XS and XR, in China. Since then, Chinese media have questioned whether shrinking iPhone production could prompt factories to hire fewer short-term workers. During a January investigation, Sixth Tone found evidence that factories had indeed stopped hiring workers in the last three months of 2018 due to the poor sales and were still hiring fewer people than in the same period in past years. But our reporting also exposed that many of the seemingly lucky workers who were hired were promised money that they never received.
When Sixth Tone visited Protek's factory, where approximately 38,000 people work, nearby temp agencies and the company's security guard told us that the Shanghai factory had stopped hiring short-term employees for its assembly lines since October. A notice on Protek's recruitment website said the factory suspended recruitment from Nov. 6 to Nov. 11 because of a lack of vacancies. Normally, the factory would increase workers around that time to meet demand following Apple's annual new model launch. Protek didn't reply to Sixth Tone's request for comment.
But those that were hired had problems of their own, as the demonstrations that began mid-December showed. At a nearby McDonald's after the Jan. 11 protest, a worker surnamed Liu took out a carefully folded A4-size sheet from his coat pocket. "People say an oral promise is not enforceable, but the promise [to pay me an 8,000 yuan ($1,780) bonus] is written on paper," said the 41-year-old, who hails from northwestern China's Shaanxi province.
The seasonal nature of the work and the low pay make it hard for factories like Protek to maintain long-term workers. To help them quickly find workers when orders surge, factories outsource much of their hiring for short-term workers to agencies. Many of these workers are drawn from China's estimated 287 million-strong migrant workforce, who often have limited job-hunting experience in cities, making them more vulnerable to exploitation.
In early October, Liu applied on a recruitment website. He was contacted by an intermediary who then put him in touch with a person named Wang Yang, who claimed to be part of Protek's recruiting team. The pair met several times, and Wang showed Liu his staff card, convincing Liu of his identity.
In mid-October, Liu signed a six-month agreement with labor agency Yongqi to work for 2,550 yuan a month — slightly higher than Shanghai's minimum monthly wage, 2,420 yuan. At the same time, he was given a separate signed and stamped sheet promising that, once he completed 52 days of work, he'd be given an 8,000 yuan bonus, almost three times his base monthly salary. Although he didn't know why Wang — supposedly a Protek employee — made him sign a contract with a third-party company, he went along with it, assuming that was how things were done.
Liu began working on an assembly line at Protek, inserting two screws into the bottom of iPhone 7s, and living in Protek's nearby dormitories, where he was charged for utilities, food, and the 160 yuan a month of rent. "I worked almost like a robot," said Liu, who only came to Shanghai in March last year after a failed investment in his hometown. He found the 12-hour night shifts in which he wasn't allowed to talk with his workmates challenging. In December, he received less than the base monthly salary, as production had been suspended on weekends, and decided he would quit once he received his bonus. "You can't even afford to eat on this kind of money," he said.
But when he completed 52 days on Dec. 26, Liu didn't receive anything — and hasn't been able to contact Wang since. "I know four phone numbers for him," Liu said. "When I called, one was suspended, one had restrictions on incoming calls, one had no answer, and one was out of service." Liu quit on Jan. 10.
When Sixth Tone tried to call Wang, the number was out of service. When Sixth Tone called Protek, a staff member said they didn't know Wang and that directly recruited people did not receive bonuses. When Sixth Tone called Yongqi, the agency that signed a contract with Liu, a staff member said they didn't promise bonuses — that was something shady intermediaries did. "We are not in charge of checking the qualifications of online intermediaries — we will accept workers from whoever introduces them," the staff member, surnamed Li, said abruptly when asked if they checked the intermediaries' background. "Why are the intermediaries illegal? Did they charge the workers? Do the workers have any evidence?"
Since December, hundreds of Protek workers have had similar experiences as Liu. Many have joined groups that Sixth Tone has seen on social media platform WeChat in which they vent their confusion and frustration and share stories of being cheated by agencies and intermediaries. Some have turned to local labor dispute arbitration authorities. Others, feeling the pressure of the approaching Spring Festival, have chosen to give in and accept what they can get in settlement from the agencies — sometimes as little as 500 yuan.
To fellow former Protek worker Zhang, the promise of a bonus was the major reason for coming to work there. "Frankly, our hope has evaporated," the 39-year-old, who was still wearing his light purple Protek uniform, told Sixth Tone on Jan. 13. Zhang quit on Jan. 16, frustrated that he'd never seen the bonus he was promised.
Zhang had previously worked for three months at a Foxconn factory in Langfang, in his northern home province of Hebei. Noticing that some of his coworkers were getting bonuses and he wasn't, he began looking for a job with a bonus. Last October, Zhang got in touch with an online intermediary through a recruitment app. Just like with Liu, the intermediary promised him an 8,000 yuan bonus after 52 days of work at Protek. But again, when he finished his 52 days in December, the intermediary made several excuses, and in January, Zhang only received a salary of 2,300 yuan.
When Liu, Zhang, and other workers turned to Protek for help with the bonus issue, the company denied any existence of the so-called bonus and referred them to the agencies. When they contacted the agencies, they were referred to their intermediaries. In Liu's case, the intermediary referred him on to Wang who, according to the intermediary, had resigned.
For years, Pegatron and its rival Foxconn have been dogged by accusations of mistreating their employees. During their first investigation into Pegatron in 2013, New York-based non-governmental organization China Labor Watch (CLW) found Pegatron's recruitment process to be "very chaotic." "Agencies would promise workers bonuses if they work two or three months, or they would recruit a large number of student workers and promise to pay a certain wage," Li Qiang, CLW's executive director, wrote in an email to Sixth Tone. "But when these workers received their paychecks, they didn't receive their wages in full … Pegatron also allows this system to exist." Although Pegatron was made aware of the issue in 2013, Li said they had seen little improvement.
In October 2017, Li contacted Apple about a similar bonus issue at another Apple manufacturer, Jabil-owned Green Point in Wuxi, a city in eastern China. Apple replied that it had found cases in which labor agencies and intermediaries promised employees a bonus but did not consistently pay them. It said it was asking Jabil to create an action plan so all employees would be paid their promised bonuses immediately.
Li said Pegatron and Apple were intentionally using agencies and intermediaries to avoid being responsible for labor rights violations. "Pegatron can easily resolve the problem by directly hiring these workers which would allow them to be able to monitor the recruitment process," wrote Li.
Apple and Pegatron, which owns seven manufacturing plants around the world including the Protek factory, did not reply to Sixth Tone's request for comment. But, at least at face value, Pegatron appears to work closely with the agencies. Outside the factory gate, Sixth Tone was approached by employees who said they were from a nearby temp agency. To prove their credentials, all three flashed their Protek employee cards. They then led us to their recruitment space inside a Protek dormitory. When we passed a security guard, he waved us and the agent through without her even providing her own credentials.
Unfortunately, there's little recourse for workers like Liu and Zhang. The Human Resources and Social Security Bureau of Pudong New Area District, which oversees the area where Protek is located, found that, since the current dispute is about bonuses from an agent rather than wages, it is a civil, rather than a labor issue, meaning it's beyond their jurisdiction. Zhao, an administration staffer with the bureau who would not give her full name, explained that, due to the number of people Protek employed, it had always been under intensive supervision.
Yang Aoshuang, a Shanghai-based partner with international law firm Dentons who specializes in employment and legal law, told Sixth Tone that it's almost impossible for Pegatron or Protek to be held legally responsible in this case. The current evidence shows that the temp agency promised the bonus, meaning employees can't claim the money from Protek. "If the bonus is designed as a fake hook to make sure workers won't leave Protek early and the temp agency never intends to pay, then it's fraud," Yang said, adding that, as fraud is a criminal offence, police should intervene and investigate.
But even if it's not legally liable, Yang believes that Protek, as a big company with numerous employees, should care more about its social responsibilities. She said Protek should run checks on its labor agencies both to protect its workers, and because if it didn't, using dodgy suppliers would hurt the company's reputation.
These days, Liu is staying at a different place every night and looking for other work. As a father of a 17-year-old daughter and a 14-year-old son, Liu doesn't want to leave Shanghai until he gets the money. "How could you go back home? Are you going to go back and tell your family, 'I got cheated by the agency?'" said Liu. "Should I give in and get the 500 yuan, before the sheet becomes a worthless piece of paper?"
Editor: Julia Hollingsworth. 
(Header image: Protek's employees get off work in Kangqiao Town, Shanghai, Sept. 27, 2017. Shen Chunchen/VCG)