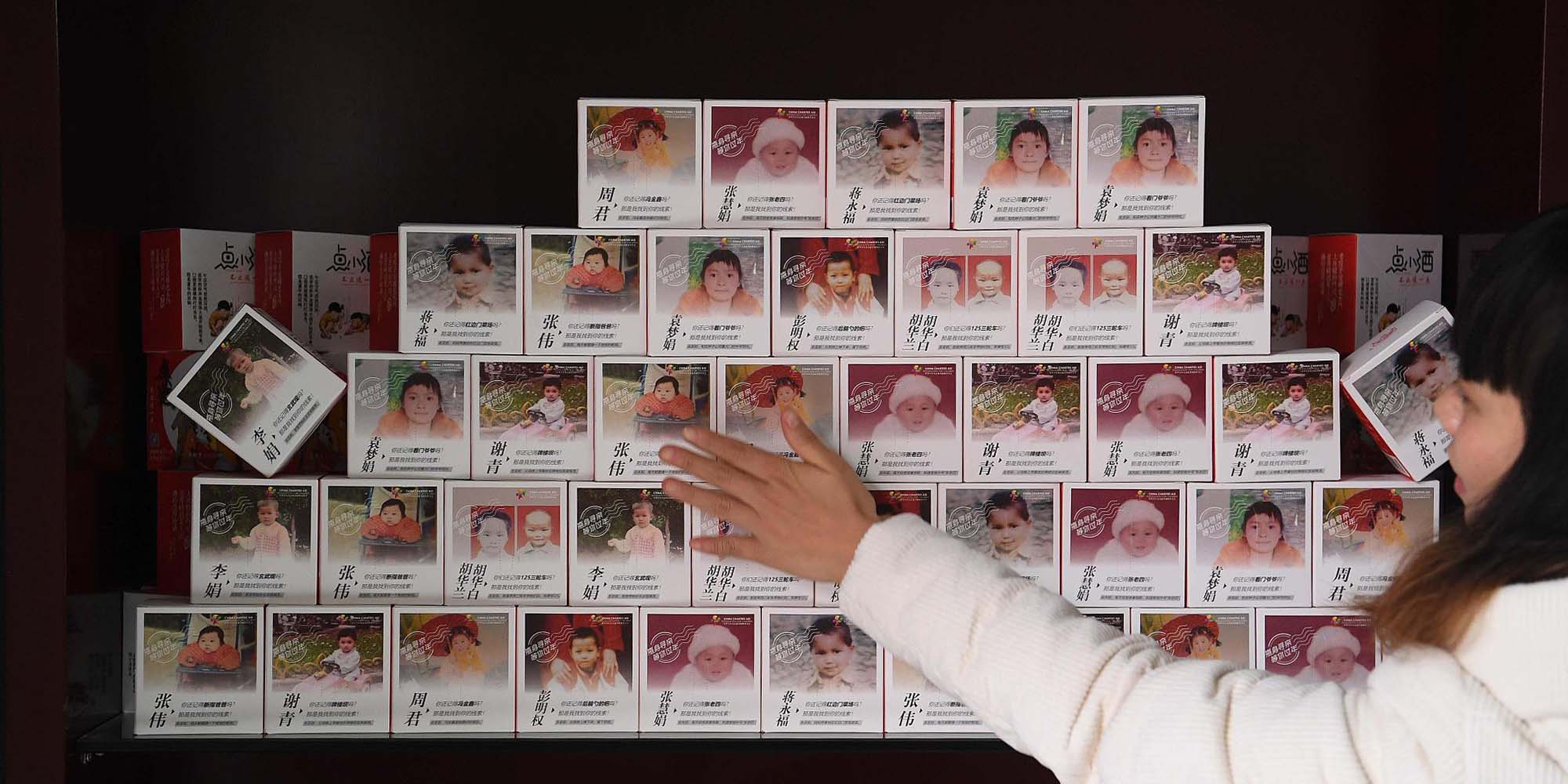 NEWS
Liquor Company Puts Missing Kids' Photos on 'Baijiu' Bottles
All sales from the campaign will go to charity, says the head of the company.
A brewery in the southwestern megacity of Chongqing has raised eyebrows by printing packaging for over 110,000 bottles of the throat-scorching spirit baijiu featuring the photos and personal information of missing children feared abducted, Beijing Youth Daily reported Wednesday.
Xiao Dufeng, the general manager of Chongqing Laoyuanzi Wine Co. Ltd., told the newspaper that he had thought of using his company's products to share information about missing children after a friend's child disappeared. Laoyuanzi reports annual sales of 5,100 tons of liquor and 160 million yuan ($24 million). Sixth Tone's calls to the company went unanswered on Thursday.
While the Chinese government does not keep statistics for such cases, thousands of children go missing in the country each year, with many falling victim to a child trafficking industry propped up by an enduring cultural preference for boys. In May, the Ministry of Public Security announced that Reunion — a platform similar to the Amber Alert system in the U.S. — had found 2,980 children out of 3,053 reported missing in just the first two years after its launch. Reunion has collaborated with 25 partners, from mobile payment services to ride-hailing apps, to spread its message and find missing children. In the United States, missing children profiles were sometimes printed on the sides of milk cartons beginning in the early 1980s.
Laoyuanzi's special line of baijiu products feature the photograph, name, and physical characteristics of a missing child, as well as a phone number to call with any leads. On the campaign's official webpage, a 120 milliliter bottle of baijiu is priced at 20 yuan. Apart from tax and shipping, 100 percent of all sales will be donated to the China Charities Aid Foundation for Children, a national fund providing a wide range of services to children in need.
Xiao told Beijing Youth Daily that the first batch of the specially labeled products — there will be nearly 115,000 in total — was sold online last week, and that he hopes the campaign will result in some of the missing children being reunited with their families over the upcoming Chinese New Year holiday in early February. The company says it plans to make the special packaging a recurring promotion.
After the project was conceived in October, Xiao began negotiating with Baobei Huijia, or "little one, come home," a nonprofit volunteer association based in the northeastern province of Jilin. The association's director told Beijing Youth Daily that according to a cooperation agreement, Baobei Huijia would provide Laoyuanzi with the information of 1,000 missing children whose parents had submitted their DNA to a database overseen by the Ministry of Public Security.
Xiao said that when he first discussed the project to his employees, some of them opposed it on privacy grounds — and it was nearly terminated. "But in the end, we decided to do it because we thought it was the right thing to do," he said. "And we hope we're not going to be the only company doing this. The more, the better — it doesn't matter what others say."
Many netizens who have weighed in on the promotion agree, too. "Even if it's just hype, I want to see more hype like this," commented one user on microblogging platform Weibo.
Chen Deju is one of the parents whose missing son's photo and personal information appear on the side of a Laoyuanzi liquor bottle. After her son went missing, her husband divorced her, and she hasn't had another child. Chen told Beijing Youth Daily that she for one appreciates the company's campaign for giving hope to parents in her situation. "I've been looking for over 20 years, and I'll keep doing so for as long as I can breathe," she said.
Editor: David Paulk.
(Header image: A woman stacks boxes of Laoyuanzi liquor products with photos and personal information of missing children printed on the side in Chongqing, Jan. 9, 2019. Chen Chao/CNS/VCG)