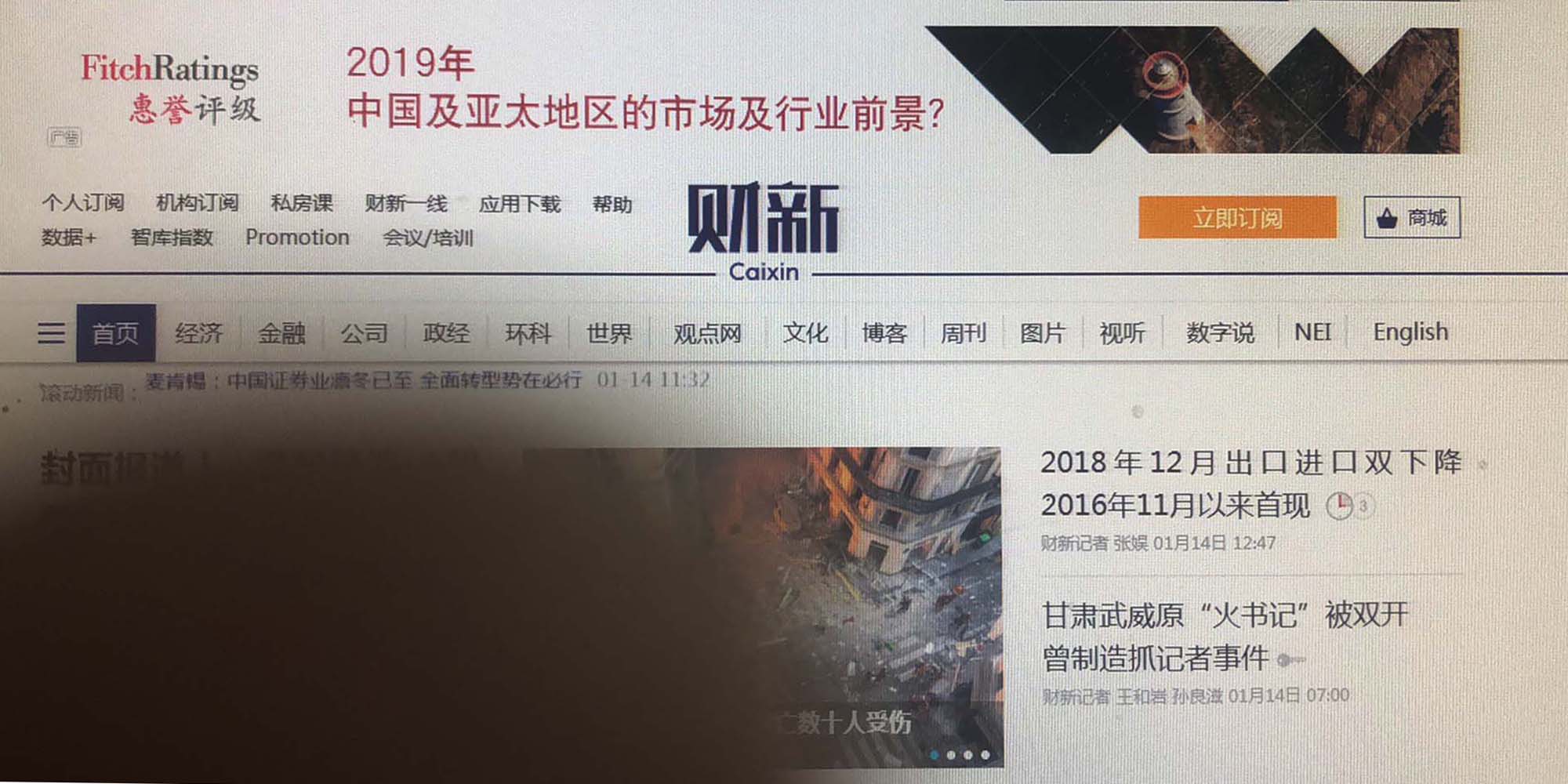 NEWS
Renowned Journalist Says WeChat Account Plagiarized Her Story
A former Journalist of the Year alleges that her in-depth reporting for Caixin was ripped off by a popular WeMedia account.
An award-winning investigative journalist has accused a popular WeChat account of plagiarizing her work, sparking heated discussion about intellectual property in media.
On Saturday, Wang Heyan, a senior reporter at financial news outlet Caixin, posted to her social feed on messaging app WeChat accusing Huang Zhijie, the owner of a WeChat public account covering politics and current affairs, of stealing her content. In doing so, Wang wrote, Huang had trivialized the monetary cost, personal risk, and hours of interviews that had gone into her work.
"All of the main content in the article comes from Caixin reports," Wang wrote in the WeChat Moments post. "Does the WeMedia era mean it's fine to 'eat' the work of other outlets without interviews or [other] investments?!"
Huang's article, published Friday on WeChat with a note identifying it as "original content," has already been widely shared, eclipsing 100,000 views (the maximum number the app displays) and 45,000 likes.
The story followed an official announcement the day before about Huo Ronghui, the former Party secretary of Wuwei, a city in the arid northwestern province of Gansu, being dismissed from his posts and expelled from the Party. Huo had been detained for half a year on suspicion of corruption: Wang's article had described how he had bullied and bribed two journalists.
Huang's article cited a previous report by Wang published in July 2018, and included a photo of Wang as attribution — though Huang has the byline. The WeMedia article also cites major state media outlets, including Xinhua News Agency, People's Daily, and China Youth Daily as sources for its content.
After Wang aired her grievances on WeChat, Huang posted another article the same day titled "Society Is Collapsing," in which he defended his work as "exclusive, original, and even with personal emotions," which he says were absent from the Caixin report. Huang further argued that all of the content in his article had come from "reliable and officially recognized sources," and that parts of it had been based on his own experience of visiting Gansu.
"It's impossible for Caixin and Ms. Wang to have had such experiences. Even some local people in Wuwei will not have walked as extensively [in Gansu] as me," Huang wrote. He added that he believes it's wrong for one individual to hold a monopoly on a story when they have only reported some of the facts.
When reached via WeChat on Monday, Wang told Sixth Tone that her employer had elected not to grant media interviews about the content dispute. Huang, meanwhile, had not responded to Sixth Tone's request for comment by time of publication.
Wang was part of the exodus of reporters and editors from financial news magazine Caijing in November 2009 that went on to form a new publication, Caixin. As an investigative journalist specializing in anti-corruption, politics, and judicial affairs, Wang received a Journalist of the Year award from Tencent, WeChat's parent company, in 2015. Among the subjects of Wang's fraud and corruption reporting are high-profile political figures including Chen Liangyu, the former Party secretary of Shanghai; Gu Junshan, a former lieutenant general in the People's Liberation Army; and several officials from China's Ministry of Commerce.
Since Caixin added a paywall in November 2017, the bulk of its content has been accessible only to subscribers. But Wei Wuhui, a journalism and communications lecturer at Shanghai Jiao Tong University, wrote on his WeChat public account that an article being paywalled or "of public interest" should not be an excuse to plagiarize. "Article laundering is all about infringing the interests of others in pursuit of one's own," Wei wrote, referring to the increasingly common practice of altering just enough of an article's content to avoid accusations of plagiarism. He added that the issue of intellectual property must be closely monitored as China's media landscape trends from traditional outlets to WeMedia accounts.
Fang Kecheng, a doctoral student in communications and media studies at the University of Pennsylvania, called Huang's article an affront to Caixin's business model, as people who are given the choice between paid and free content will inevitably choose the latter. "The premise of the paid model is that readers recognize the value of the information provided by a particular media outlet," Fang wrote on his WeChat public account. "If no one is willing to pay, the revenue is not enough to support the huge cost of doing original reporting."
According to You Yunting, a Shanghai-based lawyer who specializes in intellectual property cases, Huang may have violated China's copyright law, which applies to and protects in-depth reporting. "What the WeChat account writer has done improperly is, though he cited Caixin's report, he didn't [clearly] mark the source — even though it is the core material that props up his article," he told Sixth Tone.
"The fact that WeChat account writers are [trying to get] over 100,000 views per article and are able to ask for monetary rewards from readers is also a kind of business model," You added. "[Huang] 'gaining without pain' may violate the anti-unfair competition law, which requires entrepreneurs to obey commonly recognized businesses ethics."
Additional reporting: Wang Yiwei; editor: David Paulk.
(Header image: A partially obscured photo of Caixin's homepage. Duoduo/Sixth Tone)