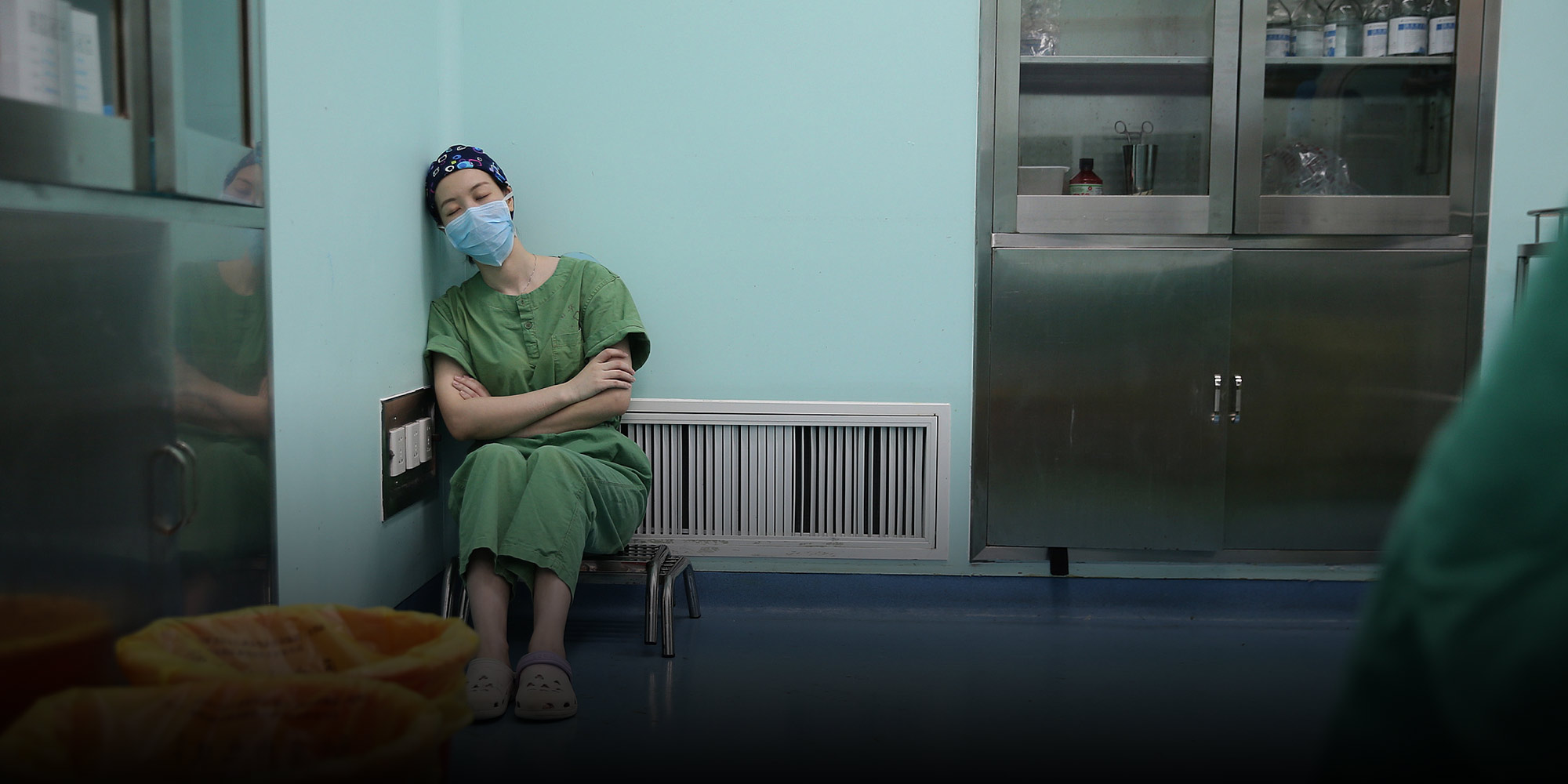 FEATURES
Why China's Young Doctors Want Out of the System
Low pay, long hours, and conflict with patients are pushing once-idealistic medics out of public hospitals.
SHANGHAI — When Huang Xin qualified as a doctor in 2006, it was one of the proudest days of his life. A job in the dermatology department of a major Shanghai hospital awaited, and he looked forward to a long, respected career in public health.
But eight years later, at just 33 years old, an exhausted Huang quit China's health service. "I felt that neither the hospital nor my patients fully understood or appreciated my value," he says. "I felt just like a worker on a production line, prescribing the same drugs to the same kinds of patients."
Huang is far from the only young doctor to seek escape. Although the total number of Chinese doctors is increasing and hospital recruitment remains stable, between 2005 and 2016 the proportion of the country's practicing doctors aged between 25 and 34 declined from 31 to 23 percent, according to China's top health authority. In the same period, the proportion of doctors over 60 years old increased from 2.5 to 12 percent. The exodus is taking place in a public health system that is already notoriously overburdened: According to the World Health Organization, China has just one general practitioner per 6,666 people, far below the international standard of one for every 1,500 to 2,000 people.
Many of those who leave public health care cite low pay, overwork, and conflict with patients as reasons for getting out. A white paper published last year found that the average starting salary for China's junior doctors is around 4,850 yuan ($730) a month — significantly lower than Shanghai's average graduate starting salary of 6,000 yuan. In addition, while most Chinese doctors officially work an average of 50 hours a week, lengthy unpaid overtime hours are virtually mandatory, doctors say. And abuse directed against medical professionals is rife in China's public health system, where around 100,000 violent incidents are reported each year.
When an idealistic Huang first started in the dermatology department, he thought he knew what he was getting into. He didn't expect to earn vast sums of money, but took solace in the fact that doctors in China are virtually guaranteed jobs for life and enjoy stable incomes and timely promotions. Huang also knew that Chinese medical practitioners, like those in other countries, command high social prestige — especially if they work at a major municipal hospital.
At first, things worked out pretty well. As expected, Huang's salary was on the low side — "just a few thousand yuan a month," he says, refusing to be specific. But Huang believed his wages would rise quickly as he got promoted, and generally enjoyed working in dermatology — a department where patients' conditions were likely to be discomforting or embarrassing, but rarely life-threatening.
But the system gradually wore Huang down. First, he noticed that as the years went by, his salary remained low — even as life in Shanghai got increasingly expensive. And because the department's senior staff were all still relatively young and had no intention of leaving, opportunities for promotion were scarce.
Then there was the work itself. It wasn't unusual for Huang to work six days a week, see 100 patients a day, and spend his evenings and weekends researching and writing academic papers, a common task in many Chinese hospital departments. "I had to work so hard every day — there were so many patients waiting outside [my office]," he remembers.
Eventually, in 2014, a jaded Huang quit and opened his own business. He'd noticed that family and friends, many of whom didn't understand the public health system, repeatedly asked him to put them in touch with doctors in other departments. So Huang set up a private company — one he is still unwilling to name publicly — that charges patients a fee in return for helping them compile their medical histories, arrange appointments with doctors, and accompany them to consultations. "These kinds of services are in high demand," Huang says, who now enjoys more leisure time, higher job satisfaction, and a higher salary. "And to be honest, the job has turned out to be much more rewarding than being a dermatologist."
Chinese hospitals are not just hemorrhaging young doctors; they're struggling to attract fresh graduates in the first place. In the last few years, only around one in six Chinese medical-school graduates has gone on to practice as a doctor, according to a recent report by China Comment, a news outlet run by state news agency Xinhua. Although these figures don't give a full picture — they exclude students who plan to retake their final exams before obtaining medical licenses, for example — they nonetheless illustrate a crisis of confidence in the public health sector.
Xie Yan, a medicine graduate from eastern China's Jiangsu province, was one of those who decided that being a doctor wasn't all it was cracked up to be. After graduating in 2015 from a five-year undergraduate degree in eastern China's Shandong province, the 26-year-old chose not to move on to a three-year master's degree — a near-universal choice among medicine graduates who intend to apply for ultra-competitive jobs at public hospitals.
"Although I still look up to doctors, the reality is that I'd probably end up in a small hospital far from home. This discouraged me from taking my studies any further," Xie says. "In China, joining a reputable hospital in a big city means you have to at least have a master's degree, if not a doctorate from a well-known medical school. To be honest, I don't think my alma mater will persuade big hospitals in [Jiangsu provincial capital] Nanjing to accept me."
Eventually, in 2015, Xie returned to her hometown, sat the civil servant exams, and became an inspector at her local branch of the China Food and Drug Administration. "It's just a different choice of life — instead of waiting around a couple more years before getting out … I just chose to get a stable job earlier," she says. While Xie doesn't regret studying medicine, she adds: "As I understood more about being a doctor, the unfriendly working environment made me question why I wanted to pursue medicine."
Xie's concerns sound familiar to Wang Ruihao, a master's student in her eighth and final year at the Medical College of Soochow University in Jiangsu. "Quite a few of my classmates — usually those who are super rich — have already quit medicine and returned home to take over their family businesses," the 26-year-old tells Sixth Tone. "And a few others have said they think becoming a doctor is too tiring and have sat the civil servant exams instead." Wang herself still plans to become a practicing doctor and has lined up a job in the oncology department of a hospital in Suzhou after graduating.
Several current students tell Sixth Tone that even their families tried to persuade them not to go into medicine in the first place. Twenty-two-year-old Zhu Zhoujun — a fifth-year undergraduate medical student at Soochow University — decided to become a doctor in his late teens. Soon after Zhu was born, his mother developed Sheehan's syndrome, a rare condition that weakens the immune system. During his childhood, Zhu watched his mother make regular visits to the hospital to receive hormone replacement therapy. While in high school, he decided to emulate the doctors who treated her.
But when Zhu announced his intention to his family in 2014, they tried to talk him out of it. His uncle — a surgeon — felt exhausted by his profession, and Zhu's relatives didn't want to see another family member sacrifice so much. "They all insisted that studying medicine would completely wear me out and that things would become even harder when I started to receive patients," says Zhu.
In 2011, the Chinese Medical Doctor Association — a nonprofit professional organization — published a white paper stating that 78 percent of Chinese doctors hoped their children wouldn't follow them into the same profession. Although that proportion has shrunk since then, an updated report last year stated that 45 percent of nearly 150,000 respondents hoped their children wouldn't also become doctors. A further 18 percent of respondents said that they wouldn't choose to become a doctor again if given a second chance.
The survey revealed that abuse directed against medical staff was a major factor in the results. Up to 66 percent of doctors "had experienced conflict with patients" and 15 percent had experienced physical violence. Although the number of such incidents has decreased since 2013 — a year in which a cosmetic-surgery patient stabbed three nurses in central China, and another patient in the country's east wounded three doctors — violence against Chinese medical professionals remains common.
Zhu is aware of the conflicts between patients and doctors, but he still has no qualms about going into medicine. "I think the situation will continue to improve as people in the country become better educated," he says, adding that he's certain all his 29 classmates will become doctors after completing their three-year master's courses.
Zhu plans to specialize in obstetrics and gynecology and has been interning at a large hospital in Suzhou affiliated with his university. Having gotten a taste of real hospital work, Zhu says it's more exhausting than he imagined. "You have to constantly learn on-the-job," he says. "But that won't easily dissuade me from becoming a doctor."
Like Zhu, fourth-year medical student Wu Yue says her family initially also opposed her decision to become a doctor. Her aunt, who works as a head nurse in the pediatrics department of a hospital in the eastern city of Wuxi, warned Wu that the pressure of hospital work could be crushing.
Wu's workload is already stacking up. She takes daily classes at Jiangsu Province Hospital and does an unpaid internship in different departments twice a week, where she collates patients' medical records, organizes repeat prescriptions, and helps out with other administrative work. Wu, who hopes to work in a maternity ward one day, knows the job will be tough. In the department she considers "the most joyful" in the hospital, doctors on duty walk around 20,000 steps per shift, she says.
But right now, Wu's faith in the value of helping others still outweighs the long hours and low pay. "I'll never get rich by being a doctor," she says. "[But] the hospital is still a place where I can gain a real sense of achievement."
For now at least, Zhu remains similarly idealistic. "Whatever has happened can't change my perception of the job," he smiles. "It's still a noble and pure profession."
Editor: Matthew Walsh.
(Header image: A surgeon naps between operations at a hospital in Hengyang, Hunan province, Aug. 15, 2018. Cao Zhengping/VCG)