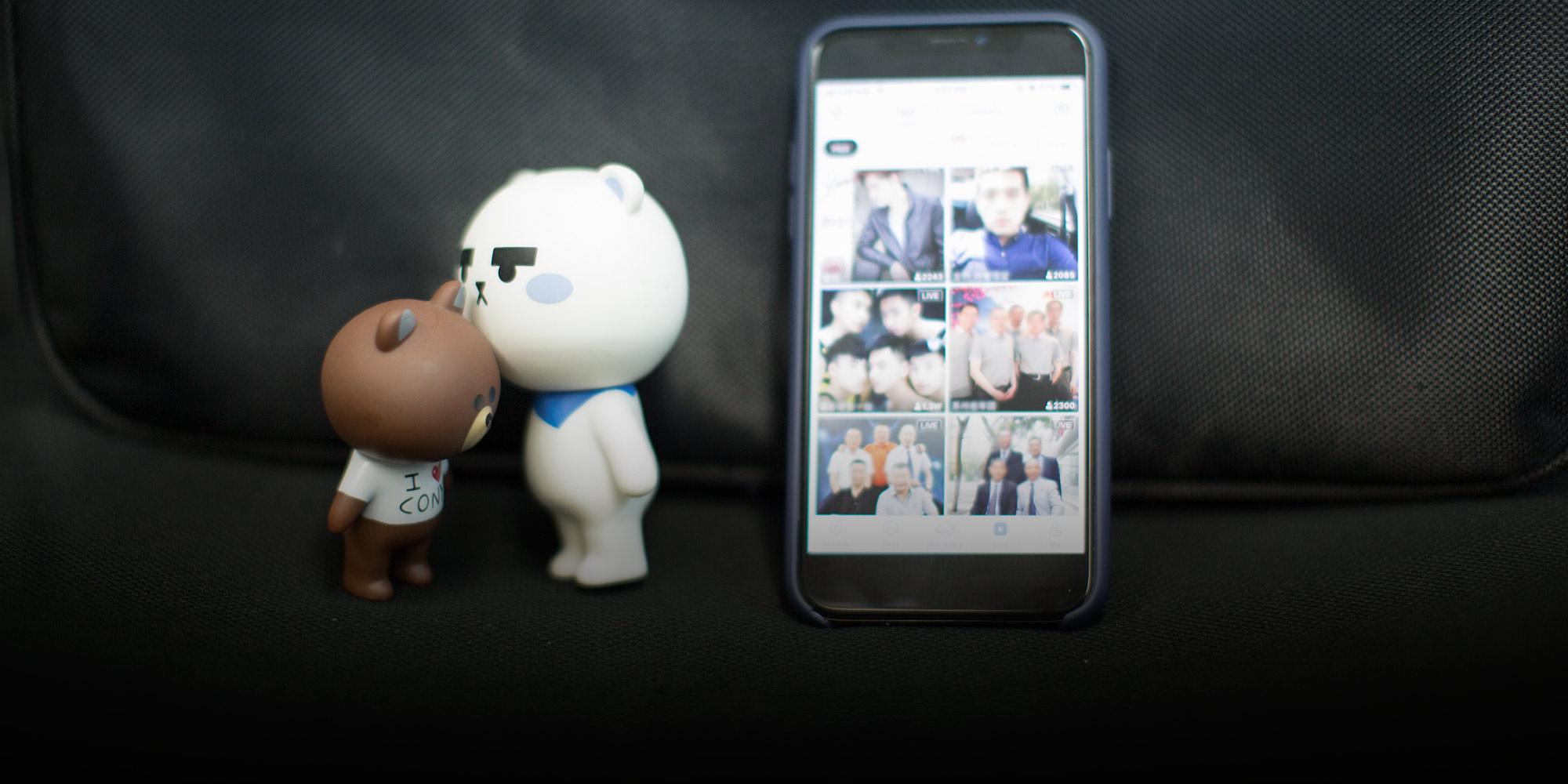 FEATURES
China's Leading Gay Dating App Navigates Rough Waters
Research showing underage users registering on the platform and meeting older men for sex has raised safety concerns.
Blued — China's largest dating app for gay men — was once vaunted as a safe space where users could socialize and express themselves, protected from the stigma they face in wider Chinese society.
The app, founded by a former police officer and backed by investors including Hong Kong-based CDH Investments, boasts 40 million registered users, including 12 million outside China. It has evolved from a simple platform allowing users to match and chat with each other to one offering functions like e-commerce and livestreaming, now considered prerequisites for success among Chinese apps.
But after years of rapid expansion since its launch in 2012, Blued is facing an obstacle familiar to many of China's internet-based companies: critics who say it has prioritized growth over user safety. According to Zhang Beichuan, a prominent Chinese researcher of LGBT issues, Blued has overlooked key safety steps and allowed underage users to create accounts on its platform, exposing them to explicit content and sexual exploitation by adults.
Blued announced Sunday that it would freeze new user registrations for one week to conduct an internal investigation, following the publication of Zhang's findings by financial news outlet Caixin on Saturday. The company will uncover underage users disguised as adults and clean up text and photos related to minors, the statement said.
A safe space
Blued was started in 2000 by Ma Baoli, then a police officer in the northern city of Qinhuangdao, under the pseudonym Geng Le. He called it Pale Blue Memories and mainly recorded personal stories and his own feelings in its early posts.
The website was shut down many times, and Ma found himself having to switch servers repeatedly, he told Caixin. After media reports outed him, he faced enormous pressure from his workplace and even considered suicide, he said.
Ma said he had intended his site to offer hope to people from sexual minorities in China, where homosexuality was criminalized as a form of "hooliganism" until 1997 and considered a mental disorder until 2001. As recently as 2016, China's media regulator banned portrayals of homosexuality on TV.
"We still hope the LGBT community can have their own space, make friends, find content they like, and express their feelings," Ma said. "They may be facing more serious discrimination and feel more loneliness than the mainstream population."
Gradually, and with the help of a small team, Ma grew his site into an online community. In November 2012, they launched the Blued app, closely modeled at the time on U.S. dating apps Jack'd and Grindr. Users were able to connect with others near them, view their profiles, and start chatting.
Chen Liang — an early adopter of Blued who is identified here with a pseudonym — said that before apps like Blued appeared, LGBT people in China often had trouble finding dates and friendship, especially in smaller cities.
As a gay man living in Shanghai, Chen said he felt that the younger people in his area were more tolerant but feared that many LGBT people in more conservative second- and third-tier cities and smaller towns "would become deeply closeted and never come out, and even suffer psychological problems like extremely low self-esteem" without platforms like Blued.
Underage users
Blued "created a nondiscriminatory space in a discriminatory society, which was great," Zhang told Caixin. But his research, conducted over 10 months last year, found that Blued's lack of adequate safeguards was endangering the youngest members of its community.
Even though the app doesn't allow children under the age of 18 to sign up, the lack of age verification meant that many young teenagers were able to create accounts. Before Sunday's shutdown, Caixin found that a number of users who registered as being 18 or 19 years old wrote on their profile pages that they were actually younger.
Zhang interviewed boys who said they had created their Blued accounts when they were as young as 14. Multiple high-schoolers that he spoke to said they had met up with older men through the app, and some said they had been pressured into having sex.
Zhang said that a number of underage interviewees told him they had contracted HIV from people they met through Blued. Zhang has not published his research, but he shared his findings with Caixin.
Hu Wei, the leader of a major LGBT community welfare organization who is not identified here by his real name at his request, said that in the past two years, almost all the new cases of HIV infection found by his organization involved people who had met sexual partners through Blued, including one 16-year-old boy. Hu also told Caixin he had encountered in his work children as young as 12 who said they were using Blued.
Around 90 percent of China's reported population of HIV-positive people contracted the virus through sexual contact, with a clear majority of such cases — 70 percent — involving heterosexual activity, the country's National Health Commission has said. But Zhang said men who contracted HIV through sex with other men were in an especially vulnerable position in China, since official organizations in many parts of the country refuse to discuss homosexuality and avoid doing necessary community health care and outreach work.
Blued has tried to fill that gap through Danlan, a nonprofit organization affiliated with Blued that provides sex education and free HIV testing, as well as through educational videos livestreamed by the group. But some Blued users and HIV awareness advocates told Caixin that the reality was different.
Li Heng, a 25-year-old public health volunteer who is not identified here by his real name at his request, said his organization had often been blocked from adding AIDS awareness posts to Blued's Snapchat-like "flash" function, which erases images once they have been viewed, even though explicit images technically banned by the app often aren't blocked.
What went wrong?
Blued executives contacted by Caixin did not deny that there were minors using the app, but Ma said the intention had never been to target minors. Mi Guodong, Blued's chief medical officer, said that no one under the age of 18 was allowed on the platform — but that it was difficult to restrict access in practice. "We aren't able to judge, and we have no right to ask for their ID cards," Mi said.
Blued's livestreaming function, launched in February 2016 as Chinese internet companies collectively rushed into livestreaming, has also made it more likely for underage users to encounter inappropriate content. "When Blued first rolled out livestreaming, the entire internet livestreaming environment was not very strict, and there was relatively more inappropriate content, like nudity," Chen, the longtime Blued user, told Caixin.
Amid a mass crackdown on Chinese livestreaming services in the past two years, Blued changed its policies to require real-name authentication from all streamers. "We all have very good cooperation with the relevant [government] departments, and sometimes our standards are stricter than those of these regulatory bodies," Ma said. He gave toplessness, livestreams set in bathrooms, and even shots of feet wearing white socks — considered highly suggestive sexual content in China's online gay community — as examples of content banned from Blued's livestreams.
But these measures haven't stopped minors from accessing livestream broadcasts, Jiang Xiong, a Blued livestreamer, told Caixin. Jiang said that, while broadcasting a live video recently, he was in contact with a person who claimed to be 18 years old but was later revealed to be only 12. After the underage user was reported, "They shut down my livestream room, but not the child's account," Jiang said.
Hu, the leader of the LGBT organization, told Caixin that he felt there was increasingly more content on Blued showing drug use, pornography, and casual sex.
Ma told Caixin that if the government asks Blued to demand real-name authentication for all users in the future, the company would adjust its policy to do so. But, he said, the company had no plan to implement this requirement on its own. Ma also said the company would not move in the direction of foreign apps like Grindr, which in 2016 began allowing users to identify their own HIV status and whether they were on pre-exposure prophylaxis, also known as PrEP.
"The wider social environment is very discriminatory against people living with HIV, and Chinese users' integrity or protection of other parties' privacy has not yet reached such a stringent and well-developed situation [as overseas]," Ma said. Grindr was revealed in April to be selling users' information, including their HIV status, to third-party companies.
'You must also protect our community'
The rapid expansion of China's internet-based services beyond regulators' ability to keep up has forced other companies to confront major safety breaches on their platforms.
In April, video app Kuaishou came under fire from Chinese authorities for allowing girls allegedly as young as 13 to post videos about teen pregnancy and for using its algorithm to promote these videos to viewers. Kuaishou responded by shutting down the accounts of users posting about teenage pregnancy and issued multiple public apologies.
Popular video games like Tencent's "Honour of Kings" have also been the target of public concern over children's health. A government policy in September aimed at preventing gaming addiction and protecting children's eyesight forced gaming companies to verify users' ages and limit app usage by younger users.
In an especially tragic case, the alleged rape and killing of a woman in August by her male Didi driver drew public anger and forced the country's largest ride-hailing startup to address systemic safety flaws.
Prior to Sunday's one-week freeze on new user registrations, Ma told Caixin that Blued had plans to go public. "When other companies go public, it represents their success — that the company has been recognized by the capital market," Ma said. "But for us, besides being recognized by capital, we also hope to let mainstream society see the efforts of [gay men], their existence, their importance, which is a kind of social education."
As a rare space in China for gay men to socialize and express themselves, Blued faces more expectations than the average startup.
"You can make money from our gay community, but you must also protect our community," said Hu, the LGBT organization leader. "Providing this platform should not be harmful to us."
This is an original article written by Ma Danmeng, Mao Kexin, and Teng Jing Xuan of Caixin Global and has been republished with permission. The article can be found on Caixin's website here.
(Header image: Shi Yangkun and Ding Yining/Sixth Tone)