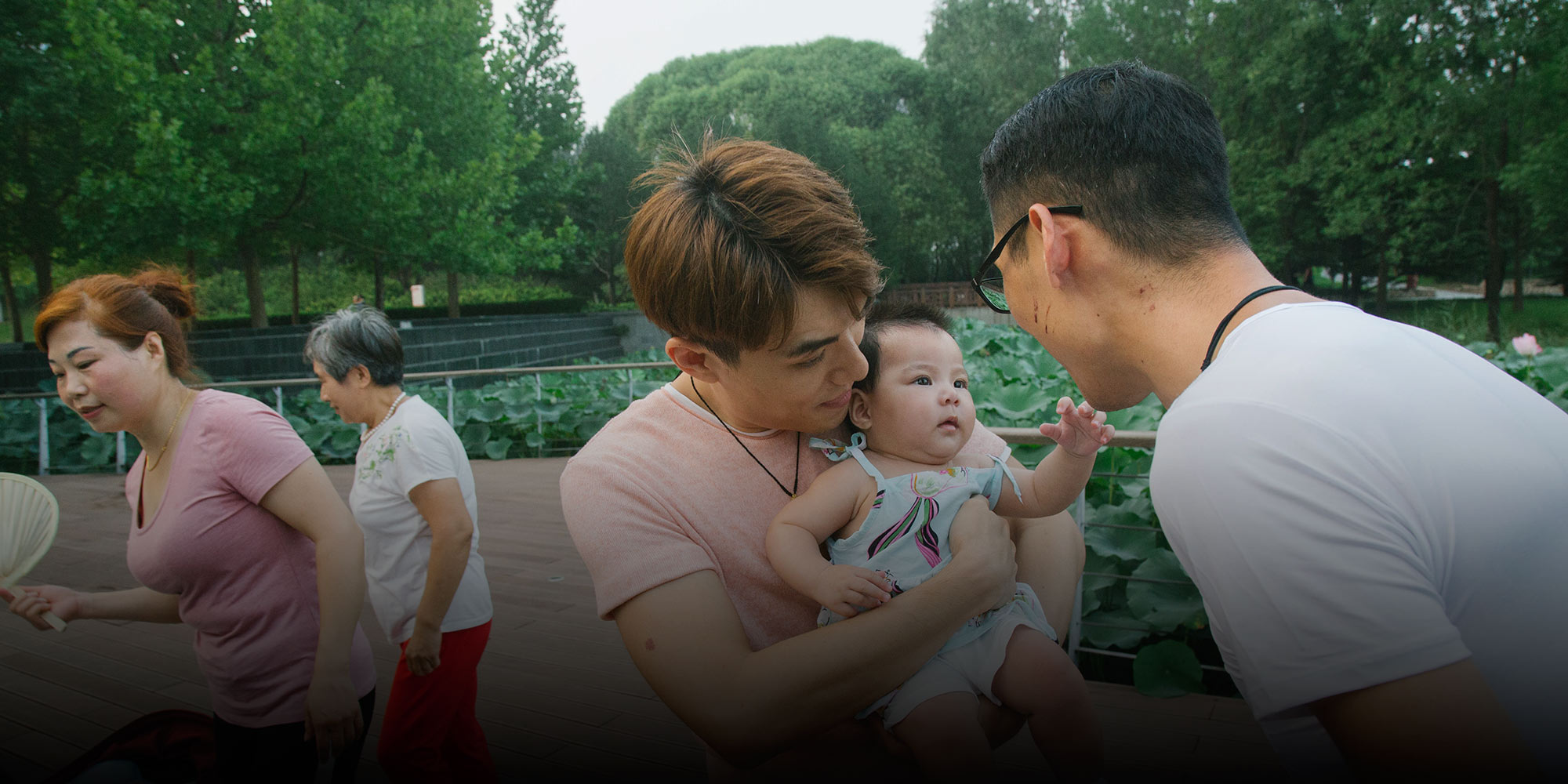 FEATURES
One Baby, Two Fathers: The Rise of Gay Men Turning to Surrogacy
Bureaucracy and taboos mean becoming a father is still difficult for the Chinese LGBT community — and prohibitively expensive.
BEIJING — It's a hot afternoon in July, and Li Yang and his family are enjoying a stroll through the lush greenery of a suburban park. Five-month-old baby Mumu lies peacefully in her nanny's arms, while her grandmother tenderly waves a plastic fan to keep her cool.
"We look just like a normal family, don't we?" Li asks.
He's right — and they are. But unbeknownst to baby Mumu, it's taken five years, six trips to Thailand, and 500,000 yuan ($73,000) to get here.
Li, a chatty 34-year-old with dyed brown hair, and his 28-year-old partner Wang Jie are gay. Although same-sex sexual activity was decriminalized in 1997, and homosexuality was removed from the official list of mental illnesses in 2001, it's still extremely difficult for same-sex couples in China to have children. Many people in the LGBT community still face pressure from parents, discrimination at work, and limited representation in the media.
That's why, when Li realized that he was gay at age 18, his heart sank. Having been raised by a single mother, his childhood dream had been for his future baby to see two people smiling down at him when he woke in the middle of the night. His dream suddenly seemed impossible.
Until recently, the main options for gay men wanting to have children were marriages of convenience with lesbians, or duping straight women into a relationship. An estimated 40 million people in China are in marriages in which one partner is straight and the other is gay. Domestic surrogacy was banned in 2001. Adopting a healthy child from charity centers means waiting in long lines for years, and gay or single men tend to stay at the bottom of the candidate list. In recent years, with more information available and more money in their pockets, some gay male couples have started to look overseas where surrogacy is possible. But the process remains costly and time-consuming — and the challenges continue once the the child is born.
An Expensive Miracle
Nowadays, baby Mumu's life is similar to that of any other Chinese child: She's become the sun that all the family members orbit. Li's mother Yang Guangling stopped dyeing her hair black, fearing that the chemicals would be harmful to the newborn. Wang quit his job. Live-in nanny Niu Yanzhuo was hired as part of the baby-caring team. The whole family has temporarily moved to China's tropical island province of Hainan for the winter so baby Mumu can take her first steps on the beach and breathe clean sea air.
Mumu — whose name was created by combining parts of the characters from Li and Wang's names — spends so much time with the women in her life that her parents sometimes struggle with her. When I meet Wang, he's sporting three fresh scratches on his face, courtesy of Mumu. As Wang picks her up, she rips off his black-rimmed glasses and stretches to reach his ears. "We dads can only hold her for three or four minutes at most, then she gets annoyed," says Li, without any hint of sadness. "She's OK with women."
Li first began trying for a baby back in 2013 with a 38-year-old colleague at a real estate company. The situation soon spun out of control: Although the coworker knew his sexual orientation, she wanted them to sleep together, exceeding their initial agreement. When Li refused, his colleague outed Li to his mother, Yang. A gentle woman in her 60s, Yang was so shocked, she had a heart attack.
In 2015, Li met his current partner Wang through China's biggest gay dating app Blued. They now work at the same real estate company group. In a trendy yogurt shop in a Beijing mall, Li explains that it was a blushing Wang who first said he was in love. "Bullshit!" Wang interrupts loudly, something he's fond of doing. Soon after meeting, Li and Wang decided to try for a baby together. "I wasn't too keen on having a baby myself," says Wang. "But he loves children, so I supported him."
Li and Wang found a lesbian couple online, and the two couples married. One of the women became pregnant twice with Li's semen, but miscarried both times. In addition, Li's close connection with his "wife" made her girlfriend jealous, and the couples quarreled constantly. The two couples divorced amicably in 2017.
After their failed attempts, Li and Wang felt they had exhausted all their options in China. "Because there really was no other way, we decided to try overseas surrogacy," Li says. The couple used gestational surrogacy, the most common type of surrogacy today. A woman carries the baby to term using another woman's egg, meaning she's not genetically related to the child. It's often considered more ethical, and psychologically easier on the surrogate than traditional surrogacy, in which one woman is both the egg donor and birth mother.
After weighing the pros and cons of various countries, the couple opted for Thailand, where having a child through surrogacy would cost 500,000 yuan. In February 2017, Li and Wang flew to Bangkok and met with the egg donor they'd selected via a Thai surrogacy agency. They asked about her health, hobbies, and if she'd had plastic surgery, and decided that she would be their baby's genetic mother. At a Starbucks, Li asked to cut a few of her hairs and wrapped them in a napkin, saving it in case the hairs were needed to verify that the hospital had really used her eggs.
The following month, 16 eggs were removed from Li and Wang's chosen egg donor. Only two years earlier, in 2015, Thailand had banned commercial surrogacy for foreigners. To skirt the rules, Li and Wang's chosen Thai surrogate went to neighboring Cambodia in May to have the fertilized embryos inserted.
Finally, in February 2018, Mumu was born. At the time, Li had a cold, so he was only able to hold her for the first time when she was 10 days old. "At that moment, I felt she was so soft, so miraculous," Li wrote in his online journal. He's been keeping it throughout the whole process, hoping it will help other gay couples — and also explain Mumu's beginnings to her when she's old enough.
"We don't know how the future will be; we'll just wait and see," says Li. "We will tell her everything, and she can understand how much we love her."
In March last year, Mumu's surrogate mother visited Beijing to celebrate Mumu's first birthday and do some sightseeing. In two years, the couple are thinking of having a second baby with her, and next time Wang will ideally be the biological father. But the couple aren't sure yet: There are already other embryos fertilized with Li's sperm in storage, and it will cost another 200,000 yuan for Wang to go through the whole process.
"It feels pretty good to have a child," says Wang. "Sometimes when we fight, if we look at the baby, we don't want to fight anymore."
Stranger Than Fiction
In the 1993 film "The Wedding Banquet" by Ang Lee, a Taiwanese gay man living in Manhattan marries a Chinese woman to placate his traditional parents. At the ceremony, his actual boyfriend looks on, posing as his best man.
Sometimes, reality is even stranger than fiction. Like Li and Wang, Eric Li — no relation to Li Yang — and George Zeng each married a lesbian woman, and each posed as part of a couple. But they didn't stop with a simple ceremony. In 2010, the two couples held four wedding parties, one for each of their hometowns. Just like the film, Li and Zeng acted as each other's best man — and at their extravagant Shanghai ceremony, only a handful of guests knew the truth. The pageantry was all to convince their four pairs of parents, who were eager to see their children married in their late 20s.
For a time, the fake marriages freed the four from their parents' endless nagging. The two couples lived in the same neighborhood on the outskirts of Shanghai and, twice a year, went to each other's hometowns to once again perform their role as a happily married pair. Apart from some close friends, their coworkers and families were all in the dark.
The two couples discussed the possibility of having a child together, but found themselves stuck on some fundamental questions. How would they explain the situation to their child? And who would the child live with?
In 2015, Li and Zeng heard about surrogacy. Previously, the couple — who'd met in a fan club for a Mongolian singer — thought they'd have to always live in secret. "It was mind-blowing, this idea of a future life in which the two of us could have a kid and live independently," recalls Li, a 35-year-old Shanghai native. "We craved that kind of life."
The following year, the couple went to California and used eggs from the same donor and surrogate mother to have two children: a boy related to Li, and a girl related to Zeng. In total, the whole process — including agency fee — cost them around 1.3 million yuan. In December 2017, the couple welcomed Luke and Geneva into the world. They broke up with the lesbian couple, who are also considering turning to sperm banks overseas, as the Chinese ones are not available to single women.
But Li and Zeng's decision meant that, after eight years of lies, it was finally time to tell their parents the truth.
Unlike some Western religious beliefs that see being gay as a sin, parents in China tend to be less concerned about their child's sexuality and more about the continuation of the family tree. In the past, same-sex love and intercourse were often accepted, especially within aristocratic circles. In the much-acclaimed 18th-century novel "Dream of the Red Chamber," a number of characters partake in same-sex relationships, including the protagonist Jia Baoyu. Jia ultimately marries a woman that he doesn't love, reinforcing the idea that the most important thing is for a man to pass on the family bloodline.
But Li and Zeng had more to worry about than just continuing the bloodline. Three months after implanting the fertilized eggs, Li came out to his mother. She had always been proud of her son, who worked as a computer systems engineer at an international company. After hearing the news, she quarreled with her son for two weeks and angrily messaged her "daughter-in-law," threatening to expose her to her own parents. She still worries about losing face and how to explain the situation to her relatives, who remain in the dark.
In September 2017, two months before the twins' due date, Zeng finally mustered the courage to warn his parents, who live in eastern Jiangxi province, that he was about to make an important announcement. They expected him to say he was getting a divorce. Instead, he told them news they found even more devastating.
For three days, Zeng's mother wept while his father stayed ominously silent. "You two can live your own life, but you are being so irresponsible toward the child," Zeng recalls his father eventually telling him. "Is there anyone who'd want to marry a girl from this kind of family?"
"If not for the babies, I would never have come out to my family," says Zeng, a 35-year-old purchasing manager at a state-owned airline. "I would have kept the secret for my entire life."
Li and Zeng's families still haven't completely accepted their sons' sexual orientation, but the twins have no shortage of love. Both sets of parents have been helping raise Luke and Geneva since the beginning.
Although it's common for Chinese grandparents to help raise their grandchildren — and even move across the country to do so — Li and Zeng's arrangement is more complicated than most. Li and Zeng's apartment doesn't have enough room for the whole extended family. Luke stays there with Li's parents, while Geneva stays with Zeng's parents in a friend's apartment. The couple flits between the houses, staying with their son for half the week, and their daughter for the other half.
The arrangement isn't ideal. Li feels sorry for the twins, who only see each other twice a week for a few hours. Li's mother, who came with them to the U.S. and fell in love with Geneva, feels she's no longer the baby's grandmother.
And the split arrangement means two opposing interpretations of familial expectations. Zeng's parents see the couple as traditional husbands, the family breadwinners who shouldn't do any housework. They take care of Geneva so well, there's nothing for Li and Zeng to do once they get home from work. "I don't even feel like a father," Zeng says.
On the contrary, Li's mother urges them both to fulfill the traditional mothering role, telling them to put their children first and not work too late. "My mother sacrificed a lot after having me, so now she's asking us to do the same," Li says. "If there's no mother in our family, then both of us should be mothers."
Because the twins are biracial — their biological mother is white — Zeng and Li worry about the kids' future. Already, the twins' grandparents have to fend off questions from curious passersby when they take the children for walks around their respective neighborhoods.
Zeng's mother lies easily: Li and Zeng are brothers, she'll sometimes say, and Zeng's wife is very busy, so she's never around. Li's mother just turns away without saying a word. She knows that, to many people, their households are still taboo. "It's still a thorn stuck in my mother's heart," Li says.
Turning Fatherhood Into a Business
Ted Zhou is 32, gay, and single. But he's not letting that stop him from becoming a father.
There's already an embryo fertilized with his sperm in America, waiting to be implanted into a surrogate's womb this year. His mother, who has known her son's sexuality for a few years, is thrilled. "Can you start tomorrow?" she'll often ask.
Three years ago, Zhou learned about surrogacy for gay men. "My friends, a gay couple, got married and had a baby in the U.K. Suddenly, I felt it wasn't just something that happened in newspapers or on TV. If my friends could do it, maybe I could, too," Zhou says. Around the same time, Zhou and his boyfriend broke up, and — although he hasn't been in a serious relationship since — he decided to follow through with the plan.
Zhou works for a medical software company, often travels to Silicon Valley, and speaks fluent English — and found he could save around 30 percent of the cost by pursuing surrogacy independently. He's now trying to turn his expertise into an online surrogacy platform which will connect Chinese clients with overseas institutions.
In the past few years, a number of businesses have sprung up to help match Chinese couples with overseas surrogates. Geng Le, the founder of Blued, had a baby in 2017 through a U.S.-based surrogate. Last summer, an American nonprofit called Men Having Babies organized their first event in the Chinese mainland, a low-key talk in a central Shanghai hotel's meeting room. Gay fathers from the U.S. and Taiwan shared their experiences, while two dozen participants eagerly quizzed them.
Li Lin, the CEO of Shanghai-based surrogacy agency True Baby, estimates that around 500 gay Chinese couples seek surrogacy in America each year, although there is no official number. Li himself had a baby girl through surrogacy last September with his partner. "The internet has made more people aware that American surrogacy is an option," he says. "In the past five years, we have seen a clear increase in gay couples going to America for surrogacy." Since it started in 2014, True Baby has helped deliver 240 babies, and around 30 percent of the agency's surrogacy clients are gay.
But with the cost of having a child through surrogacy often stretching into the hundreds of thousands of yuan, it's still not an option for everyone. True Baby's clients — who pay $160,000 to have a baby via an American surrogate — are usually well-educated, aged between 30 and 45, from big cities, and with good jobs.
Shaky First Steps
Even once the baby is born, the challenges — from access to education, to avoiding prejudice — don't stop.
In the past, unmarried women and single parents weren't allowed to receive their baby's birth certificate, meaning they couldn't get the hukou, or household registration, needed to access public services such as education and health care. In 2016, the government brought in a new policy allowing single mothers and fathers to register their children using only a paternity certificate — although in practice, single parents still encounter problems.
Li and Zeng were unable to register Geneva's hukou, because the police weren't happy that the mother's name was left blank, as it always is for surrogate births. By a stroke of luck, they were able to register baby Luke at another station, after Li faked emails to show he'd had a one-night stand with an American woman.
Although the Beijing couple had no trouble registering baby Mumu, they face different challenges. Wang doesn't have a genetic connection to Mumu, and he can't marry Li Yang, so in the eyes of the law, he isn't her dad at all. "If she has an accident at school in the future, I can't show up as her legal guardian," Wang says quietly, when the rest of the family is out of earshot. Nevertheless, he thinks the emotional investment is more important than the legal connection. "Mumu's genes are from Li Yang, but I've been part of all the other decisions needed to create her."
Meanwhile, Zhou — the single father — has a pricey backup plan. He'll try to get his baby a hukou in Shanghai, but if that doesn't work out, he'll move to America. "My future plans will take into account which place better suits the child," he says.
Zhou plans to tell the whole story to his kid once they're old enough. He'll say: "Dad loves kids, but Dad can't have babies by himself, so he asked two good friends to help. It's not that you don't have a mother. You have two, and they live in America."
Editor: Julia Hollingsworth.
(Header image: Li Yang (in pink) and Wang Jie play with Mumu at a park in Beijing, July 29, 2018. Wu Huiyuan/Sixth Tone)