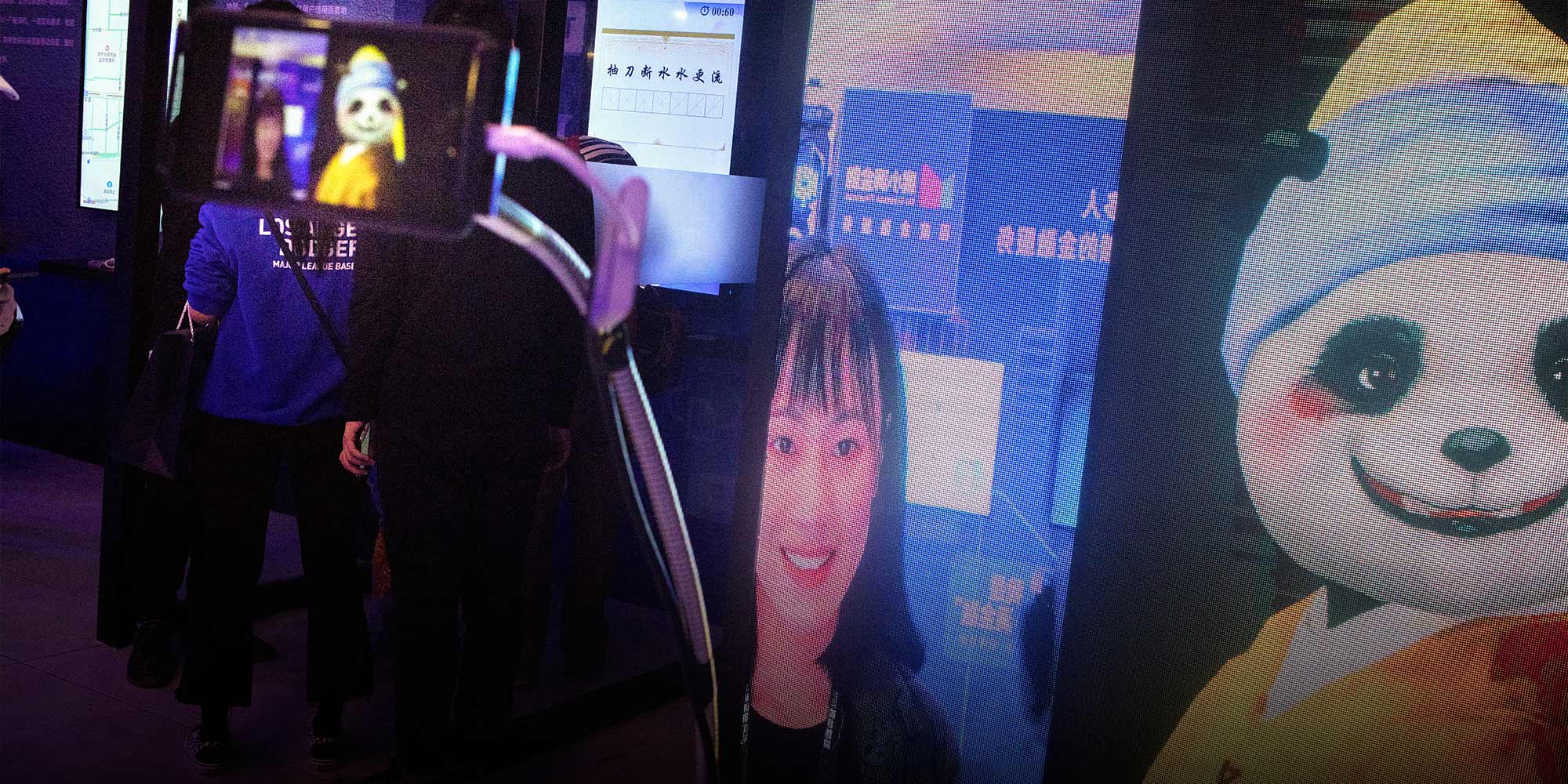 NEWS
Five Ways China Used Facial Recognition in 2018
Classrooms, concerts, and an animal farm are but a few of the places that adopted the much-discussed technology this year.
Imagine a world in which you can scan your face to board a train, check into a hotel, order a meal at a café, or even track your food from farm to table. In China, all of this is already happening.
Facial recognition became more pervasive this year after the Chinese government in December 2017 announced an ambitious plan to achieve greater face-reading accuracy by 2020. The country also plans to introduce a system that will identify any of its 1.3 billion citizens in just three seconds.
Public and private enterprises have rushed to adopt the futuristic, artificial intelligence-powered technology, implementing facial-recognition systems in transportation networks, medical facilities, and law enforcement initiatives. However, with great technology comes great responsibility — and critics are worried that amassing personal information could violate privacy or even pose a security risk.
As the year draws to a close, Sixth Tone looks at five widely discussed adaptations of AI and facial recognition reported in 2018.
Facial-Recognition Eyewear
Railway police in Zhengzhou, the capital of central Henan province, became the first city in China to use facial-recognition eyewear to screen passengers. Security personnel at Zhengzhou East Railway Station were equipped the Google Glass-like accessories, which are capable of verifying passengers' identities, spotting impostors, and even flagging suspected criminals. According to police, the glasses are connected to a database that can match passengers' information to individuals wanted in connection with crimes. The new gadgets were an addition to the "face-swiping" check-in service already in use at some railway stations, whereby passengers and their travel documents are scanned prior to boarding.
Face-Reading Drones and "Smart Uniforms"
A professor at Sichuan University coupled two of China's trendiest technologies — drones and facial recognition — to monitor students in his classroom. Wei Xiaoyong, a computer science professor, used a palm-sized drone to scan students' faces, claiming the flying device could track attendance and analyze how closely students were following his lectures. Though the technology wouldn't be able to accurately analyze the behavior of individual students, Wei told Sixth Tone in May that it would help "analyze the collective behavior in the classroom, and gauge students' satisfaction and attention levels."
Earlier this month, a tech company in the southwestern province of Guizhou landed in the national spotlight for its "smart" school uniforms. The company claimed that its microchipped clothes would help automate administrative activities such as monitoring students' attendance, as well as managing their homework and grades. The uniforms would also be equipped with a GPS tracker, allowing schools to record when students enter and exit school grounds — information that would be cross-referenced with facial-recognition cameras installed on campus. Amid mounting privacy concerns, the company said that only parents and teachers would be able to access the recorded data.
AI News Anchors
Chinese state media outlet Xinhua added two fresh faces to its roster of journalists this year: AI-powered news anchors. According to the news agency, the digital avatars of English-language anchor Zhang Zhao and his Chinese-language counterpart Qiu Hao will be used primarily in videos — especially for breaking news — on Xinhua's online platforms.
The digital doppelgangers were the product of a joint effort from Xinhua and internet company Sogou, which specializes in cutting-edge technology such as facial recognition, machine translation, and facial-expression modeling. The innovation raised plenty of eyebrows, with skeptics wondering whether the machines would be as efficient as humans when delivering news.
"The AI anchors were created to assist humans in their reporting, not replace them," Chen Wei, a voice technology development manager at Sogou, clarified to Sixth Tone in November.
Busting Criminals, Saving Lives
Thanks to facial-recognition technology, Hong Kong pop star Jacky Cheung's concerts have become an unlikely place to nab people wanted for crimes. Police have apprehended an estimated 60 suspects from concert venues — the first fugitive in April in the eastern city of Nanchang, followed by subsequent arrests in Jiaxing and Chengdu, among other cities.
Meanwhile, in central Henan province, the city of Pingdingshan installed facial-recognition cameras near a river in August to help prevent drowning deaths. The city started the pilot project so that people — and especially children — who venture too close to the water will be warned via a loudspeaker. The system currently has over 110,000 students logged in its database, which will be used to send emergency messages to parents and teachers.
"1984" Meets "Animal Farm"
Facial-recognition technology found yet another unlikely market this year: an animal farm. Chinese e-commerce giant Alibaba partnered with an agricultural company to raise pigs using AI, allowing farmers in southwestern Sichuan province to keep a watchful eye on their hogs. The facial-recognition technology will keep tabs on each pig's activities and help record its vital signs and other stats, including height, weight, and diet — all of which will be used to improve animal husbandry practices.
Simon Hu, the president of Alibaba's cloud computing arm, said in February that AI would "liberate farmers by both boosting their incomes and reducing labor intensity."
Editor: Bibek Bhandari.
(Header image: A facial recognition system is demonstrated at the Baidu World Conference in Beijing, Nov. 1, 2018. Giulia Marchi/Bloomberg/VCG)