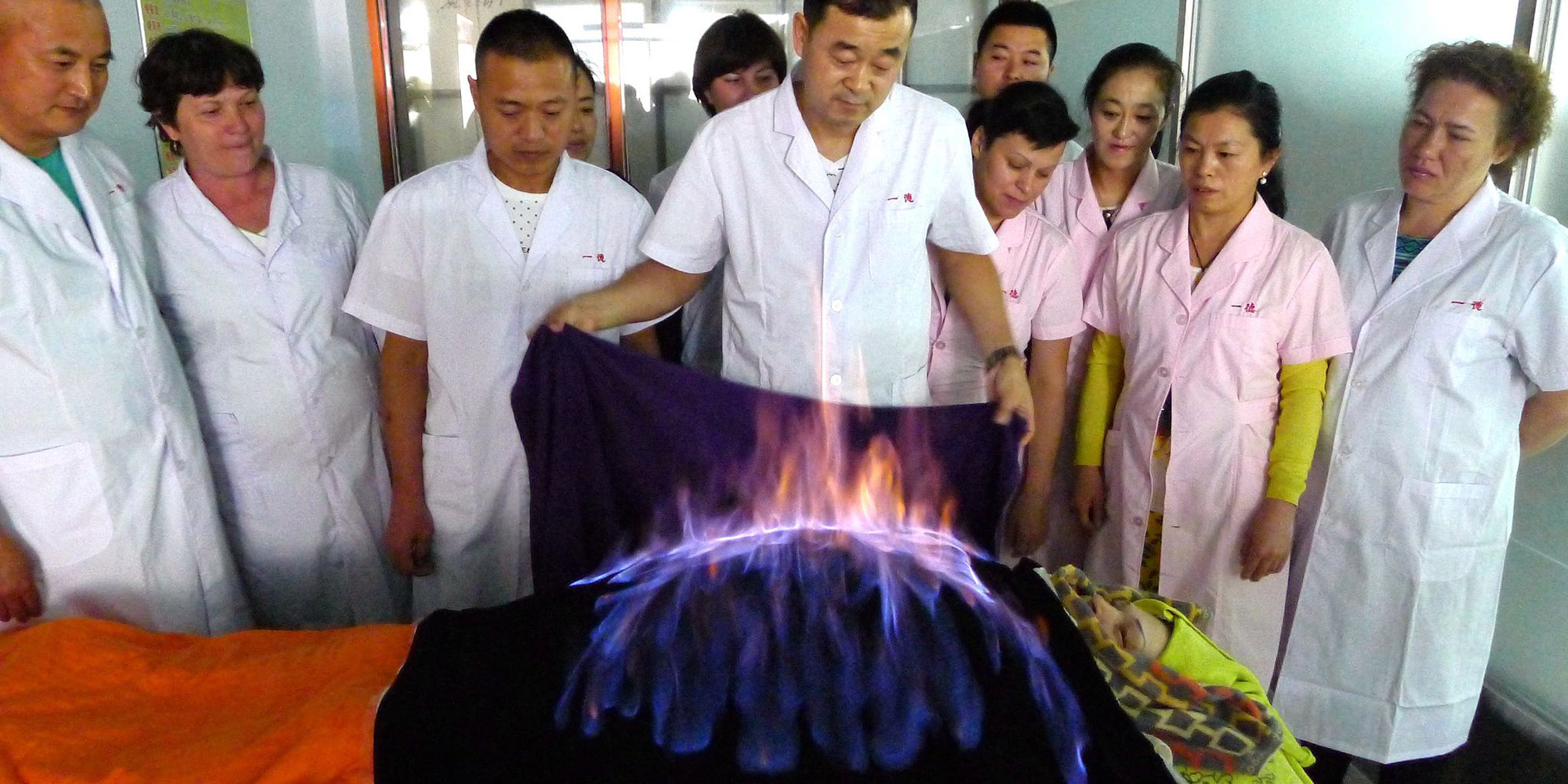 NEWS
Chinese Health Product Giant Investigated for False Advertising
A health education platform that accused one of China's largest medical product companies of misleading consumers and operating as a pyramid scheme says it stands by every word it published.
Authorities in the northern city of Tianjin on Thursday sent a team to investigate accusations of false advertising against health product company Quanjian Group, local media reported.
The day before, Dingxiang Doctor, a popular WeMedia account that shares medical expertise with its online followers and debunks health rumors, had alleged that Quanjian's advertisements were misleading and may have contributed to the death of a 4-year-old girl — claims Quanjian denied and vowed to dispute in court.
On Tuesday, Dingxiang Doctor wrote on its public account on social app WeChat that Zhou Yang, a 4-year-old girl with a germ cell tumor, saw her condition decline after taking "anti-carcinogenic products" from Quanjian for two months beginning in December 2012. When her condition continued to deteriorate through the next year, the girl's father, Zhou Erli, brought her back to the hospital — but by then the cancer had metastasized. The girl died in December 2015.
In 2013, the father Zhou — who had spent a total of 5,000 yuan (then around $800) on Quanjian products — found that his daughter's photo and medical history were being used in an advertisement: According to the promotional poster, Quanjian products had caused the girl's condition to miraculously improve. In November 2014, Zhou sued the company for false advertising and infringement of his daughter's right to name and likeness, but he lost the case because the court was unable to determine whether the ad had come from Quanjian.
Apart from Zhou's case, there has been a laundry list of false advertising complaints against Quanjian, according to Dingxiang Doctor's article. Founded in 2004, Quanjian Nature Medicine Science and Technology Development Co. Ltd. gradually expanded its business operations into nonmedical industries — often, the article alleges, through dishonest means. Today, Quanjian Group is a major conglomerate that deals in cosmetics, finance, and sports.
Quanjian's "fire therapy" business — which the company claims can ward against nearsightedness, deafness, brain shrinkage, and a variety of other conditions — now has 7,000 shops across the country, despite customers frequently complaining of seared skin. According to Sixth Tone's search of China Judgements Online, the country's public database of legal decisions, at least four of Quanjian's fire therapy businesses this year have been ordered to pay compensation for injuries suffered by their customers.
Some of the company's other products — which include a "negative ion sanitary napkin" purporting to protect against prostate disease and 1,000-yuan shoe pads that claim to cure heart disease and insomnia — were also questioned in 2014 by state broadcaster China Central Television amid concerns of false advertising.
Many people have also accused Quanjian's business model of being a pyramid scheme, as so-called individual dealers can pay 7,500 yuan or more to join the business and earn dividends of up to 50,000 yuan per week for each new dealer they bring in, according to Dingxiang Doctor. In 2012, four people from a Quanjian franchise in northeastern China's Jilin province were each sentenced to between two and three years in prison for organizing and running a pyramid scheme.
Quanjian's founder, Shu Yuhui, a 50-year-old native of eastern China's Jiangsu province, has branded himself as a Tsinghua University graduate, a creative inventor, and a successful businessman who built the Quanjian empire from the ground up. However, The Beijing News reported Tuesday that an authoritative source said Shu had obtained his highest degree from Yancheng Institute of Technology, a public college in his home province. Quanjian also once posted an image of Shu on the cover of a magazine calling itself Fortune — later revealed to be a homegrown imitation of the well-known U.S. publication. And in an audio recording from a meeting of Quanjian's vendors that was obtained and published by Dingxiang Doctor, Shu is heard being praised as a spiritual leader by his enterprising acolytes.
Sixth Tone's calls to Quanjian's company contact numbers went unanswered on Wednesday. Early Wednesday morning, however, the company published an announcement on its Weibo microblog account, calling Dingxiang Doctor's article "slander" and demanding that the WeMedia outlet delete the article and issue an apology. The post also objected to Zhou's claim, saying it had never "officially advertised" that its products had cured his daughter. The company added in its post that it had been authorized by the central government to directly sell its products and that it would defend itself against any party who falsely besmirched the Quanjian name.
Sixth Tone's search of the website of the Ministry of Commerce revealed that Quanjian's direct-selling license, which it received in 2013, permitted the company to sell 40 products — mostly cosmetics, along with some health foods and sanitary products — in at least 10 cities across the country, including Beijing, Tianjin, and Guangzhou.
The growing sales of Shu's business empire now amount to tens of billions of yuan per year, according to Dingxiang Doctor. Quanjian even owns a professional soccer team in Tianjin — a city that has earned an unenviable reputation for pyramid-shaped business models. In 2017, Li Wenxing, a recent college graduate, killed himself after being lured to Tianjin for a programming job but ending up being forced to work for a pyramid scheme. The case prompted local police to launch an initiative that year specifically targeting pyramid schemes.
Dingxiang Yuan, Dingxiang Doctor's parent company, told Sixth Tone that it had received a letter from Quanjian's lawyers on Wednesday morning requesting that Dingxiang Yuan establish contact within three days to negotiate an apology. "We are confident that we can stand behind every word in our article, and we're ready for any legal proceedings," Qiao Guilin, a public relations officer at Dingxiang Yuan, told Sixth Tone. Qiao added that Dingxiang Yuan's investigation into Quanjian was motivated purely out of concern for public health and that it had no hidden agenda, as Quanjian had previously suggested. Dingxiang Doctor's comments to Sixth Tone were largely a reiteration of two public responses to Quanjian's threat of a lawsuit, both posted Wednesday on social media.
In the past few years, Dingxiang Doctor was among the first to report on false advertising by Shapuaisi, an eyedrop brand that claimed to heal cataracts, and Hong Mao Medicated Wine, a traditional Chinese medicine product that had claimed to be effective in treating a raft of conditions, from joint pain to cardiovascular disease.
Zhou Erli, the father of the young girl who died of cancer, told The Paper, Sixth Tone's sister publication, on Tuesday that he is considering suing Quanjian again. "Dec. 12 was the three-year anniversary of Yang's death," he said. "I feel like I should do something."
Editor: David Paulk.
(Header image: Staff at a Quanjian health care center demonstrate the controversial art of 'fire therapy' in Heihe, Heilongjiang province, May 29, 2016. Qiu Qilong/VCG)