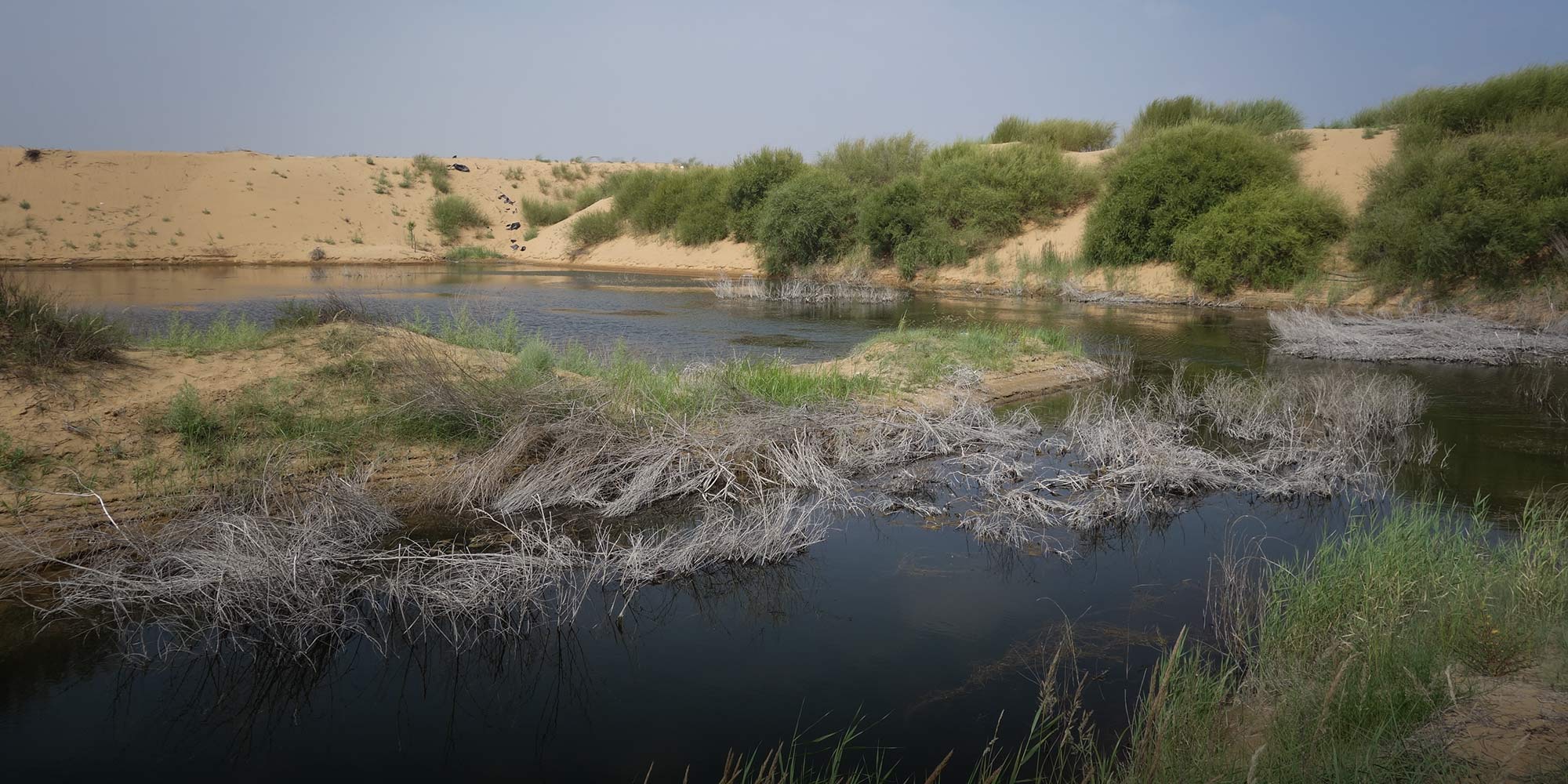 FEATURES
Chinese Town Still Seething Over Water Pollution Scare
An art exhibition exposed Xiaohaotu's contaminated water earlier this year. Months later, the town's residents remain concerned.
Northwestern China's sleepy backwater of Xiaohaotu attracted national attention in June after becoming the subject of a Beijing art exhibition. The town's murky water — which had contaminated farmland, sickened livestock, and even tarnished tap water — was displayed in 9,000 plastic bottles by the artist known as Brother Nut. The exhibition's focus on water pollution was atypical for the Chinese capital, which is often more preoccupied with air pollution.
Following the opening of the exhibition, authorities in Xiaohaotu's Shaanxi province rushed to curb the contamination, claiming the water's excessive iron and manganese had come from chemical fertilizers and animal excrement. But six months after the scare, more than half a dozen residents tell Sixth Tone they're not yet convinced the problem has been solved.
Though the local government has said the town's tap water isn't contaminated and has helped to dig deeper wells to access cleaner groundwater, residents maintain that authorities still haven't heeded calls to secure safe water sources for their animals and farmland, which together are a significant part of their livelihoods. Though the official verdict on the source of the pollution is still being debated, some suspect a cover-up.
"I bet 90 percent of the people aren't convinced," says one resident who, along with some 100 grassroots cadres, was present at the Nov. 22 closed-door meeting where local authorities announced the results of an environmental assessment. "But [at the time] nobody raised any objections," he tells Sixth Tone. Because of the sensitive nature of the case, the resident declined to give his full name.
The Xiaohaotu government declined Sixth Tone's interview request, referring our reporter to the township's administrative district, Yuyang — whose publicity department did not respond to our request either.
China has been prioritizing plans to combat water pollution since the '80s — long before it declared a "war on pollution" in 2014 — and has been setting five-year targets for local governments. But it wasn't until 2015 that the central government issued its Water Pollution Prevention and Control Action Plan, its strictest and most comprehensive strategy to get provinces to meet quality standards for both groundwater and surface water. This was in addition to an amended 1984 law for combating water pollution which had provisions for preventing rural water pollution and setting higher fines for environmental violations that came into effect this year. But experts are also urging the government to create even stricter policies and become more transparent by publishing complete water pollution data, as is already the case for air pollution.
This year, over 6,000 issues requiring immediate attention — including industrial and agricultural runoff that affects drinking water — have been identified since the central government launched a national water source inspection in March. Xiaohaotu, experts say, is just the tip of the iceberg.
"Xiaohaotu's water pollution is not an isolated case — it's merely one example," Li Pengbo, head of Shaanxi-based environmental nonprofit Green Qingba, tells Sixth Tone. Li adds that he has received five similar complaints from Shaanxi residents since June.
Apart from contaminated surface water, environmentalists say groundwater pollution remains a big problem in China. A report from the Institute of Public and Environmental Affairs (IPE), a Beijing-based nonprofit, revealed that at least 162 drinking water sources across the country have been or plan to be unlisted due to poor water quality. Since an April reform, the country's Ministry of Ecology and Environment has been shouldering the once-distributed responsibility of tackling all water pollution-related problems, including marine conservation and groundwater pollution control.
"For a country like China that's facing water scarcity, pollution is one disaster after another," Ma Jun, director of the IPE, tells Sixth Tone. "According to monitoring data, China's surface water pollution is generally under control, but groundwater and marine pollution keep deteriorating."
Xue Tao, deputy head of the E20 Institute of Environmental Industry, tells Sixth Tone that the government's action plan needs to address more groundwater-related issues. In 2016, a report from the Ministry of Water Resources revealed that 80 percent of water samples collected from 2,103 underground wells were found to be unsafe. "Cleaning up polluted groundwater is challenging, with an extremely high cost, making monitoring and preventing groundwater pollution all the more important," Xue says.
One reason this may be challenging is that top-down policies sometimes fall short when it comes to low-level enforcement. Last month, the government of Weifang, a city in the eastern province of Shandong, was accused of adding a chemical concoction to its river to temporarily meet water quality standards during a national inspection. A month earlier, in October, the Shijiazhuang government of northern Hebei province filled three river channels that failed to meet water quality standards with soil ahead of a cleanup deadline set by the central government. And many who report such violations — including journalists, whistleblowers, and residents — have been harassed or detained.
Xiaohaotu resident Wu Yanrong is among those who have faced such punishments. For over a year, the 40-year-old petitioned the government to address his town's water pollution. After being ignored, he decided to help Brother Nut expose the village's dirty water, earning him praise as an environmental hero. But police detained Wu in July for "illegally occupying farmland." On Dec. 6, the Yuyang District court sentenced Wu to four months in prison and eight months' probation.
"It's too difficult [to report pollution]," Wu, who is currently serving his probation, tells Sixth Tone during a phone call. "There's nothing I can do now. Some villagers are reluctant to [get involved]. They would rather endure it — after all, life goes on. They don't want to oppose the government or get behind the issue, deciding instead that it's better not stir up trouble."
Editor: Bibek Bhandari.
(Header image: Polluted water from a mining area in Xiaohaotu Township, Shaanxi province, July 29, 2018. Ming Que for Sixth Tone)