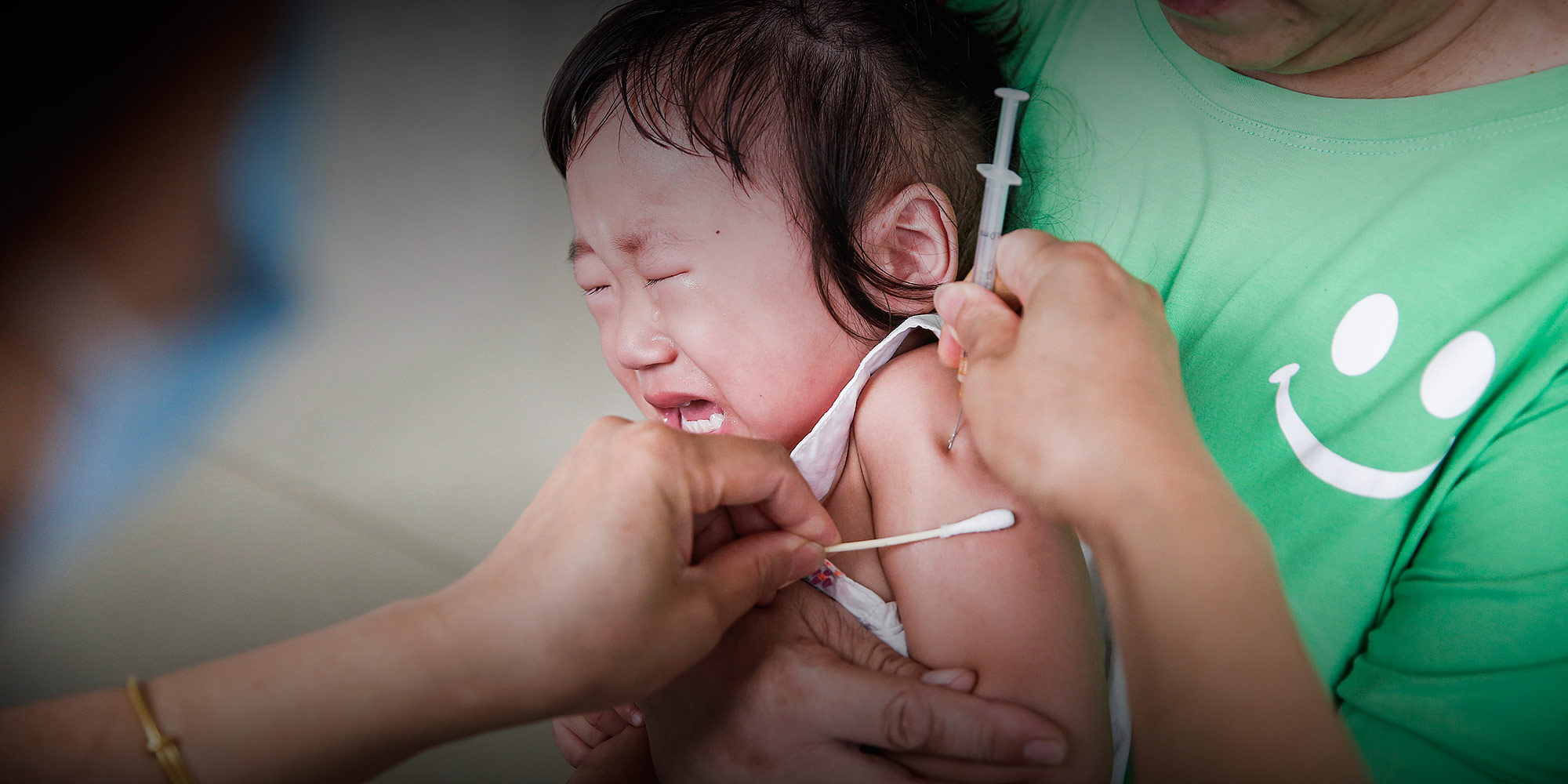 FEATURES
Faulty Vaccine Scandal Still Leaves Its Mark
Victims of substandard vaccines uncovered in China's health care system earlier this year face a long road ahead.
The company at the heart of a nationwide fake vaccine scandal may be no more, but for the victims of substandard injections, life has been changed forever.
In Jinan, the capital of eastern China's Shandong province, Wang Shixia is coming to terms with the fact that her son, Wang Borui, will grow up with a permanent disability. In November 2015, Wang took Borui, then 7 months old, to a public hospital to receive a routine DTaP vaccine — a free shot that provides protection against diphtheria, tetanus, and acellular pertussis. The vaccine serum was manufactured and distributed by Changchun Changsheng Life Sciences Ltd., which at the time was one of the largest vaccine producers in China.
Wang knew something was wrong when, hours later, Borui started running a high fever. Over the following hours and days, the boy experienced severe complications. First, he caught pneumonia — which can be fatal to infants and young children — and later developed meningitis, a life-threatening brain infection. His organs began to fail. From the intensive care unit of a hospital in Jinan, Wang looked on helplessly as Borui fought for his young life. Doctors would later blame faulty vaccines for the boy's sudden trauma.
In July of this year, China's drug regulator found that Changchun Changsheng had been distributing ineffective and substandard vaccine serums, including DTaP, within the Chinese public health care system over a period of several years. In total, up to 500,000 of Changchun Changsheng's DTaP vaccines may not have met standards, officials say. Three months later, the company had its production license revoked and was fined over 9.1 billion yuan ($1.3 billion). Changchun Changsheng's chairman, as well as four senior managers, were taken into custody pending the outcome of an official investigation.
News of Changchun Changsheng's misdeeds prompted widespread outrage across China, a country that has experienced a succession of serious public health scares in recent years. Chief among them is the 2008 milk powder scandal, when an estimated 300,000 children fell ill and six died after consuming infant formula contaminated with the chemical melamine. To this day, many Chinese parents refuse to feed their children domestically produced infant formula.
Wang, 38, says that before Borui became sick, she had never considered that a vaccine could have adverse consequences. "I'm just an average citizen with barely any medical knowledge," she tells Sixth Tone in a phone call. "I had no idea that vaccines could do so much harm to my child."
In the end, Borui survived — albeit with a lifelong disability. Successive infections since getting vaccinated have left the toddler with limited mobility in his left leg and missing cartilage in his right arm. Borui was supposed to start kindergarten this year, but because he struggles to walk and might fall and injure himself in a group with other children, Wang has decided to keep him at home. "I still can't fathom how one injection has destroyed my son's life," she says.
Yet compared with other vaccine victims, Borui is relatively lucky. In a group chat on Chinese social messaging app WeChat, Wang often reads messages from mothers and fathers whose children have died, become severely disabled, or fallen chronically ill after receiving vaccines. Many are struggling to prove to the authorities that their children's health conditions are due to faulty DTaP vaccines, Wang says.
Following the Changchun Changsheng revelations, parents across China rushed to check that their children were safe. "The incident challenged people's moral bottom line," says Lu Jiahai, a professor at the School of Public Health at Sun Yat-sen University in the southern city of Guangzhou. "It's understandable that some might lose confidence or trust in vaccines."
In August of last year, Wang received confirmation from the Jinan Medical Association that Borui's health issues were the result of a faulty DTaP vaccine. The association's ruling allowed her to claim more than 700,000 yuan in compensation from a district health bureau in the city. Changchun Changsheng, however, was not required to pay her any compensation.
The sum Wang received is still not enough to cover the huge debt the family has racked up in the last few years. Because Borui's joints are weak, he must make bimonthly trips to a major hospital in Beijing to receive vital injections — each one costing 15,000 yuan. To pay the medical fees, Wang and her husband have borrowed around 1 million yuan, mostly from friends and relatives.
Even with the government's compensation, the family will struggle to pay back old loans and afford Borui's future treatment. "We try to stay away from the people we owe money to," says Wang. "We can't possibly pay them back at the moment, as Borui's treatment continues to cost us a lot."
As early as November of last year, part of Changchun Changsheng's 2016 batch of DTaP vaccines were revealed not to have met quality standards. By that point, all of the 252,600 injections in question had already been sold into Shandong's public health care sector. At the time, the government ordered Changchun Changsheng to cease production and opened an investigation of the company but took no further action to warn the public. Changchun Changsheng later claimed that the revelations didn't pose a major threat to its business.
Following this summer's scandal, China in November released its first draft law on vaccine management for public inspection. The draft law would impose stricter penalties for any illegal practices in the industry; establish a system to track the production, distribution, and administration of vaccines; and set up a formalized compensation system for victims of substandard vaccinations. It would also impose stricter penalties for any illegal practices in the industry, including hefty fines for fake vaccines or fraudulent inspection records.
But Beijing Fahuan Law Firm lawyer Wang Peng — no relation to Wang Shixia — says that the law's vague wording still leaves the vaccine system open to abuse. "At present, medical associations decide whether there is any connection between a vaccine and a patient's reaction to it," he says. "But the members of [medical association] appraisal boards include hospital doctors. These people might be receiving certain benefits under the table."
Wang insists that the responsibility for investigating potentially substandard vaccinations should lie with a fully independent third-party organization. After Changchun Changsheng's abuses came to light, he made a freedom of information request to the provincial drug authority, hoping to inform the public about children who died or sustained severe health repercussions as a result of faulty vaccines. In return, he only received a vague response, along with a referral to another department.
Lu, the Guangzhou-based professor, agrees with Wang's analysis, telling Sixth Tone that such a third party would have to include people from all walks of life, not just doctors and medical professionals. "This would benefit information transparency and make the results more convincing," he says, adding that grassroots medical practitioners at community-level hospitals should receive more training to diagnose abnormal reactions to vaccinations, so that victims can receive timely care.
Wang Shixia says she and the parents of other victims hope that a part of the fine paid by Changchun Changsheng will be used to compensate the affected families. Nonetheless, she has not completely lost trust in China's overburdened public health care system. "There were loopholes in the way the industry was managed. But once the government starts to effectively regulate it, domestically-produced vaccines will be trustworthy," she says.
Since Borui fell ill, Wang has received no apology from either the government or Changchun Changsheng. The knowledge that Borui's treatment is far from over gnaws at her daily. "I don't want the government to treat my son like a burden on society — he can still thrive," she says.
Editor: Matthew Walsh.
(Header image: A child receives a vaccine at a community health service center in Tengzhou, Shandong province, Aug. 7, 2018. Song Haicun/VCG)