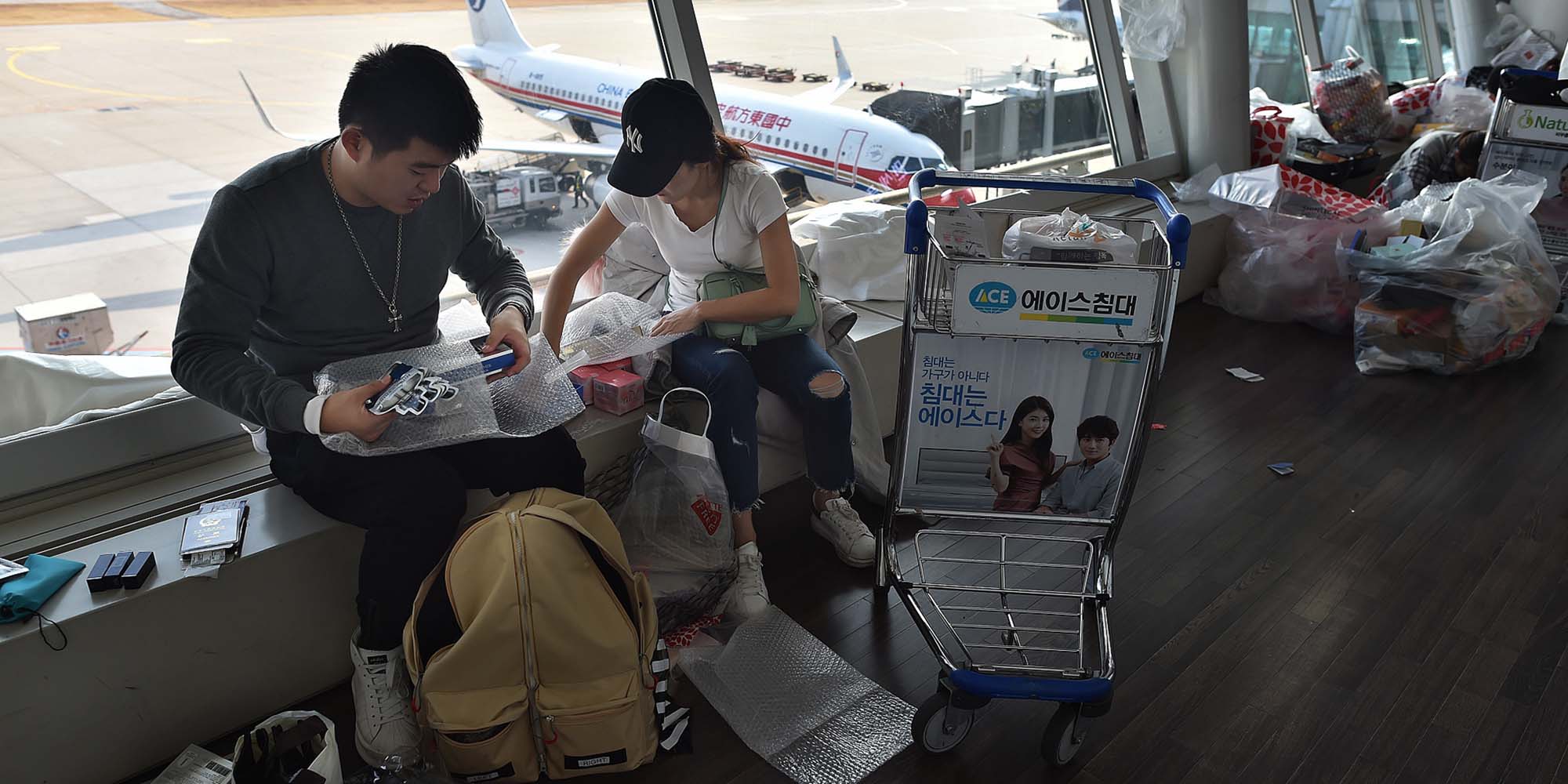 FEATURES
What a New Law Could Mean for China's 'Daigou'
Cross-border shoppers have become a multi-billion-dollar industry — but changing regulations could spell the end for the entrepreneurial sellers.
SHANGHAI — Lucky Li has gone to South Korea more than 20 times this year, but she hasn't spent her time wandering tourist sites or sampling local delicacies. She's only had one destination in mind: duty-free stores.
Each time, she's brought back two suitcases crammed with lipsticks, skin care sets, watches, and luxury bags. But after her most recent mid-December trip, the 30-year-old Shanghai housewife decided to put an end to her frequent visits. She's afraid her shopping excursions are breaking the law.
Li is a so-called daigou — which literally translates to "buying on behalf of someone else." She's one of an estimated 1 million small-time business operators who shop overseas, then sell the goods over messaging app WeChat or Chinese e-commerce platforms. It's difficult to estimate the size of the daigou market — the term can refer to anyone from overseas Chinese students looking to make some extra cash, to full-time business entrepreneurs — but a 2015 report by consulting firm Bain & Company said that the daigou market for luxury goods alone was worth between 34 billion to 50 billion yuan ($5.2 billion to $7.6 billion). Last year, an estimated $100 billion of foreign goods was slipped into the Chinese mainland, the world's largest e-commerce market.
But the booming daigou industry might be in its death throes. Over the past decade, daigou have made their money by taking advantage of price gaps between different countries and avoiding tariffs and sales taxes to undercut big brands. Daigou have sometimes been caught by customs, but in general, the sellers have operated in a kind of gray area. On Jan. 1, 2019, China's new e-commerce law — the first to directly affect daigou — will come into effect. Under the new law, daigou will be required to register as e-commerce operators and acquire licenses in both China and the country where they shop, making their business subject to taxation, finance lawyer Cheng Jiuyu from Zhongwen Law Firm tells Sixth Tone. Any e-commerce platform and seller could be fined 2 million yuan and 500,000 yuan respectively — and possibly face criminal charges.
It's likely to be good news for China's tax collectors, who missed out on an estimated 100 billion yuan this year, thanks to e-commerce between private individuals, according to a report from the Beijing-based Central University of Finance and Economics. "This law is making an effort to regulate all e-commerce business," Cheng says. "[Those daigou who didn't pay taxes] will lose their edge, and those who didn't have many clients will find it hard to survive." But it's unclear how the law will be enforced. Cheng says it's likely that customs will get stricter on undeclared parcels, and platforms like WeChat and Taobao — where many of the products are sold — may work with the authorities to avoid being held liable themselves.
Daigou will have to register and truthfully declare their items, and the increased cost will be passed on to their customers. "Customers' purchasing behavior will also change accordingly: They will go for sellers who have bigger platforms and better services," Cheng says. "There will be a wave of bankrupt, small-time daigou." Nevertheless, he believes that some daigou may try to stick it out and ignore the law. "If profits are high, some may take risks to continue their business," he says.
Li's not waiting around to go bankrupt — she's getting out now to avoid risk. "Of course, we knew that bringing in such large amounts of undeclared products wasn't right," says Li, who wears her hair in a stylish bob. "But we thought paying a fine would be the most severe punishment. Who could have known that the worst consequence would be jail?"
Up until now, Li — as her English name "Lucky" suggests — has had fortune on her side. Despite taking nearly 30 flights to South Korea and Japan this year alone, she's never had her bags searched by customs. Li, who refused to give her full name out of fear of repercussions from authorities, first got into the industry in 2016, after noticing daigou crowding Seoul's duty-free shops. "Some of them sat on the ground, unpacking all their goods and bundling them into their backpacks, and then rushed to the next counter," Li remembers. "It just seemed so easy to make money."
She posted on WeChat: "I'm in South Korea now. Anyone need anything?" Immediately, several friends responded — including some she hadn't heard from in a long time. Before she'd even boarded the return flight to China, she'd received dozens of orders — enough to cover what she'd already spent on her hotel and flight tickets. After her first successful trip, Li found herself returning again and again to South Korea, stocking up on cosmetics made popular in China, thanks to K-pop and Korean drama stars.
"It's a woman's nature — and my lifelong dream — to go shopping every day," Li says, giggling. These days, she has it down to an art: She even goes to the nail salon before flying, so eagle-eyed customers can tell from her slowly-growing-out nails in her social media posts that time has passed — thus proving that she's been abroad for a few days. Li wouldn't disclose how much she makes, but says in the past, it wouldn't be difficult for a hardworking daigou to earn 50,000 to 60,000 yuan every month — around eight times Shanghai's average salary.
Since the end of August, when the government approved its new e-commerce law, daigou have grown anxious. European luxury and cosmetic brands' shares have plunged. Customs officers in China have started preemptively getting stricter — on social media, people have complained of being searched and taxed. Some daigou and WeMedia accounts have even — rather dramatically — termed it a "massacre."
Li initially turned down Sixth Tone's interview request, fearing it was a front for an undercover investigation. "Everyone's in a state of panic," says Li. "Everyone's worried that they could be next to be searched or caught — some even want to quit," Li says, before adding, "including myself." Li even cancelled a pre-Christmas flight, rather than making a final set of sales.
The panic has passed on to the consumers. Avid daigou customer Qin Pan gets her son's milk powder from Australia, her husband's sports shoes from the United States, her Louis Vuitton bags from France, and her toilet seat from Japan. Normally, the Shanghai mother spends over 60,000 yuan each year on products bought via daigou. Since September, after the rule was announced, she's been seeing notices reminding her to stock up, and warning: "Treat your daigou friends nicely: The e-commerce law is coming."
The warnings have been working: In the past two months alone, she's spent more than 40,000 yuan. "Nobody knows what the price will be next year. It might be the same, or it might be more expensive," she says. "Maybe next year, nobody will sell [these products via daigou] anymore."
Even daigou who want to stick with the industry are growing more cautious. Cheng, a 37-year-old daigou who's no relation to the lawyer Cheng Jiuyu, has been frantically selling ahead of the law changes. In November, Cheng flew to South Korea three times and to Japan once. She saw many fellow daigou doing the same — all trying to make their last pot of gold before the e-commerce law comes into effect. She takes care to follow certain rules of thumb: Never buy more than two pieces of a single product; never buy an item valued at more than 30,000 yuan; never buy watches or jewelry that carry a higher sales tax; never book the red-eye flights that most fellow daigou choose; maintain a poker face and steady pace when going through customs; and get rid of flashy packaging. "Customs aren't searching bags at random — they have certain targets," Cheng says. "It's true that I could make more money [if I didn't follow these principles], but, at the same time, it's riskier." With the help of her personal rules, Cheng plans to continue selling after the new law comes into effect.
Paris-based daigou Yanyan has begun declaring her products and paying taxes honestly since the law change was announced at the end of August. "Earning less is better than paying fines," Yanyan — who's been a daigou for five years — tells Sixth Tone. She hopes to continue, but has already taken extra safety measures: She's started unfriending clients who've never purchased anything and isn't accepting new clients unless they're introduced by other, trustworthy ones.
Unlike her fellow daigou, U.S.-based Ma Guanghui feels calm and confident. After a decade in the business, she's seen enough fluctuations to know how to weather the storm. She's seen authorities bring in stricter customs checks and higher tax rates for products bought overseas. For a time, large-scale, cross-border e-commerce businesses were threatening daigou. And even popular products have changed with the exchange-rate fluctuations.
Ma can also understand how the new rules could be a change for the better: She believes the current situation of lax oversight could make consumers anxious. "This industry has become more and more complicated and dangerous," Ma says. In addition to cost, the difference between companies and daigou is the human touch, making them seem more trustworthy. But not all daigou are "human-flesh daigou" — a term used in the industry to refer to those who personally travel and bring the products back to China. There are daigou who don't leave the country and instead post what their leader, who also might not travel, tells them to post, Ma explains. "Most of the lower-level daigou have never seen the products themselves," says Ma. "They don't know the origin of their products. They don't travel abroad."
Ma has seen many daigou wiped out by the tides of change over the past decade and has been smart enough to move with the trends. When brands Levi's and Coach were no longer popular, she shifted to selling imported snacks. When she got pregnant, she began selling health care and baby products, before getting into electronic toothbrushes and suitcases. Last year, she established companies in both China and the United States to import products and officially declare them through customs.
"Some daigou still think it's profitable to make 50 yuan for each Coach bag," Ma says, referring to designer brands that were once daigou's bread-and-butter. "I always tell them they should rethink things. There are no industries where everything stays the same."
Editor: Julia Hollingsworth. 
(Header image: A couple packs up goods they bought for customers at the Incheon International Airport in South Korea, Nov. 17, 2016. VCG)