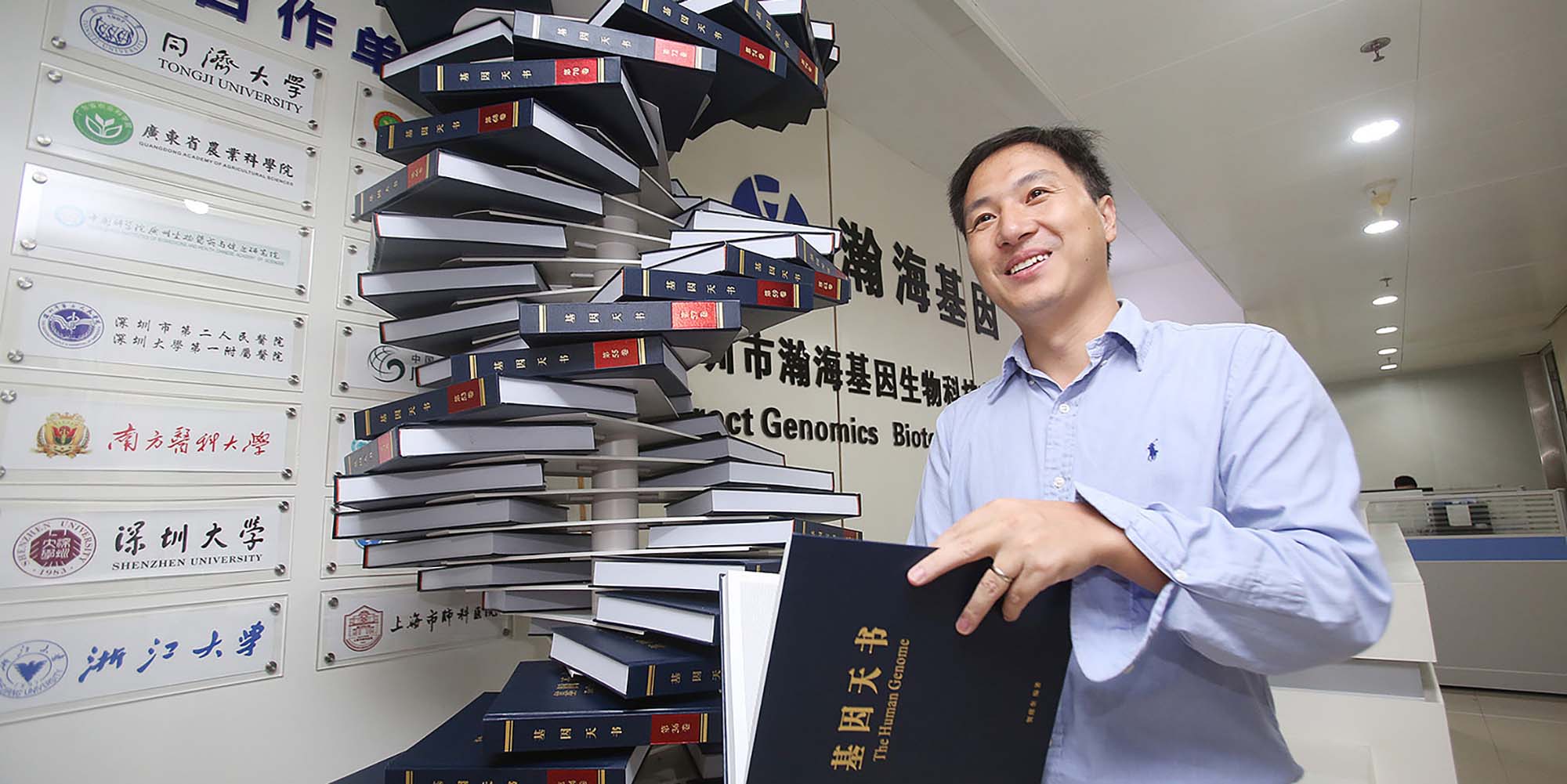 NEWS
Scientist Dodged Questions on Ethics of Gene-Editing Experiment
China's Clinical Trial Registry rejected He Jiankui's experiment over informed-consent concerns, lack of transparency.
Three weeks after news broke that the world's first gene-edited babies had supposedly been born in China, questions still swirl around the success of the experiment, its ethics, and the scientist responsible.
Now, Caixin has found that China's Clinical Trial Registry rejected the experiment's application due to holes in the informed-consent process and research design, as well as questions over trial implementation and funding. Scientists have also cast new doubt on the effectiveness of the experiment, which lead researcher He Jiankui claims deleted genes from fetuses in an attempt to make them HIV-resistant.
On Nov. 26, He announced that he had removed genes from two human embryos before implanting them in their biological mother's uterus. Resulting twin girls named Lulu and Nana were born early in November, he claimed. Outrage and near-universal condemnation followed.
At the International Summit on Human Genome Editing held in Hong Kong the same week, He presented his research and took questions from international experts. During his presentation, he admitted that the attempt to remove the CCR5 gene from Lulu's DNA was unsuccessful.
However, beyond the violation of ethics, some gene-editing experts doubt whether the experiment will have the desired effect. A greater concern is the unknown consequences to the children involved. Lu Falong, a researcher from the Institute of Genetics and Developmental Biology at the Chinese Academy of Sciences, told Caixin that the attempt to edit Nana's DNA may well have disabled the CCR5 gene. But the traits of the newly generated protein caused by the edit have never been studied before, according to Lu, and as such the result could not be predicted.
"This girl is like a little mouse being used to test the traits of the two new mutations of CCR5," Lu said.
Hu Jinghua, a researcher at the Mayo Clinic who holds a doctorate in molecular developmental biology, published an article this month noting that He's presentation did not indicate that the procedure had had the desired effect on either embryo.
A search by Caixin of China's publicly available Clinical Trial Registry found that He and another researcher, Yan Jinzhou, had applied to register a trial titled "Evaluation of the Safety and Efficacy of Gene Editing with Human Embryo CCR5 gene." The research implementation time was listed as March 7, 2017, to March 7, 2019, and the organizing institutions were the Southern University of Science and Technology and Shenzhen's HarMoniCare Women and Children's Hospital. Southern University of Science and Technology was listed as the "source of funds or materials."
The application was rejected: On Nov. 8, the registration center notified He and Yan that their trial did not meet registration requirements. By Nov. 28, the researchers had still failed to provide necessary data to the registry and had not answered questions regarding the ethics review, informed-consent process, research design, trial implementation, and funding sources.
After the experiment became publicly known, the university and hospital both denied knowledge and involvement. Since Nov. 30, the trial's status has been listed as "suspended or paused."
According to the registry's website, human trials must be registered before the first participant is recruited, and research information must be made public in a timely manner. But He had applied for registration only weeks before his experiment went public — long after he had recruited HIV-positive couples to participate.
While He's experiment clearly violated the rules of the registry and appeared to breach health ministry guidelines on human-assisted reproduction and ministry-issued ethical guidelines, the punishment for violating such rules is unclear.
China's National Health Commission and its provincial equivalent in Guangdong say they are investigating. Meanwhile, He has not appeared in public since the summit at the end of November.
This is an original article written by Huang Shulun, Ma Danmeng, and Ren Qiuyu of Caixin Global, and has been republished with permission. The article can be found on Caixin's website here.

(Header image: Scientist He Jiankui, who claims to have produced the world's first gene-edited babies, stands next to a helical bookshelf in Shenzhen, Guangdong province, July 18, 2017. VCG)