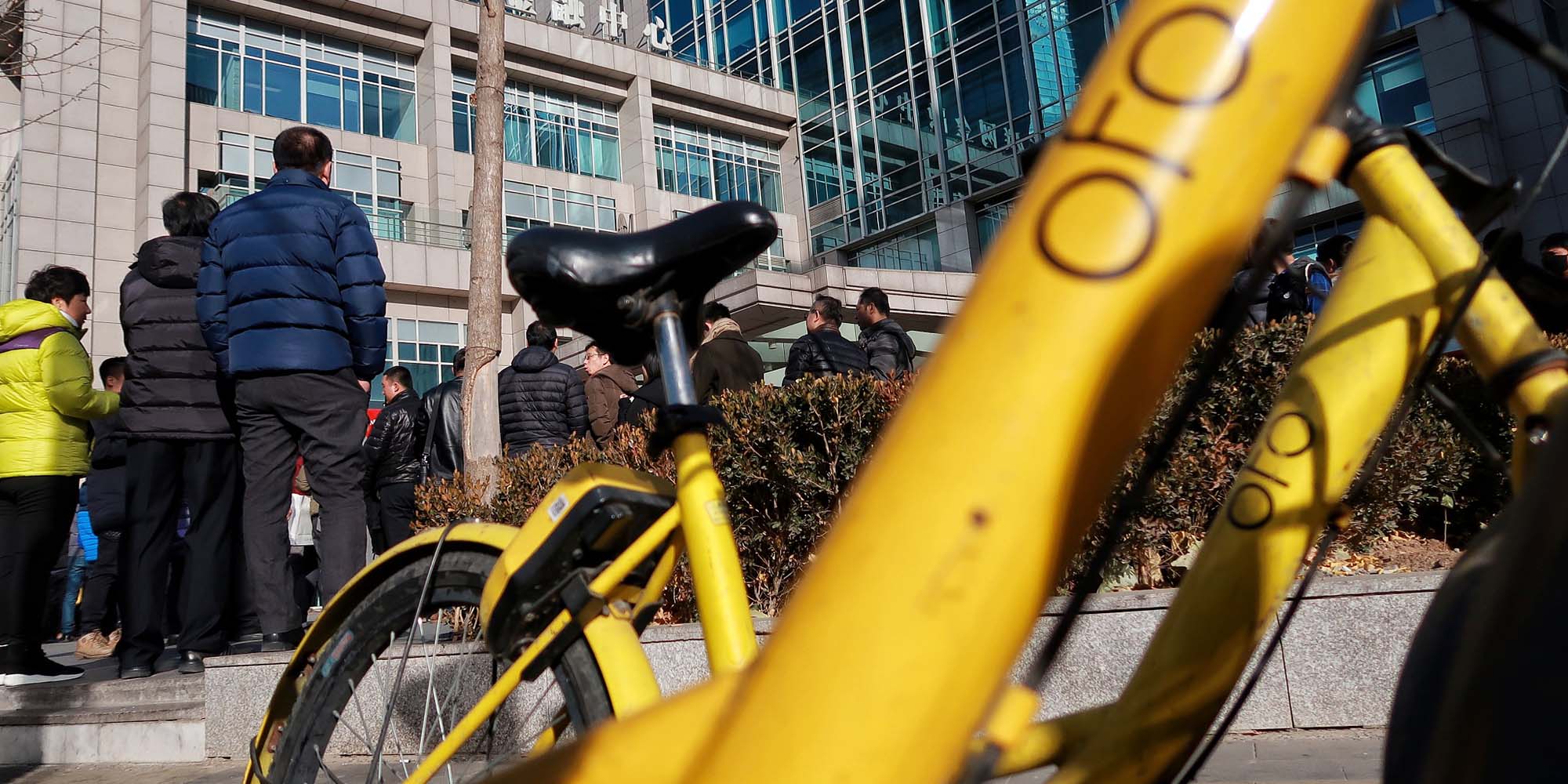 NEWS
Hundreds Queue for Refunds at Ofo's Beijing Headquarters
Reports of users not getting their deposits returned in a timely manner have led to a bank run-like scene at the bike-sharing company's office in the capital.
Hundreds gathered outside bike-sharing company Ofo's headquarters in Beijing on Monday to retrieve their deposits, only to be turned away empty-handed, according to Sixth Tone's sister publication, The Paper.
The incident follows two high-profile stories in the past few days of users who had difficulty reclaiming their funds from the app. In order to rent bicycles, Ofo has required users to submit a deposit — 99 yuan ($14) for older users or 199 yuan for more recent joiners — which the company says can be refunded within 15 working days upon request.
On Thursday, now-deleted posts on microblogging platform Weibo by an Ofo customer who successfully retrieved his deposit by pretending to be a foreigner went viral. After having trouble receiving his refund, Weibo user zjt93 said he sent a complaint email to Ofo in which he posed as a Californian living in China. The user said Ofo returned his funds the following day, along with a note of apology for the inconvenience.
Then on Sunday, Beijing Youth Daily wrote about a user who successfully retrieved her deposit at Ofo's headquarters after her digital application to receive her funds was unsuccessful. The woman, a Beijing resident surnamed Bao, said Ofo still had not sent her deposit to her bank account more than 20 days after she had asked for a refund via the company's app. But upon requesting her refund in person on Sunday, she said her money was promptly returned.
A day later, however, when hundreds of others followed in Bao's footsteps to the company's office, Ofo denied that showing up in person would expedite the refund process. "There have been quite a few users who have come to our office for refunds," the company told reporters on Monday. "We have a record of those who haven't received their refunds after submitting their requests more than 15 working days ago. We will verify their situations. But we don't directly refund users at our company."
Those who managed to be admitted into the office after hours of waiting outside confirmed that the company had not given them refunds — though they had been told that the money would be credited to their Alipay accounts within three days. "Who knows if they're telling the truth," one ex-Ofo user told The Paper.
When a reporter asked a woman at Ofo's headquarters if she thought a 199-yuan refund was worth waiting in line in the freezing cold, she said: "This is about everything I've worked hard to earn. Do you think money grows on trees?"
Along with its rival Mobike, Ofo is one of China's two leading bike-sharing companies. In October, financial news outlet Jiemian reported that Ofo was nearly 6.5 billion yuan in debt, and cited sources who alleged that the company's bankruptcy restructuring had already begun. Although Ofo denied the report, the fact that its bikes are becoming harder to find along city streets has worried users who still have money in the game.
Editors: Layne Flower and David Paulk.
(Header image: Ofo users wait in line to get their deposits returned at the bike-sharing company's headquarters in Beijing, Dec. 17, 2018. VCG)