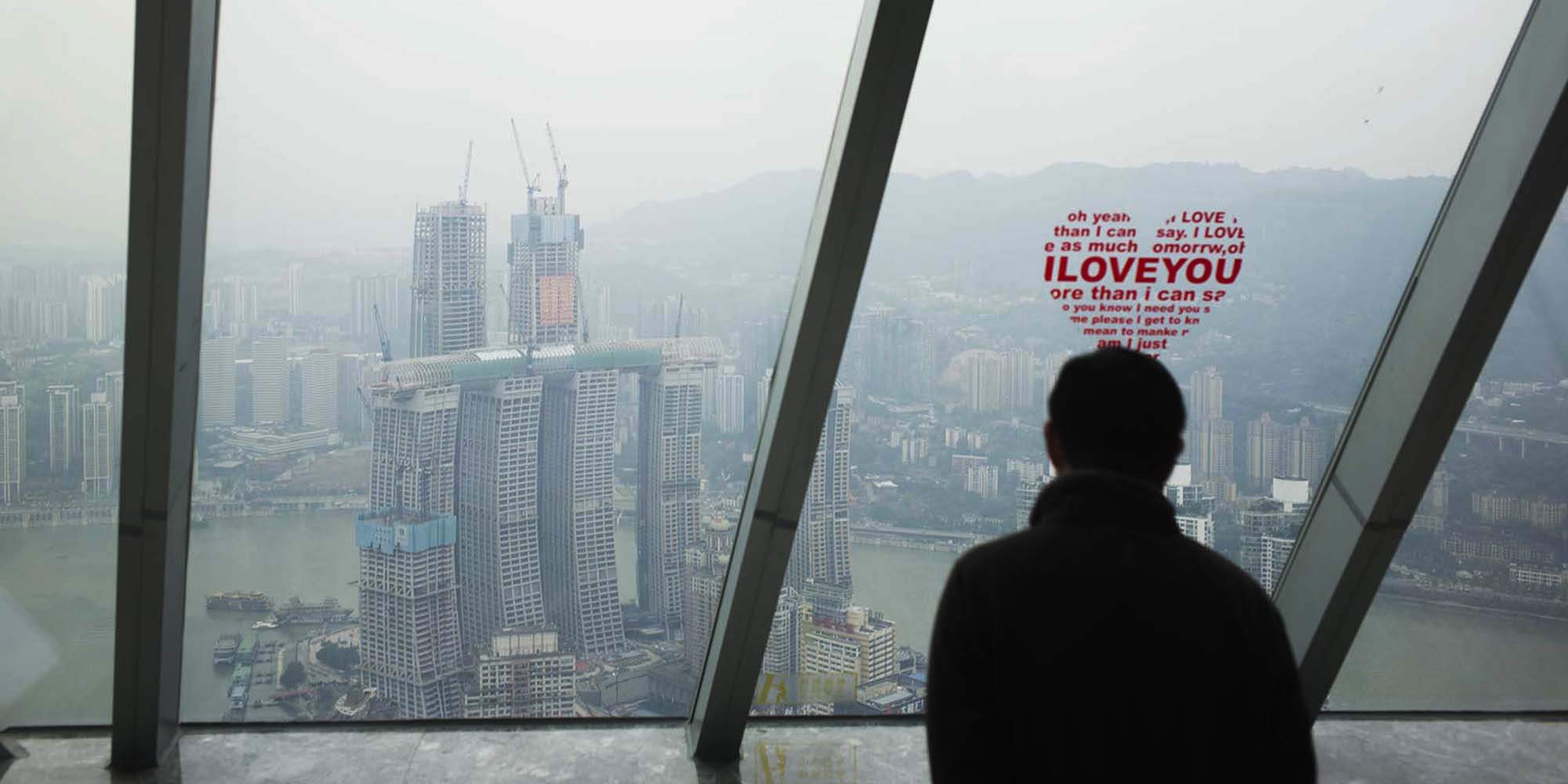 FEATURES
In Chongqing, Skyline-Defining Towers Find Opposition
Why a sparkly new development has given pause to a city hurtling upward and outward.
CHONGQING, Southwest China — In the center of Chongqing, where the blue of the Jialing River meets the Yangtze River's brown, an imposing set of structures shaped like billowing sails are under construction. At a nearby showroom for the development, eager salespeople explain how the eight-tower complex will feature apartments, offices, a five-star hotel, and an enormous mall when it opens next year. Several prospective buyers seem impressed, despite their carefully curated nonchalance.
But mention Raffles City to many of the 8.5 million people living in Chongqing's urban center, and you're likely to get a passionate — if not angry — response. To proponents, the cutting-edge complex, developed by Singaporean companies CapitaLand and Ascendas-Singbridge, will be a new landmark, an architectural feat that finally puts Chongqing on the map. Yet, to a vocal part of the population, the building is an affront to local culture — and ugly to boot.
"It's ruined Chongqing's feng shui! They should completely tear it down!" says Wang, a local in his 50s, half-jokingly, as he leans on a waterfront balustrade across the river from the slowly rising Raffles City. "That's what I heard," he says when asked to elaborate. "I don't understand feng shui." Wang's companion Zhang, a man 10 years his senior, chimes in: "This building has completely changed the shape of the city." (Both only gave their last names, saying they were voicing what everyone in the city thought.) Online, many share a similar sentiment: Raffles City has been variously vilified as "a huge monster," "domineering," or "so ugly, it makes Chongqingers cry."
From Paris' wrought-iron Eiffel Tower to Beijing's looped CCTV headquarters, popular discontent toward new buildings is hardly unique to Chongqing. But Raffles City — a 24 billion yuan ($3.5 billion) undertaking, making it the largest single Singaporean investment project in China — has caught the city at a turning point. Chongqing, more so than cities elsewhere in China, has thrown itself headlong into the future without much consideration for the past. Barely anything looks the way it did just two decades ago. For the most part, locals have accepted this wholesale reinvention for the sake of progress, putting up with any side effects. This time, though, it's different.
Raffles City will redefine Chongqing's skyline, already unique in China for its giant bridges and steep riversides. With more than 1.1 million square meters of floor space, it will be about four times larger than the Empire State Building — and at 354 meters, nearly as tall. The complex sits right next to Chaotianmen Square, which is named after a gate in the centuries-old city wall that was torn down in 1927. The square itself was renovated some 20 years ago and is of little historical value, but locals see the area as the heart of the city, the birthplace of Chongqing as they know it. Critics worry that the eight towers will — quite literally — overshadow one of the most historically significant areas of the city.
That's something that bothers Wu Yuanbing, a 52-year-old who grew up not far from Chaotianmen Square. Even in regular conversation, Wu's synapses fire faster than his mouth can move. But ask him about Raffles City, and the tourism investor's voice truly reaches fever pitch. Wu, the co-founder of the NGO Chongqing Cultural Relic Protection Volunteer Service Team, has been one of the project's most ardent critics. He's concerned that the entire area will become associated with Raffles City. "We think Chaotianmen will be forgotten by everyone," he says.
Chaotianmen has always been central to the city, says Wu. It was the city's main port, its gateway to the world beyond. During World War II, when Chongqing became China's provisional inland capital, Chaotianmen was where refugees arrived and soldiers departed for battle. Later, during the decadelong Cultural Revolution, students sent to the countryside to be "re-educated" by farmers bade the city farewell at Chaotianmen. Located where Chongqing's two rivers converge, it was the nexus where ferries made the various riversides into one city. In Wu's youth, Chongqing was poor and lacked bridges and railroads. Whenever a boat arrived, it meant there would be food that was otherwise unavailable — fruit, meat, biscuits. "Even though I was little, not even 10 years old, I could still carry a lot of food, because the food would make my life better for the next half-month," he says. "I was never happier."
CapitaLand acquired the plot of land next to Chaotianmen in 2011, and construction began a year later. Wu started paying close attention in 2015, when a piece of the old city wall was excavated on the construction site. He and several dozen other signatories sent a proposal to the government arguing that the wall should be preserved and put on display. Though about 160 meters was found, only 52 meters will be retained, he claims. A CapitaLand spokesperson says the government is still investigating how best to preserve the wall. Because construction was temporarily halted, the tower where the wall was found is still noticeably shorter than its counterparts.
Last year, the government of Yuzhong District, which administers the Chaotianmen area, published a development plan listing many areas as culturally and historically significant. Chaotianmen, however, was designated as a "modern services area." It was the wrong signal to people like Wu. "It completely disrespected the reverence that Chongqingers have for Chaotianmen," he says. In January, Wu was a signatory of an open letter to the municipal Party branch and government, asking for better access to and promotion of Chaotianmen. The local chapter of political party Jiusan Society called on the government to protect Chaotianmen's cultural and historical merit.
Wu didn't dare speak out too much at first, but says officials have become more open and responsive. He was invited to attend a consultative meeting to discuss his grievances. Wu's NGO colleagues still fear going on the record, however — ostensibly afraid to upset the government, which touts Raffles City as part of a high-profile Singapore-Chongqing agreement.
The fear that Chaotianmen Square might fade from memory seems at least partly based on a misunderstanding that stems from Raffles City's Chinese name: Laifushi Square, which some have interpreted as the new name for the entire area. This was never the plan, but it was so widely believed that the local government decided to explicitly refute it in December 2017. In July, a local government official told Shanghai-based financial outlet Jiemian that Raffles City's Chinese name was no longer "Laifushi Square," but "Laifushi Project." When asked who had ordered the name change, CapitaLand's spokesperson tells Sixth Tone that Laifushi is the Chinese name for Raffles City: "There has been no 'name change.'"
The CapitaLand spokesperson stresses that Raffles is just a part of the Chaotianmen area and won't suppress its history. Before, the area had few big structures. "Suddenly, there's this relatively large project, and people need to get used to it," she says. Access to the square will remain easy, with an improved road layout and a new subway station inside Raffles City, she explains. "Everyone knows it will be a calling card for Chongqing; they just hope it won't be so famous as to make people forget Chaotianmen."
As a former photojournalist, Wang Yuanling has seen his hometown take on its sci-fi aesthetic. He recently curated a photography exhibition called "Witness Chongqing," that showed the city's 40-year history since 1978, when China's marketization reforms began. While he says that "nobody in Chongqing likes Raffles City," he's not concerned, saying that rebuilding the city in a bold way fits Chongqing's eccentricity. "If you're wearing bizarre and foreign fashion and then add a wild hairdo, I think that's understandable," he says. "If developments were ordinary, people would curse them, too."
Chongqing's history has been one of transformation. It's gone from an undistinguished inland port to a wartime capital, and back to relative obscurity as an industry town after the Chinese Communist Revolution. The city was "shabby," Wang says, until the national government first allocated more funding for it in 1983 and later, in 1997, cut Chongqing out of southwestern Sichuan province altogether to make it one of just four centrally administered municipalities. Over the last decade, Chongqing's economy grew the second-fastest of all province-level areas, according to the National Bureau of Statistics. Satellite imagery on display in "Witness Chongqing" shows the city exploding in size in the span of mere years.
Though Chongqing is still little-known outside of China, the city's domestic fame is growing. It has become a trendy tourism destination after sights in the city went viral on video apps Douyin and Kuaishou earlier this year and has for some time laid claim to being the home of China's hip-hop scene. The city's spicy brand of hot pot is a must-eat for foodies. Whereas the residents of other Chinese megacities have long been proud to be Beijingers or Shanghainese, Chongqingers' view of themselves has only recently started to shift. "We only really realized we had our own identity in 1997," says Wang, who is 38. "It's been about 20 years since we became directly governed, so Chongqing is like a young person. When you're 20, you're searching for who you are."
During those two decades, Chongqing has been compared to big cities abroad — "China's Detroit" or "China's Chicago." Not long ago, it was in vogue to say Chongqing was becoming "the Chinese mainland's Hong Kong." The Yuzhong peninsula is reminiscent of Manhattan, a likeness the city once embraced: Across from the Chongqing Times Square shopping mall stands the New York New York Tower, which was built in 2004 and resembles the Empire State Building. "In that decade, Chinese people idolized foreign things," says Xu Qianli, head of the Chongqing Architectural Design Institute, a state-owned architecture firm legally required to be the Chinese associate for Raffles City.
But as confidence in Chongqing's own culture has grown, those sentiments seem a thing of the past. Raffles City's foreign roots — it has Singaporean developers and a design by Israeli-Canadian-American architect Moshe Safdie — have been widely questioned and criticized by Chongqingers. Many think the building, with its "sky bridge" linking four towers, is too similar to Singapore's Marina Bay Sands Hotel — also a Safdie design, with the three towers famously linked by a "SkyPark." People feel slighted that foreign investors apparently thought a seemingly reused design would be good enough for Chongqing. Xu, too, was surprised when he first saw the design, which was before he took up his current position. "It didn't look fit for the Chongqing of today," he remembers thinking. "If it had been a small city, imitating a well-known building would have been understandable. But Chongqing has turned into a big city and is becoming more international." However, he points out that architects have their own style and that their designs might resemble each other.
A studious man dressed in the sober black-and-white attire of a Chinese official, Xu's replies are lengthy — with a doctorate in architectural history and theory, he clearly relishes the opportunity to talk shop — but measured. He acknowledges that much of the criticism toward Raffles City is reasonable but believes that people's perception of buildings is shaped too much by the way they look. Once people get to interact with Raffles City and enjoy its mall, they will warm up to it, Xu thinks.
To Chu Dongzhu, professor and vice dean of the architecture and urban planning faculty at Chongqing University, Raffles is a jolt to the city, in both positive and negative ways. It's a reminder that taller buildings are inevitably the way of the future, but also that you shouldn't give them front-row seats. A popular criticism is that the towers look like a wall from certain angles due to their sheer size and tight arrangement. To Chu, the city's unique rivers-and-mountains landscape is a public good that shouldn't disappear from view. "We shouldn't fear or reject buildings that shock you," he says. "But just because you want to shock people, you shouldn't deprive me of my right to enjoy nature."
In May, the Chongqing government published a notice to pause all construction along nearly 400 kilometers of the Yangtze and Jialing riverside in the city center. The document explains that the move should "avoid a lack of coordination between ongoing construction in the 'two rivers, four banks' area and newly planned construction, resulting in low-quality buildings and duplicate renovations." Chu thinks the notice might be in part inspired by the backlash to Raffles City but says it's about more than that. In 20 years, Chongqing went as fast as it could from nothing to something. "Now we need to go from having something to making it better," he says.
The notice excludes urgent and public welfare projects, and Raffles City's construction continues apace. It's futile to harp on how things ought to be, Chu says. "The city is never going to stop changing." At least the building has become a topic of discussion that has people, including foreign architects, paying attention to once-obscure Chongqing, he adds. "The only thing that can console me is that this place will be a miraculous sight that cannot be replicated in any other Chinese city." And he admits that the building itself will be grand. Many people have asked him for advice on whether to buy an apartment in Raffles City. He's told them to go for it. "Sitting there, looking down at the Yangtze River, watching the water rush downstream," Chu says, "that's a view you won't see elsewhere."
Across the Yangtze, amateur fishers line the waterfront in the late afternoon. Ni Xinhua, a retired sausage-maker, makes his way down to the river every so often. Today, he's only caught one fish. Ni says Chongqing has changed entirely during his life: "You'd get lost trying to find the places from our youth." But all this development has given the people of the city a sense of pride. He thinks Raffles City looks great. "It's majestic," he says.
But few people along the promenade agree. Zhang Huiqing, a stay-at-home mom in her 40s whose hobby is fishing, has come to check on her friend. The man has five rods set out but isn't having much luck today. When one rod moves, he tries to pull in his catch, but eventually the line snaps. As Zhang watches out over the water, she has few good words to spare for Raffles City. "It's not creative; it looks too much like that Singaporean building," she says. "Chaotianmen Square is our landmark, and now it's been built into a dense mess."
Zhang complains about money — Chongqingers are poor; life is expensive. But despite her criticism of Raffles City, she says, "If I could afford it, I'd still buy a house there."
Additional reporting: Wu Yue; editor: Julia Hollingsworth. 
(Header image: A man looks at the Raffles City construction site from a high-rise in Chongqing, Nov. 8, 2018. Wu Yue/Sixth Tone)