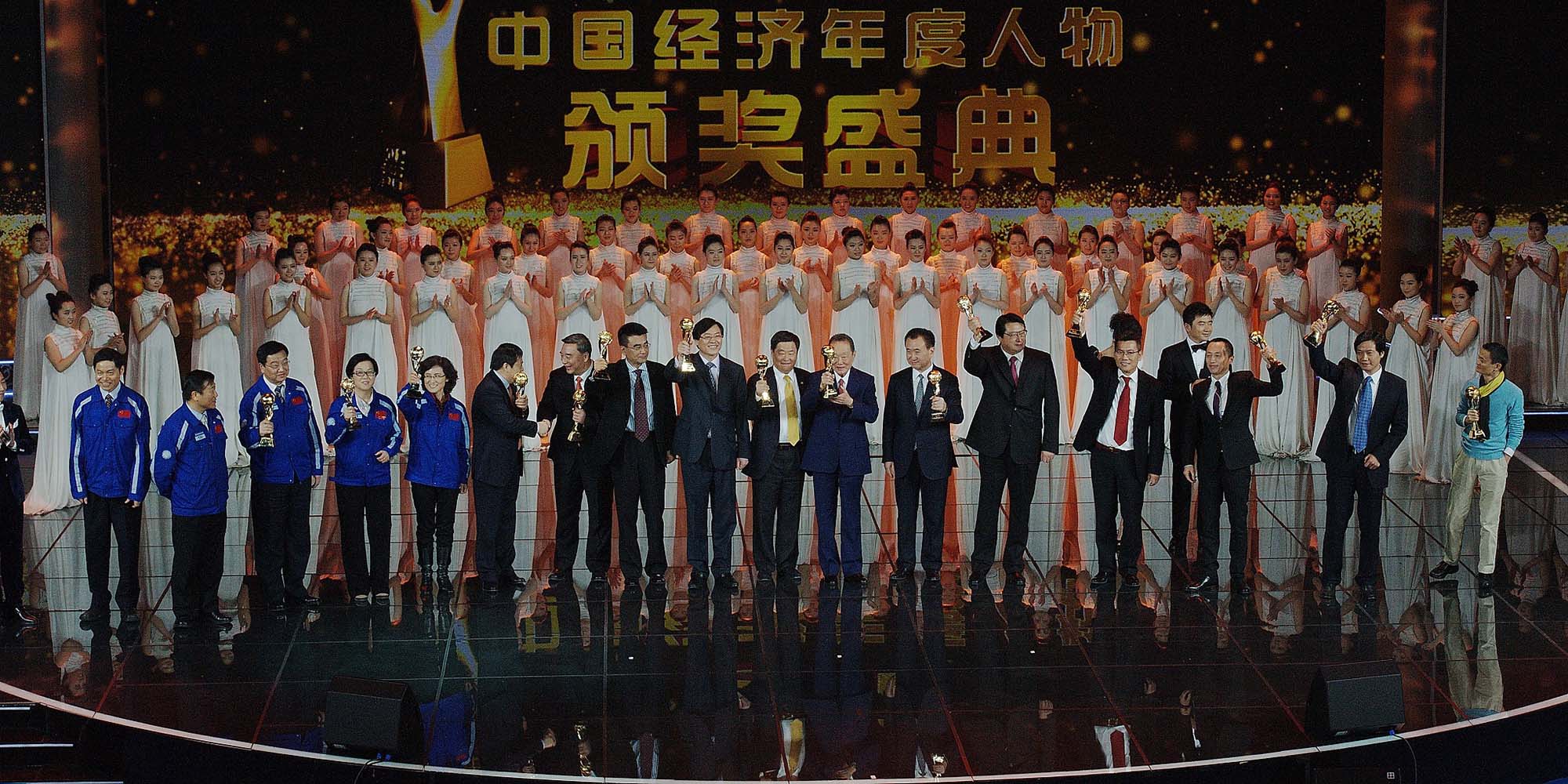 NEWS
China's 'Double 12' Shopping Day: A Small History of Big Bets
Sixth Tone highlights the high-profile wagers made by some of the country's biggest entrepreneurs on and around the December e-commerce festival.
"Double 12" — Dec. 12 — is one of China's most celebrated online shopping festivals. This year, it's also the day on which two of the country's most successful entrepreneurs are expected to settle a bet five years in the making.
On this day in 2013, national broadcaster CCTV bestowed the title of China Economic Person of the Year on Lei Jun, who had founded smartphone company Xiaomi just three years prior. During the awards ceremony, Lei turned to Dong Mingzhu — chairwoman of the well-established home appliance company Gree Electric Appliances Inc. and a co-winner of that year's prize — to issue a challenge: Confident that smart technologies would all but guarantee the future success of his company, Lei wagered that in five years, Xiaomi's annual revenue would exceed Gree Electric's. At stake: a whopping 1 yuan — or around 14 cents.
Dong — who ascended the corporate ladder from the rank of salesperson, earning the nickname of China's Iron Lady in the process — scoffed at Lei's bluster. "There's no way Gree would lose," she said, according to media reports from the ceremony. Dong upped the ante to 1 billion yuan ($145 million), telling Lei that he could go big or go home.
The host of the awards ceremony had Lei and Dong seal the deal by facing one another and locking eyes for three seconds. Lei said onstage during the ceremony that he sensed a killer instinct behind his rival's eyes.
Though gambling is prohibited by Chinese law, high-profile wagers made by and among the country's elite seem to be exempt from punishment. According to several lawyers who spoke to Sixth Tone on Monday, such bets are nonbinding and as such would never be admissible in court. "Academically speaking, legal scholars believe these types of bets can be seen as a form of contract," Ding Dalong, an Anhui-based criminal lawyer, told Sixth Tone. "However, in practice, Chinese courts rarely accept such cases."
For a time, the bet faded from the country's collective consciousness. Then in March of this year, media interviewed Dong at a session of the 13th National People's Congress, China's legislature. Dong — who had attended the meeting as a delegate — seized the opportunity to take a potshot at Xiaomi, boasting that even if Xiaomi were to file for an initial public offering, she liked her odds. "The bet is not about market value, but revenue," she reminded skeptics.
Xiaomi did file its IPO a few months later, in July, and through the first three quarters of 2018, its revenue totaled 130 billion yuan. Gree, meanwhile, made nearly 150 billion yuan over the same period, according to the company's financial reports.
However, if this high-profile wager plays out like its predecessors, a big payoff on Wednesday seems unlikely. If there's one truism to be gleaned from Lei and Dong's gamble — or the handful of similar ones to have come before — it's that publicity is priceless. Here are a few of the most notable Double 12 bets from the past decade.
Wang Jianlin vs. Jack Ma: 100 million yuan
The bet: At the 2012 ceremony for CCTV's China Economic Person of the Year award, Wang Jianlin, the founder of real estate conglomerate Dalian Wanda Group, proclaimed that if e-commerce were to account for over half of China's retail market in 10 years' time, he would give Jack Ma, the founder of e-commerce empire Alibaba, 100 million yuan — to which Ma responded, "If Wang wins, it will mean a loss for our society."
The result: In the year that followed, Alibaba expanded its reach substantially, prompting Wang to walk back his wager, dismissing it as a joke.
Wu Xiaobo vs. Pan Shiyi: a Louis Vuitton scarf
The bet: In September 2009, the well-known finance and economics columnist Wu Xiaobo posed a question on microblogging platform Weibo: Should the government abolish a preferential tax policy that made it cheaper to buy homes on the secondhand market? Real estate magnate Pan Shiyi later responded under Wu's post, saying that by his estimation, the policy in question would be canceled by the end of the year. Wu in turn quipped that he would happily accept a scarf from French fashion house Louis Vuitton as payment should Pan's hunch prove wrong.
The result: The central government canceled the tax policy that December, and Wu lost his own bet.
Ren Zhiqiang vs. Guo Jianbo: streak of shame
The bet: In 2012, the outspoken real estate tycoon Ren Zhiqiang predicted that housing prices would rise by March 2013. But Guo Jianbo, the CEO of a competing company, strongly disagreed. In fact, he was so confident in the housing market's continued slump that he volunteered to run 10 kilometers around Beijing — naked — if he turned out to be wrong. Guo added that if Ren ended up being wrong, he would accept a public apology on social media.
The result: As Ren predicted, the housing market rose, and Guo's pride sunk. Guo never jogged through the capital's downtown Sanlitun area in his birthday suit, but he did post an image of himself as a nude cartoon, covering his private parts while apologizing to a fully clothed Ren.
Wang Jianlin vs. Shi Yuzhu: 0.1 percent ownership
The bet: In 2012, Shi Yuzhu, the chairman of one of China's most successful online gaming companies, set his sights on Wang Jianlin. The real estate mogul had predicted a bullish housing market in the second half of 2012 — but Shi took to Weibo to disagree with Wang and asked him if he'd care to put his money where his mouth was in the form of 0.1 percent ownership of Wanda. Today, such a stake would be worth billions of yuan by conservative estimates.
The result: It's unclear whether Wang accepted the wager, but the market turned out to be a bear, and he inevitably dismissed the bet as a joke.
Zhang Jindong vs. Liu Qiangdong: entire company
The bet: Also in 2012 — a big year for business bets — Zhang Jindong, the founder of home appliance maker Suning, posted on Weibo that if e-commerce giant JD.com grew larger than Suning, he would hand the keys of the company over to JD.com's founder, Liu Qiangdong, aka Richard Liu. Although Zhang didn't specify which growth metric he had in mind, the public interpreted his statement as referring to revenue. Liu later accepted the offer, saying that if he won, and took control of Suning, he would give 100 million shares of the company to whomever retweeted his Weibo post.
The result: JD.com did not outperform Suning that year, and so no ownership stakes changed hands.
Correction: A previous version of this story included a subhead that mistakenly read "1 million yuan" instead of "100 million yuan."
Editor: David Paulk.
(Header image: The winners of CCTV's 2012 China Economic Person of the Year award take a group photo at a ceremony in Beijing, Dec. 12, 2012. VCG)