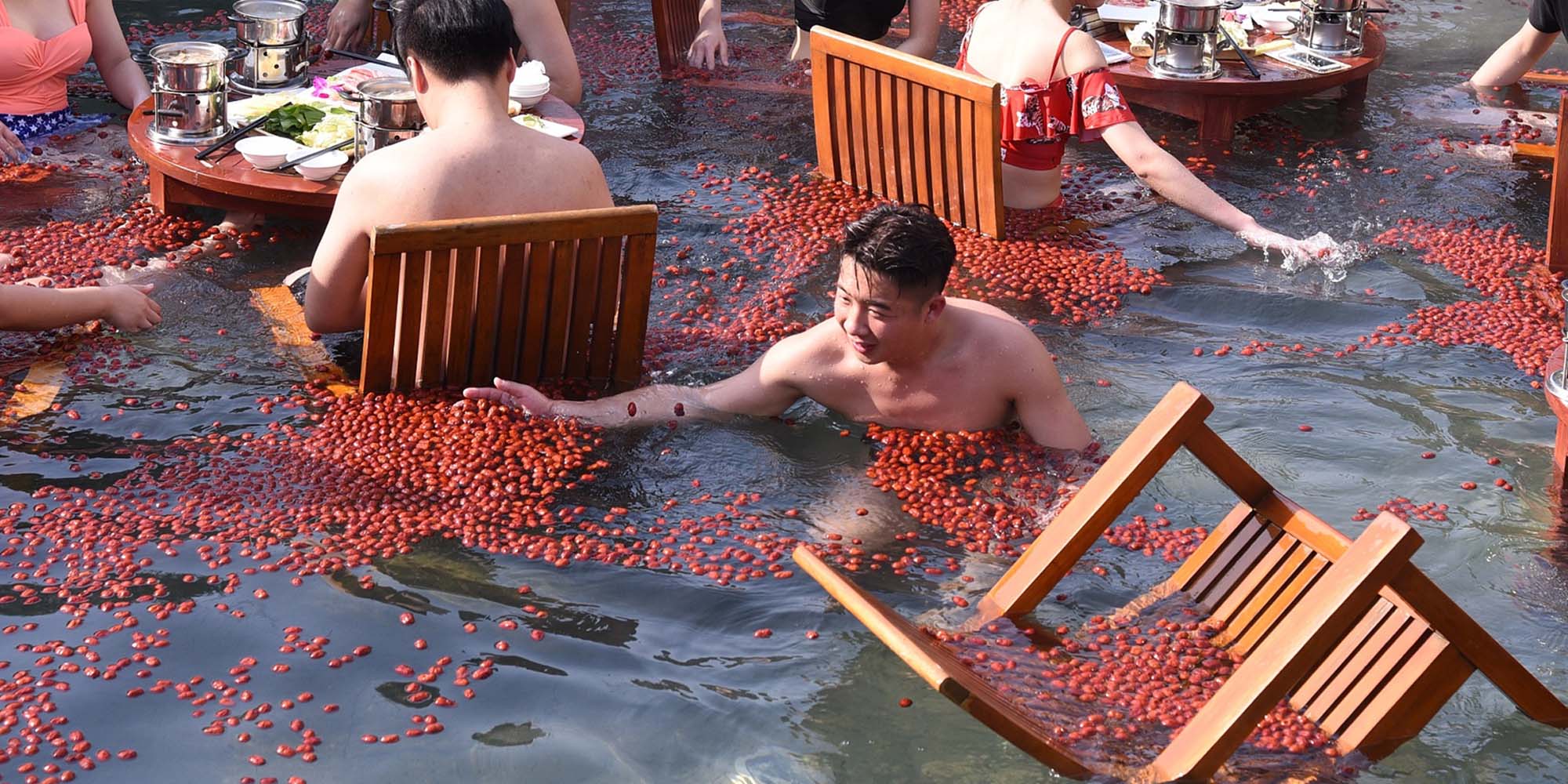 FEATURES
The Half-Hearted Health Fad of 'Punk Yangsheng'
The group of young Chinese who swear by health teas — but still stay up late drinking beer.
SHANGHAI — During November's 'Double Eleven' online shopping bonanza, many Chinese 20-somethings binged on discounted electronics, cosmetics, or clothing. But for 28-year-old Guo Shu, it was a chance to add foot-bath herbs and a new tea kettle to her cart.
Guo adheres to yangsheng, a diffuse collection of wellness beliefs and activities that share the health principles of traditional Chinese medicine. Typically the domain of middle-aged people who do tai chi and sip tea, yangsheng has lately become a fad among younger Chinese. By balancing the indulgences of modern life with the health tips of their grandparents, they have created what has been dubbed "punk yangsheng."
"Eating spicy Sichuan cuisine and drinking chrysanthemum tea," Guo says, laughing as she gives an example of mixing the unhealthy with the healthy. Other punk yangsheng combinations are drinking goji tea after having a beer or using expensive eye cream to compensate for staying up too late. According to yangsheng principles, women on their periods should eat jujubes and avoid cold drinks; eating jujube-flavored ice cream is peak punk yangsheng.
Guo has a hectic job as a marketing manager for an online tourism company in Shanghai. She often arrives home at around 9 p.m. — sometimes later, if she has social events. "I have very little personal time," Guo says. Frequent business trips are taxing. Visiting too many countries with different foods and microbes has given her indigestion. "Add that to long travel times, little time to relax, bad sleep, and different eating habits; my stomach couldn't adapt," Guo says.
Her upset stomach lingered for weeks until she had time to visit a hospital, where a doctor told her she had altered gut microbiota — a change in the bacteria responsible for maintaining healthy digestion. She took Western medicine to treat her illness, but also started learning about yangsheng. "Western medicine is for treatment, but it isn't for recuperation," Guo says. "I thought I should change my lifestyle and take care of myself."
Guo searched for information on Xiaohongshu — a social networking and e-commerce lifestyle app popular among young people, whose slogan is "world's best lifestyle at your fingertips." Bloggers and female celebrities share and advertise yangsheng products that mix wellness with beauty and fashion to young customers like Guo. According to e-commerce giant Alibaba's 2017 health consumption report, more than 50 percent of yangsheng buyers are under 30. The report found that the young buyers tended to search for instant-but-healthy foods, reflecting their desire to stay healthy without making too much of an effort to do so.
Queen Yangsheng House in Shanghai's Yangpu District provides yangsheng spa services such as traditional Chinese medicine (TCM) techniques like meridian treatment and moxibustion, as well as quick-fix indulgences like a plant-based treatment that looks like chocolate balls. Most customers are women between 20 and 40, says owner Zhang Siqi. "Because they're suffering from certain physical problems, young customers start to get interested in yangsheng and find us," Zhang says. "They are white-collar workers wanting to improve their physical health." According to media reports, balding young men are also turning to yangsheng measures like eating sesame or using ginger shampoo when doctors of Western medicine haven't offered a straightforward cure.
Guo wanted to find ways to lower her body's moisture level — a negative force believed in TCM to be responsible for ailments like bad skin, feeling cold and tired, and having a bad stomach. Armed with advice from friends and internet strangers, Guo now drinks tea made from an instant powder of red beans and a type of grain, sticks plasters with wormwood paste on the soles of her feet and puts warmth pills made from plants and spices on her navel. "It's just like going to a spa," Guo says.
Yu Zhengwei, 25, is one of China's better-known young yangsheng advocates. When Sixth Tone visited his apartment, he showed off his extensive collection of plants and other ingredients: dried ginseng flowers, ginseng wine, goji honey, angelica roots, and many more. He graduated from a vocational school, majoring in Chinese cuisine, and has experience working in a hotel kitchen preparing high-end foods such as swallow's nest and sea cucumber, which are also deemed to be yangsheng.
Now, Yu is a real estate agent in Nanjing, capital of Jiangsu province in eastern China. He grows more than 10 types of vegetables in the unused garden of a client's house. "Growing vegetables can calm my mind, and I feel a sense of accomplishment when I see my plants," he says. Yu's yangsheng lifestyle is more orthodox than punk. He keeps a light diet of mainly vegetables, doesn't eat takeout, hot pot, or barbecue, doesn't go out for drinks at night, and often uses his own plants to make food or tea.
Yu got his yangsheng knowledge from reading books about TCM and by reading WeChat accounts on psychology, Chinese history, and feng shui. He discusses yangsheng with his clients who are doctors or yangsheng adherents. Yu's favorite ingredient is ginseng, which is believed to have all kinds of health benefits. He drinks ginseng tea or adds ginseng when making dumplings and other dishes. "I wouldn't call it yangsheng: I'm just changing the way I live," Yu says. "But other people think my healthy habits are yangsheng. My friends in particular would say that my yangsheng is so effective, my skin looks better."
For Yu, yangsheng is very personal, with the most effective methods depending on an individual's body. "I've participated in many different yangsheng lectures, and every expert actually speaks from their own experience, or based on the people they're talking to," Yu says. "Different people might not have the same understanding or the same use for the same ingredients." He doesn't think it is necessary to do any testing: "I think that yangsheng, TCM, and lots of things are all passed on through generations. I don't need to research their veracity. I believe in the things of our ancestors."
The truth behind yangsheng is something Shanghai-based consultant Bai Mengyuan, 26, has struggled with. She gets most of her yangsheng advice from her grandparents, who cut out articles about the healthiest foods to eat per season from their local newspapers. Bai sees yangsheng as part of Chinese culture. "To judge whether a person is actually doing yangsheng, I will look at how they keep healthy," Bai says. "If the person just keeps running and cares about protein and vitamins, it's not yangsheng."
Since childhood, Bai has formed habits that she says are healthy: From the beginning of autumn, she will stop drinking cold beverages and will start taking foot baths every day. When Bai eats, she takes note of the size of her bites and how she chews — depending on the food, eating too big and too fast is considered unhealthy. She has a love of foot massages, which she says comes from her mother, who knows how every acupuncture point on the feet relates to the body and has experimented with everyday items like a comb and a rolling pin to produce medicinal effects.
Bai follows several popular science WeChat accounts, such as Dingxiang Doctor and Guokr, and the more she's read, the more she's come to question some of yangsheng's tenets. "We always say eating red jujubes can enrich the blood, but I gradually found out that it is just because there is sugar inside of jujubes," Bai says. "If you have anemia, you should eat more food that contains iron. Eating jujubes doesn't work well." Nevertheless, she won't change her ways. "I like my life," Bai says. "I'm not sure what it would look like if I didn't have such habits."
Editor: Kevin Schoenmakers.
(Header image: People dine alongside floating jujubes in a hot spring in Hangzhou, Zhejiang province, Dec. 10, 2017. VCG )