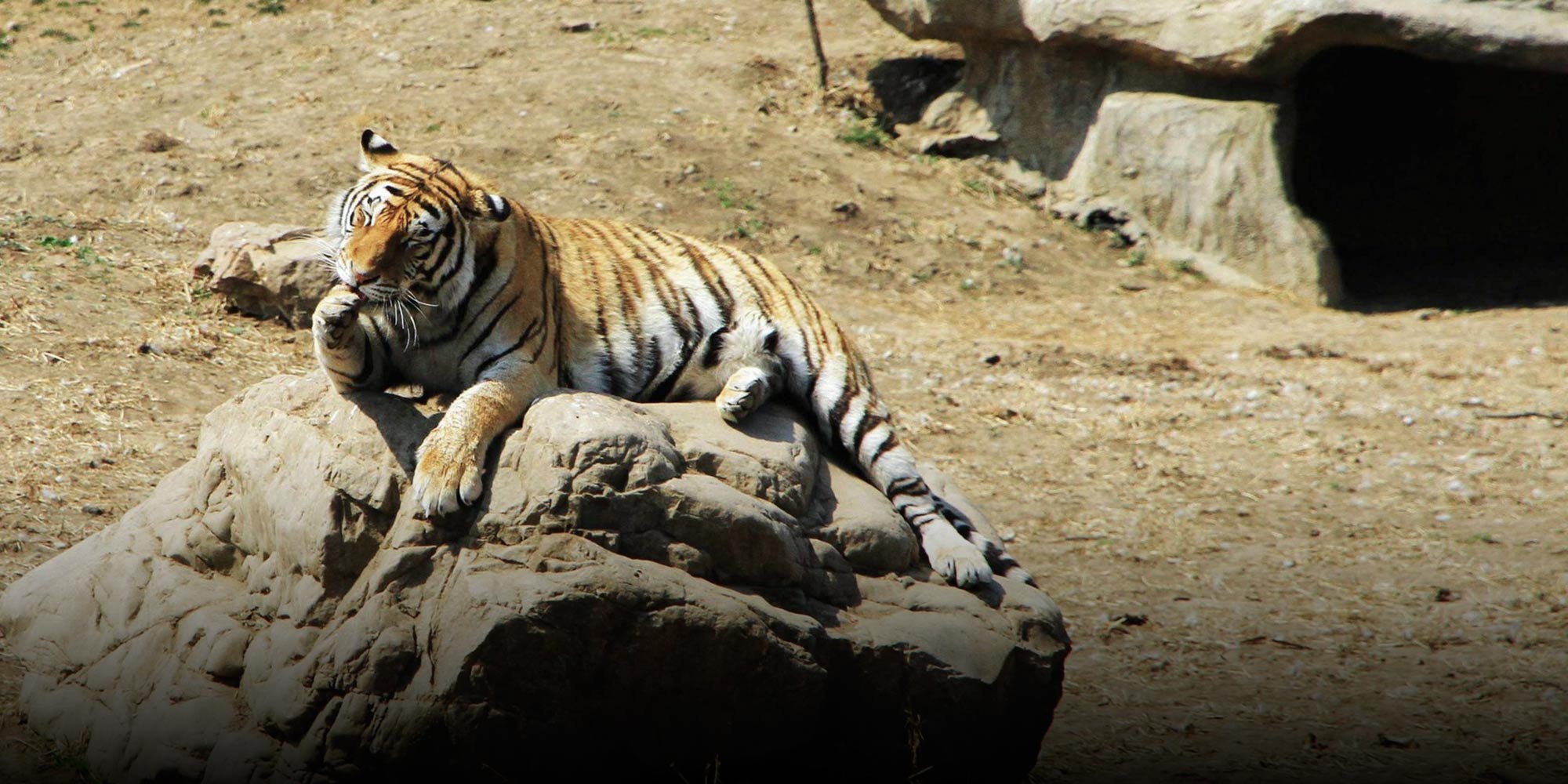 VOICES & OPINION
Animal Kingdoms: Why China's Zoos Are Getting a Facelift
After decades of neglect, the country's zoos and wildlife parks may finally be on the right track.
This is the first piece in a series on China's zoos.
Yang Yi has been a zookeeper for 21 years. Currently, he's responsible for the Americas section of the Beijing Zoo, where, for the past seven years, he's cared for a rich menagerie: everything from two-toed sloths to giant anteaters and capybaras. But it's the sloths that made him famous.
For years, domestic zoos struggled to breed sloths. Fussy on the best of days, when pregnant, females of the species require highly specialized attention. Most Chinese zookeepers in the past were generalists and lacked critical information about pregnant sloths' dietary needs. Yang was the first person in China to successfully figure it out. His secret isn't much of a secret, however. He gave the sloths in his care what any animal would want: meticulous tending and a comfortable home.
Unfortunately, not all of the Beijing Zoo's exhibits are as cozy as the sloth habitat. Some of the zoo's animals are still housed in iron and cement cages that are more prison-like than picturesque. This split is a microcosm of the state of China's zoos: In some fields, they're improving rapidly and introducing new equipment and ideas, while in others, old practices persist.
Roughly speaking, Chinese zoos can be divided into two types: city zoos and suburban wildlife parks. The Beijing Zoo, where Yang works, is a classic example of a city zoo. As the name implies, these attractions are located in urban areas, not far from city centers, and are generally run publicly. Many of them face size constraints — a consequence of their cramped urban environs and age — and have seen better days.

It wasn't always this way. Although it traces its roots back to over 100 years ago, the Beijing Zoo's most recent golden age spanned from the opening-up of China in the late 1970s to the 1990s. For two decades, the country's zoos were in a mad dash to collect exotic animals from all over to satisfy the demands of curious Chinese, who saw wildlife as another way to understand the outside world. Since the 1990s, however, many city zoos have been beset by poor attendance and declining ticket revenue as they've fallen behind their more market-oriented peers. In particular, they've struggled to keep up with the growth of large, crowd-pleasing wildlife parks in the suburbs.
If you were to ask someone to explain the history and vision of China's wildlife parks, they'd be hard-pressed to give a coherent answer. Some parks expanded out of former zoos that were relocated to the suburbs; others were founded independently — but almost all of them were characterized by a strange mishmash of big ideas and little oversight. Especially in the early years, park designers and managers seemed to have free rein to do whatever they wanted — sometimes to the detriment of their animal charges. It's only been in the past few years that the industry seems to have finally settled down.
The Shenyang Forest Zoo, in the northeastern province of Liaoning, has seen both the highs and lows of this model. In the 1990s, in order to make way for urban development, the Shenyang Zoo was moved from the city to the suburbs a 30-minute drive away. Turned into a private enterprise after the move, its new overseers quickly dug the park deep into debt. The result was tragedy. By 2010 — the Year of the Tiger — it became so dire, 11 of the park's tigers starved over a period of months. When news of these deaths broke, it sparked a public outcry, and accusations of managerial misconduct quickly spread online.
The incident became a turning point. Months after the tigers' deaths, the city government took over the zoo, functionally deprivatizing it. A new park head was appointed to clean up the mess the previous mangers had left behind, and they embarked on a reform and renovation spree, updating equipment and procedures park-wide. Eight years later, the wildlife park in Shenyang is, in my opinion, one of the best-run and most enjoyable in northern China, and is one of several new-style zoos changing the way the public interacts with wild animals.

The biggest change the park's new head made was conceptual. Traditionally, China's zoos could best be described as a kind of art gallery: The animals would be framed and displayed, not allowed to wander freely. In those days, the typical Chinese zoo exhibit consisted of a cage with an animal inside, and perhaps a sign denoting which cat was a tiger and which was a leopard. And locked up, the animals themselves could only loll about in anticipation of their next meal — not exactly a thrilling spectator experience.
New-style wildlife parks, such as the revamped Shenyang Forest Zoo and the Chimelong Safari Park in the southern province of Guangdong, have changed things by placing a greater emphasis on imitating species' natural habitats. In the former's newly built "Dense Forest and Deep Valley" section, elk are given marshy grounds on which to roam, and Himalayan blue sheep steep cliffs to climb. It's a far more enjoyable — and less guilt-inspiring — experience than the sight of a despondent tiger in a cage.
The evolution of wildlife parks from a largely unregulated and occasionally exploitative industry into a popular weekend destination has pushed city zoos to try and keep up. Over the last five years, many formerly outdated zoos have undertaken modernization projects or built new exhibits. The Beijing Zoo, for example, has renovated a number of its exhibits in recent years, though progress remains slow. One of its more successful new projects is a giant salamander habitat that seeks to mimic the cold-water streams found in the salamander's native mountains.
The Beijing Zoo and the Shenyang Forest Zoo are representative of the two sides of the industry in China. But their differences are not what matters: You can build an excellent zoo anywhere, whether downtown or in the suburbs. More important is a shared commitment to rethinking the way China's zoos look and work. As experience attests, it's vital that zoos remain on this path, not just for their own long-term financial viability, but also for the well-being of the animals in their care.
Translator: Matt Turner; editors Wu Haiyun and Kilian O'Donnell.
(Header image: A tiger basks in the sun in Shenyang Forest Zoo in Shenyang, Liaoning province, April 15, 2017. Liu Bocheng/IC)