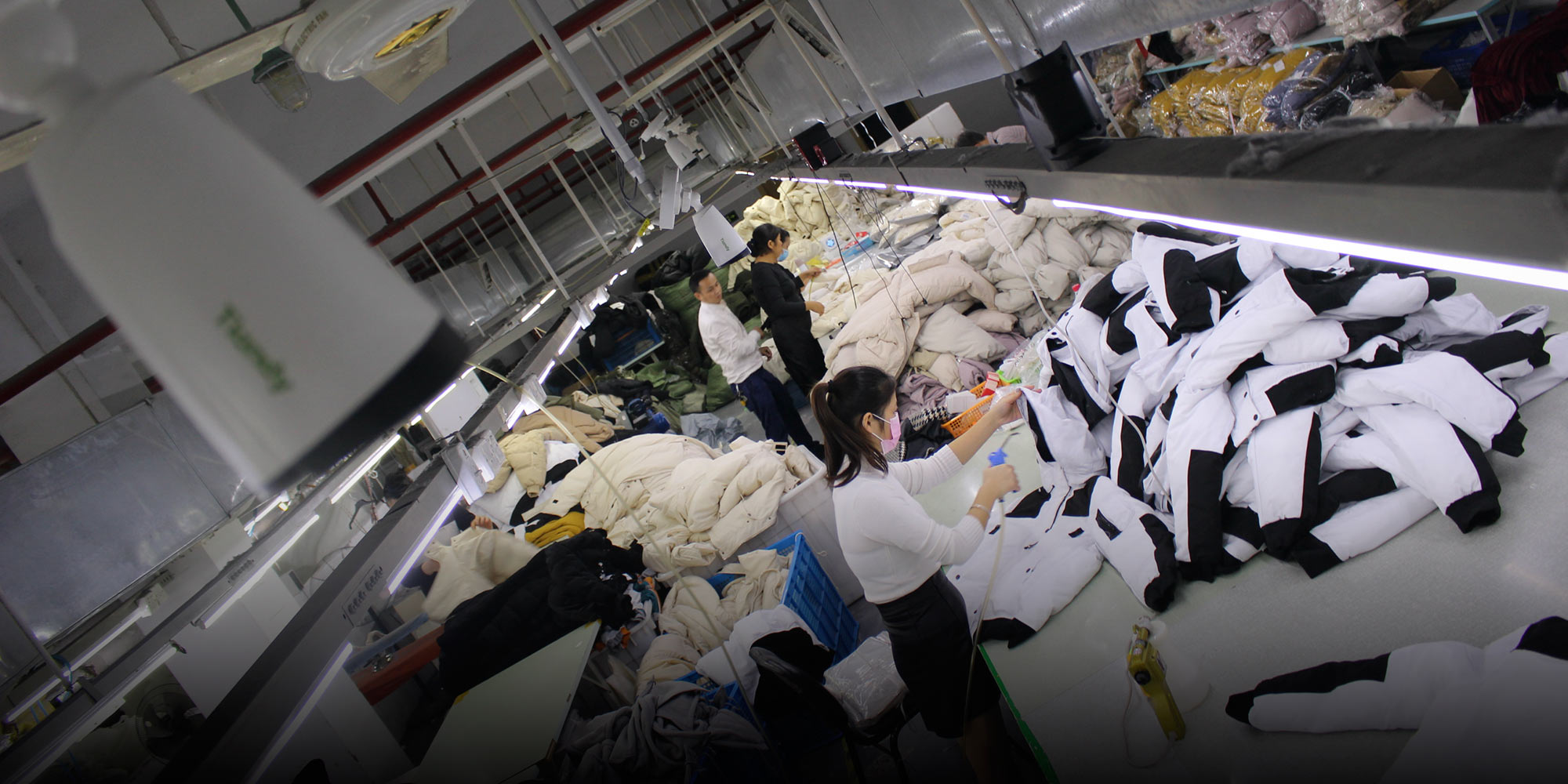 FEATURES
Saving Stitches: Alibaba's Clothing Revolution
Not content with dominating the shopping scene, China's tech giants want to change manufacturing. But could Alibaba end up with too much power?
ZHEJIANG, East China — The week right before China's biggest shopping festival is usually utter chaos for the country's garment factories. Workers sew around the clock, hoping to meet demand from shoppers during e-commerce giant Alibaba's annual Singles' Day.
But this year, a relaxed atmosphere set over Banzuo Garment Manufacturing Inc., an inconspicuous 2-year-old clothing factory on the outskirts of Hangzhou, the city Alibaba calls home. Workers in rows methodically cut and sewed pieces of fabric, and then passed them down the line while listening to music on their headphones.
"We used to say: 'The rising wind forebodes the coming storm,'" said Wu Jianfeng, Banzuo's stylish 30-year-old manager, quoting a Chinese poem. For the previous two Singles' Days, he's had to run up and down the stairs, juggling calls from customers on his six phones, sometimes simultaneously. "But now, everything is taken care of," said Wu, sipping tea in his office armchair ahead of this most recent Singles' Day on Nov. 11.
The secret behind this year's calm: the 20 cameras installed in June that constantly film Banzuo's 600-square-meter manufacturing floor. As the factory workers make clothes, the devices capture their movements and send the footage to a server placed in the factory by Alibaba. The server then uses gesture recognition technology to convert the workers' movements into data that calculates the amount of clothing items made and sends the data to Alibaba Cloud. On Alibaba's app DingTalk, Wu and his customers get real-time updates on the status of the orders and their estimated completion date. Wu doesn't have to plan out his production schedule based on his own estimations: The app provides him with the best production plan based on its algorithms, and both Wu and his customers get push notifications if anything is delayed. "It's like building a virtual factory," said Wu, "I can see everything happening in the factory in an app."
Banzuo is among 20 garment factories that have already rolled out Alibaba's ambitious "New Manufacturing" plan, which aims to revolutionize the country's traditional manufacturing sector alongside the government's "Made in China 2025" initiative. But while the plan helps manufacturers, vendors, and shoppers alike, some experts warn that it may end up putting too much control in the hands of China's tech giants.
Alibaba's plan comes at a time of painful restructuring in the clothing manufacturing industry. Although China is still the world's biggest clothing exporter, it's losing its competitive edge to lower-cost workforces like those in India and Vietnam. In a bid to reclaim lost ground, China's manufacturers are looking to get ahead in other ways, including increasing their quality and efficiency with the help of the country's tech giants. Eventually, Tao Factory, the supply chain management subsidiary of Alibaba, plans to partner up with Alibaba Cloud to upgrade 200 traditional garment factories using the Internet of Things and artificial intelligence by the end of 2018. Their hope is to give shoppers and garment retailers exactly what they want, when they want it — and Tao Factory general manager Yuan Wei said that increasing efficiency might have the added benefit of helping traditional factories survive and changing the stigma attached to "Made in China" labels.

At Banzuo, the changes from Alibaba's flagship plan have already been noticeable. Wu is now taking orders from both individual shoppers and online shop owners that found him on DingTalk. According to Alibaba, the 20 clothing factories currently involved in the scheme have cut delivery times by 10 percent. In the past, Banzuo took holidays over June and August due to weaker demand and struggled to find enough workers during peak seasons, such as Chinese New Year. Now, the factory has no off-season and is rarely short-staffed.
But the biggest benefit is to the numerous small-scale vendors on Alibaba's shopping platform Taobao. Before opening Banzuo, Wu ran a clothing store where he sold his independent designs. "The most painful thing was finding a factory willing to manufacture your design and [then] checking on the order status," said Wu. For small- and medium-sized Taobao shop owners, finding a factory can be hard enough, and even once they've found one, the factory might not be interested in producing a small volume.
That was once a problem for Fan Junjie, the manager of 9-year-old Taobao store 13C, which sells chic and modern women's apparel and has over 4.5 million followers. Like many other Taobao stores, Fan focuses on superfast fashion and carries a wide variety of trend-based designs that are only sold for a couple of months. Even before Alibaba's new initiative, small vendors could afford to be experimental, given that they're freed from the bureaucracy and oversight of brick-and-mortar stores. If a product fails, it can be quickly withdrawn, and if it works, they can immediately contact the manufacturers to scale up.
But the current large numbers of digitally disconnected factories are slowing down the process, said Fan, as vendors have to hire quality-control inspectors to visit the factories in person and check on the order's progress. Fan opted to only work with factories in or around Hangzhou, because he was afraid of a delayed delivery date if the inspector had to travel too far. "If you delay deliveries for one day, you face the risk of losing customers," said Fan. "If you own an online fashion retail business on Taobao, you will know that time is money."
Over the summer, Fan became one of Banzuo's customers. He was able to find the best factory using DingTalk, and now gets notifications on his order's progress and estimated completion time. He can also check in on his order's status at any time by watching livestreaming videos — even if the factory is far away in southern Guangdong province, where there are more advanced clothing manufacturing techniques. "It's like building another Taobao, but for clothing stores and garment factories," said Fan, adding that the production process has already been shortened by three to four days, and he no longer needs to pay 5,000 to 6,000 yuan ($730 to $880) a month for a quality-control inspector.
Alibaba's not the only tech giant working to upgrade manufacturing. In August, a month before Ma's New Manufacturing announcement, Tencent launched a similar plan promising to bring the Internet of Things and big data to traditional manufacturing companies. The shift shows how both companies are looking for new ways to make money as their traditional income — selling to consumers — reaches its saturation point, said Liu Xuehui, founder of Beijing-based consulting firm, Lishi Business Review. Alibaba's latest earnings report shows that growth is slowing in its core commerce business, while its manufacturing-facing business is on the rise.
But concentrating control over the supply chain could be a security issue, experts caution. Under both Tencent and Alibaba's plans, control of manufacturing, selling, and distribution will mainly be in the hands of the tech giants. The vast amounts of data could make Alibaba — or other tech giants — more vulnerable to hacks, warned Wang Hongyu, vice president of Shenyang-based Siasun Robot & Automation Co., one of China's biggest manufacturing equipment makers. Although there haven't been any reports of hacks on Alibaba-powered factories, and implementation is in its initial stage, a hack could expose confidential information such as manufacturers' production techniques and vendors' order details. If these fall into the hands of competitors or are sold online, manufacturers and vendors could both suffer significant financial losses. Hackers could also manipulate the system by sending fake orders to the factories, causing them large financial losses. But these concerns don't worry Tao Factory general manager Yuan. According to him, there are multiple layers of security and encryption in the company's system, and in the future, the company may use blockchain technology to help with security.
And as tech giants consolidate power, traditional manufacturers who try to go it alone may struggle to survive. As Jack Ma said in September at Alibaba's annual Computing Conference, New Manufacturing will greatly impact China's traditional manufacturers in the next 15 to 20 years, making it hard for those without digital infrastructure to keep going. "[New manufacturing] will soon bring a wave of threats and opportunities to the manufacturing industry in China, and around the world," Ma said. "In the past, it would be impressive if an assembly line could produce 2,000 garments in five minutes. From today, making 2,000 different garments in five minutes will be more impressive."
That could be a double-edged sword, warns Liu, the consultant. "The New Manufacturing plan and the Made in China 2025 agenda are both in their initial stages, and tech companies are looking to use their technological advantages to be the first ones to create the standards," said Liu. He noted that, in the garment manufacturing industry, Alibaba has huge amounts of consumer data, giving it an absolute advantage over traditional manufacturers and other smaller tech companies when it comes to understanding and predicting production needs. "I still look forward to seeing more companies than just Alibaba and Tencent coming up with solutions to help traditional manufacturing," he said.
For now, New Manufacturing still seems good to Wu. He believes that soon, consumers will feel the benefits: shorter wait times after they've shopped, higher-quality products, and lower prices as the manufacturing process gets streamlined. He and his staff are already happy: Although Singles' Day is still his busiest time of the year, Wu's finally able to sleep in his own bed, rather than on the factory floor.
Clarification: This article has been updated to clarify that Alibaba's "New Manufacturing" plan is occurring at the same time as the government's "Made in China 2025" initiative. 
Editor: Julia Hollingsworth.
(Header image: Alibaba cameras are installed above the manufacturing floor of Banzuo Garment Manufacturing Inc. to synchronize the production process in Hangzhou, Zhejiang province, Nov. 5, 2018. Xue Yujie/Sixth Tone)