Chinese netizens are buzzing over Monday's news that the first Marvel blockbuster featuring a Chinese protagonist has been green-lighted for the silver screen.
The forthcoming flick "Shang-Chi" will borrow from the successful monoethnic formula of "Black Panther" by featuring a predominantly Asian cast. Dave Callaham — the Chinese-American writer behind "Wonder Woman 1984" and the "Expendables" franchise — has reportedly been tapped for scriptwriting duties.
By Wednesday evening, the trending hashtag "Marvel First Chinese Superhero Movie" had been viewed over 170 million times on microblogging platform Weibo. Under one post announcing the film, users initiated a roll call of Chinese actors best-suited for the landmark role, including Taiwanese-Canadian actor Eddie Peng, Hong Kong actor Daniel Wu, and even Guo Degang, the portly legend of Chinese crosstalk, a traditional comedic performing art.
"Shang-Chi" — meaning "Rising Spirit" in Chinese — is a kung fu-savvy superhero inspired by Bruce Lee who made his first appearance in a Marvel comic book in the early 1970s. The son of Fu Manchu, an evil billionaire with tired aspirations of world domination, Shang-Chi trains from a young age until he gains near-superhuman prowess in the martial arts. After being sent on an assassination mission, the native of central Hunan province learns of his father's nefarious ways and ends up rebelling against him.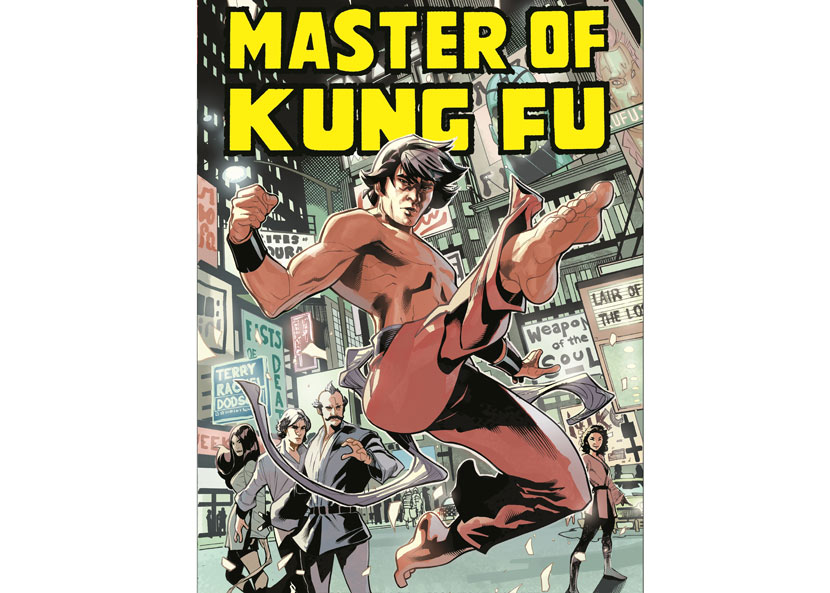 A promotional image from the comic book 'Shang-Chi: Master of Kung Fu Omnibus Vol. 1,' 2016. From Marvel's website
Largely because of the protagonist's father, some netizens were unenthused by the announcement. Conceived as a supervillain by the prolific British novelist Sax Rohmer in 1912, Fu Manchu was featured in over a dozen movies throughout the 20th century — often played by Caucasian actors like Peter Sellers and Christopher Lee — before being bought by Marvel.
Some academics have written about Fu Manchu as the embodiment of Western xenophobia during the perceived "yellow peril" of the late 19th to mid-20th centuries. In August of this year, Jon Sullivan, director of the University of Nottingham's Asia Research Institute, wrote: "Racist stereotypes like Fu Manchu and the Yellow Peril are repugnant and utterly anachronistic. And yet they underpin racist discourses, which serve as the basis of world views that are extraordinarily resilient and hard to budge."
Under one post about the film on Weibo, a top comment read, "Fu Manchu is a fictional character created to tarnish the image of Chinese people — I never thought he'd have the chance to grace the silver screen in China."
"Anti-Chinese sentiment is getting worse and worse. First Dolce & Gabbana are ruined, now Marvel is being reckless too?" wrote another user under the same post. "Just look up Fu Manchu on [search engine] Baidu and you'll see."
Other netizens, however, implored people not to be so sensitive, arguing that the honorable son, Shang-Chi, was at least an accurate reflection of how Western people now view their Chinese counterparts. "Marvel's Fu Manchu represents traditional Western prejudices against Chinese people, [but] his son represents the modern image of Chinese people," commented another user. "Doesn't this suggest that the prejudice has been eliminated?"
A screenshot from the 1968 film 'The Blood of Fu Manchu,' in which the titular character is played by British actor Christopher Lee. From Douban
Marvel films are immensely popular in China. The death of Marvel Comics legend Stan Lee in November was met with an outpouring of grief from his Chinese fans. Upon its May release in China, the apocalyptic blockbuster "Avengers: Infinity War" broke the domestic record for pre-opening sales. And in April, Marvel China incurred the wrath of the country's fans after superhero stars Robert Downey Jr., Tom Hiddleston, and others were asked to step aside onstage to make way for "irrelevant" local celebrities during an event at the Shanghai Disney Resort. Some die-hard fans had lined up near the red carpet overnight in hopes of catching a glimpse of the A-list actors.
Even if the promise of a mostly-Asian cast isn't enough to get Chinese people out of their homes and into theaters to see "Shang-Chi," the Marvel name alone could carry the film to box office success. On Friday, the hit romantic comedy "Crazy Rich Asians" met with a cool reception in China, raking in just 8.6 million yuan ($1.3 million) on its opening weekend. Although the relatively small number of screenings may have been partly to blame, Chinese viewers were critical of the actors' spoken Mandarin, and many felt the film catered too obviously to Western audiences.
Editor: David Paulk.
(Header image: A promotional illustration from the comic book 'Shang-Chi: Master of Kung Fu Omnibus Vol. 4,' 2017. From Marvel's website)