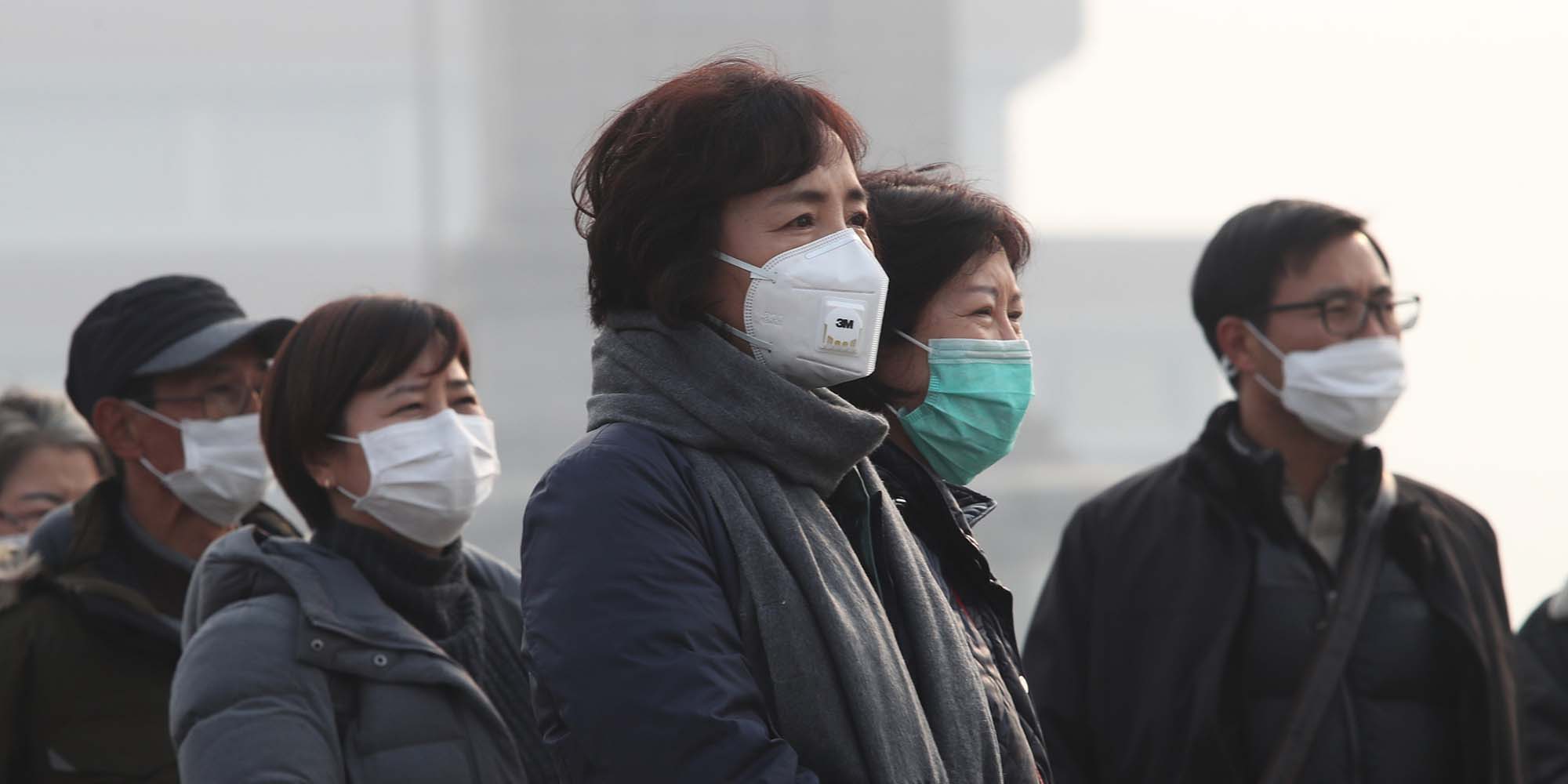 NEWS
As Smog Returns, China's Cities Issue Pollution Alerts
A government research center says the latest bout of air pollution has lingered because of 'unfavorable' weather conditions.
Several Chinese cities have declared pollution alerts over the past few days, with the central government's top environmental authority pledging to tackle the "worst air pollution" that has blanketed the country this year.
Local authorities in 82 cities — mostly around heavy industry hubs in central China, the Yangtze River Delta, and the Beijing-Tianjin-Hebei area — issued air pollution alerts as heavy smog enveloped parts of the country between Friday and Monday, the Ministry of Ecology and Environment said in a statement this week. The city of Linfen in the northern province of Shanxi was found to have levels of PM 2.5, tiny particles that are hazardous to human health, reaching 337 micrograms per cubic meter on Saturday — the highest in the nation during the four-day time span, according to the ministry, and 13 times the amount recommended by the World Health Organization.
A state research entity for monitoring and combating air pollution said on Sunday that "unfavorable weather conditions" may have caused the heavy smog to linger. Stagnant wind patterns, which can trap air in a region instead of blowing it away, have persisted in the Beijing-Tianjin-Hebei area for 70 percent of the days since November. According to a scientific study published last year, climate change is likely to exacerbate Beijing's smoggy conditions in the decades ahead.
"This situation can't be changed for the time being — people should stop harboring illusions that it'll get better," Peng Yingdeng, a researcher with the Beijing Municipal Research Institute of Environmental Protection, was quoted as saying by financial news outlet Caixin on Tuesday, suggesting that air pollution is susceptible to weather patterns.
Winters in China are notorious for thick smog — often blamed on coal-powered boilers used to power factories and heat homes in the frigid cold — that covers most of the north. Last year, the central government said it would reduce PM 2.5 levels by 15 percent year-on-year in 28 northern cities between October 2017 and March 2018.
To achieve this goal, the government introduced a raft of measures, including a coal-to-gas switch that aimed to provide 4 million northern households with cleaner energy. The plan was initially deemed a success: 2017 saw a 50 percent reduction in "heavily polluted days" compared with 2013, which the Ministry of Ecology and Environment said in January was "better than expected."
But although Beijing and surrounding areas had more days with blue skies than in previous years, the gains didn't last long. In December 2017, the central government issued an "urgent notice" to resume the use of coal after thousands of households weren't able to change over to gas or electric heating. In a similar reversal last month, a local government in Shanxi distributed bags of coal to over 400 households that hadn't been able to switch to cleaner energy after a district-wide coal ban.
In September, China announced a revised policy to combat air pollution, ditching the one-size-fits-all approach. As a result, target reductions of PM 2.5 levels were set at roughly 3 percent in Beijing and 27 other northern cities for October 2018 to March 2019, much lower than the 2017–2018 reduction goal of 15 percent.
With pollution levels already spiking, many are questioning whether the government is putting profits before the environment and people's health. Just a month after the revised policy was introduced, China's monthly steel production shot up by 11.5 percent year-on-year, according to official estimates. But in late October, Ministry of Ecology and Environment spokesperson Liu Youbing dismissed speculation that authorities were loosening environmental policies for economic gain.
Editor: Bibek Bhandari.
(Header image: Tourists wear pollution masks while visiting Tiananmen Square on a smoggy day in Beijing, Dec. 1, 2018. VCG)